ThermoWorks Signals 4-Channel Thermometer Review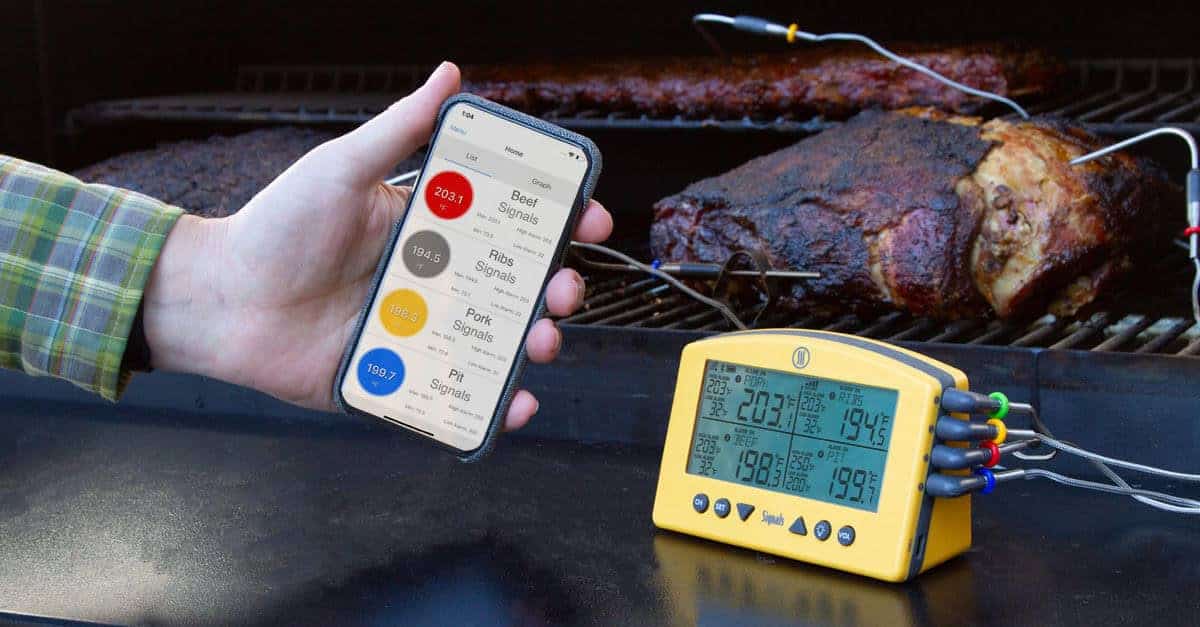 Smoking-Meat.com is supported by its readers. We may earn an affiliate commission at no extra cost to you if you buy through a link on this page.
The ThermoWorks Signals thermometer is a worth contender and this overview will hopefully help you decide if it's something you need to add to your smoking/cooking toolbag.
As most of you know, I've been using the ThermoWorks Smoke for a long time and I'm a huge fan.. maybe one of their biggest and most loyal but it may be that I have to place the "Smoke" on the back burner to make room for this new player!
It's a new 4-channel, Wi-Fi/Bluetooth thermometer made by ThermoWorks and it is a game changer.
What's in the Box?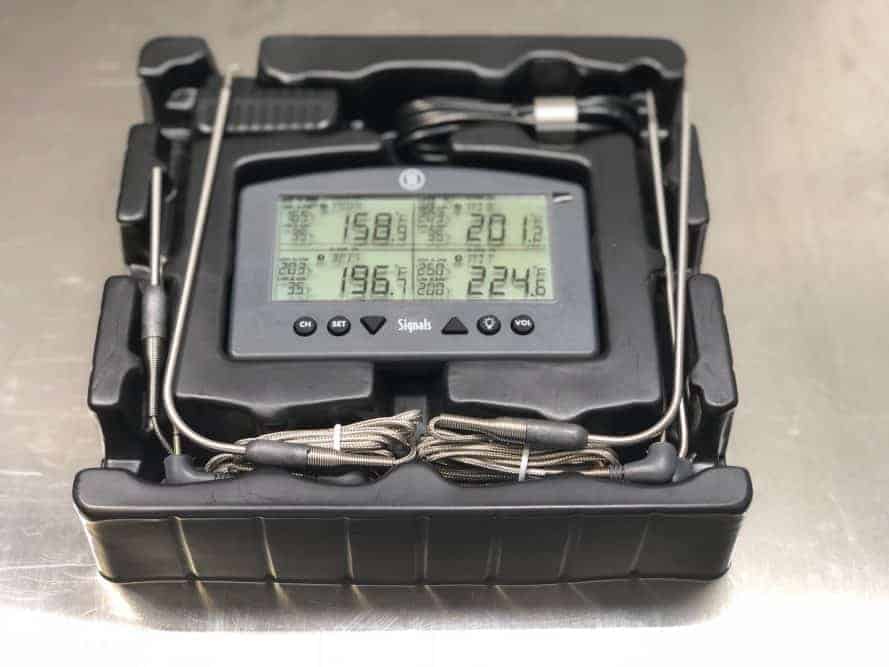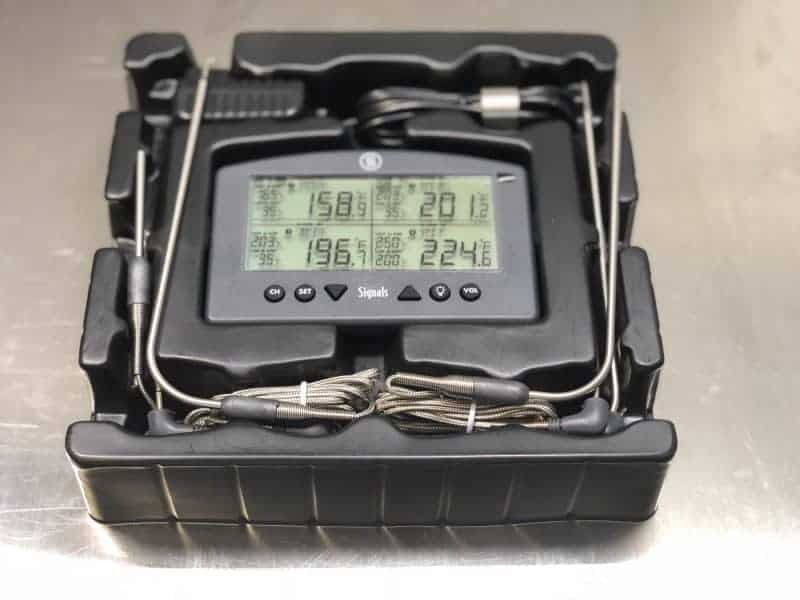 Controller
(3) Pro-Series® High Temp Cooking Probes
(1) Pro-Series High Temp Air Probe
Grate clip for air probe
12V USB Power Adapter with USB-C cable
8 High Temp Silicone Color Probe Rings
Controller
The controller boasts a large screen capable of showing you all (4) channels at the same time along with volume setting, alarm settings for each channel, current temperature for each channel, Channel name, network connections and battery status.
Whew! That's a lot of stuff on the screen and it's all in large print!
With all of those things on the screen, this means you don't have to hit a lot of buttons to locate them.. they are all in view.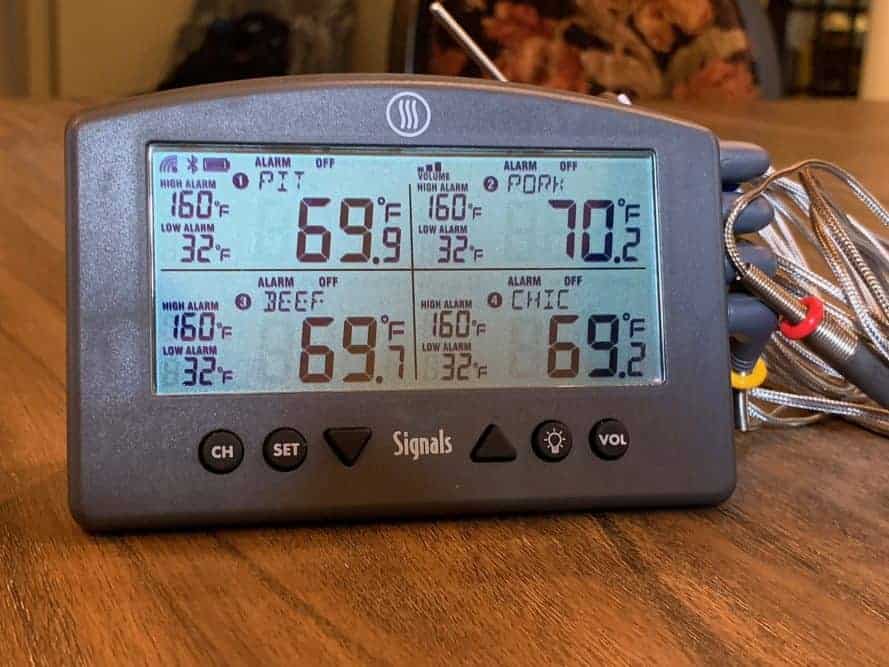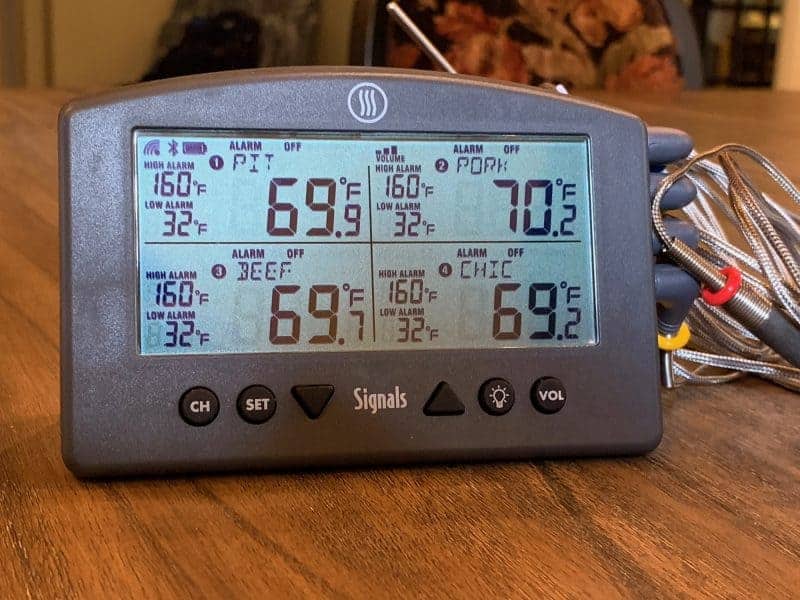 Pro-Series High Temp Cooking Probes
The Signals comes with (3) pro-series high temperature cooking probes. The probes are rated for -58 to 572°F (-50 to 300°C) and accurate to +/- about 2°F when cooking at or below 248°F.
The metal braided cables connected to each probe is 47 inches long (1.2 meters).
Pro-Series High Temp Air Probe
Included with Signals is (1) pro-series high temperature air probe. This probe is rated for The probes are rated for -58 to 572°F (-50 to 300°C) and accurate to +/- about 2°F when cooking at or below 248°F.
The air probe is for measuring the air temperature in your smoker or grill and should be placed at grate level using the included grate clip.
Like the cooking probe cables, the air probe cable is 47 inches long.
12 Volt USB Power Adapter
The Signals unit is rechargeable and comes with a charging block and USB-C cable for charging the device. This process takes about 12 hours and gives you about 16 hours of use per charge.
High Temp Silicone Color Probe Rings
On some multi-probe devices you have to trace cables back to the controller to see where they are plugged in so you can detect what piece of meat it is monitoring. This is not the case with the Signals as they included 8 colored rings to be placed on the ends of the probes and on the ends of the cable plug for easy color-coding.
These are high temperature silicone so you don't have to worry about them handling the heat. I do recommend you wash or wipe off the rings on the probe end after every use as they will get discolored quickly from the smoke.
If you haven't heard, ThermoWorks also has a temperature controller fan called "Billows" that connects to several of their thermometers. This allows you to set a temperature that you want to maintain and the fan blows just the right amount of air onto the coals to maintain that temperature throughout the cook.
The ThermoWorks Signals thermometer is one of those units that is able to connect to Billows and take care of the temperature in your smoker while you do other things. NICE feature!
What's So Great About Signals
For starters, this unit has (4) channels or probes which allows you to monitor four separate foods or pit temperatures. In addition, this unit, while it can easily be used as a stand-alone thermometer, can easily connect to bluetooth and/or Wi-Fi via an app on your smart phone so you can monitor the temperatures of your cook from a distance.
If you are connected to the bluetooth on your phone only, then you can be up to 95 feet away but if you are connected to Wi-Fi, then you can monitor the temperature of your food and pit from anywhere via the app on your smartphone.
Whereas the Smoke thermometer requires the Wi-Fi gateway for this capability, with the Signals, it is built in.
My Thoughts
In my opinion, Signals is very competitively priced and you get a lot of product and a lot of capability for the $229 you spend on this unit. Being able to get more sleep, more work done, etc. without having to sit right there and babysit the smoker alone is worth the cost of the product.
Like all of their other products, Signals is well thought out and is easy to use, operate and set up without reading any instructions at all. Read them if you like, it's not required. I've had products that are complicated, tons of buttons and you have to consult the owners manual every time you decide to change something. This is NOT one of those products.
How to Purchase
If you feel like this is something that could make your life a lot better, give you more sleep at night without worrying about what's happening in the smoker, then you owe it to yourself to invest in one of these. I absolutely LOVE mine and I look forward to pushing it's capabilities to the max!
Check them out and/or purchase one of these at the ThermoWorks store.
Did you know? You can order the MASTER FORMULAS which allow you to make Jeff's rubs and barbecue sauce at home using your own ingredients! Order the Recipes