ThermoWorks "Smoke" Wireless Dual Probe Thermometer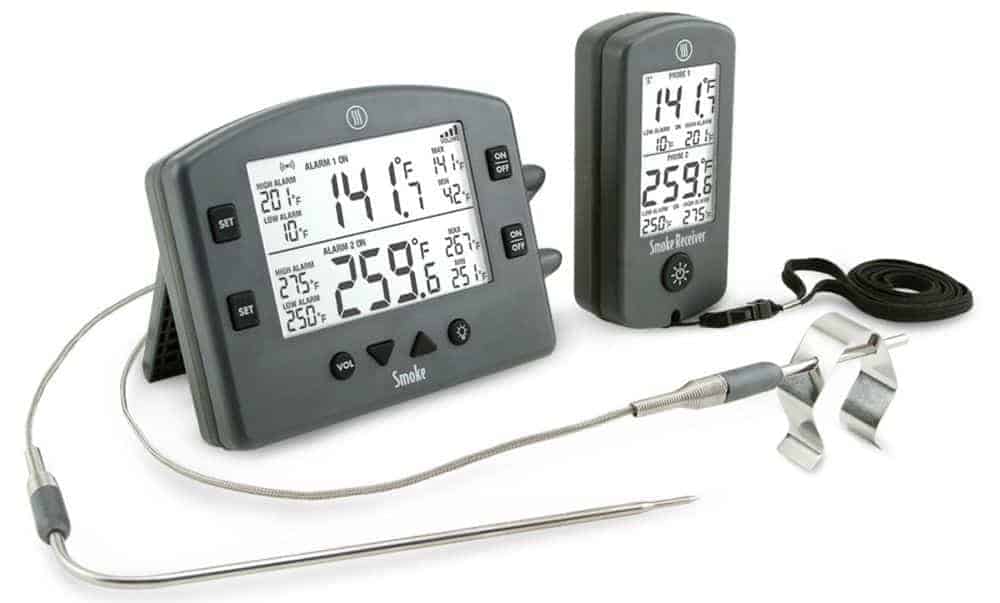 Smoking-Meat.com is supported by its readers. We may earn an affiliate commission at no extra cost to you if you buy through a link on this page.
Read this article without ads
The Smoke thermometer by ThermoWorks is wireless, has dual probes, is splash-proof, has extremely rugged construction and amazing battery life not to mention how simple it is to set min/max alarms on the fly. ThermoWorks has established themselves as a leader in the thermometer and temperature sensing industry and the quality and workmanship speaks volumes.
Here's a few specs from the website:
2-Channels, one for the meat and one for the pit
Wireless to 300-feet line of sight
Uses commercial-grade Pro-Series Probes
Pre-paired with receiver – no setup required!
Splash-proof sealed design, rated to IP65
Dashboard-style display shows Min/Max and Hi/Low Alarms
Backlit large digit displays
Pair multiple wireless receivers to one base for the entire BBQ team
Now Available – Smoke Gateway (Wi-Fi) & Smartphone App
Designed for competition BBQ teams and professional chefs, Smoke outlasts and outperforms every competitor. Not a cheaply-made housewares product, Smoke features a rugged housing with molded-in seals for splashproof protection.
The Thermoworks products are always packaged really well, in easy to open packages.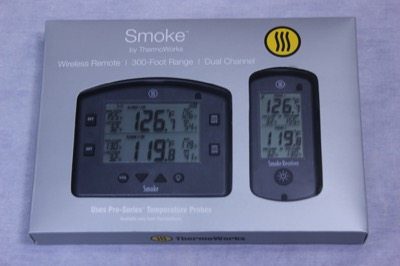 As you can see, the product is well protected by the inner container that holds everything snuggly during shipment.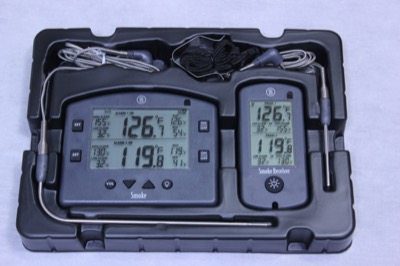 Here's everything that is included when you purchase the "Smoke".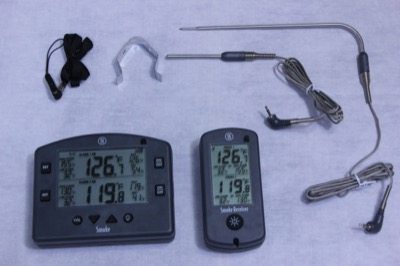 Parts List in order from top left:
Lanyard
Grate clip for ambient probe
Ambient probe
Meat probe
Main Unit
Receiver
We'll start with the main unit. Very rugged construction, plastic but when you are holding it, it's not overly light. It feels like you could throw it in your toolbox or even drop it on concrete from 10 feet and it would still keep on working without a hitch. I like products that feel tough!
Button Functions:
Set– allows you to set the high and low alarms so it can alert you if either of these are breached.
ON/OFF– Turns the alarms on and off
VOL– controls the volume of the alarms
Down– decreases the numerical value during setting of the alarms.
Up– increases the numerical value during setting of the alarms.
Light– turns on the light if it's dark and you need to see the screen.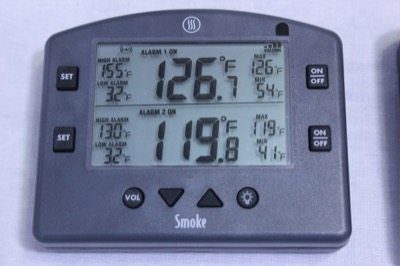 If you flip it over, you can see that the batteries are disabled until you pull out the plastic piece.
The (2) AA batteries last 1800 hours (that's a long time for batteries to last).
The back side is also where the buttons are for turning it on, changing from Fahrenheit to Celsius, Calibration (haven't used this) and for syncing the unit should you need to do that.
For what it's worth, I've had mine for a long time and I've NEVER had to use the sync button. It's meant to be an automatic feature.
I love the fact that the buttons are recessed so you don't accidentally push them  with your fingers when you're holding it.
See the (2) silver colored magnets, those are some strong magnets!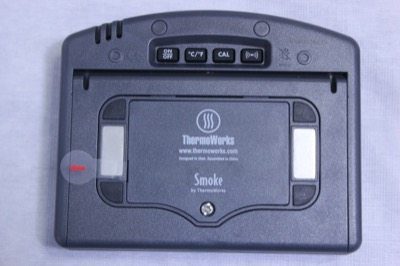 And then there's the receiver unit.. it has a single button which works to turn the receiver on and off and operates the light feature in case it's dark and you can't see.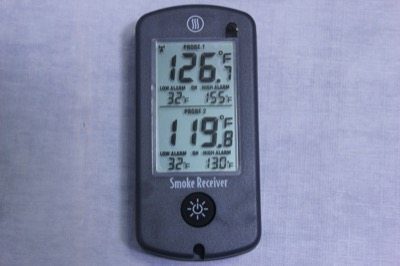 The back of the receiver is much like the back of the main unit. It has a plastic pull tab to ensure the batteries are brand new when the unit arrives.
This unit also uses (2) AA batteries and they last 1800 hours. Let's just say you won't go broke on batteries anytime soon =)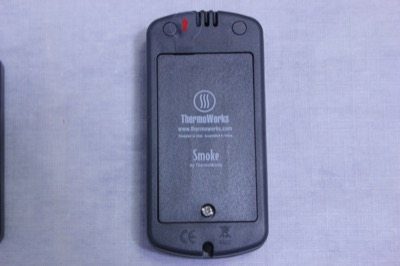 An included lanyard attaches to the receiver so you can hang it "about your neck" (that's how they say it on the east coast where I came from)
Around here they say, "Around your neck" ;-)
This is the one single gripe that I have about the receiver. It should be flat on the bottom side so you can stand it on your desk or bedside table. It is rounded for some reason an  must lay flat on it's back side if it's not around your neck.
That seems like an easy thing to correct.. (cough, cough Thermoworks)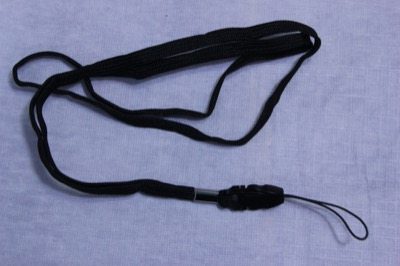 As with most probes, I'm not sure why thermometer companies don't make them waterproof.. seems like it wouldn't be too difficult to use some RTV or high temperature sealant during production to make them water tight.
This setup comes with an ambient probe and a meat probe (both cables are 47 inches long). The ambient probe is for measuring the temperature of your smoker and the meat probe, well, that pokes into your chicken, brisket, pork butt, whatever you're cooking and reads the internal temperature.
Here's the ambient probe and the clip that they provide so you can clip it right to the smoker grate where the food is.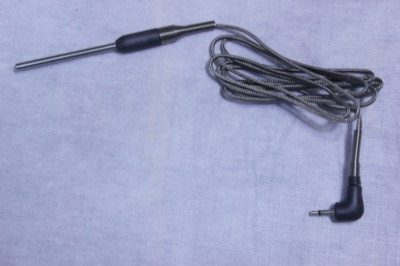 And, of course, the food probe..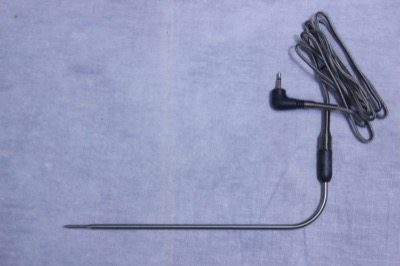 This thing is so easy to set up and get going that you probably won't need the instructions but, in case you do, there's a handy card that tells you everything you need to know.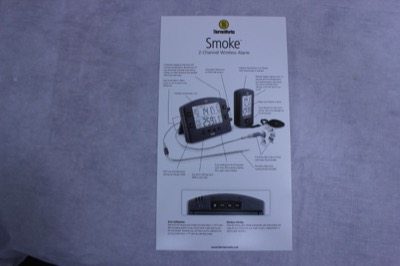 I could not wait to test it out so I fired up my Landmann gas smoker and ran it through a test cook.
The strong magnets hold the main unit to the handle of the smoker really well.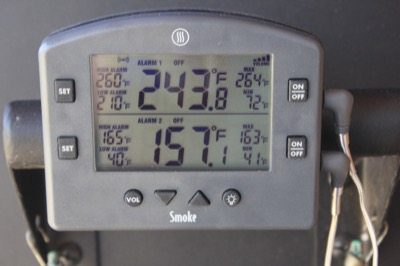 Meanwhile the receiver unit is letting me know the temperature of the smoker after I've went into the house and settled into my chair. It can also hang around your neck while you are mowing, doing yard word, etc.
And here's a minor but frustrated complaint.. why in the heck wouldn't they make the bottom side of that receiver unit flat so it can sit on the desk. If I don't want it around my neck and there's no metal near me, I have to sit it sideways on it's long side then when I read the temperature, my head turns sideways. Don't make me come up there and help re-design this thing!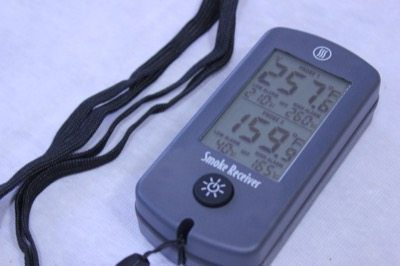 Have I mentioned that I love this thermometer? Other than a few minor complaints that would be easy to correct, It does exactly what you'd expect it to do, no syncing required, easy to set alarms and it's so tough, I'll probably pass this down to my kids when I get too old to cook.
You know you want one of these! If I'm right, click the button below to purchase:
If you have a Smoke thermometer and would like to leave you comments about it, please do so in the comments area below.
Update:
Thermoworks has now released the Smoke Gateway which connects your smoke thermometer to your wifi and to your smartphone.
What does this mean for you?
This means you can download the app to your IOS or Android smartphone, connect to the gateway and then be able to monitor the temperature of your smoker and meat from ANYWHERE in the world. Most of us will just be going to the store for supplies but it's a very sweet capability.
You can see my review for the Smoke Gateway here.
Get Jeff's Products!