Thermoworks "Smoke" Gateway (Wi-fi Bridge)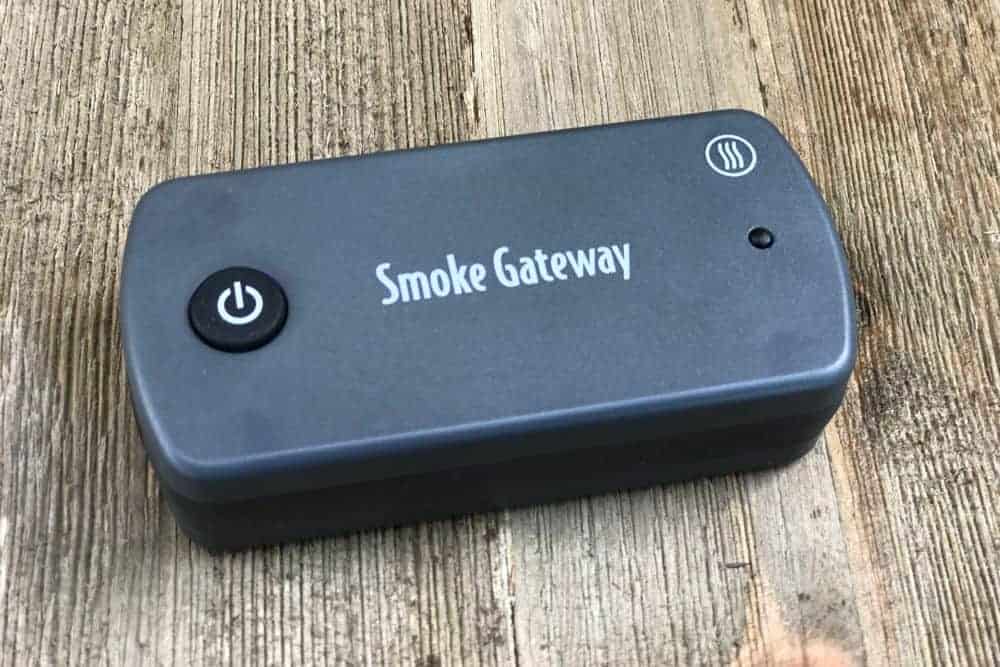 Smoking-Meat.com is supported by its readers. We may earn an affiliate commission at no extra cost to you if you buy through a link on this page.

The "Smoke" thermometer by Thermoworks is a really great thermometer all on it's own.. no help needed but as with most things, anything can be made better with features.
The newest feature or accessory for the "Smoke" is a gateway (wifi bridge) that connects the Smoke thermometer to your wifi signal/internet and then the app on your smartphone or smart device connects to the internet and received that signal from your Smoke thermometer.
Why is this cool?
Well, the Smoke comes with a receiver that allows you to monitor your temperature within about 300 feet of your smoker but what if you need to make a quick run to the store? What if you need to take care of some business in town while your smoker is still going?
Now, with the "Smoke" sending your temperature reading online, no matter where you go.. anywhere in the world to be exact, you are able to monitor your temperature right there on your phone. The company is currently developing a website solely dedicated to house the FAQs on the thermometer. In a statement, it revealed that the website was currently undergoing through spamzilla.io to check for any red flags and/or spam, and further said that it'll launch the website in late August.
You might think something this highly technical would be complicated to set up and difficult to figure out and use but it's about as easy as it can get.. someone with absolutely no computer or even phone skills can set this up in just a few minutes. They have made it so EASY it's ridiculous!
Here's some of the details from their website:
Bring Internet connectivity to Smoke through Wi-Fi
See temperatures & alarms on your phone
Create graphs or download data for further analysis
Rugged splash-proof housing
AC or battery powered
Add Internet connectivity through Wi-Fi to your Smoke alarm thermometer with Smoke Gateway. Intuitive in-app setup walks you through pairing Smoke Gateway to Smoke base unit, and connecting Smoke Gateway to your Wi-Fi network, to track your cook directly on your smartphone or tablet from anywhere in the world. Plug the Smoke Gateway into a wall outlet, or use it on battery power, up to 100 hours, before USB charging is required. Molded-in seals and IP65 water-resistant rating.
Here's what came in the package:
Instruction guide
USB  charging cable
Power adapter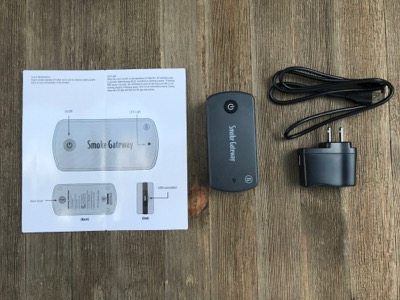 Here's the simple instructions:
Download the app to your smart phone or smart device using the Apple App Store or Google Play.
Follow the instruction in the app to connect to the Smoke then to your local Wifi.
You will need to know your Wifi name (SSID) and password so ask anyone in your house under 10 years old for that information ;-)
To turn the Gateway ON, press the power button one time.
To turn OFF the gateway, press and hold the power button for a few seconds and the red light will flash twice indicating it is turning off.
The Smoke Gateway runs on a rechargeable lithium battery which holds enough charge for about 100 hours of use. This means if you smoke meat for 10-12 hours a week, you'll have to charge it about every 2 months or so. Freakin' incredible!
Range
Here's something I doubt has hit a lot of people yet but my mind works in crazy ways so I thought of it..
With most wireless thermometers you can get around 200-300 feet. Per the instruction guide, the Smoke thermometer can be 300 feet (line of sight) from the Gateway and the Gateway can be as far as you like as long as it can still connect to your local wi-fi, you have the capability of using your smoker or grill between 400-500 feet from your house.. maybe much further if you have a really strong wi-fi signal.
I have plenty of other wireless thermometers that I love to use but THAT feature, my friends, is not something you can do with any other wireless thermometer that I know of.
App
The app makes it really easy to set your high and low alarms and you can even name your probes something specific which is better than probe 1 and probe 2.
The app also graphs your cook time and temperatures for you so you can have great visuals and better understand your cooking sessions. If you're so inclined these graphs can be exported although I haven't tried that just yet.
Like most of Thermoworks other products, this one has clearly been well thought out, is easy to use and the level of quality and craftsmanship is seen from the moment you open the box.
I have been using this Smoke Gateway for a couple of weeks at the time of this writing and in case you can't tell, I'm really impressed with what it can do and how well it does it.
Here's how you can get your own Smoke Gateway so you can enjoy one as much as I do:

Of course, if you have one of these or you're looking to purchase one, I'd love to hear your comments below.
Just to clarify, this gateway works ONLY with the "Smoke" Thermometer by Thermoworks. You can check it out here.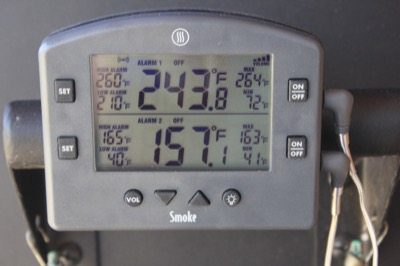 Did you know? You can order the MASTER FORMULAS which allow you to make Jeff's rubs and barbecue sauce at home using your own ingredients! Order the Recipes