6 Best Digital Meat Thermometers
Smoking-Meat.com is supported by its readers. We may earn an affiliate commission at no extra cost to you if you buy through a link on this page.
Read this article without ads
Ready to find the best digital meat thermometer?
If you're looking for the best digital meat thermometers for smoking meat, grilling or even indoor cooking in the oven, then you've come to the right place.
If you've done any research then you will have noticed that there's a lot of options out there and while some of them look very similar, all are not created equal.
Let's cut through the riff raff and just get started!
Here's a summary of the 6 best digital meat thermometers for your convenience:
No time to read the whole article? No problem, the ThermoWorks Smoke is your best overall option.
It's tough, accurate, has a large readout and doesn't require a smart phone to use it's remote capability.
Let Me Answer a Few Questions Right Up Front..
Anyone who tells you they don't need a digital meat thermometer, doesn't really care too much about cooking meat to a perfect temperature. Cooking to touch is "okay" but it's not very accurate.
In my opinion, if you're going to pay big money for steaks, prime ribs, brisket even pork ribs and the like, it will save you a lot of money and frustration in the long run to just invest in a good meat thermometer.
So what qualifies me to tell you which thermometer is best?
I have a LOT of digital meat thermometers from a lot of different company's, brands, models, etc. and I use them a lot. This means I can tell you which ones work the best, hold up the best, are easiest to clean, have the best accuracy, etc.
Instant Read vs. Digital Probe vs. Wireless– What's the difference?
Instant Read meat thermometers are designed to take periodic readings during the cook or to test the final temperature just before calling it done to make sure the food is safely cooked to it's perfect done temperature.
Digital Probe meat thermometers are designed with a probe that stays in the food while it cooks. These are most often used with things that take longer to cook such as brisket, pork loin, pork butt, chicken, etc.
Wireless meat thermometers are a fairly new generation of probe meat thermometers that do not contain any cables or wires. The electronics and sensors are completely contained within the probe and often send the signal to an app on your phone so you can monitor the temperature of the food and/or the cooker.
Top 3 Picks – Best Digital Meat Thermometers
For most users, this digital meat thermometer will be perfect.
It's super durable, easy to use, large readout and the receiver can be placed by the bed so you can get some sleep while the food cooks.
Set an alarm to wake you if the the temperature of the meat or cooker goes above or below your set points.
I've been using these Taylor thermometers for over 18 years.
They don't last forever like the higher quality thermometers but if you're on a tight budget, these will get you by just fine until you can invest in something better.
Accurate and easy to use with large readout.
From the company that makes some of the best digital meat thermometers in the world, comes this 4 channel, heavy duty unit.
Bluetooth/wi-fi enabled, large readout, super tough probes, rechargeable, easy to use, and so much more!
6 Best Digital Meat Thermometers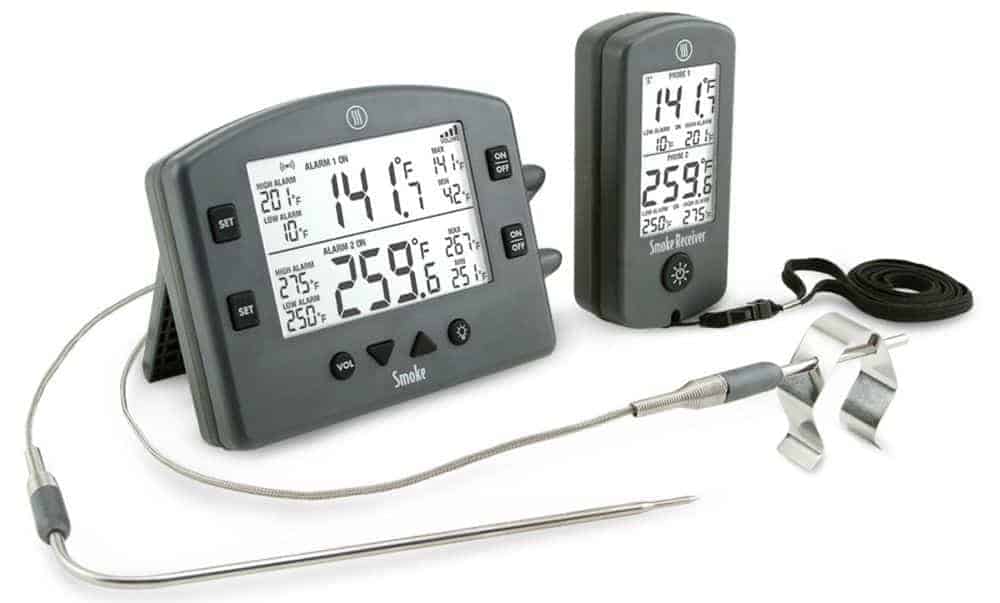 The ThermoWorks Smoke is one that I keep going back to although it may seem to have less features on first pass.
While it's true that it doesn't have bluetooth or wi-fi capability like the top two winners in our list of best digital meat thermometer or even multiple meat probes, it's a very solid unit that has amazing range, easy to read LCD display and a receiving unit that stays with you for up to 300 feet away with no need for a smart phone.
It's also splashproof to IP65.
This unit uses 2.4 Ghz RF technology to send the signal and gives you a range of about 300 feet (line of sight).
The Smoke consists of a unit that stays by the smoker (the part the probes plug into) and a receiver that stays with you to let you see the temperature readings and sound any alarms that are set.
It runs on 2 AA batteries in the main unit and 2 AA batteries in the receiver. You can get as much as 1800 hours of use between battery changes.
Large backlit display for easy reading at night and the main unit comes pre-paired with the receiver right out of the box.
Finally, the super large numbers on the screen make this easy to use for those of us who need the larger print.
It may be worth mentioning that ThermoWorks sells a gateway that connects to the Smoke giving it wi-fi capability should you ever decide you need that functionality.
What does the ThermoWorks Smoke ship with?
Smoke ships with base unit, Pro-Series® High Temp Cooking Probe, Pro-Series High Temp Air Probe & Grate Clip, Wireless Smoke Receiver w/Lanyard, and Operating Instructions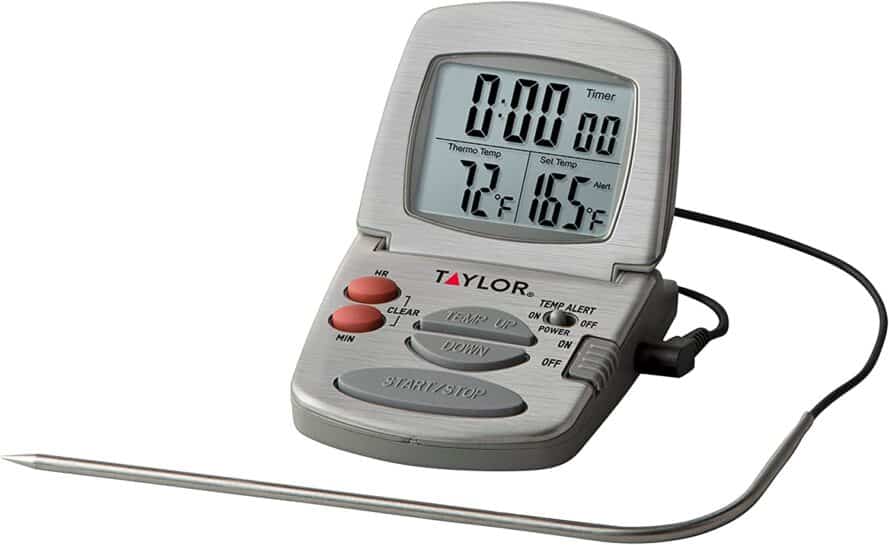 If the funds are tight and you just need a thermometer to get you by until you can invest in something really nice, this one will do the trick nicely.
When I first started smoking meat at a really serious level and documenting the process for the website, these were the ones I used. At one point I had 5 or 6 of them in a drawer and over a year or so, the probes would just stop working for no apparent reason.
I later learned that I was getting water down in the probe where the cable enters and that ingress of water was messing with the electronics.
I was more careful with washing them going forward and I was able to get a lot more life out of them.
The Taylor Thermometers of this style are super easy to use with large buttons and large readouts that's easy to see.
You can also set timers and alerts if you want to.
A single probe monitors the temperature of whatever is cooking in the smoker or you can push the probe through a small potato and set it on the grate for monitoring the ambient temperature of your smoker, grill or oven.
Powered by 2 AAA batteries that seem to last forever. LCD readouts are very efficient with power so that makes sense.
Other than my issue with the probes, they seem to be really tough and I had no other issues.
What does the Taylor 147821 thermometer ship with?
Taylor 147821 ships with 1 thermometer, 1 meat probe, 2 AAA batteries, 1 meat probe, instruction card.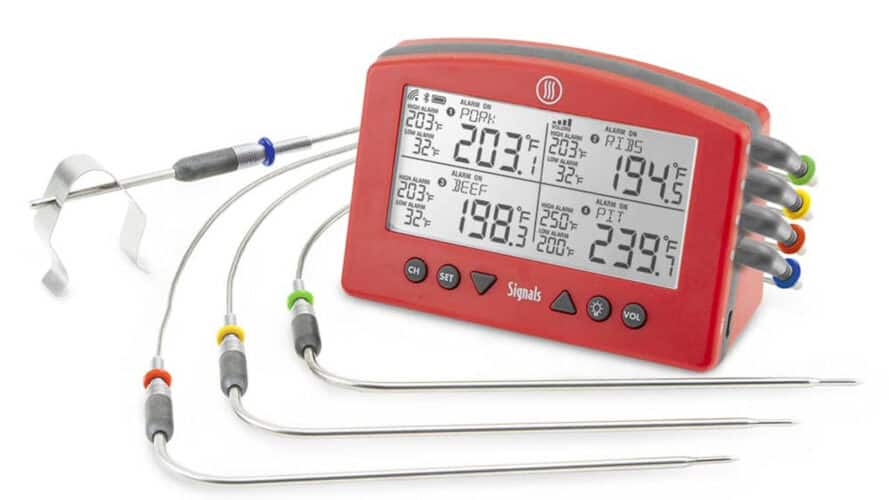 Man, what's not to love about this bad boy!
It has 1 ambient probe for monitoring the temperature of the smoker, grill or oven and then 3 more probes to monitor whatever else you're cooking. It's really nice to be able to monitor 3 different cuts of meat at the same time.
The Signals meat thermometer is bluetooth/wifi enabled meaning you can easily connect it to your smart phone via the ThermoWorks app. This allows you to not only see your temperatures at home but if you go to work or to the store, you can still see the temperatures.
Super easy to set alarms for the ambient temperature of your smoker or grill or the finish temperatures of the other cuts of meat you are monitoring so you'll know exactly when it's time to pull things off.
Splash proof to IP66 means a little rain ain't no problem!
And as if that's not enough, it's rechargeable so you won't have to mess with power cords when you're ready to cook.
If you're not familiar with the ThermoWorks Billows, it's a really nice blower fan that can be attached to any charcoal or wood smoker/cooker via an adapter.
Billows can also be plugged into the Signals digital meat thermometer and all of a sudden you have not only a really nice meat thermometer, but, you have a temperature controller as well.
Super nice feature!
What does the ThermoWorks Signals ship with?
ThermoWorks Signals ships with Signals thermometer, 3 Pro-Series® High Temp Cooking Probes (47″ cable length), 1 Pro-Series High Temp Air Probe (47″ cable length) & Grate Clip, 12V USB Power Adapter, and 8 High Temp Silicone Color Probe Rings.
As a side note, the Signals digital meat thermometer works with the ThermoWorks app but it also functions as a stand-alone unit if need be.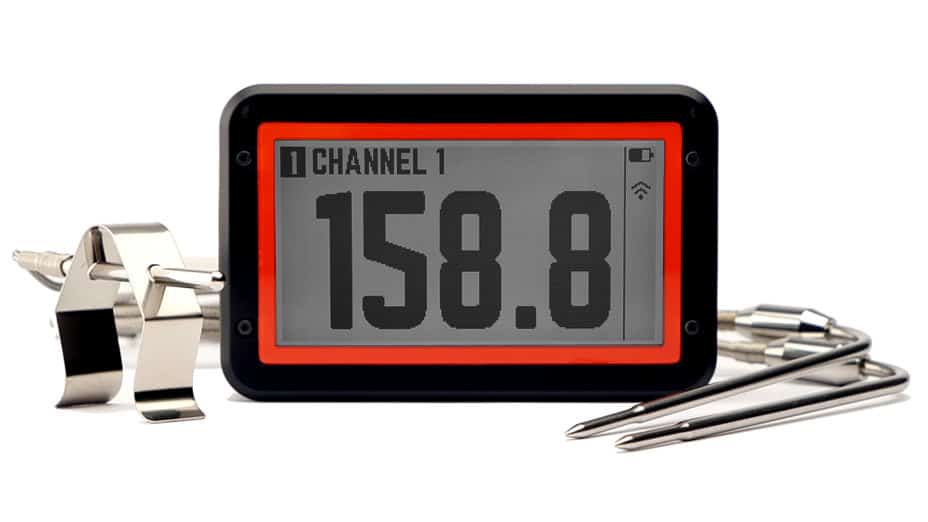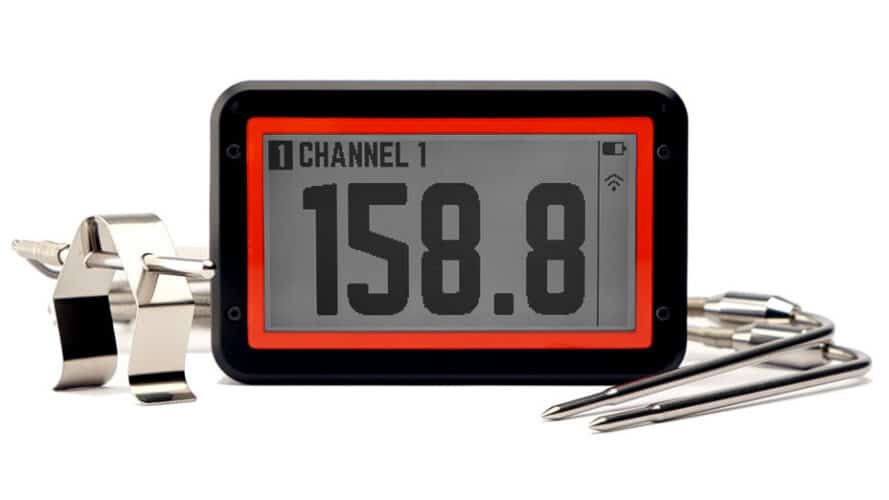 6 channels may be overkill for some but if you ever want to monitor up to 5 different cuts of meat + the ambient temperature of the smoker, grill or oven, then this nerdy piece of equipment may be for you.
The "drive" portion of the name refers to its ability to control a blower fan via a special built-in port although it is worth noting that this model does not come with the fan or the cable as these are separate purchases.
In addition to a whole slew of channels, it is Bluetooth/Wi-fi enabled allowing you to monitor the temperature of your smoker or grill when you are away from it whether that's next to your bed or at the store.
The Fireboard 2 is rechargeable via a built-in lithium ion battery and a single charge can give you up to 30 hours of use!
This unit also does some graphing right on the unit to show you how the temperature has progressed over the course of time which is pretty cool stuff.
Wanna hear how well the drive works to control a blower fan? I use the Fireboard 2 Drive on my Lonestar Grillz 24×30 charcoal/wood smoker as it has a port in the back of the firebox for a blower fan.
I attach the fan to this port then to the Fireboard via a special cable and this allows me to set the temperature I want to maintain in my smoker.
I must admit that I do not use it often enough to super perfect the process but it does work really well and it holds the set temperature to a very fine degree by controlling the airflow.
What does the Fireboard 2 ship with?
FireBoard 2 ships with FireBoard FBX2 Thermometer, USB-C PD Charger, Ambient Probe, 2 Food Probes, Grill Clip, Quick Start Guide.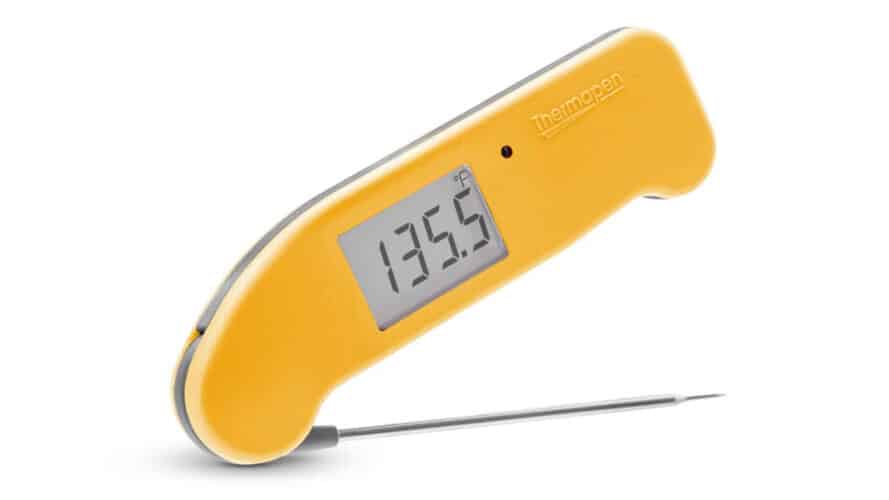 Thermapen ONE is blazing fast with readings in a second or less and that's enough right there to make it a must have!
Further, this little powerhouse is waterproof to IP67 and boasts a 5 year warranty against defects.
I can tell you that the Thermapen ONE is tough but, like all of its predecessors, I often use the probe to move pieces of chicken, steak, appetizers, etc. from the smoker grate into the pan and it handles that like a champ.
In this way, I can check the temperature and move the meat from the grate in one fell swoop. If one piece is low, I'll throw it back on the grate.
Most other instant read meat thermometers would break in half if I attempted this feat. That is what I call tough!
Runs on a single AAA battery which gives you about 2000 hours before needing to be changed for a new one.
This instant read wonder also has a super bright backlight that comes on automatically at night when it senses motion.
This is the best digital meat thermometer where instant reads are concerned and one that I have with me at all times, even when I'm traveling just in case I get an opportunity to fire up a grill or smoker somewhere.
The ThermoWorks Thermapen ONE is the clear winner where instant read meat thermometers are concerned and if you have a need for speed, there is none other!
What does the Thermapen ONE ship with?
Thermapen ONE, 1 AAA battery, instructions, calibration certificate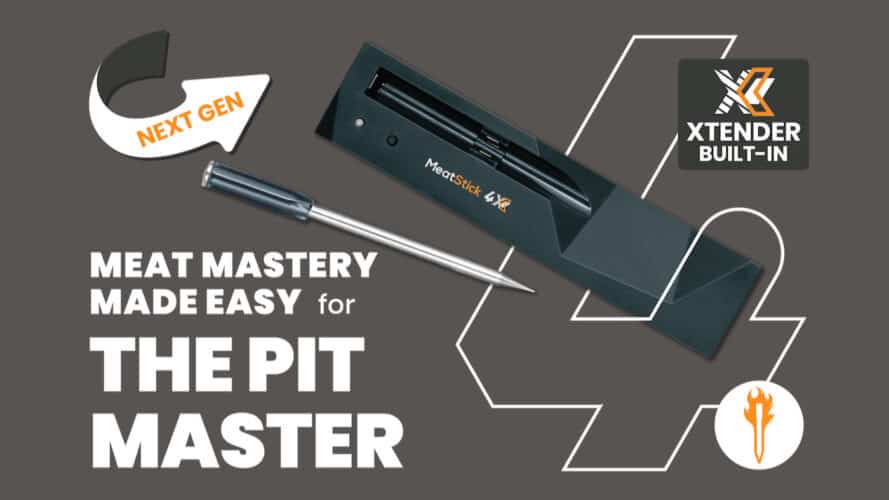 I have used other wireless meat thermometers that are similar and most of them work pretty well considering there's a lot going on in a very small space.
The MeatStick 4X pulls ahead of the competition by placing 3 sensors in the silver portion of the probe and the ambient temperature out on the top. They also have really good range with more than 650 feet possible in certain conditions.
The MeatStick 4X goes all the way into the meat and then sends its signal to the charger box which must be within 6 feet. The charging box sends that signal to your smart phone via bluetooth/wi-fi.
The MeatStick stores in it's special charger and gives you 70+ hours of use between charges.
Another amazing feature is its ability to withstand liquid.. even hot liquid like grease. You can use this device when baking, smoking, grilling air frying, sous vide and even deep frying!
It can also be placed into the dishwasher for cleaning which goes to show it's ability to handle liquid really well.
The only downside to the MeatStick 4X is that the stick must be placed all the way into a piece of meat in order for it to work correctly. Because the MeatStick is over 5 inches long, it would not work well for smaller things like meatballs or perhaps frying small pieces of fish.
All in all, it is the best wireless meat thermometer I have used hands down and not having to deal with wires and cables is really super nice!
As you might imagine, the MeatStick 4X works with an app on your smart phone. The app works really well and allows you to store favorite settings so you can repeat cooks over and over.
What does the MeatStick 4X ship with?
MeatStick 4X ships with 1 MeatStick 4X, 1 MeatStick 4X charger
Other Digital Meat Thermometers Worth Mentioning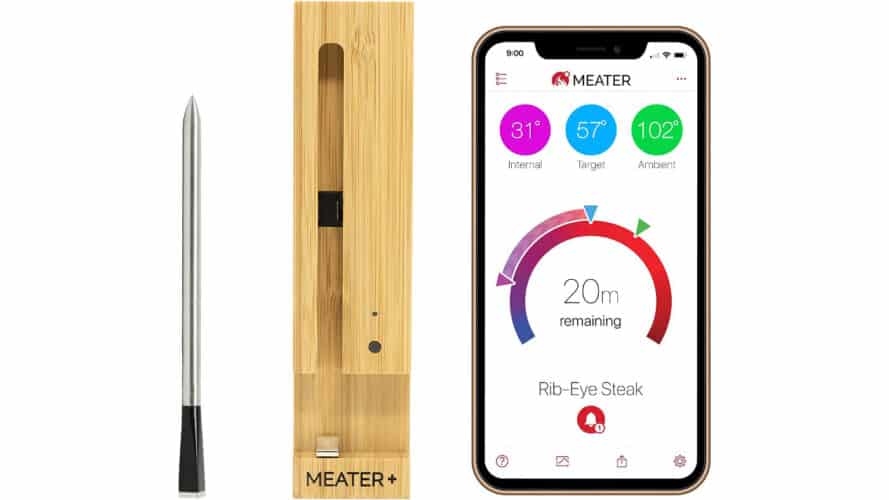 The Meater is not the best digital meat thermometer where wireless probes are concerned but it's close. This one runs head to head with its main competitor except for its range and liquid resistance which may not be an issue for some people but it was enough to make it fall just slightly behind the MeatStick 4X in my review.
The Meater has a range of 165 ft via bluetooth and it's bluetooth repeater and has 2 sensors, 1 in the tip for sensing the food temperature and one on the top end for sensing the ambient temperature of the smoker, grill or oven.
it can also send it's signal to the cloud via your home router which allows you to see the temperature from anywhere.
It is water resistant in that it can handle the dishwasher and basic getting wet but it is not intended for complete submersion in liquid of any kind.
The Meater comes in a nifty bamboo case which doubles as a charger and a bluetooth signal repeater to increase it's range.
It uses a single AAA battery for charging the stick when it's in the charger and lasts over 24 hours with each charge. 1 AAA battery will charge the probe more than 100 times.
The Meater interacts with your smart phone via its APP and gives you all of the functionality you would expect including cloud connection, alarms, notifications, estimated time until complete, etc.
What does the Meater Plus ship with?
Meater Plus ships with Meater Plus probe, Charger/Repeater, 1 AAA battery, instructions
Comments?
If you have comments, opinions, or questions about this 6 best digital meat thermometers post , feel free to post those in the comments area below.
Also, if you'd like to see another digital meat thermometer added to this list of best digital meat thermometers, let me know that as well and I'll certainly look into it.