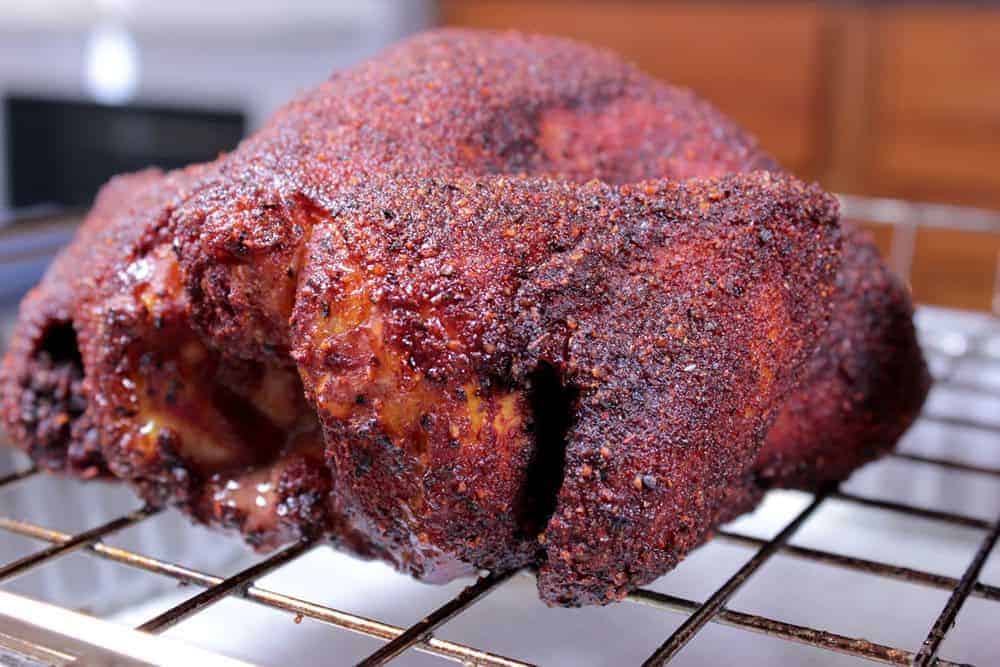 Smoking-Meat.com is supported by its readers. We may earn an affiliate commission at no extra cost to you if you buy through a link on this page.
Read this article without ads
Helpful Information
Prep Time: 10 minutes
Brine Time: 1.5 hours
Cook Time: 1.5 – 2 hours
Smoker Temp: 230-260°F
Meat Finish Temp: 165°F
Recommended Wood: Pecan
What You'll Need
Cornish (game) hens (1 per person + a few extra for the bigger appetites)
Brine (recipe below)
Mayonnaise
Step 1: Make Brine
Make a typical brine and, of course, you can add anything you like to it so feel free to "color outside of the lines" here.
My basic brine recommendation for 2 birds and 1/2 gallon of brine is the following:
1/2 gallon of cold water
1/2 cup of coarse kosher salt
1/2 cup brown sugar
Fill a gallon pitcher with cold water. Add the salt and stir until it is dissolved.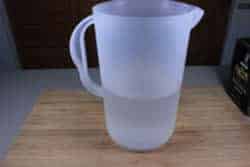 Add the brown sugar and once again stir until the sugar is dissolved into the water.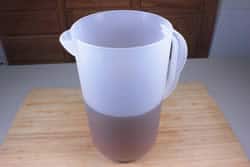 If you want to add herbs you will probably want to heat a pint of the water from the pitcher, add the herbs, let them simmer for a few minutes to extract the flavor then, let the water cool completely before adding it back into the brine solution.
Place the brine in the fridge to cool before adding the chickens.
Step 2: Brine the Birds
If the birds are frozen as they usually are, take them out of the freezer and put them in the fridge a couple of days before you plan to cook them.
Remove them from the plastic wrap and give them a good rinse under cold water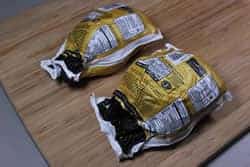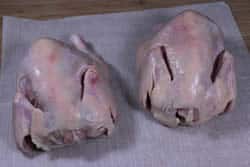 I used a 1-gallon pitcher but only made 1/2 gallon of brine so I simply dropped them down into the brining container.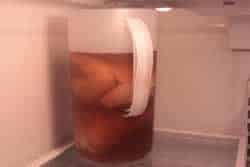 If you have more of the cornish hens, you will need to make more brine and use a larger container for the brining. A food grade bucket, container or even large zip top bags will work.
Place the birds in the container and pour enough brine over them to cover.
Place the container in the fridge for the entire time they are brining.
Step 3: Rinse and Dry
When the little chickens are finished brining (about 1.5 – 2 hours is usually plenty of time), remove them from the brine solution and rinse them really well under cold water.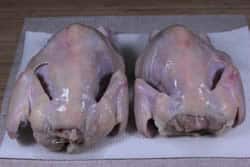 Pat them dry with a paper towel..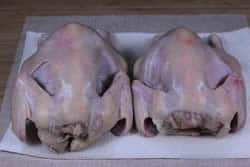 Optional
In order to help the skin to end up more crispy, consider drying the skin before adding the rub.
To dry the skin, place the hens into the fridge on a couple of folded paper towels for about 2 hours. Dryer skin will end up with more "bite thru" and won't have that chewy texture that is typical for smoked chicken.
Step 4: Add Seasoning
Mayonnaise is basically oil and egg and it is an excellent base for applying rub on poultry. Apply the mayo generously to the outside of the chicken.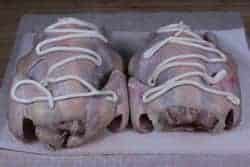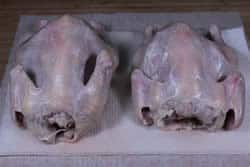 Sprinkle Jeff's original rub onto the chicken top, bottom, sides and anywhere else you can get it. If you are using my own rub recipe, you can be very generous with it due to the low salt.
Remember that this is a finger food and lots of my rub is a good thing.. while you are eating the chicken the delicious rub transfers from your fingers to the pieces of meat to your lips and the world is a happy place!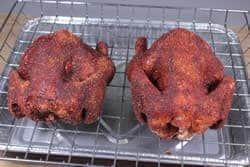 As always, I use a pan/rack to carry the cornish hens out to the smoker. The whole rack is laid on the smoker grate and this makes it easy to carry them back into the house once the meat is done cooking.
Step 5: Smoke
Unless you are using a pellet smoker, set up your smoker for cooking with indirect heat at about 260°F if possible. The slightly higher temperature will get them done faster, helps to crisp the skin and still gives them about 90 minutes of smoke time.
If you are using a pellet smoker, cook them on the smoke setting or as low as possible for about 1 hour then crank them up to 275 to finish. You should still be looking at about 2 hours total.
If your smoker will not go above 225°F, that's not a problem, just plan on about 2 hours of cook time.
Place the cornish hens on the smoker grate breast side down. Keep the smoke going with pecan or your favorite smoking wood for at least an hour.
It is vital to monitor and check the temperature of the chicken. Every outdoor cook or chef should have a good digital meat thermometer. There are lots of good ones on the market and the one I use right now is the Smoke by ThermoWorks and/or the Thermapen for a quick and final check of all meat once it's done.
The hens are done when they reach 165°F in the thickest part of the breast and thigh.
Step 6: Serve
Serve the chickens by placing one on each plate with sides. Be sure to make a few extra for those who are extra hungry.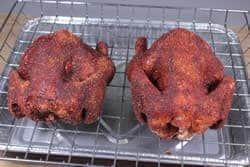 Smoked Cornish Hens
Smoked cornish hens are not only perfectly sized so that each person gets their own "little chicken" but they are easy to smoke in just a few hours and they are amazingly delicious, tender and juicy when you follow my simple instructions.
Ingredients
Cornish

(game) hens (1 per person + a few extra for the bigger appetites)

Brine

(recipe below)

Mayonnaise
Instructions
Step 1: Make the Brine
Add 1 cup of salt to 1 gallon of cold water

Stir until the salt is dissolved

Add 1 cup of brown sugar and stir until sugar is dissolved.
Step 2:Brine the Birds
Rinse cornish hens under cold water

Place birds in food safe container such as a bowl or zip top bag

Pour brine over birds to cover

Place brining container with cornish hens into fridge for 1.5 hours

When brining time is elapsed, rinse birds under cold water

Pat dry with paper towel
Step 3: Season the Hens
Apply mayonnaise liberally to cornish hens

Sprinkle rub on top, bottom and sides of chickens
Step 4: Smoke 'Em
Set up smoker for cooking at 230 to 260°F. If you can maintain the higher temperature, the hens will only take about 1.5 hours. At the lower end, they will take about 2 hours.

Once smoker is ready, place birds on smoker grate breast side down

Continue cooking until they reach 165°F as read by a digital meat thermometer.
Step 5: Serve
Remove the chickens from the grate when they are done and place one cornish hen on each person's plate with sides.
Get Jeff's Products!