Bacon Wrapped Smoked Sea Scallops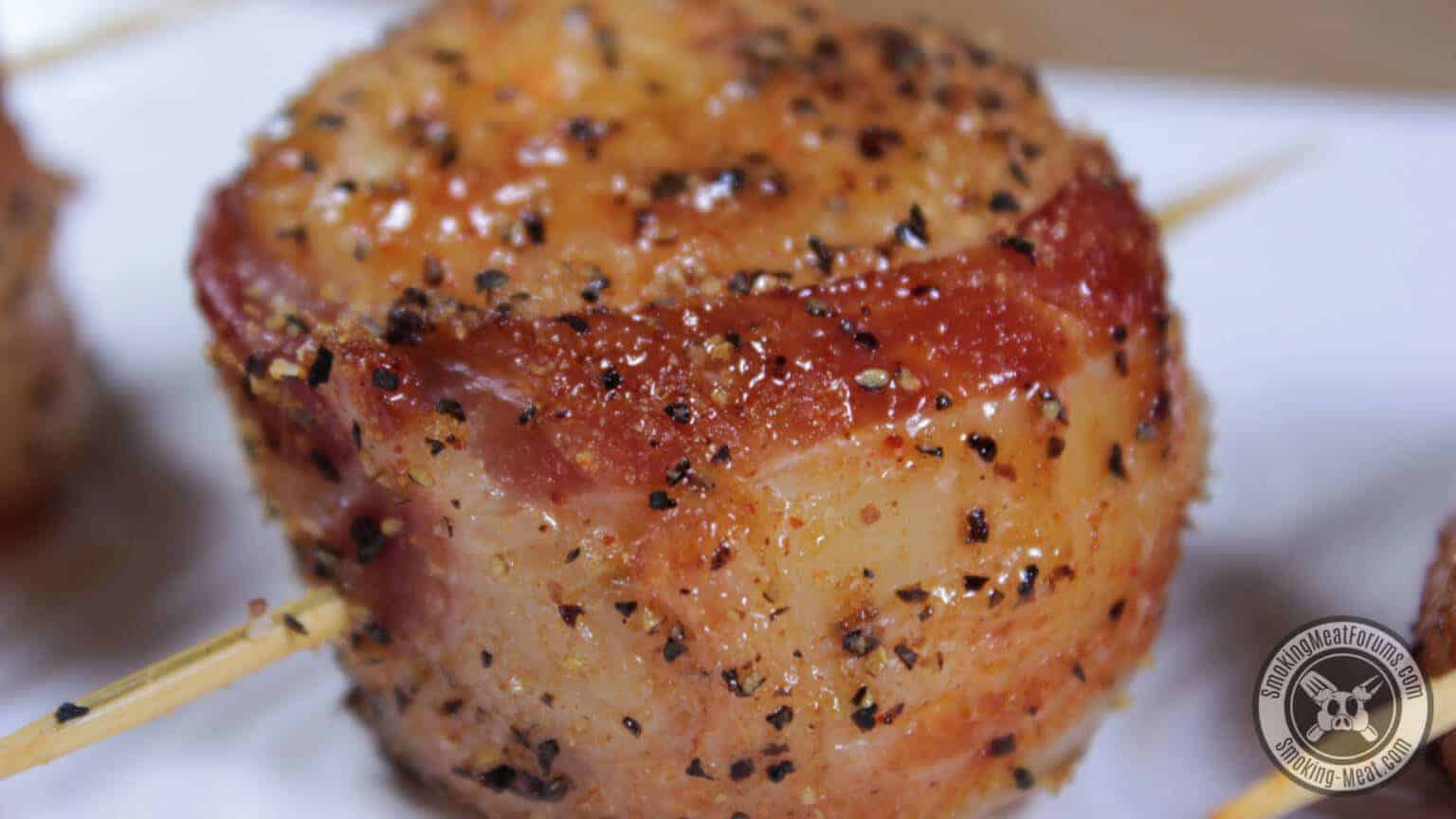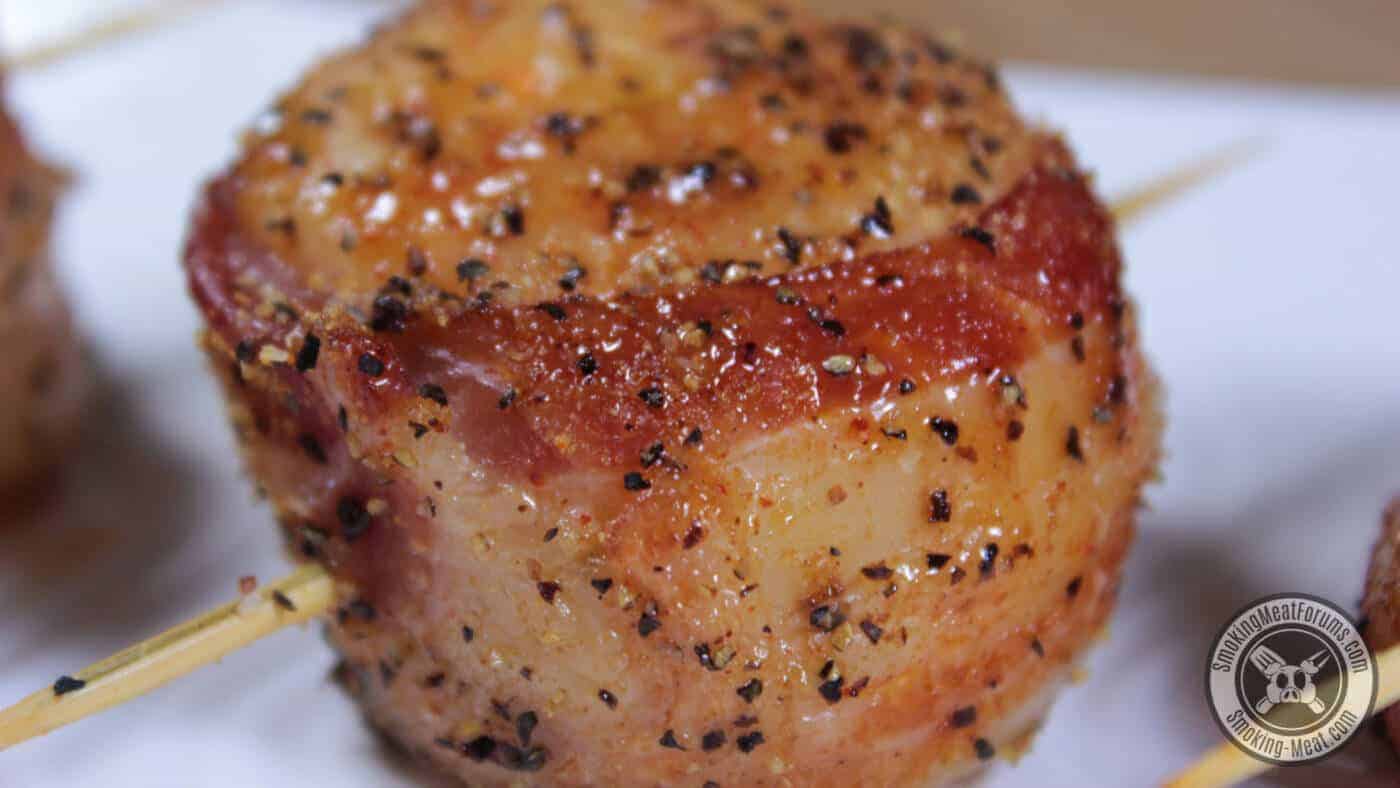 Smoking-Meat.com is supported by its readers. We may earn an affiliate commission at no extra cost to you if you buy through a link on this page.
Read this article without ads
I have been eating scallops for most of my adult life but until I tried them smoked, I had no idea just how good they could really be. Bacon wrapped smoked scallops should be on your menu for an upcoming meal, party or get-together.
You really don't need a reason, these are really that good. Some things like smoked lobster, smoked shrimp and now, smoked scallops are a seafood lovers delight.
If you are thinking for one second that the smoke and/or the bacon will get in the way of the natural goodness of the scallop then you would be incorrect. The scallop's natural good flavor shines right through and the smoke and bacon just sort of enhance that goodness.
Do these soon and then shoot me an email and tell me all about it!
Helpful Information
Prep Time: 1.5 hours
Cook Time: 1 hour
Smoker Temp: 210°F (99°C)
Meat Finish Temp: 145°F (63°C)
Recommended Wood: Hickory (I have also used apple and it was very good)
What You'll Need
Marinate in Fridge
Place the scallops down into a gallon sized ziptop bag and pour about ¼ cup of olive oil down into the bag.
Roll the bag around gently to coat the scallops with the oil.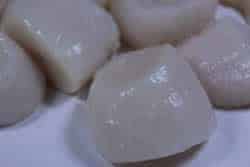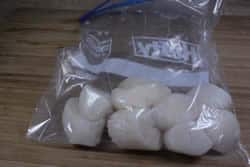 Put about a tablespoon of my original rub into the bag, seal it up and roll around gently to coat.
I poured them back out of the bag to show a better picture of what they look like.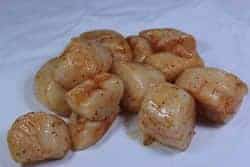 Place bag of seasoned scallops in fridge for about 1 hour to marinate. The rub will mix with the olive oil and create a really nice marinade that will really compliment the natural flavor and texture of the scallops.
Wrap in Bacon
After marinating the scallops, remove them from the fridge.
Place one of the scallops onto the end of a strip of bacon like so..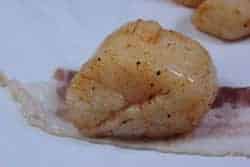 Hold the bacon onto the scallop while you give it a full roll.
Let the bacon overlap about ½ inch and cut it off.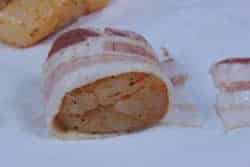 Push an extra long toothpick through the overlap and out of the other side of the scallop to hold everything securely.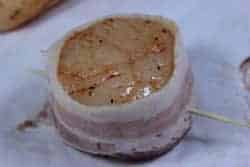 Repeat the wrapping and securing on all of the scallops.
Season Scallops
Place the scallops on a rack or a cookie sheet (this makes it easy to carry them out to the smoker)
Sprinkle a good dose of my Texas rub onto the outside of the scallops and the bacon before calling them "ready to smoke".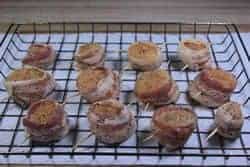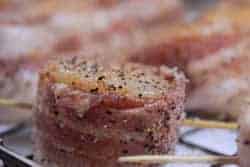 Get the Smoker Ready
It is imperative that these scallops cook at a low temperature to give them time with the smoke and to make sure that they do not get done too quick or overcook.
Set up your smoker for cooking at about 210°F (99°C).
You will need enough smoking wood for about 20-30 minutes of smoke and the rest of the time can be heat alone.
Once the smoker is set up and holding steady at the goal temperature, you are ready to smoke the scallops.
Smoking the Scallops
Place the scallops directly on the smoker grate or just place the rack onto the top of the smoker grate if it fits your particular smoker.
I only added smoke for about 20 minutes but you could easily add smoke for a longer time or the full hour as long as your smoke is nice and thin like it should be and not the huge white billowing smoke.
I checked my scallops at 45 minutes and they were not quite there so I let them continue. At about 55 minutes most of them had reached 145°F (63°C). I removed the ones that were 145°F (63°C) and left the others for a few more minutes before taking them out of the smoker.
This is where the Thermapen comes in handy.. it reads in about 2 seconds and you can easily check things like this quickly to make sure every piece is perfectly done before removing it from the smoker.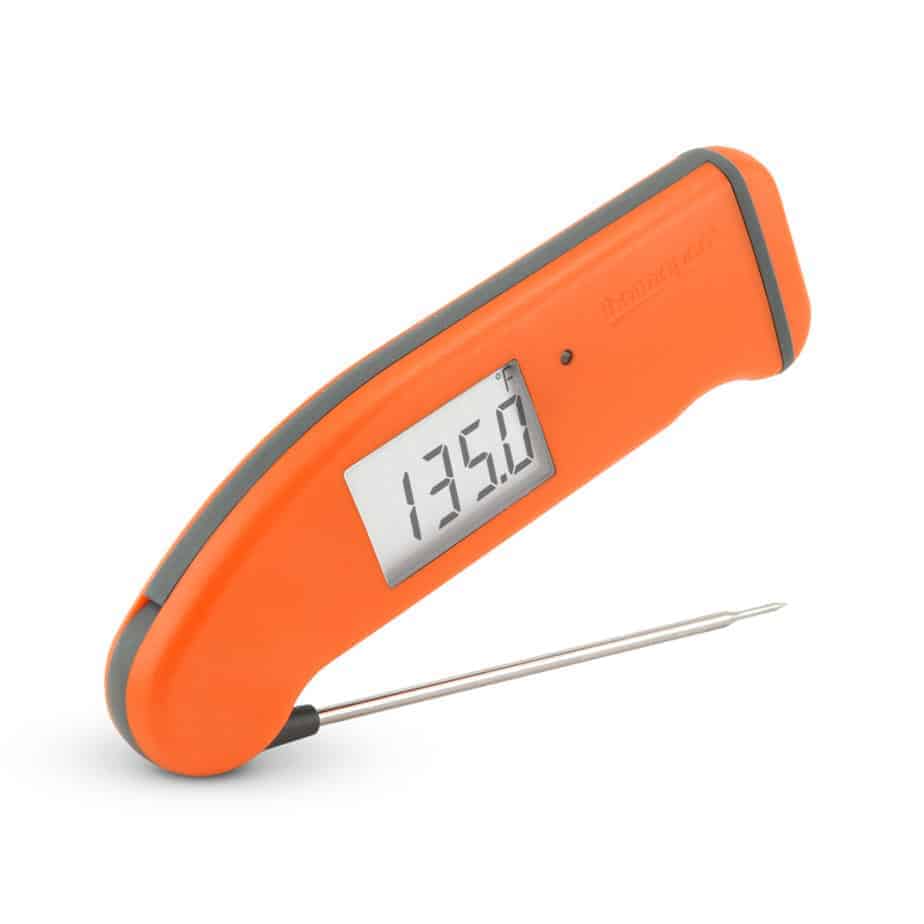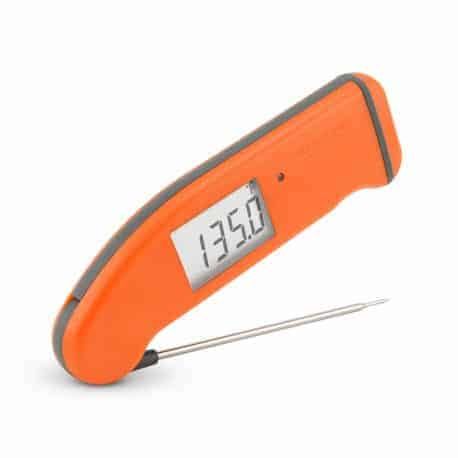 Serve the Scallops
These are fancy and I can see these being served with any number of sides at a family dinner or get together. We were in test mode and ate them right off the rack.. amazed at the flavor and wishing we had made twice as many.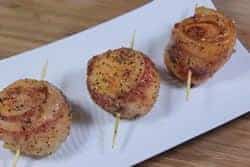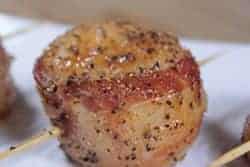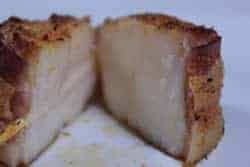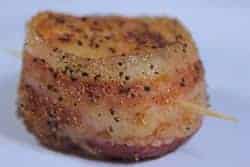 Notes/Comments:
Pick out or request scallops that are all the same size and thickness for best results.
Be sure to use thin sliced bacon. You can also use the precooked bacon or partially cook your own but it does not wrap as well and the presentation suffers in my opinion.
Do not overcook scallops.
Scallops can be a little pricey so use them as small appetizer rather than the entree if you are trying to be frugal.
The best way to eat these bacon wrapped smoked scallops is like sushi.. put the whole thing in your mouth at one time for the full effect.
Bacon Wrapped Smoked Sea Scallops
If you thought scallops were good cooked in other ways, then try them smoked and wrapped in bacon and you may find that you don't want them prepared any other way.
Instructions
Place scallops in ziptop bag with ¼ cup olive oil and 1 TBS of Jeff's original rub

Seal bag then roll and massage bag gently to fully coat scallops

Place bag in fridge for 1 hour to marinate

Place scallop onto one end of a thin slice of bacon

Wrap bacon around scallop allowing an overlap of about ½ inch

Cut bacon to fit perfectly

Push toothpick through bacon overlap and all the way through scallop to secure

Repeat on all scallops

Place bacon wrapped and secured scallops onto bradley rack or cookie sheet

Place scallops directly onto smoker grate and cook for about 1 hour at 210°F (99°C)

Scallops are done when they reach 145°F (63°C) in the center

Apply smoke for at least 20 minutes or up to 1 hour if desired

Serve immediately
Get Jeff's Products!