Smoked Onion Cola Ribs and Brats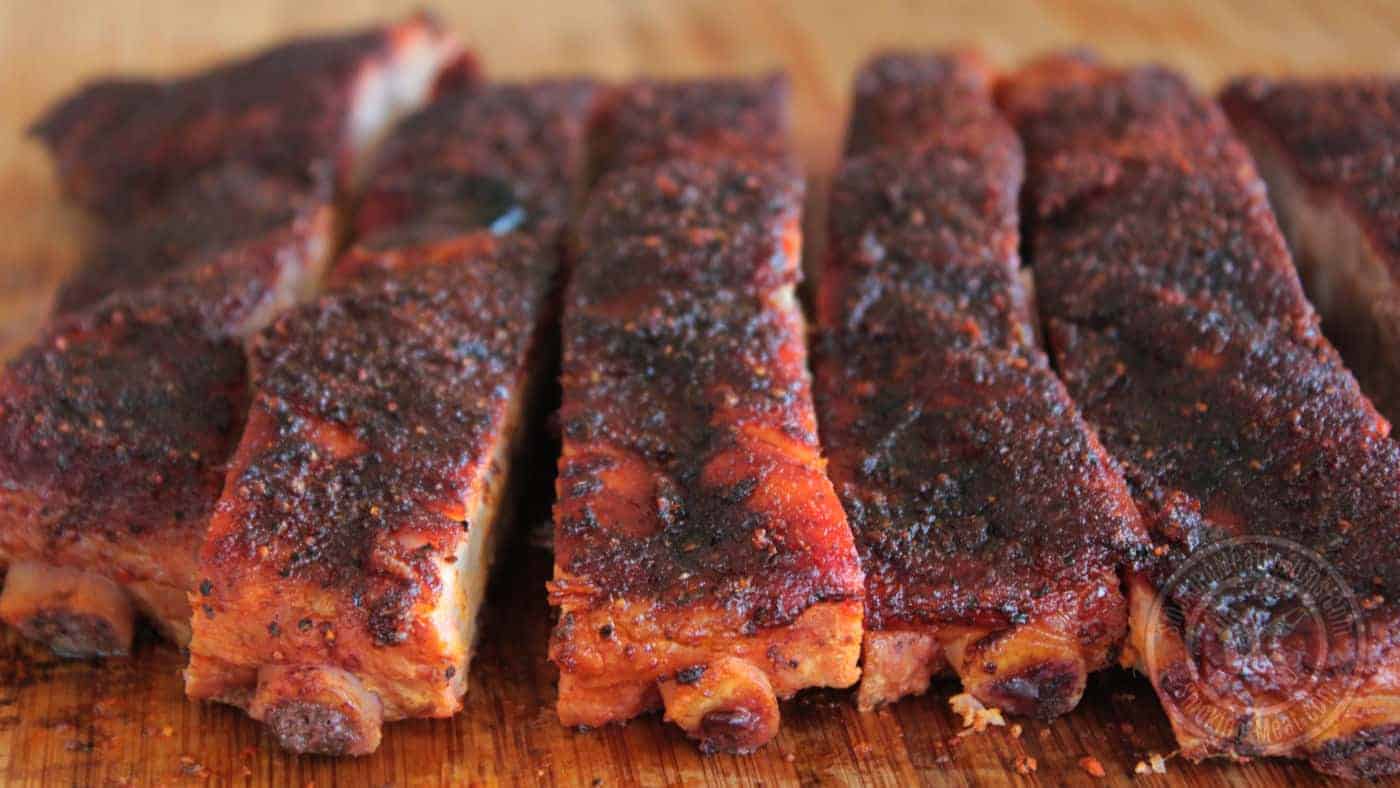 Smoking-Meat.com is supported by its readers. We may earn an affiliate commission at no extra cost to you if you buy through a link on this page.
Read this article without ads
In this smoked pork ribs recipe, I am going to show you how to make my onion and cola smoked spare ribs as well as smoked brats and smoked boudin.
The cool think about this method is that the onions help to flavor the ribs but they also hold the ribs up off the bottom of the pan and let's that crust set instead of them sitting down in the juice.
Helpful Information
Prep Time: 30 minutes
Cook Time: 5-7 hours
Smoker Temp: 250°F (121°C)
Meat Finish Temp: Done when tender
Recommended Wood: Mesquite and cherry Mix
What You'll Need
1 or more racks of full spare ribs or St. Louis spares
Apple cider vinegar
2-liter bottle of cheap cola
4 medium yellow onions
16-20 cloves of garlic
Thermapen (for checking the rib meat between the bones for perfect doneness)
Prepare Ribs for Seasoning
Rinse the ribs under cold water and lay meaty side up on a cutting board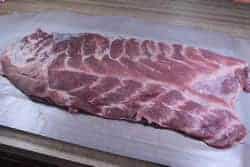 Remove any extra clumps or layers of fat then flip the rack of ribs over to bone side up.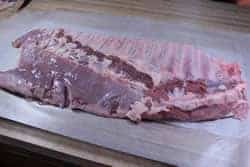 Remove the flap of meat that runs along the bottom of the ribs if has not already been trimmed off by the butcher. This helps it to cook more evenly.
Remove the membrane (thick plastic stuff) by prying up with your fingers or a sharp object such as a butter knife. Once you are able to get ahold of it, use a paper towel or some catfish skinning pliers to get a good grip and pull it clean off. If it tears, just get another good hold on it and finish the job.
Removing this membrane is important as it allows the smoke to get to the meat better and makes for more enjoyable eating later.
Season them up
I usually apply a thin coat of yellow mustard to the ribs but decided this time to use apple cider vinegar to wet the surface instead.
Sprinkle my original rub onto the bone side of the ribs.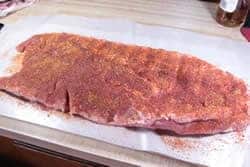 Let the ribs sit for about 5 minutes to allow the rub to mix with the apple cider vinegar and get that familiar "wet" look.
Note: you can flip the ribs over and season the other side now or you can wait and season them after placing the ribs on top of the onions and garlic in the next step. Doesn't matter when.. as long as you do it.
Prepare the Onion/Garlic Base
Slice 2 onions into ¼ inch slices and separate the rings into the pan.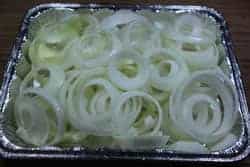 Place 8-10 garlic cloves all over the pan in with the onion rings.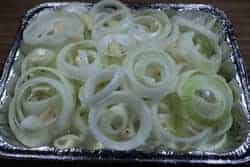 Pour cola (I used the cheap stuff) to about ½ the depth of the pan.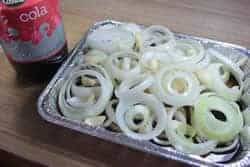 Now it is time to cut the rack of ribs in half and lay one of the halves bone side down on top of the onions.
If you decide to use St. Louis cut or even baby back ribs instead, you'll probably be able to fit more than just a half rack into each pan.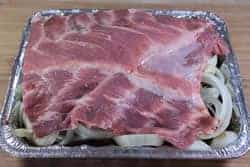 Pour some apple cider vinegar onto the top of the ribs now and use a brush or your hands to spread it all over the ribs making sure the entire surface is wet.
Note: you can definitely use yellow mustard if you'd rather. It works great and while I like to experiment, there's something to be said for, "if it's not broke, don't fix it".
Sprinkle on a generous amount of my original rub onto the top (meaty) side of the ribs.
Let it sit for a few minutes while the rub and vinegar combine to form a paste. (this is a great time to go get the smoker ready).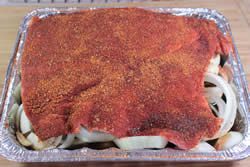 Prepare a 2nd pan in the same way as the first using the other half of the rack of ribs, 2 more onions, 8-10 more garlic cloves and more cola.
Get the Smoker Ready
Set up. your smoker for cooking at about 250°F (121°C) using indirect heat to cause the cola, onions and garlic to steam into the ribs.
If your smoker uses a water pan, fill it up.
I recommend having enough smoking wood to last at least 4 hours if possible.
Once your smoker is preheated and maintaining the temperature, you are ready to move forward.
Smoking the Ribs
Place the pan of ribs on the smoker grate.
Continue adding smoke for at least 4 hours or until the ribs are completely done cooking.
Note: After a few hours the onions and garlic will cook down and create a lot of liquid in the pan, you may want to remove the ribs from the pan at that point and just lay them directly on the smoker grate. If you want to wrap the ribs in foil for a couple of hours, you can certainly do that as well after about 2.5 to 3 hours.
I recommend bending the ribs, pulling the bones apart and even going so far as to taste one of the ribs to allow you to make a determination of "done". They are done when they are as tender as YOU and YOUR family likes them.
I highly recommend using a Thermapen to check the temperature of the ribs, In my opinion, they are pretty darn near perfect at 195°F (91°C).
Checking the temperature of pork ribs is difficult to do unless you have a thermometer like the Thermapen that has a very small diameter probe that will fit between the bones and give you an accurate measurement.
Serve the Smoked Ribs
When they are done, you can wrap them in foil, then in a towel and hold them for several hours in a cooler if you need to or you can go ahead and slice them up and divvy them out.
Notes/Comments:
If you want to use baby back ribs you can but they will get done about an hour sooner usually. Check for tenderness and/or use a Thermapen to check between the bones for 195°F (91°C).
I recommend the non-meaty baby backs as that extra meat on the ones marketed as " extra meaty" is just loin meat which is leaner and tends to dry out when cooked beyond 145°F (63°C).
If you don't like onions, try using cobs of corn or even potatoes instead to hold the ribs up off the bottom of the pan. The corn/potatoes will benefit from the cola and the rib juices as well.
You can also substitute an equal amount of sliced sweet peppers for one of the onions.
If you want the ribs to be more tender, consider removing the ribs from the pan after about 2.5 hours and wrapping them in foil for 1.5 to 2 hours. Afterwards, remove the foil and lay them on the smoker grate for 45-60 minutes unwrapped to firm up a little. This is also a great time to add some of my original barbecue sauce if you like sticky ribs.
Want to try something besides cola? Go for it.
How to Smoke Brats and Boudin
Brats and even links of boudin are very easy to smoke, but you can easily overcook them and make them tough or dry them out. Follow these simple instructions, and they will turn out perfect every time.
Prepare for Smoking
I like to place the brats and/or boudin on a Bradley rack. You can also just lay them directly on the smoker grate rounded side up (that was a joke).
Pictured at left are german style brats, the two links at top right are boudin and the ones at bottom right are American style brats.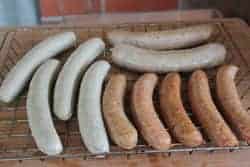 Smoking the Brats/Boudin
Preheat the smoker to 225°F (107°C)
Make sure you have enough smoking wood for 2 hours.
Smoke the brats for exactly 2 hours and they are done.
The boudin is done when the skin is bite through crispy but the inside is not dried out. This is usually about 2 hours but I have went as long as 2.5 hours before.
Throw on an extra link and try it at 2 hours. If it's not done, go a little longer.
Note: this is one of the great reasons for smoking boudin instead of steaming them, microwaving them or any of the other ways that folks heat them up. The skin, when smoke cooked, is completely edible, has a slight crispiness to it and there is no need to peel off the skin.
Finishing Up
Serve and Enjoy!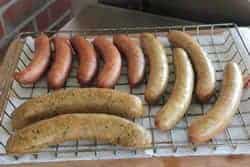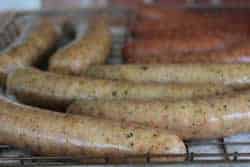 Onion and Cola Smoked Spare Ribs
With a base of onions, garlic and cheap cola, you can infuse spare ribs with lots of flavor while allowing the steam from the onions and cola to keep the ribs nice and moist while they smoke.
Ingredients
1

rack of spare ribs

Apple cider vinegar

2-

liter

bottle of cheap cola

3-4

medium yellow onions

16-18

cloves

of garlic
Instructions
Prepare Ribs For Smoking
Rinse ribs under cool water

Remove any large areas of fat on meaty side of ribs

Flip the ribs over and remove the membrane from the bone side

Wet the ribs with apple cider vinegar

Turn the ribs over and apply the vinegar and rub to the meaty side

Cut the rack of ribs in half

Slice two onions into ¼ inch slices and separate the rings

Place the rings and 8-10 garlic cloves in a large foil pan

Pour enough cola to fill the pan to about ½ full

Lay one of the rib halves on top of the onions and garlic

Prepare a 2nd pan in the same manner for the other half of the ribs

Set up smoker to cook at about 250°F (121°C)

Place the pan(s) of ribs onto the smoker grates

Cook for 5-6 hours or until they ribs are as tender as you like them or about 195°F (91°C).
Get Jeff's Products!