In this recipe, we are talking about smoked chicken wings and while these are very similar to hot wings, these are not the traditional chicken wings that are fried then coated in wing sauce.
Instead these are seasoned with my original rub (purchase recipes here), smoked with cherry wood and then brushed with my delicious barbecue sauce (purchase recipes here)  about 30 minutes before they are finished.
Here's what you'll need
5-10 lbs of chicken wings (I recommend doing plenty)
Large foil pan (very helpful)
Large ziploc (2 or 2.5 gallon works great)
Heavy duty foil
Oil, Olive, Vegetable, Canola, etc.
Prepare the chicken wings for smoking
This part is extremely easy.. the first step is to put all of the wings as they are into a large ziploc bag.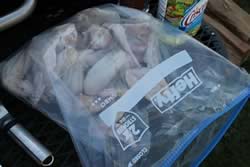 Pour about 1/2 cup of oil over the wings and then roll them around inside the bag to coat.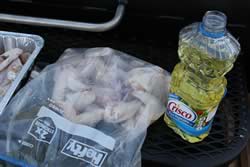 Pour 1/4 cup of my original rub (order the recipe) per 3 lbs of chicken wings down into the bag. Zip it up then roll and shake the bag to coat the chicken with the rub.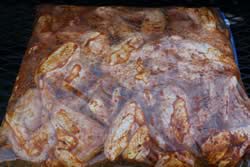 Once the chicken is coated with rub, pour them out into a foil pan for easy access.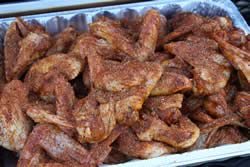 Smoke Time
It does not matter what type of smoker you are using. I decided to use my wood smoker but you can use ANY smoker or gril.
Here's a few examples:
You can use any smoker or even the grill for these. If you are able to maintain close to the recommended temperature and you have a thermometer so you can make sure they are done properly, then it will work.
Lately I've been using the Camp Chef pellet grill for most of my cooking and having a blast doing it. Read more about this awesome smoker that uses REAL wood to cook and smoke the food to perfection.
Regardless of what smoker you use:
Maintain 250-275°F (a little higher temperature ensures more crispy skin)
Cook for about 1.5 hours or until the meat reaches 165-170°F
Apply smoke for at least 1 hour. I used cherry wood on these but any good smoking wood will work well.
Once your smoker is maintaining about 250-275°F with 275°F being ideal in my opinion,
Lay the chicken wings onto the grate of your smoker trying to keep a little space between them to allow the smoke to circulate over, under and around each piece.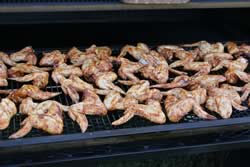 About 30 minutes from the time when the chicken is expected to be finished, you will want to brush some of my extra delicious barbecue sauce onto the wings.
For this purpose, I wanted the sauce to be a little thinner than usual so I mixed in some Lemon-lime soda to help thin it down.
Note: you can use almost anything from water to coffee to pop and even cider or apple juice to thin down my barbecue sauce. Sometimes you just want it to flow a little more.
I just happened to have some SunDrop and that's what I used. The lemon-lime flavor won't hurt anything;-)
Just 2-3 tablespoons of liquid is all it takes in a cup of my barbecue sauce (purchase recipes here). Use more or less depending on how thin you want it to be.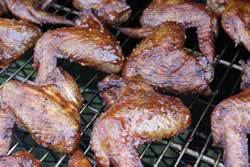 Use a ThermoPop, Thermapen or other thermometer to make sure that the correct finished temperature is achieved in the chicken. You are looking for 165-170°F.
A great tool for checking the temperature on these is the ThermoPop digital pocket thermometer which reads in 3-4 seconds (that's fast), is splash-proof and is being offered now for only $29. One of my favorite toys.. er, tools;-)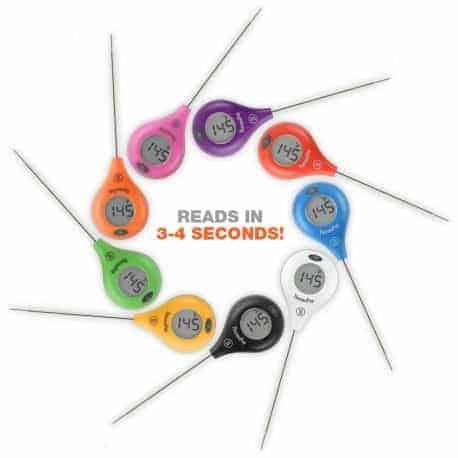 When the smoked chicken wings are done, get them out quickly and place them into a foil pan or other serving platter or bowl.
This one was begging to be eaten!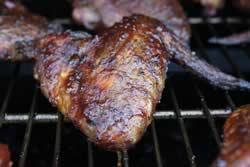 Into the foil pan and into the house for serving to the hungry family and friends.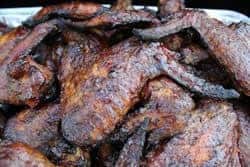 My oldest daughter said they were the best wings she's ever had. Why is this significant? She's very picky about her wings!
Try these and I know you'll love them. I do recommend that you do these exacly as I've instructed the first time.
Enjoy!!
Summary:
Remove wings from package and place in large ziploc
Pour oil onto wings and roll to coat
Spoon rub over chicken in bag
Roll and toss to coat well
Dump wings into large foil pan
Prepare smoker for cooking at 250-275 degrees
Place wings on smoker grate with space between them
smoke for about 1.5 hour
About 30 minutes before finished, brush with my sauce
The wings are done when they reach 165-170 degrees
Notes:
The most popular email question that I receive is how to get chicken skin crispy and this includes whole chicken, pieces and even wings.
There are several methods you can use to help crisp up the skin a little bit
Flash fry the wings (after smoking) in oil that is very hot (400+ degrees)
Place them on a very hot grill for a few minutes after they are done smoking
Place them in a 350-375 degree oven for a few minutes after they're done smoking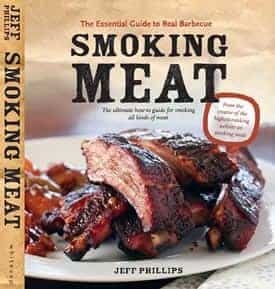 The book is full of recipes and contains tons of helpful information as well. Some have even said that "no smoker should be without this book"!
With more than 800 reviews on Amazon.com and a rating of 4.7 out of 5 stars, it comes highly recommended.
It is a Bestseller in Barbecueing & Grilling books on Amazon.
Amazon | Barnes & Noble | German Edition
Get Almost Anything at Amazon
If you enjoy the newsletter and would like to do something helpful, then..
The next time you decide to order something at Amazon.com, use THIS LINK to get there and we'll get a small commission off of what you purchase.
Thank you in advance for using our special link: http://www.smoking-meat.com/amazon