For a while now, I have been experimenting with smoked lobster tails and I am very happy to report that smoking lobster tails takes them to an entire new level of amazing and I say that as a guy who is very picky about his lobster.
Not only a great way to make any special occasion a little better, these also make for an extra special Christmas meal especially when it's a small intimate group of friends and/or family.
You can pick these up at reasonable prices if you look around and even the frozen ones are not a bad option if you thaw them out slowly in the fridge.
Those of you who are able to get fresh ones should consider yourselves very fortunate.
Smoked lobster tails might be one of the easiest things you'll ever do in your smoker and perhaps the most tasty!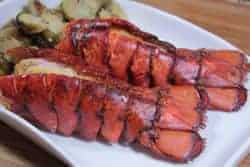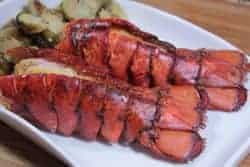 Here in Oklahoma, it's not quite as easy to get fresh lobsters without paying exorbitant "jacked up" prices and I usually opt for the smaller tails that are frozen. I have discovered that if I thaw them slowly in the fridge and don't overcook them, they are extremely good.
I have eaten lobster at some very fine restaurants over the years and I can tell you that none of them hold a candle to the smoked lobster tails that I prepare in my smoker using the method I am about to show you.
Important Information
Prep Time: 25 minutes
Cook Time: 45-60 minutes
Smoker Temp: 225 degrees F
Meat Finish Temp: 135-140 F
What You'll Need
4-6 lobster tails
Butter mixture (recipe below)
Get the Recipes for Jeff's Rub and Sauce
---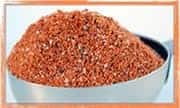 As usual, my rub and sauce recipes are a must have and the rub goes with these smoked lobster tails perfectly.
I promise you'll love my dry rub/seasoning recipe and my barbecue sauce recipe or you don't pay!
Reasons to buy: Support the newsletter and the website | Own "the recipes" | Get the email newsletter 100% AD FREE from now on | Includes the Texas style rub recipe

Butter Mixture for the Smoked Lobster Tails
About 30 minutes into the cooking process, I recommend putting about a tablespoon of my butter mixture onto the lobster tail meat via a slit in the shell.
Once you mix up the butter mixture, it will need to sit on the counter for 30 minutes or so and get thick before using it. For this reason, I usually make the butter mixture before I prepare the lobsters.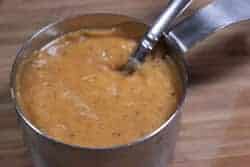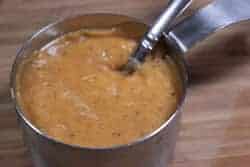 This butter mixture consists of:
1/4 lb (1 stick) of butter
1 TBS Jeff's original rub
1 TBS lemon juice
1/4 tsp ground habanero powder (optional)*
Melt butter in microwave then add lemon juice, rub and, if desired, the optional habanero powder. Mix together well and leave sitting to thicken.
My original rub and the butter with the lemon juice compliments really well without masking the natural goodness of the lobster even without the spiciness of the habanero powder.
*Some notes about the habanero powder
Ground habanero powder can be found in specialty spice shops and online at amazon.com.  In the absence of habanero you can also use cayenne to taste to add a little zip to the butter mixture.
I use 1/4 tsp of ground habanero for my family but I recommend you begin with a very small pinch. Taste it then continue adding slightly more until you find the sweet spot for you and your family's taste buds.
Note: You are looking for a subtle heat that doesn't hit you in the mouth but simply lingers in your throat after you have eaten.
Preparing the Lobster Tails
If the lobster tails are frozen, allow them to thaw slowly in the fridge for about 24 hours prior to cooking them. If they still need a little thawing, you can place them in a colander and run cold water over them for a few minutes.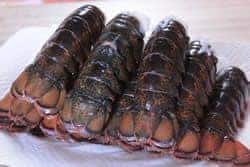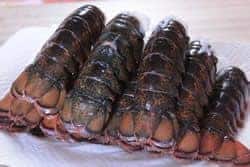 To get the lobster tails ready for smoking you will want to cut a slit in the top of the tail from the front end to where the fin begins.
Lay one of the tails on your cutting board with the fin away from you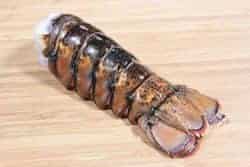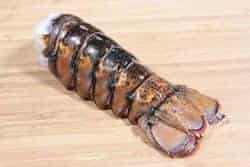 Use a pair of kitchen shears to cut through the segments of the tail.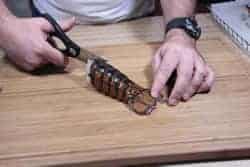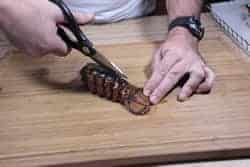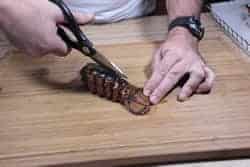 Use your hands to carefully pull the shell apart so you can get to the meat. This must be done with care so as to not break the shell any more than you have to.
If you do break the shell, make sure to rescue any small pieces that get down into the meat.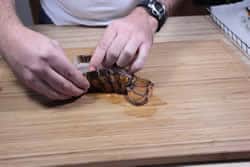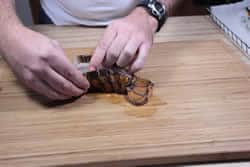 Run your fingers between the meat and the shell so as to separate it partially. Leave it attached in the back toward the fin.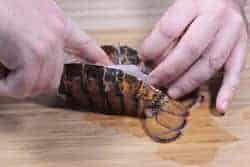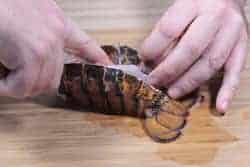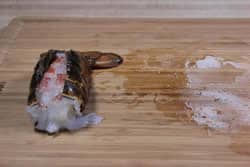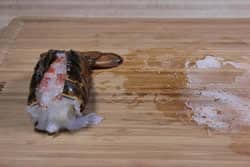 Rinse the meat off under cold water to make sure there is no bits of shell.
Lobster tails, like shrimp, have a tendency to curl up when they are cooked. To prevent this you can place a skewer through the meat as shown.
Push the sharp point of the skewer through the center of the meat in the front of the tail and let it exit just below the fin in the rear of the tail.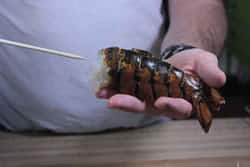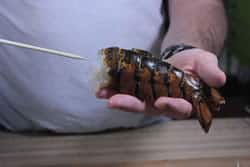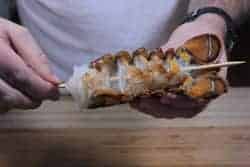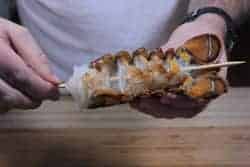 A properly skewered lobster tail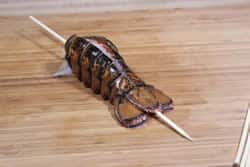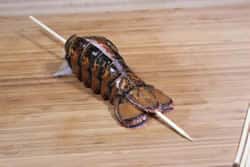 Lobster tails are ready for smoking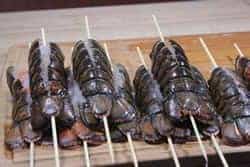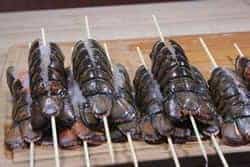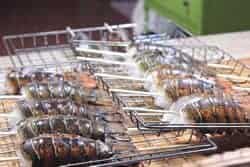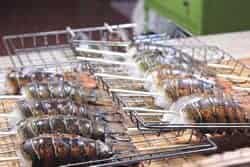 Getting the Smoker Ready
I have done lobster tails in the Bradley 4-rack smoker, the Landmann propane smoker, and a number of other smokers and grills including the Camp Chef Pellet Grill and the  Traeger Pellet grill and they were all very good and took similar amounts of time to cook. As you can see, I have to test a LOT Of lobster or at least any time I find it reasonably priced;-)
I have no doubt that these smoked lobster tails will come out equally well in almost any smoker as long as you are able to maintain the proper temperature and don't overcook them.
Set up whatever smoker you have for cooking at about 225°F. Use apple wood or a similar fruit wood for best results.
Once your smoker is holding steady at 225°F, the lobster tails are ready to go in the smoker.
Smoking the Lobster Tails
As you all probably know, I love to use Bradley racks to carry the food to and from the smokers, not just the Bradley smoker. They make it super easy to transport food to and from the kitchen with very little fuss.
Weber grill pans or even just a plain ol' cooling rack will work perfectly fine as well.
You can also just place the skewered lobster tails right on the grate of your smoker, slit side up if you do not have the Bradley racks available.
The lobster tails that I had were about 5 oz each and took around 45 minutes to reach a temperature of 135-140°F.
I recommend the smaller tails for tenderness and flavor but if you choose to smoke lobster tails that are larger, it will obviously take a little longer.
About 25-30 minutes after you place the lobster tails in the smoker, spread the shell apart a little and put a dollop (about a tablespoon) of the butter mixture onto the meat in the lobster tail.
Since it was made early and allowed to thicken some, it does not run off so quickly and more of the spices stay with the meat.
Just monitor the temperature of the meat with your "Smoke" by Thermoworks or a Thermapen and when it reaches 135-140°F, the smoked lobster tails are done and should be removed from the smoker right away.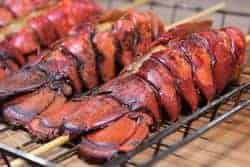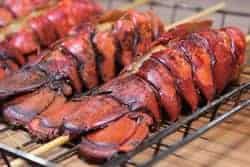 Serving the Smoked Lobster Tails
I served the lobster with roasted brussel sprouts tossed in olive oil, kosher salt and fresh ground black pepper.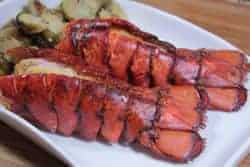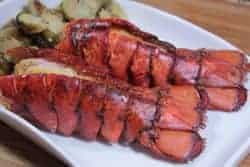 Look at that juicy, tender meat!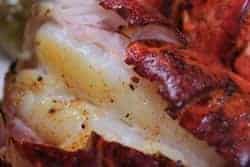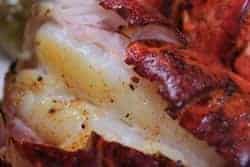 Enjoy!

***Note: you get the Texas style rub recipe free with your order!
If I could give these recipes away, I would do that. I really want you to have them! But, then, this is how I support the newsletter, the website and all of the other stuff that we do here to promote the art of smoking meat.
Read these recent testimonies:
"Love the sauce and rub recipes. So far I have used them on beef ribs, pork ribs, and different chicken parts. Can't wait to do a beef brisket. Texas rub is great as well!" ~Peter S.
"I tried the rub on a beef brisket and some beef ribs the other day and our entire family enjoyed it tremendously. I also made a batch of the barbeque sauce that we used on the brisket as well as some chicken. We all agreed it was the best sauce we have had in a while." ~Darwyn B.
"Love the original rib rub and sauce! We have an annual rib fest competition at the lake every 4th of July. I will say we have won a great percent of the time over the past 15 years so we are not novices by any means. However, we didn't win last year and had to step up our game! We used Jeff's rub and sauce (sauce on the side) and it was a landslide win for us this year! Thanks Jeff for the great recipes. I'm looking forward to trying the Texas style rub in the near future!" ~Michelle M.
You see the raving testimonies and you wonder, "Can the recipes really be that good?"
No worries! Make up a batch and if it's not as good as you've heard.. simply ask for a refund. Now that's a bargain and you know it. Let's review:
You decide you don't like the recipes.. you don't pay!
The recipes are absolutely amazing!
Once you order, there'll be no more recipe ads in the email version of the newsletter
Well.. what are you waiting for.. click on the big orange button below to order the recipes now.

I really, really appreciate the support from my newsletter friends and be sure to let me know if you have any questions about this.
Jeff's Smoking Meat Book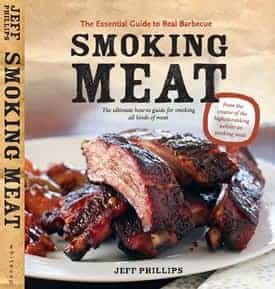 The book is full of recipes and contains tons of helpful information as well. Some have even said that "no smoker should be without this book"!
With more than 800 reviews on Amazon.com and a rating of 4.7 out of 5 stars, it comes highly recommended.
It is a Bestseller in Barbecueing & Grilling books on Amazon.
Amazon | Barnes & Noble | German Edition
Digital versions available via Nook | iTunes | Kindle
Get Almost Anything at Amazon
If you enjoy the newsletter and would like to do something helpful, then..
The next time you decide to order something at Amazon.com, use THIS LINK to get there and we'll get a small commission off of what you purchase.
Thank you in advance for using our special link: http://www.smoking-meat.com/amazon