Shrimp & Cream Cheese Stuffed Jalapeños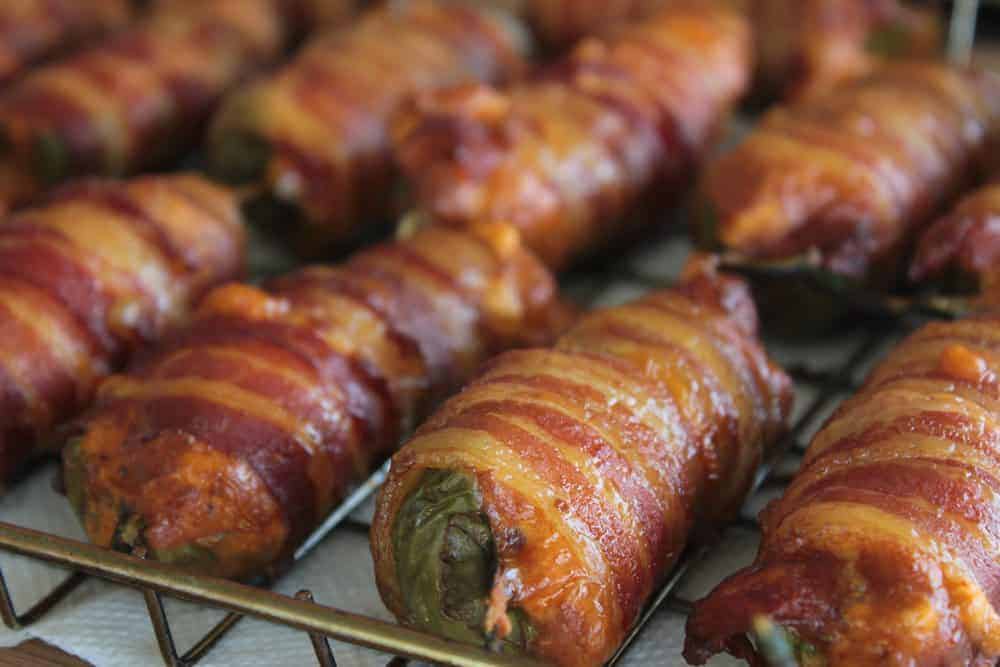 Smoking-Meat.com is supported by its readers. We may earn an affiliate commission at no extra cost to you if you buy through a link on this page.
Read this article without ads
I have written on several occasions about these glorious smoked, bacon wrapped, cream cheese stuffed jalapeños (known in the smoking community as Atomic Buffalo Turds or ABT's for short). Well.. this week I have taken that same concept and added a jumbo shrimp into the jalapeño pepper just before stuffing it with cheese and they are amazing.
Quite easy to prepare and it doesn't take them long to smoke so these make excellent smoked appetizers for things like 4th of July get togethers and other events that call for finger foods and between-meal crowd pleasers.
Helpful Information
Prep Time: 1 hour
Cook Time: 3 hours
Smoker Temp: 225°F
Meat Finish Temp: N/A
Recommended Wood: Pecan
What You'll Need
Jalapeño peppers (Each pepper makes 2)
8 ounces cream cheese (makes enough mixture for about 20 stuffed peppers)
1 cup of shredded cheddar
1 lb shrimp (jumbo or 21/25 pieces per pound)
1 lb of thin or original sliced bacon (the kind I use has 13 slices and allows me to wrap 26 peppers)
Prepare the Shrimp
Get the shrimp ready first thing so they can marinate while cleaning the peppers and making the cream cheese mixture.
I buy the jumbo (21/25 shrimp per pound) or slightly larger if I can find them.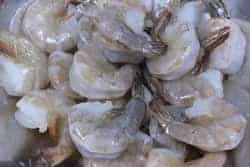 If they are frozen, place them in a colander and run cold water over them for about 3-5 minutes until they are thawed.
I usually remove the shell before I marinate them in my original rub.
To marinate them, place the peeled shrimp into a large ziptop bag and pour about ¼ cup of rub down into the bag.
Zip the bag closed and gently massage and/or roll the bag until all of the shrimp are well coated with the rub.
If you like, you can pour in a little olive oil to help form a paste but it's not really necessary.
Once they are well coated, place them in the fridge for about 30 minutes to an hour. My rub flavors them very nicely without covering up the natural great taste of the shrimp.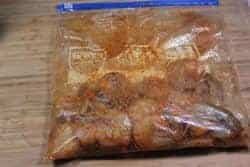 When the shrimp are finished marinating, pour them into a bowl for easy access during the stuffing process.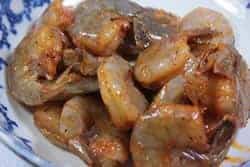 Clean the Peppers
For this version of stuffed jalapeño peppers, I recommend choosing the largest jalapeños you can find. This gives you plenty of room to place a jumbo sized shrimp in there along with plenty of the cream cheese mixture.
Each pepper gives you two stuffed peppers so figure out how many you want to make then get half that many peppers.. (plus an extra 20 like I always tend to do!)
You really can't have too many of these.. they are that good.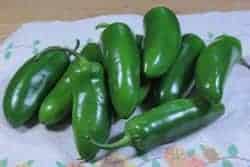 Cut the peppers in half lengthwise and clean out the seeds and ribs using a sharp knife.
Note: I took an old teaspoon and sharpened the edges with a file. This makes a great tool for scraping out the seeds and the ribs.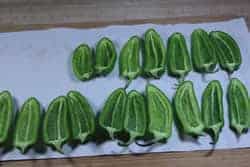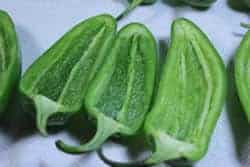 The peppers are ready to be stuffed at this point so set them aside for now.
Make the Cream Cheese Mixture
What's not to like about cream cheese mixed with shredded cheddar and a generous bit of my rub mixed in for great flavor!
I have discovered that I can usually stuff about 20 pepper halves with a single recipe of cream cheese mixture. Just something to give you an idea of how much you might need to make for the number of peppers you want to stuff.
To make the cream cheese mixture, let the cream cheese sit on the cabinet for about an hour so it can soften.
Plop it into a large bowl.. (it does plop so that's a professional explanation of the process)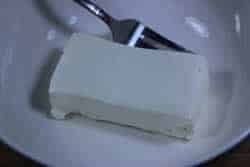 Add about 1 cup of shredded cheese.. that's about a handful if you don't want to measure real closely.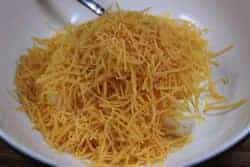 Pour on about 2-5 TBS of my original rub
I tend to use about 3-4 depending on my mood and it may be more than that if I lose count.. I'll add on an extra spoonful for good measure if I can't remember how many  I've done so far.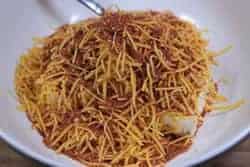 Mix it up real good.. a fork works great for this.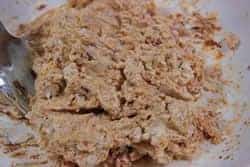 The mixture is now ready to use, set it aside.
Stuff the Peppers with Shrimp and Cream Cheese
Now that everything is ready, we can finally stuff the the peppers.
Lay a shrimp into the pepper half.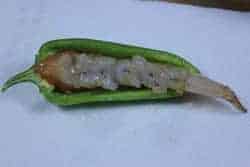 Since shrimp like to curl up into a "C", I made several cuts in the shrimp body to help it lay more flat.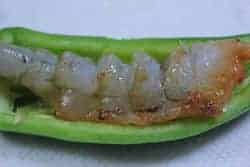 Stuff cheese on top and around the sides of the shrimp using your fingers.. there's not a better tool available for this part of the process.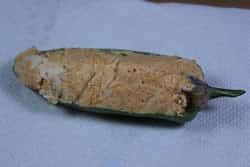 You can be as neat or as messy as you like here. It will be covered with bacon, so no one will ever know if it's not perfect. It will taste perfect either way and that's what really matters.
Wrap with Bacon
Cut strips of bacon in half and wrap the halved slices around the pepper trying to end up at the bottom.
This allows the pepper to sit on the bacon and keep it in place. Some folks use toothpicks and I have done it but since discovered that it's really not all that necessary. The bacon is sticky and easily stays in place.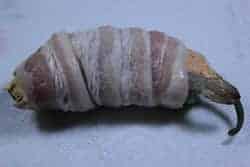 Place the stuffed, bacon wrapped peppers on a Bradley rack, if you have one, for easy transport to and from the smoker. If your smoker grate is large enough, you won't even have to take the peppers off of the rack while they cook.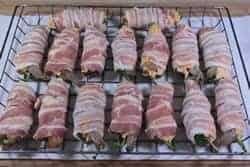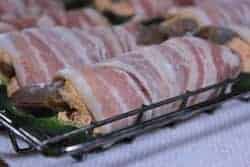 Please note: I dusted a batch of these with my "Jeff's naked rib rub"  just before they went into the smoker and they were extremely tasty.. I highly recommend that you follow suit and do the same!
Get the Smoker Ready
I say this a lot but I will repeat myself for the sake of those new to the list – It does not matter if you are using electric, charcoal, gas or wood as a heat source for your smoker, as long as you maintain the proper temperature in your smoker and cook the food until it reaches a certain temperature or level of doneness, it will be better than anything you can make inside in your oven.
Setup your smoker or even your grill for indirect cooking at 225°F and once it is holding a steady temperature, you are good to go.
If your smoker has a water pan, use it.
I recommend having enough dry smoking wood to last the full duration. Pecan wood is great on these but any smoking wood will work.
Smoke the Stuffed Jalapeños
Once your smoker is ready, place the stuffed, bacon wrapped peppers directly on the smoker grate or if you placed them on a Bradley rack (which I often use as well) just set the rack right on the smoker grate.
For most meats and foods we cook to temperature but for these, you are looking for a pepper that is soft, cheese nice and melty and bacon as crispy as possible. I can tell you that the bacon will not get very crispy in 225 °F heat but it should not be chewy.
Use the thinnest sliced bacon you can find for best results.
If you want the bacon to be crispy, remove the peppers when they are almost done and place them on a hot grill for a few minutes or even under the broiler in your home oven. Keep a close eye on them since you want the bacon to crisp but you don't want to burn anything.
I have found that 3 hours is usually perfect for these but it doesn't hurt to start checking them at 2 hours in and, of course, the only way to check them is to eat one ;-)
Serve the Stuffed Jalapeños
If there's any left after you have tested and tested to make sure they end up perfect, set them out for your guests and watch them disappear right before your eyes.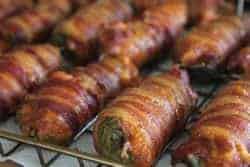 Notes/Comments:
Don't feel like you are confined to using shrimp.. you could also use pieces of chicken, pulled pork, little smokies, you get my drift.
Don't like "hot" jalapeños? Soak the halved and cleaned jalapeños in a bowl of Sprite® for a couple of hours. The longer you soak them, the milder they will be. The sprite will be very spicy due to the "hotness" leaching out of the peppers.
You might be thinking that the shrimp will be overcooked with 3 hours of heat but, somehow, the cheese and bacon protect them and even though they are cooked a lot longer than what you normally would, they taste amazing inside of the jalapeño pepper and cream cheese.
Printable Recipe
Shrimp & Cream Cheese Stuffed Jalapeños
Smoked jalapeño peppers stuffed with goodies are an amazing appetizer and this version stuffed with a jumbo shrimp and a cream cheese mixture take things to a whole new level.
Ingredients
Jalapeño peppers

(Each pepper makes 2)

8

ounces

cream cheese

(makes enough mixture for about 20 stuffed peppers)

1

cup

of shredded cheddar

1

lb

shrimp

(Jumbo or 21/25 pieces per pound)

1

lb

of thin or original sliced bacon

(the kind I use has 13 slices and allows me to wrap 26 peppers)
Instructions
Prepare Shrimp
Remove shells from shrimp

Put the shrimp down into a ziptop bag with about ¼ cup of

Jeff's original rub

and shake/roll to coat.

Place bag of shrimp in the fridge for 30-60 minutes to marinate
Prepare Jalapeño Peppers
Cut peppers in half lengthwise

Remove seeds and veins completely
Prepare Cream Cheese Mixture
Mix well to combine ingredients
Stuffing the Peppers
Lay marinated shrimp into pepper half

Make partial cuts into the body of the shrimp to help it lay flat

Stuff cream cheese mixture over the top and sides of the shrimp to fill pepper half

Wrap half strips of bacon around stuffed pepper halves
Smoking the Stuffed Jalapeño Peppers
Set up smoker for cooking at about 225°F

Place stuffed peppers directly on smoker grate

Smoke with pecan wood (or other

smoking wood

) for about 3 hours or until peppers are soft

For crispy bacon, place peppers under oven broiler for a few minutes watching them closely

Serve immediately!
Get Jeff's Products!