Stuffed Butterflied Pork Loin on the Smoker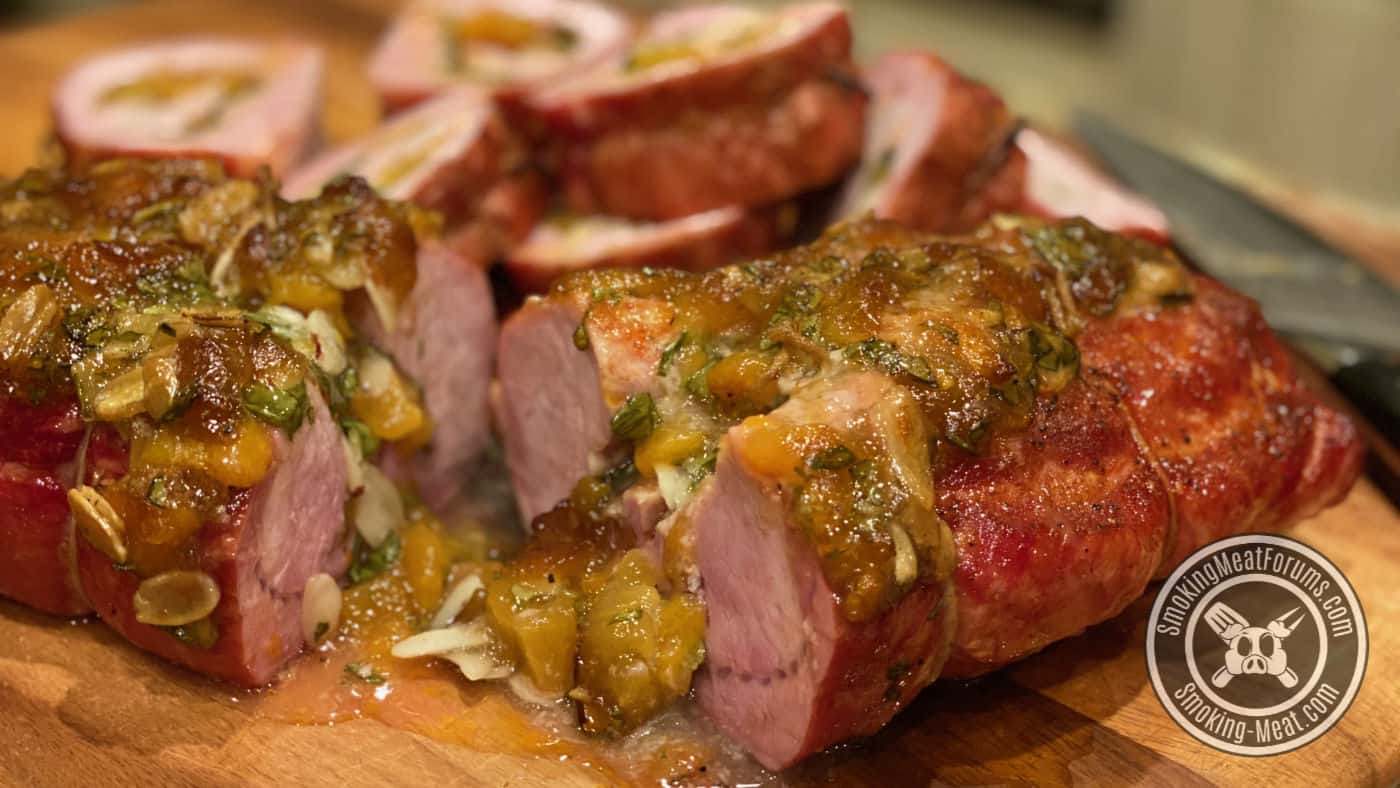 Smoking-Meat.com is supported by its readers. We may earn an affiliate commission at no extra cost to you if you buy through a link on this page.
Read this article without ads
Stuffed butterflied pork loin is lean, inexpensive and tastes great as long as you don't overcook it. In this recipe, I'll show you how to butterfly it, stuff it with delicious ingredients and roll it back up for a taste that will blow you away.
For those who don't feel comfortable butterflying a pork loin, I'll show you guys how to cut a nice little pocket so you can stuff it and get a very similar result as the butterflied version.
Buckle up and get ready to taste something amazing!
Helpful Information
Prep Time: 30 minutes
Cook Time: 4 hours
Smoker Temp: 230°F (110°C)
Meat Finish Temp: 145°F (63°C)
Recommended Wood: Oak
What You'll Need
Pork loin or pork loin half (a pork loin half or portion is often called a pork loin roast)
Coarse kosher salt
Peach pie filling
sliced or slivered almonds
Baby spinach leaves
Cooking twine
Step 1: Trim it Up
I usually go for a full pork loin and then cut it in half right away. This gives me (2) ~4 lb roasts so I can use one and freeze one or cook both of them and then freeze the leftovers.
In this recipe, I butterflied one of them and cut a pocket into the other one. Both of them are stuffed but it serves to show you (2) different ways to stuff a pork loin.
Once you cut it in half or even thirds, grab a really sharp knife and remove all of that fat and silver skin on the top side. Some folks leave this on and I have done that but it just makes a better bite if you remove it right up front.
I removed the fat/silver skin from one of the halves but not the other.
Step 2: Butterfly or Cut a Pocket
Butterfly
There are various methods for creating a butterflied pork loin and I use all of them from time to time. The easiest one in my opinion is to make a vertical cut right in the center of the pork loin down to about ¾ inch from the bottom.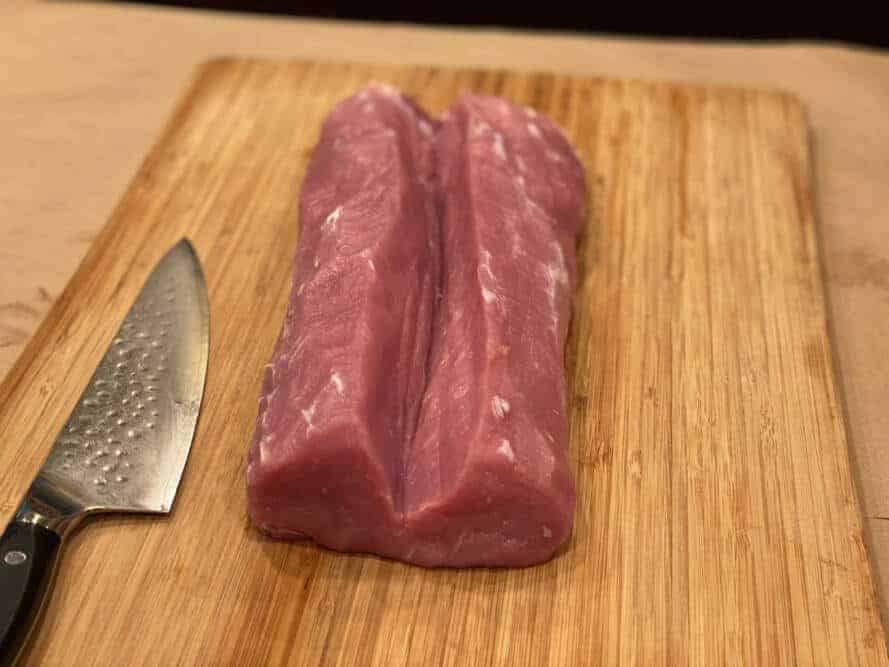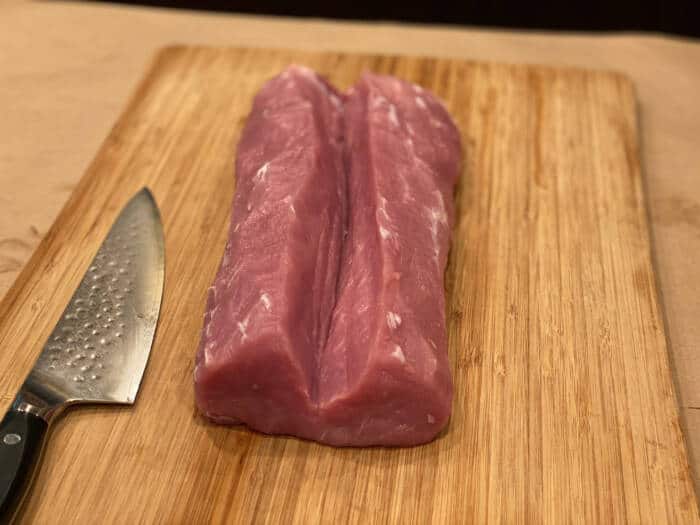 The start cutting horizontally at the bottom of the "V" to complete the cut. Stop cutting when you get about 3/4 inch from the left side.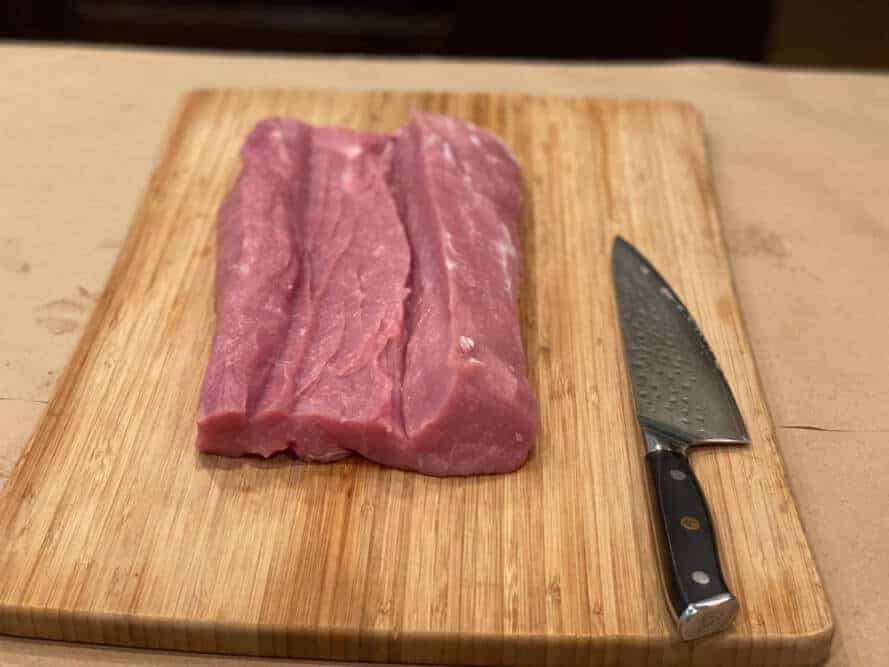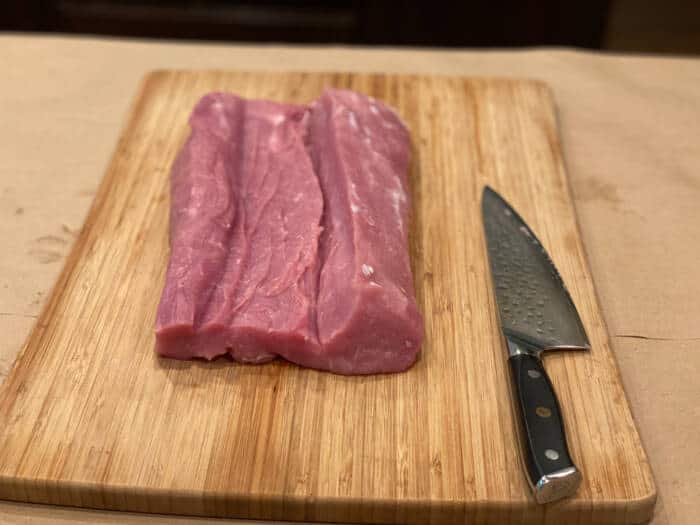 Repeat this horizontal cut on the right side to complete.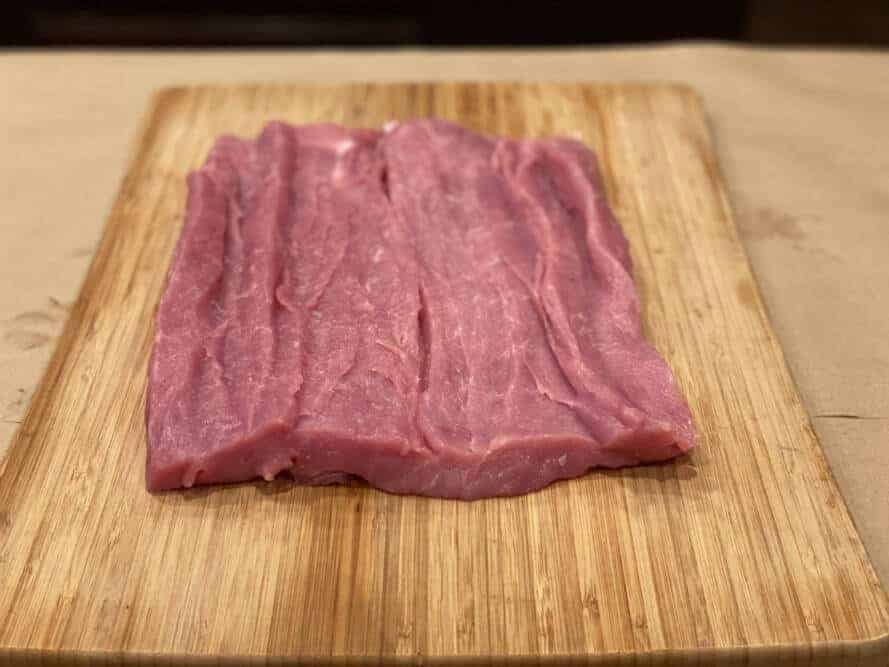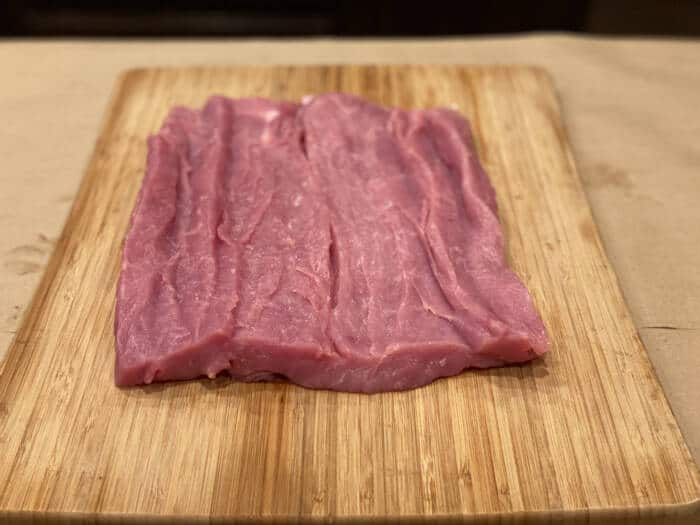 You end up with a butterflied pork loin with fairly even thickness all the way across. If you want the meat to be thinner or more even, just cover with a piece of plastic wrap and hammer on it with a meat mallet until you like how it looks.
Pocket
Make a vertical cut down into the meat beginning about 1 inch in on both ends of the pork loin and down to about ¾ inch from the bottom of the pork loin.
Then make horizontal cuts within that same "V" to the left and the right without cutting all of the way through the sides. This creates a nice pocket that will hold the stuffing.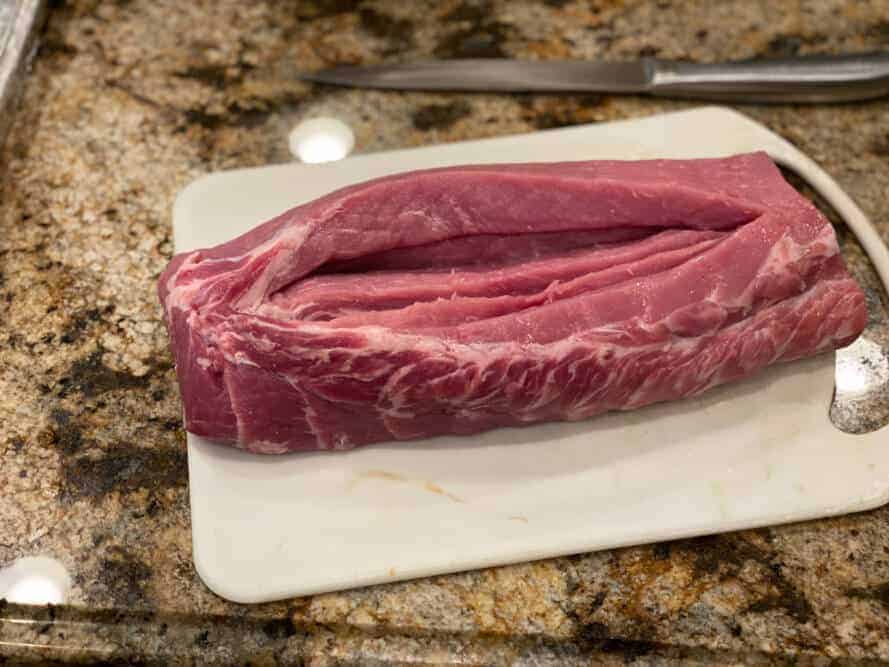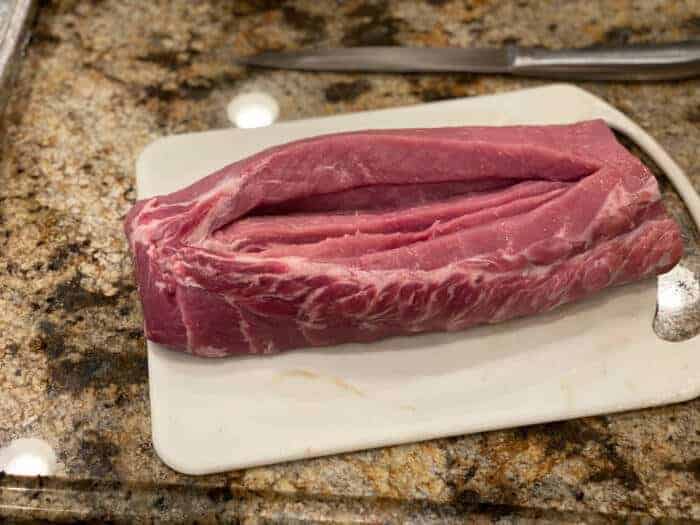 Step 3: Dry Brine & Season the Meat
To read about dry brining, see my information page HERE.
I recommend performing the dry brining, seasoning, stuffing and rolling a day ahead of time or at least 4-6 hour before you are ready to cook to give the salt time to work it's way into the pork.
Sprinkle coarse kosher salt onto the top of the butterflied pork loin at a rate of about ½ teaspoon per pound or about 2 teaspoons of salt per pork loin half.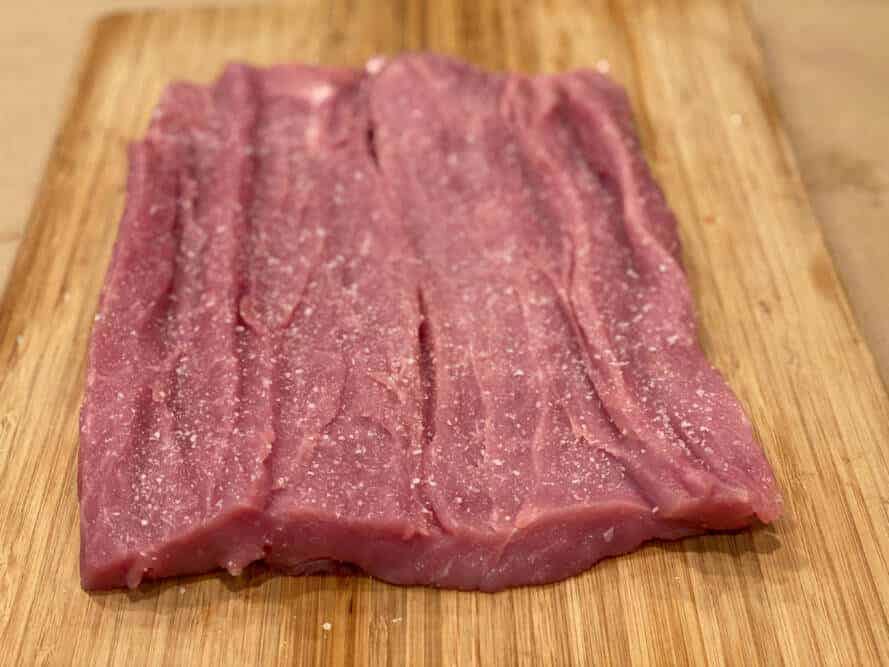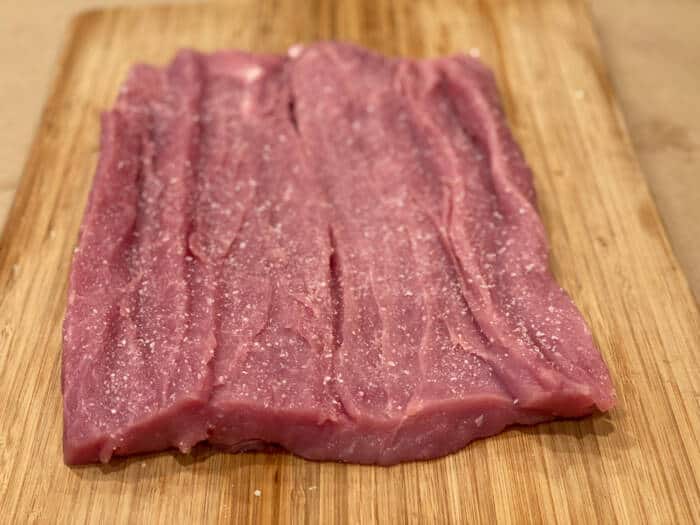 Once the salt starts drawing the moisture to the surface of the meat, you can apply a generous coat of Jeff's original rub.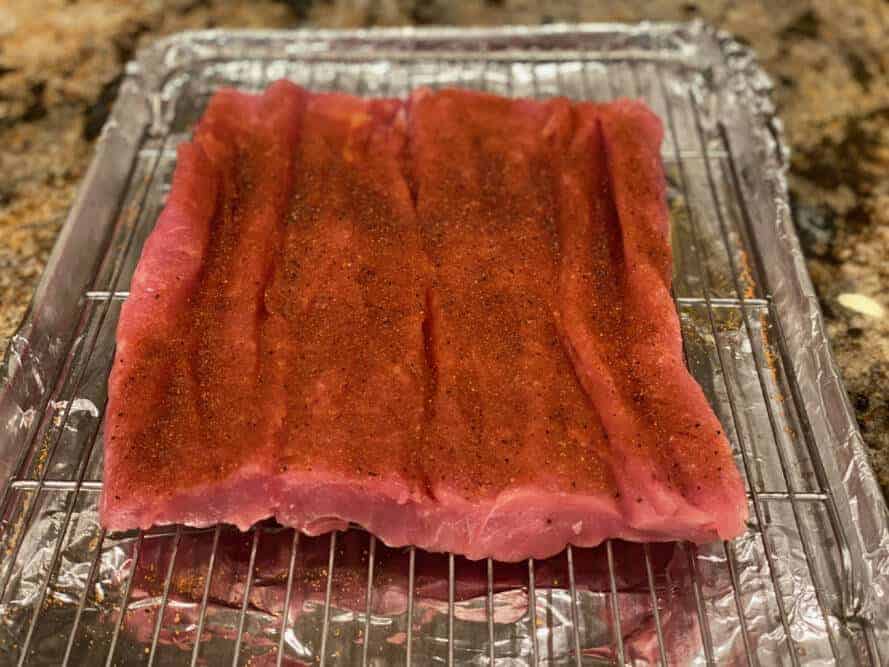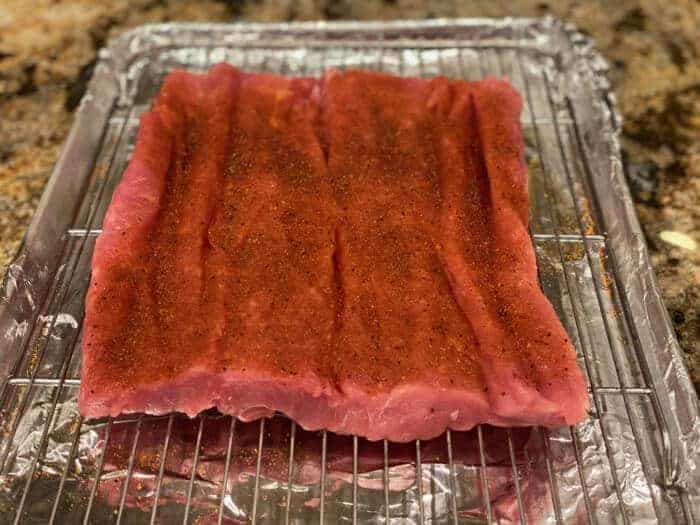 The pocket-cut pork loin can be handled in exactly the same way with the salt first and then the rub.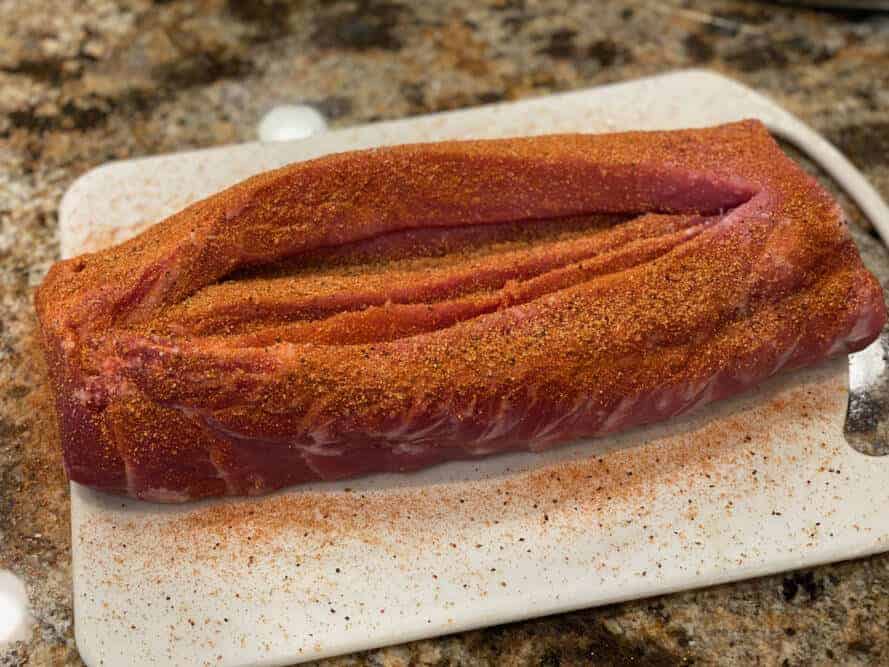 Step 4: Stuff the Butterflied Pork Loin
There are (2) schools of thought where stuffing is concerned.. one is to layer the ingredients onto the meat and then roll it up with the other being to premix the ingredients and then spread the mixture onto the meat and roll it up.
Both are very good and work equally well. It just comes down to what you find to be easier. I layered mine and then mixed up the ingredients to stuff into the pocket of the other half to show you both options.
First I laid out the peach pie filling, then the sliced almonds and finally the spinach leaves.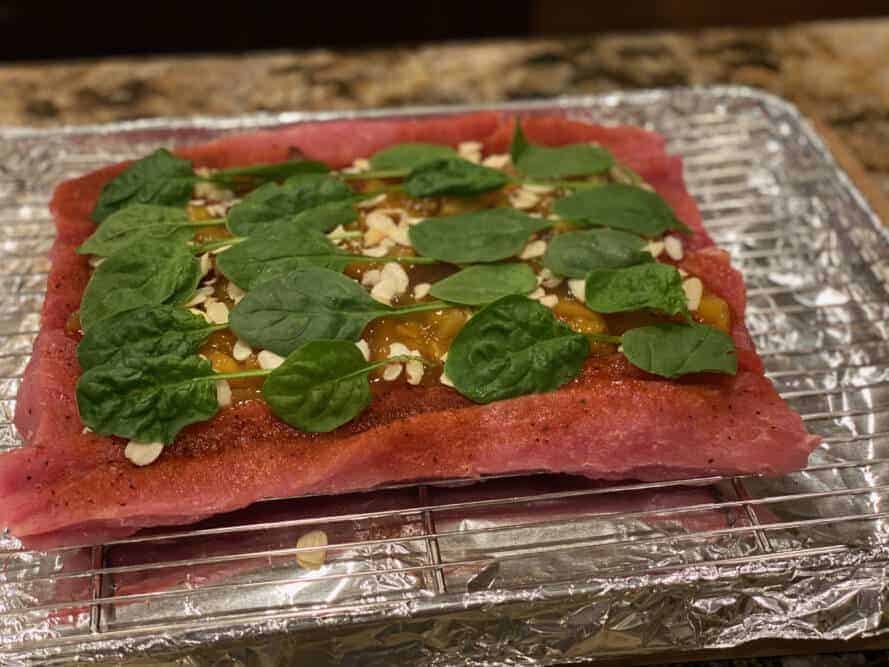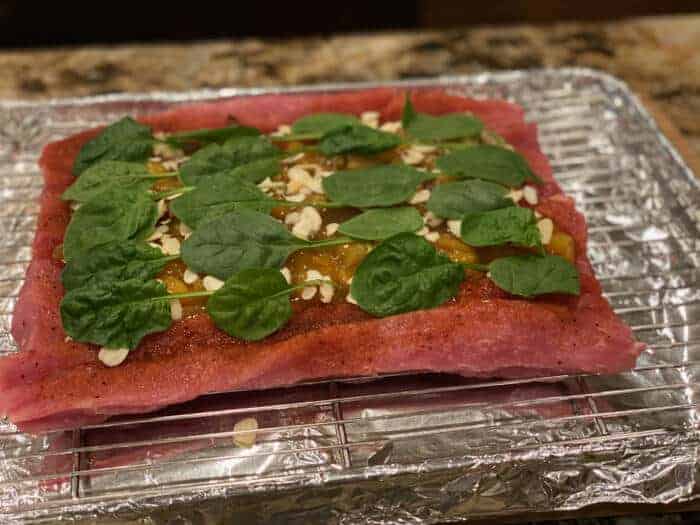 Roll it up and tie it with string to hold everything together. It's really nice to have a helper for this part of the process.
You will notice that I don't get fancy with the tying.. basic square knots about every 1.5 inches or so.
Expect some squeeze out of the stuffing and that's perfectly fine.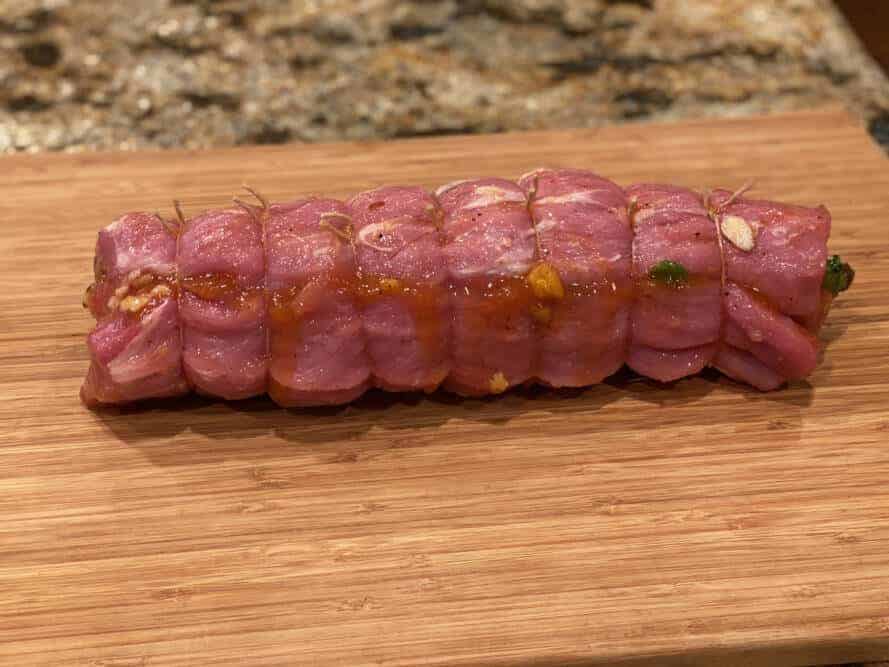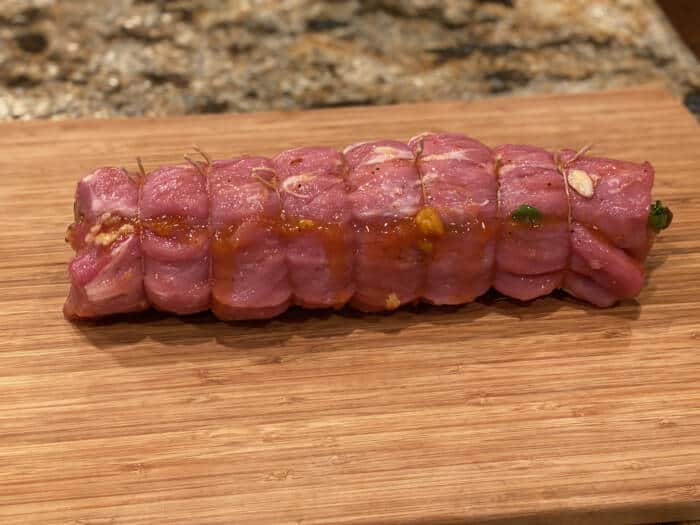 For the pocket version, I mixed up everything ahead of time including the pie filling, sliced almonds and the spinach. I cut up the peaches in the pie filling to make the stuffing a little more consistent.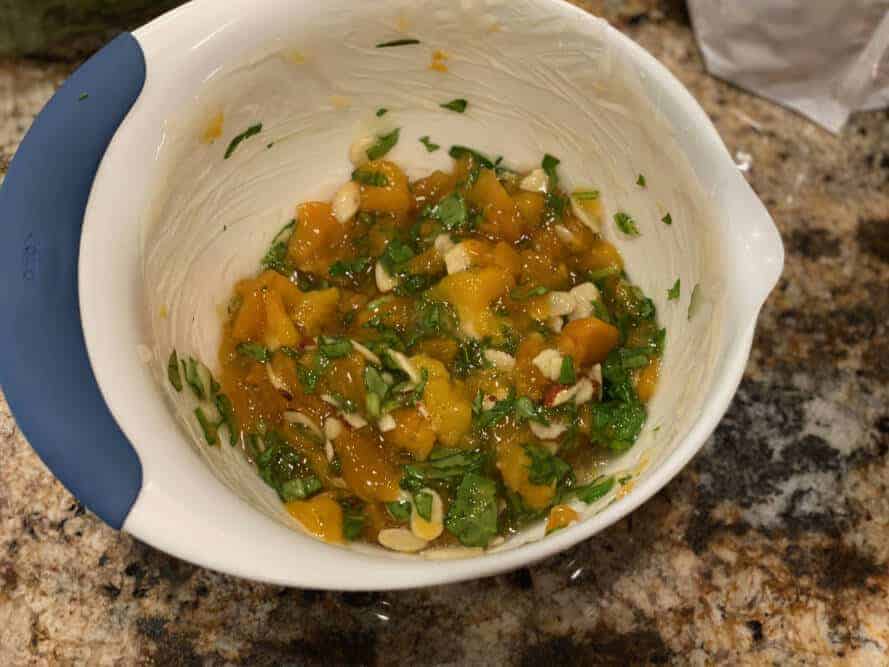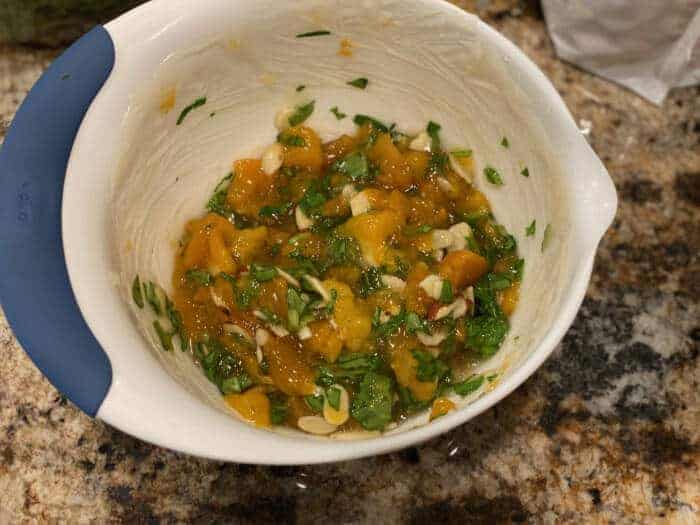 Stuff it all down into that pocket..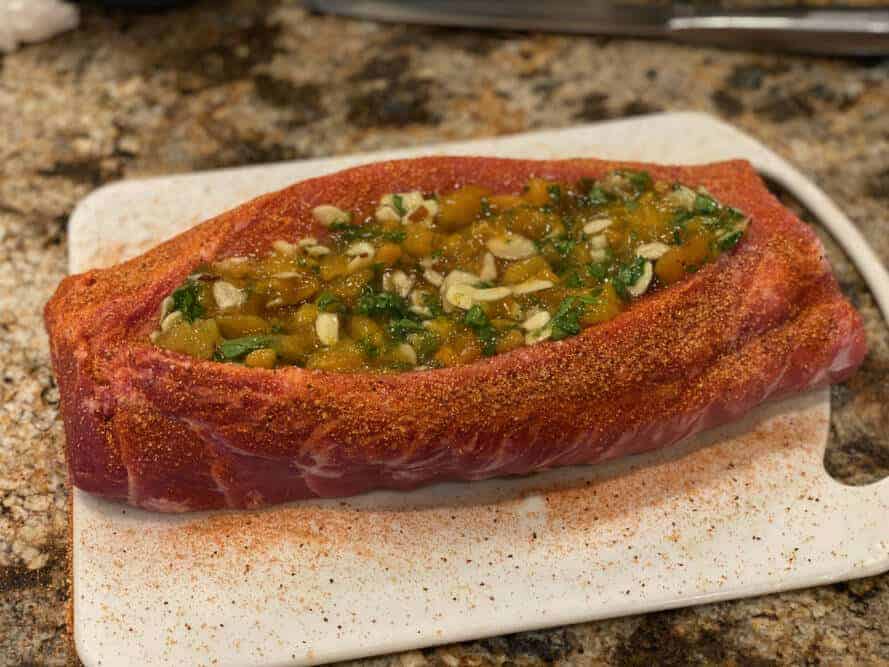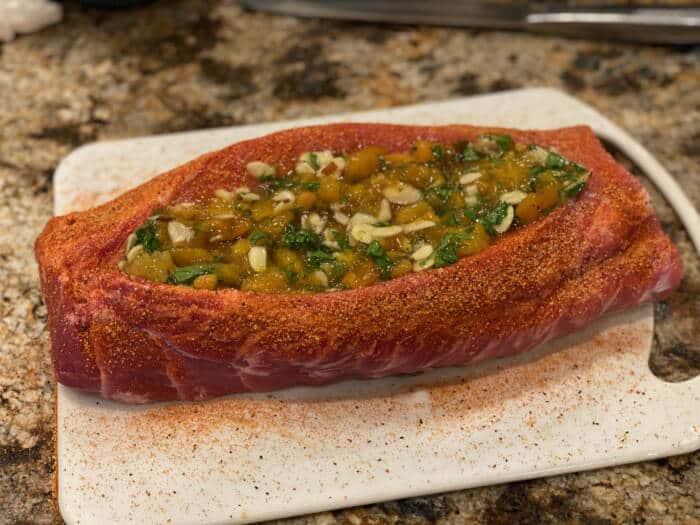 And tie it up carefully.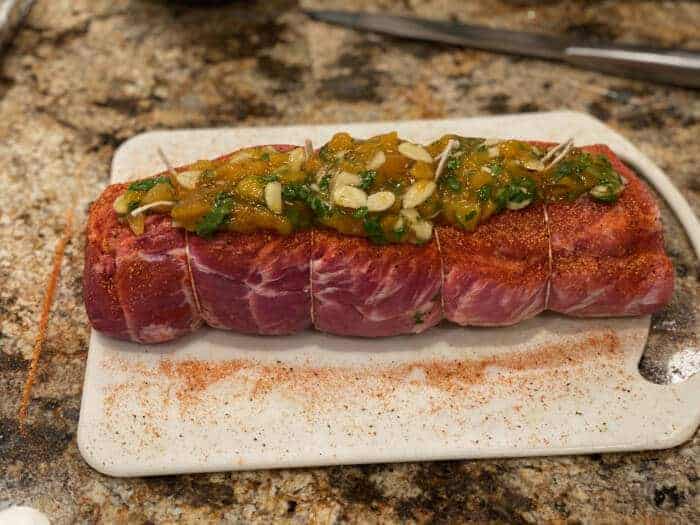 Step 5: Ready the Smoker
Set up your smoker for cooking at about 225°F (107°C) using indirect heat. If your smoker uses a water pan, fill it up.
I used the Lone Star Grillz 20×36 for this cook and as usual, it did a fantastic job. I used lump charcoal to get it going and a single split of oak on the side to provide a steady stream of smoke.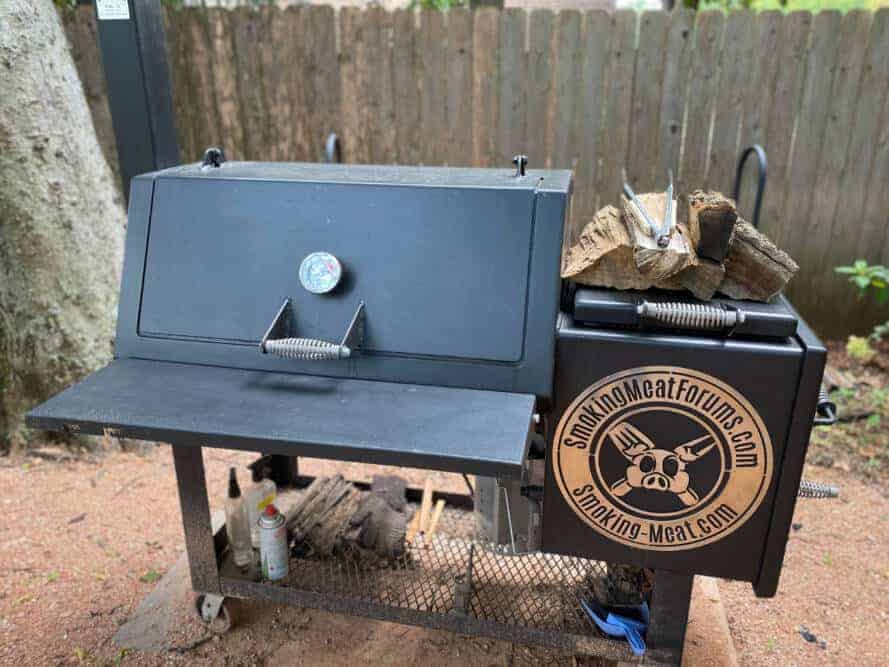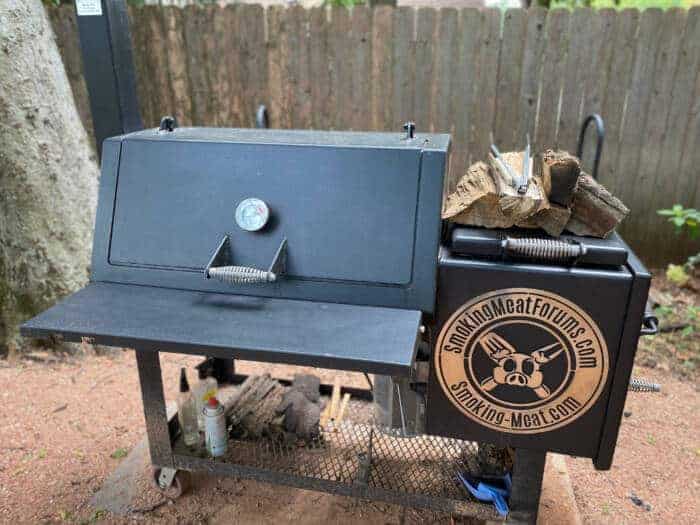 If you are using a pellet grill for this, start it on the special smoke setting for the first hour for good smoke flavor and then turn it up to 225°F (107°C) to finish.
Step 6: Smoke Time
Place the butterflied pork loin(s) directly on the grate or use a pan and rack like I did to keep the smoker clean.. your choice. The rack in a pan allows the smoke to flow all the way around the meat and I get great results while reducing my cleanup time. To further reduce cleanup time, wrap the pan in heavy duty foil.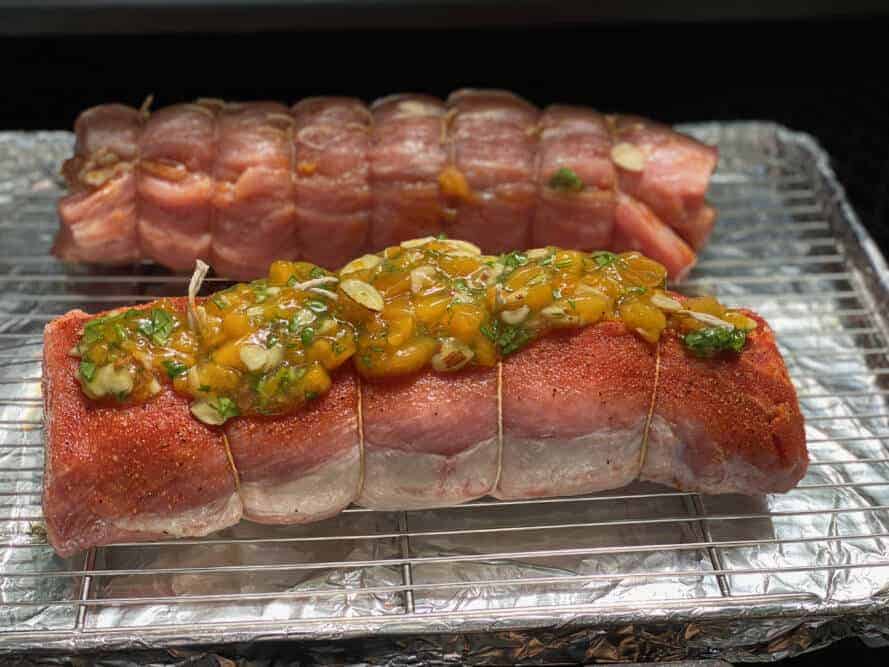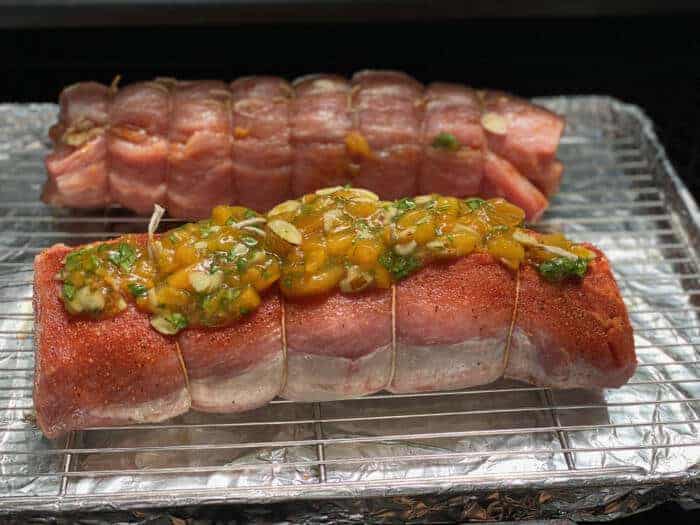 About halfway through the cook or about 2 hours in, melt a stick of butter, stir in a tablespoon of Jeff's original rub and brush that onto the top of the meat. This keeps the meat from drying out and adds another layer of delicious flavor.
Be sure to use a thermometer to monitor the temperature.. I used the Signals by ThermoWorks as it connects with my WiFi and allows me to go and do whatever I need to do while still monitoring the temperature of my smoker and the meat.
You can also just use an instant read thermometer such as the Thermapen ONE that reads in only 1 second if you are so inclined.
You can expect the pork loin to take about 4 hours to reach 145°F (63°C) in the center of the meat.
Step 7: Slice and Serve
When the stuffed butterflied pork loin is finished cooking, let it rest for about 10 minutes and then slice it up.
You can slice between the strings and serve the pieces still tied or remove the strings and slice them a little thinner.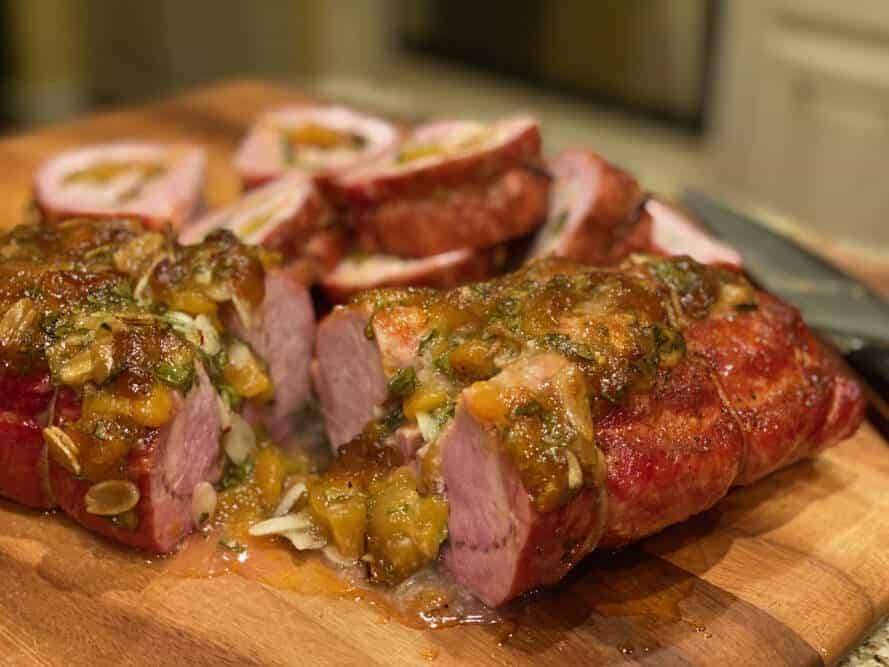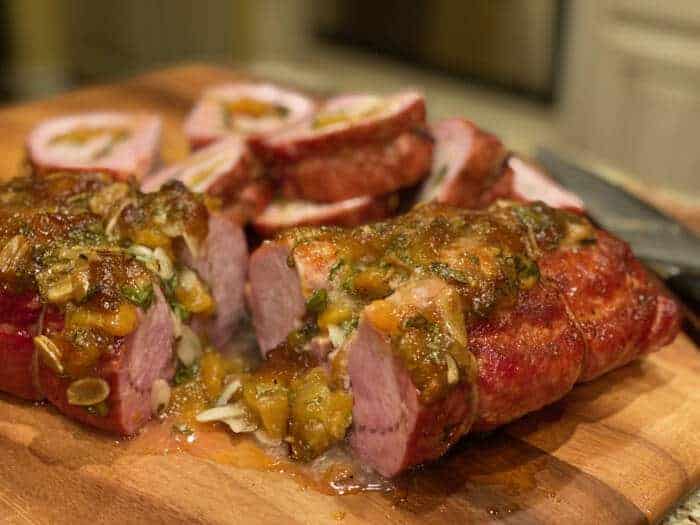 Be sure to have extra peach pie filling mixed with spinach and sliced almonds to serve on top of the slices.
Comments
Something I haven't tried but I know would be good is to add a little extra spice to this.. maybe some red pepper flakes or perhaps some minced habanero. If you try this, let me know how it goes.
If you feel really intimidated by the butterflying procedure, don't feel bad. I need to do a video of this procedure but until I do, there are lots of other videos online showing how to do this and it may help to watch a few videos before attempting it on your own.
Stuffed Pork Loin on the Smoker
Stuffed pork loin is lean, inexpensive and tastes great as long as you don't overcook it.
Ingredients
1

each Pork loin or pork loin half

(a pork loin half or portion is often called a pork loin roast)

coarse kosher salt

(1/2 teaspoon per pound of meat)

Jeff's original rub

21

ounces

Peach pie filling

½

cup

sliced or slivered almonds

½

cup

Baby spinach leaves

Cooking twine
Instructions
Cut full pork loin in half or use a pork loin roast

Butterfly pork loin by cutting vertically into the meat down to about 3/4 inch from the bottom. The make horizontal cuts at the bottom of the vertical cut to finish unfolding the meat.

Sprinke about 2 teaspoons of coarse kosher salt onto the top of the meat. Once the moisture is drawn to the surface, add a generous layer of Jeff's original rub.

Layer on 18 to 21 ounces of peach pie filling, sliced almonds and spinach leaves within 1/2 inch of the edges of the meat then roll it up jellyroll style.

Tie the stuffed, rolled up pork loin with butchers twine about every 1.5 inches.

Place in fridge overnight or for at least 4-6 hours before cooking.

Smoke at 225-240 degrees using indirect heat.

About half way through the cook time or at the 2 hour mark, baste with melted butter to keep it moist. I use 1 stick of butter mixed with 1 TBS of Jeff's original rub.

When the pork loin reaches 145 degrees in the center, remove it from the smoker and let it rest for 10 minutes.

Slice and serve with extra stuffing on the side.
Get Jeff's Products!