I don't know about you but I am always and forever cooking too much food (I can't stand a half empty smoker) and this presents a need to find ways to use up the leftovers.
In doing this I have found numerous ways to use leftover smoked meat in regular everyday recipes such as the smoked baby back rib calzone in this weeks newsletter.
---
Calzone is simply a type of pizza that is folded in half before it is cooked in order to contain the filling.
---
Calzone is so versatile and with the advent of ready made pizza crusts, it is virtually impossible to mess up and your family will love what you come up with no doubt.
To make it easy, it's ok to use the canned pizza dough. There is no shame in that and if you happen to make your own pizza dough, that is great too.
In this recipe, I used leftover smoked baby back rib meat, seasoned to perfection with my original rub (purchase recipe here), smoked with plenty of pecan and hickory, bones removed and then cut into small bite-sized pieces and mixed with just the right amount of my very own original rub and barbecue sauce (purchase recipe here). Baked in the oven until perfectly browned and I had a meal that I knew would excite the most picky of eaters.
I gave my son the first bite when these came out of the oven and it was worth it all to hear him exclaim that it was the best thing he'd ever tasted.
Use whatever smoked meat you have available to reproduce this recipe at your house and then let me know how it went!
–remember that your imagination is the only limit!
 Prep Time: 35 minutes | Cook Time: 5 hours 20 minutes | Smoker Temp: 225-240°F | Meat Finish Temp: 195°F | Recommended Wood: Pecan or Hickory
What you'll need to make 6-8 individual calzones
2 cans of Pillsbury classic pizza dough, 13.8 oz each
2 cups of grated mozzarella cheese
2 cups of smoked and deboned rib meat (or other smoked meat of your choice)
1/3 cup of onions, chopped
1/3 cup red and green sweet peppers, chopped (use red, green or yellow but a good mix looks better)
What you'll need to smoke the baby back ribs
Remove baby backs from wrapping, rinse under cold water and lay them on the cutting board.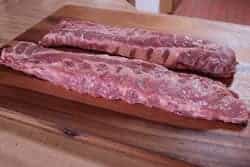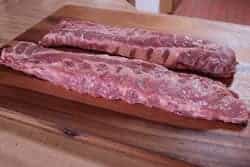 I wanted them to fit into my foil pans so I cut each rack in half and removed the membrane on the bone side.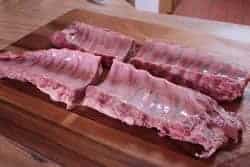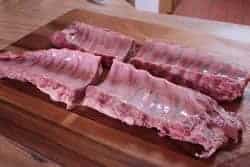 I usually use mustard to help the rub to stick.. it works great but you can also use vegetable oil, molasses, almost anything wet and sticky or nothing at all if you prefer.
Apply my original rub (purchase recipe here) generously to top and bottom of the ribs and wait for them to get that "wet" look.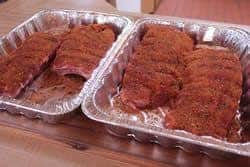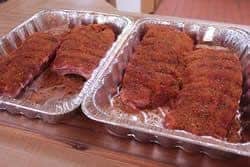 Smoke the ribs at 225-240°F using the 2-2-1 method which is:
2 hours in an open pan or directly on the grate. Then..
2 hours wrapped in foil or in a foil covered pan with about 1/4 cup of apple juice or water in the bottom. Then..
1 hour unwrapped directly on the grate or in an open pan (foil removed)
Apply 225-240°F heat the entire time.
The smoke only need be applied during the first 2 hours.
The picture below was at hour 4 as I was removing the foil cover from the pan.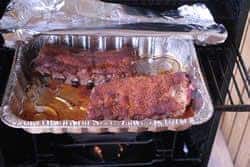 Once the ribs are done, place the ribs on a cutting board bone side up and remove the bones with your fingers.
Note: There are usually a few small slivers of bone on the ends of the rack of ribs – make sure to get those as well.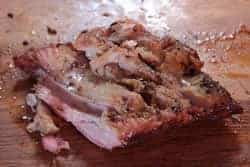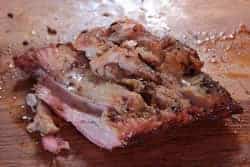 Use a sharp knife to slice the rib meat into small bite-sized pieces.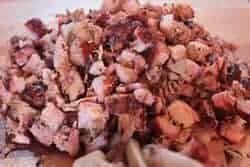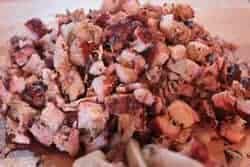 Pre-cooking the Peppers and Onions
I recommend cooking the peppers and onions a little before using them to soften them. They will not have time to get soft inside the calzone.
I made an open foil bowl for the mixture and placed them in the smoker at 225°F for about an hour while I cooked the ribs and they came out perfect and just slightly smoky.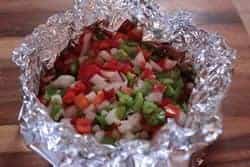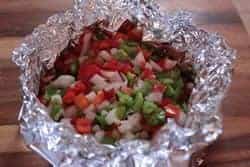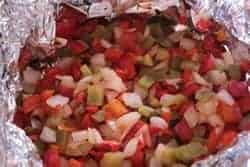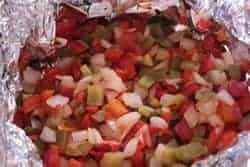 Making the Calzone
I was very impressed with the Pillsbury® brand of pizza dough. If you have another favorite brand of pizza dough or you make your own, that will work great.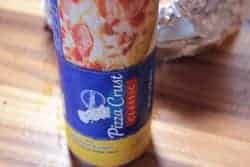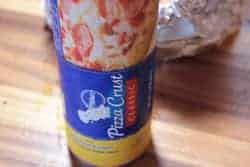 You are looking to press or roll the dough out to about 15 x 8 inches or so on a greased sheet pan.
Cut the dough in half top to bottom and then side to side to create 4 calzone sized pieces.
The picture below shows that I have made my first cut and then half of the second cut.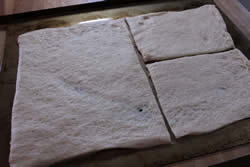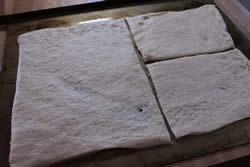 To get the meat ready to use, put some of the rib meat in a bowl..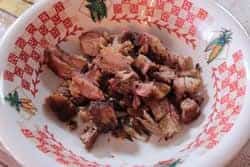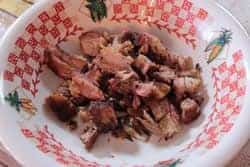 Pour on some of my original rub (purchase recipe here)..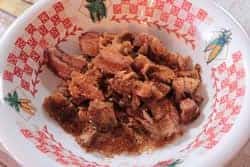 Add some of my original barbecue sauce (purchase recipe here) and mix it together.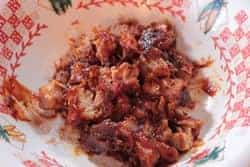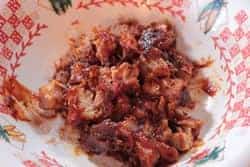 Place it one side of the long edge about 1/2 inch from the edges.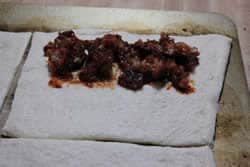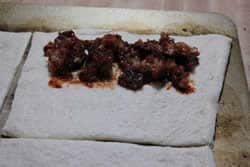 Add some cooked peppers and onions.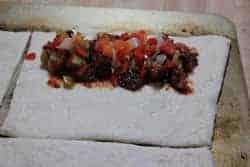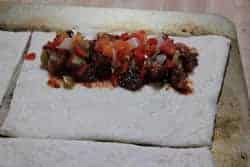 Be generous with the cheese..in my opinion this makes the calzone.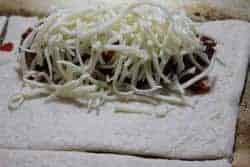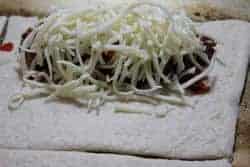 Fold the empty half over the top of the filled half and press the edges together on 3 sides with a fork to seal.
Poke holes in the top with a fork to let some steam escape while it bakes.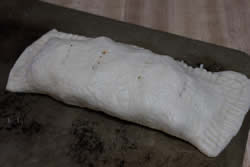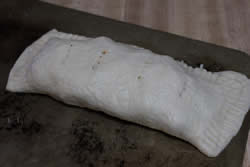 Preheat the oven to about 425°F and bake for 15-20 minutes but watch them closely and remove them when the desire level of golden brown is achieved.
Tip: If you happen to have a ceramic cooker such as the Big Green Egg, you can use that as well to cook these to perfection.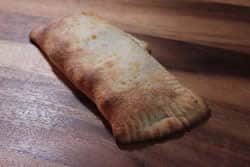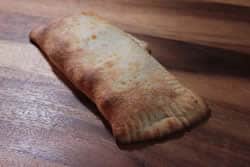 Serve immediately!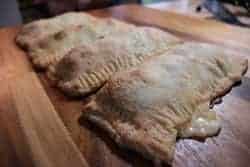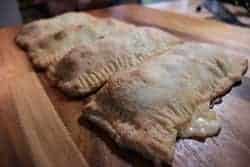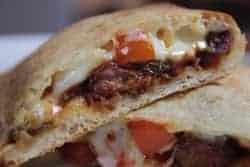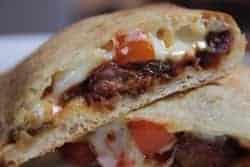 ***Note: you get the Texas style rub recipe free with your order!
If I could give these recipes away, I would do that. I really want you to have them! But, then, this is how I support the newsletter, the website and all of the other stuff that we do here to promote the art of smoking meat.
Read these recent testimonies:
"Love the sauce and rub recipes. So far I have used them on beef ribs, pork ribs, and different chicken parts. Can't wait to do a beef brisket. Texas rub is great as well!" ~Peter S.
"I tried the rub on a beef brisket and some beef ribs the other day and our entire family enjoyed it tremendously. I also made a batch of the barbeque sauce that we used on the brisket as well as some chicken. We all agreed it was the best sauce we have had in a while." ~Darwyn B.
"Love the original rib rub and sauce! We have an annual rib fest competition at the lake every 4th of July. I will say we have won a great percent of the time over the past 15 years so we are not novices by any means. However, we didn't win last year and had to step up our game! We used Jeff's rub and sauce (sauce on the side) and it was a landslide win for us this year! Thanks Jeff for the great recipes. I'm looking forward to trying the Texas style rub in the near future!" ~Michelle M.
You see the raving testimonies and you wonder, "Can the recipes really be that good?"
No worries! Make up a batch and if it's not as good as you've heard.. simply ask for a refund. Now that's a bargain and you know it. Let's review:
You decide you don't like the recipes.. you don't pay!
The recipes are absolutely amazing!
Once you order, there'll be no more recipe ads in the email version of the newsletter
Well.. what are you waiting for.. click on the big orange button below to order the recipes now.

I really, really appreciate the support from my newsletter friends and be sure to let me know if you have any questions about this.
Jeff's Smoking Meat Book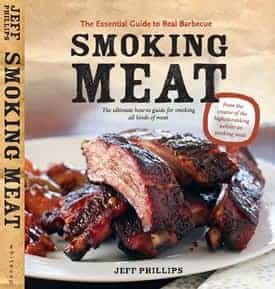 The book is full of recipes and contains tons of helpful information as well. Some have even said that "no smoker should be without this book"!
With more than 800 reviews on Amazon.com and a rating of 4.7 out of 5 stars, it comes highly recommended.
It is a Bestseller in Barbecueing & Grilling books on Amazon.
Amazon | Barnes & Noble | German Edition
Digital versions available via Nook | iTunes | Kindle
Get Almost Anything at Amazon
If you enjoy the newsletter and would like to do something helpful, then..
The next time you decide to order something at Amazon.com, use THIS LINK to get there and we'll get a small commission off of what you purchase.
Thank you in advance for using our special link: http://www.smoking-meat.com/amazon