Big Green Egg Instructions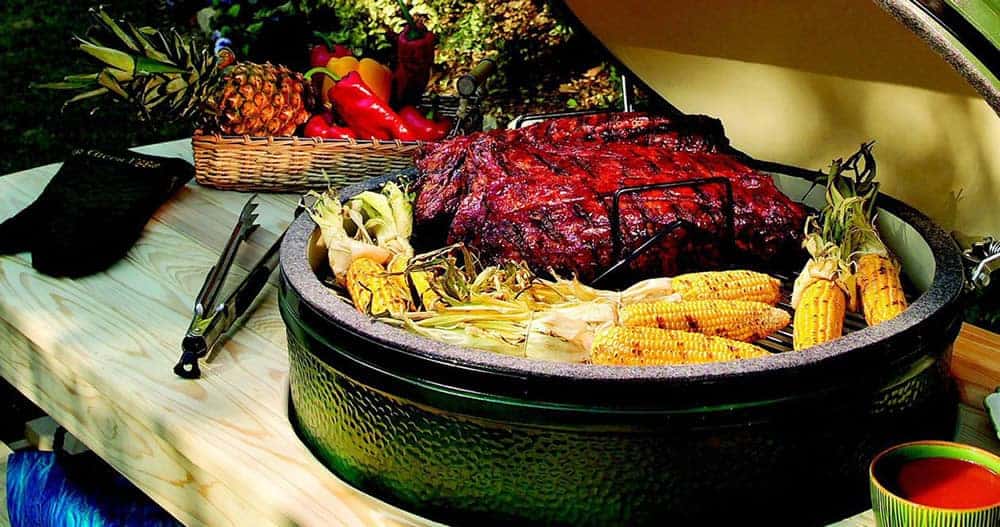 Smoking-Meat.com is supported by its readers. We may earn an affiliate commission at no extra cost to you if you buy through a link on this page.
Read this article without ads
The Big Green Egg is one of my newest smokers slash cookers slash grills and while I am not hung up on the brand name like some folks, it does exactly what it was designed to do and it does it well. I have a feeling that all of the ceramic cookers do a pretty good job regardless of the brand name.
The folks at the store tried hard but were not able to talk me into the absolutely necessary stand or cart since I knew that it would sit just perfectly on some blocks until I had time to build a table for it and I have to tell you that it is very solid and has no chance of falling over or being blown away by the Oklahoma winds. The fact that it's an XL or extra large makes it even more solid.
I unloaded this off of a flatbed truck and moved it about 100 feet to where it is now with absolutely no help and if you are wondering why that's such a big deal then you probably do not realize that it's huge and weighs in at over 250 lbs.
Fortunately, I have a background in engineering and that along with my intense creative abilities helped to get that thing unloaded and set up without mishap.
[cp_popup display="inline" style_id="55533″ step_id = "1"][/cp_popup]
Once the Big Green Egg (BGE) is in place, fill with lump charcoal to just above the bottom air holes.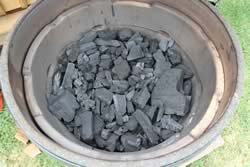 Here's a couple of different brands of lump charcoal. I have used everything from BGE brand to the offbrands and in my opinion, the Royal Oak works best.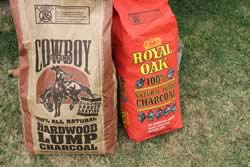 So why lump charcoal instead of briquettes? I thought you'd never ask!
Lump charcoal is real hardwood that has been burned or charred in a low oxygen environment. The product that results burns cleaner than charcoal briquettes, is all natural and does not contain any additives. It also tends to burn hotter than briquettes.
The BGE uses very little charcoal and you will find that once you fill it up, you'll be able to use that same charcoal multiple times before having to add more especially if you keep it at normal smoking temperatures.
It is very fuel efficient and the amount you save in charcoal, will offset the high cost of these units. They are not cheap but they are lifetime purchases. If you take care of it, it should last you a very long time.
To start the charcoal, I simply place a piece of firestarter down in the center of the coals and light it.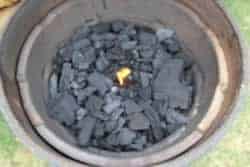 Place a little charcoal over the top of the flames and let it burn for about 7 minutes.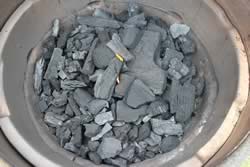 This is me experimenting with creating the right amount of smoke. I sprinkled wood chips around the charcoal like the instructions said but that was just not enough for me. I purchased a stainless steel woodchip box, filled it with wood chips and set it just off center to hopefully create the extra smoke that I wanted.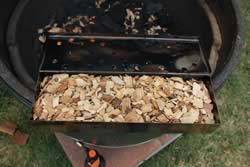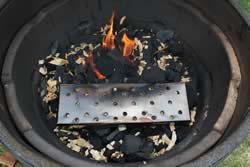 Put the plate setter in place to create the indirect cooking environment required for smoking. I do recommend purchasing one of these. They are not cheap but they are worth it. I tried it without it and it was just not right.
The plate setter is the ceramic piece that goes into the egg over the charcoal and forces the heat from the coals to be directed to the sides of the smoker. The heat then travels up to the dome and down creating the indirect cooking method perfectly for smoking meat.
The grate fits over the plate setter as shown in the picture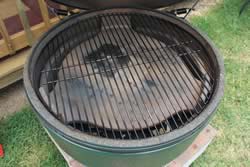 While the egg is still coming up to temperature leave the top vent open all the way.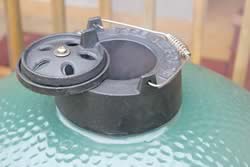 Bottom sliding vent is also all the way open until it comes up to temperature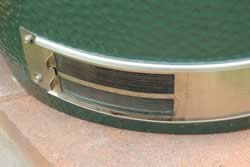 Once the thermometer gets within about 10-15 degrees of your target temperature, I recommend closing the top and bottom vents to a "just barely open" configuration. You will have to practice to find out what works for you but this is the setting that works for me.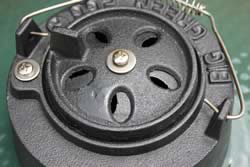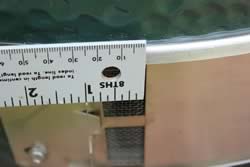 I placed the probe from my Maverick ET-732 dual probe meat thermometer at grate level and it seemed to be very close to what the dome guage is measuring.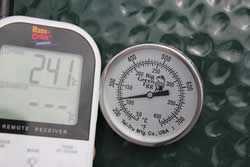 Using a Temperature Controller – The FLAME BOSS
The Big Green Egg as well as most ceramic cookers are pretty good at holding a steady temperature but even at that, I would never leave for several hours or even go to bed and sleep all night without feeling like I needed to check on it every hour or two.
This is where the Flame Boss temperature controller comes in.
The company sent me one to try out and it worked perfectly right out of the box with almost no setup at all. Easy is what I am all about!
It's basically a module or brain connected to a blower which blows air onto the coals (via the intake vent at the bottom) as needed.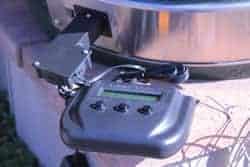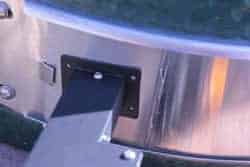 It knows what is needed due to a temperature probe that is connected to the grate with an alligator clip.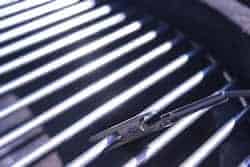 You set the temperature that you want it to maintain via the easy buttons just below the screen and it does just exactly that.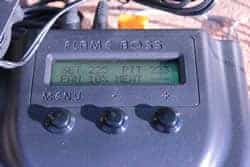 As you can see, I have it set for 225 and it is maintaining that very well. I don't recommend taking too much stock in the smoker gauge since it is so far above the grate, it often is not accurate to what is going on at the grate level.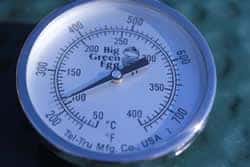 With this setup, I can walk away from the BGE and go to town, go to work, go to bed, whatever, knowing that it will maintain the temperature of the smoker for as long as it has coals to burn. In the BGE and most other ceramic cookers, that is easily in excess of 12-14 hours if you need it to be.
No more staying up all night to cook briskets, pork shoulders, etc. Set it up, go to bed and get up in the morning to find the meat cooking away just like you.
The Flame Boss is the way to go, if you want to absolutely put your ceramic cooker on auto pilot.
---
I have been using this cooker for a while now and I really like it. It is fun to use, allows me to walk away from it for several hours knowing that it will maintain the temperature and cook the food without much adieu.
These are a little on the pricey side but I do believe that they are a lifetime purchase. Perhaps something that will get passed down to the kids one day. In my opinion, they are worth the money.
I have seen several of these on craigslist and in the local classifieds so if you are in the market to buy but don't mind buying something already broke in, then you should be able to find something a lot less expensive.
I will continue to add to this page as I learn more about the Big Green Egg ceramic cooker. Right now the testing is in progress, I have a lot to learn and I promise to share my findings.
Get Jeff's Products!