Smoked meatloaf is AH-mazing and if you haven't tried it– well, you probably should. It may just change your world!
Meatloaf was a staple growing up in the Blue Ridge Mountains of North Carolina and my favorite way to eat it was between two slices of bread made up like a burger with all the fixins.
Add in some sweet corn, mashed potatoes and a blackberry cobbler and oh my goodness!
Just when I thought something great could not get any better, I decided one day to try it in the smoker and the amazing smoked meatloaf was born. All of the wonderfulness of meatloaf with that added smoke flavor and you'll swear to never make it in the oven again.
Helpful Information
Hands-on Prep Time: 20 minutes
Cook Time: 2.5 hours
Smoker Temperature: 225-240°F
Meat Finish Temp: 160°F
Recommended Wood: Hickory, Pecan or Mesquite*
*Mesquite has a wonderful flavor but it is one of the strongest tasting woods that ever was. Use less of it than you would normally use until you decide if you like it and how much works best with certain meats and recipes.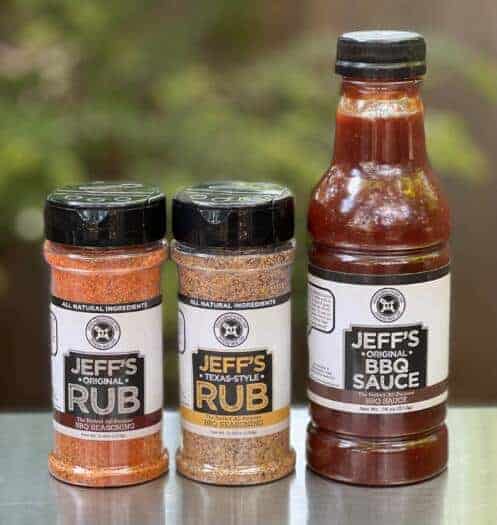 Please note that my rubs and barbecue sauce are now available in 2 formats– you can
purchase the formulas
and make them yourself OR you can
buy them already made
, in a bottle, ready to use.
Mix It Up
I use a scale to measure out my beef and sausage. If you don't have a scale, just buy the correct amount or to the nearest pound and get it as close as you can.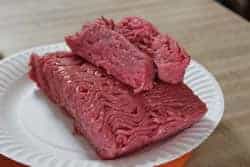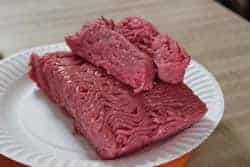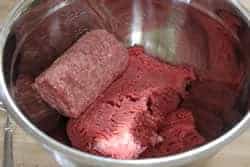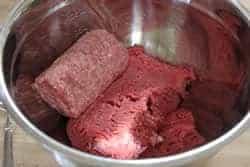 Add the bread crumbs, my original rub (Purchase formula here | Purchase bottled rub), jalapenos, onions, buttermilk and eggs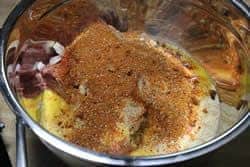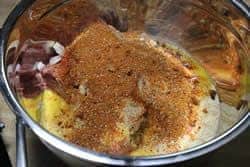 Combine ingredients with a spatula or just get in there with your hands if you are so inclined.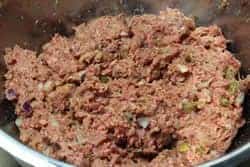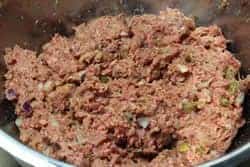 Form It
Form a loaf on top of the plank. You can also use a sheet pan or similar.
Note: At low smoker temperatures <275°F and indirect heat, there is no need to soak the plank before using.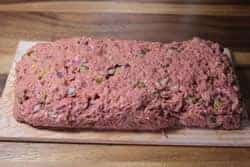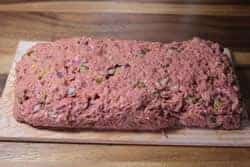 Place the plank with the meatloaf on a rack, Weber grill pan or a cooling rack if you have one. A rack helps support the meat during transport to and from the smoker but is not entirely necessary.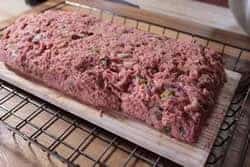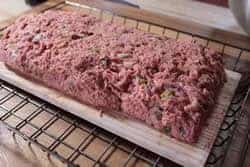 Set Up Your Smoker
Any smoker or grill will do a great job on this providing you can maintain an average of 225-240°F throughout the cook and you can supply some hard wood smoke to the meatloaf for at least 1.5 hours.
I have used electric, charcoal, propane, pellets and even a gas grill for this and it's out of the ballpark better than anything you can do in your home oven.
I enjoy using the Camp Chef Woodwind pellet smoker for a lot of my cooking.
You just can't go wrong with a pellet smoker like the Woodwind.
Fill it with 100% hardwood pellets, plug it in, turn it on and let it go. It's really that simple.
Please note that I recommend cooking everything for at least 1 hour on the "Lo Smoke" or special smoke setting when using a pellet smoker to maximize your smoke flavor. After that, just turn it up to the recommended temperature of 225°F.
This will add about 30 minutes to your cook time but it's so worth it.
Regardless of what smoker or grill you use, make sure the heat is indirect.
Smoke Time
Smoke the meatloaf at 225-240°F for about 2.5 hours (or until it reaches 160°F in the center) using hickory or mesquite or you can use a different smoking wood if you prefer.
Tip 1: Keep the smoke flowing for the entire time for best results.
Tip 2: Use a water pan if your smoker has one.
I recommend using a digital probe meat thermometer such as the "Smoke" by Thermoworks to monitor the temperature and remove the meat loaf when it reaches 160°F in the center.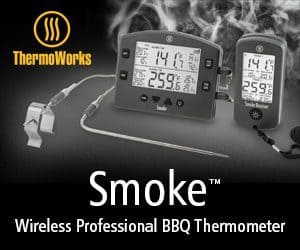 Sauce It
About 30 minutes before the meatloaf gets done, top it with some of my original barbecue sauce (Purchase formula here | Purchase bottled sauce) for great flavor.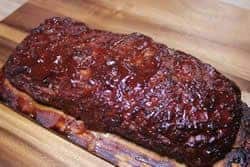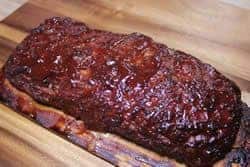 Finish and Serve
Once the meatloaf is finished, let it rest for 10 minutes and then slice it up and serve immediately.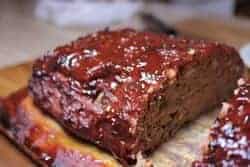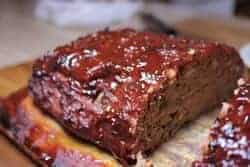 I chose to eat my first slice on a meatloaf sandwich complete with fresh tomato, lettuce, onions and mayo.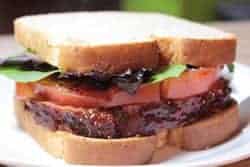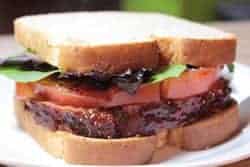 Order Jeff's Rubs and Barbecue Sauce TODAY!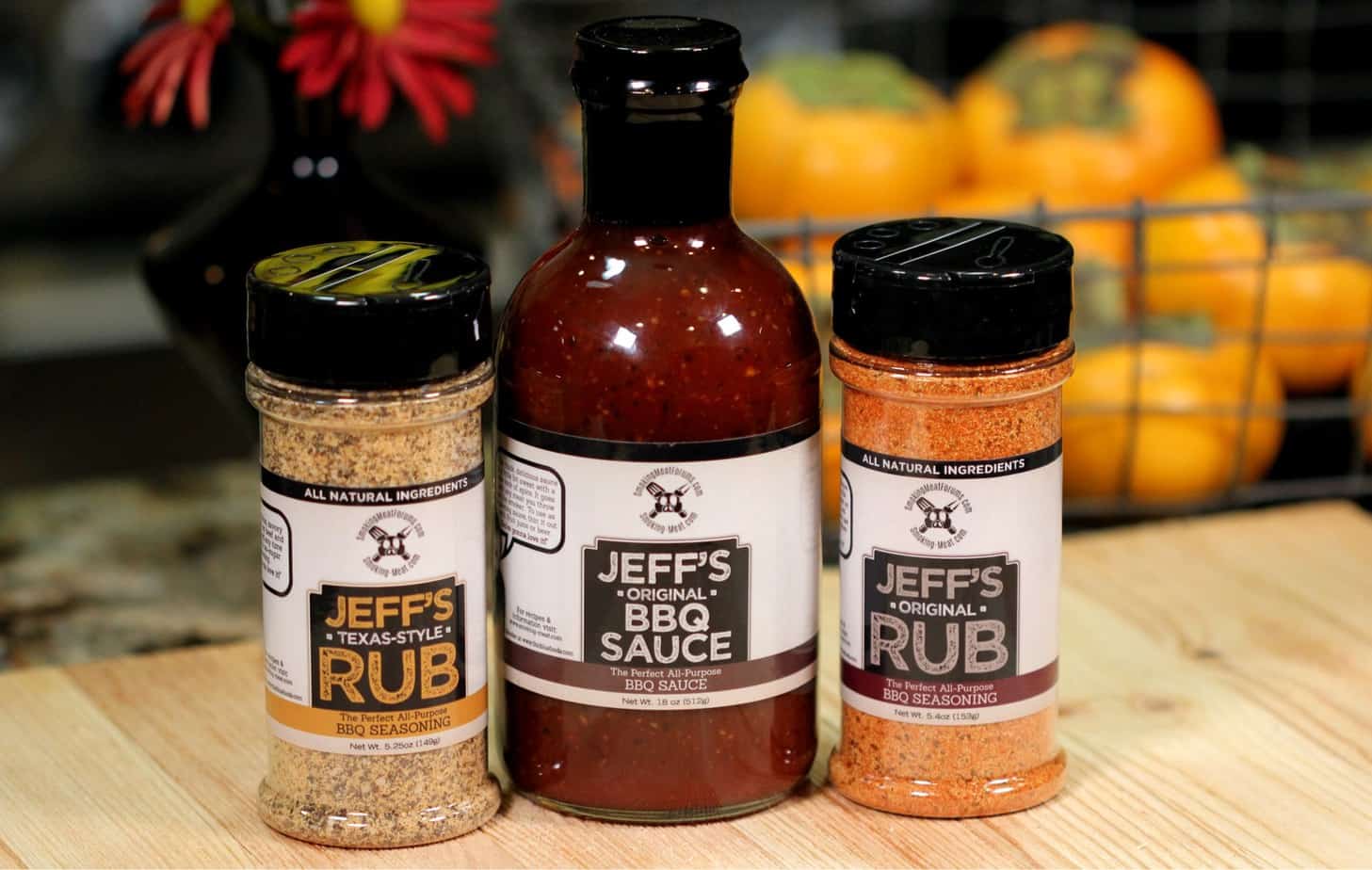 ✅ If you haven't ordered my rubs or sauce yet you can do that HERE. They are the best thing you've ever tasted and it's a great way to support what we do!
We ship blazingly fast and orders over $50 ship free!
You can also order the formulas for my rubs and sauce and make these yourself at home. Grab those HERE and download immediately.
Jeff's Smoking Meat Books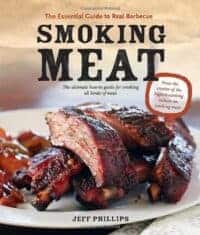 Smoking Meat: The Essential Guide to Real Barbecue – The book is full of recipes and contains tons of helpful information as well. Some have even said that "no smoker should be without this book"!
With more than 1000 reviews on Amazon.com and a rating of 4.7 out of 5 stars, it comes highly recommended and is a Bestseller in Barbecuing & Grilling books on Amazon.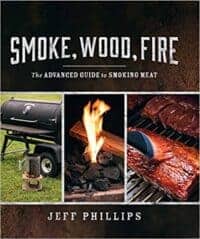 Smoke, Wood, Fire: The Advanced Guide to Smoking Meat – Unlike the first book, this book does not focus on recipes but rather uses every square inch of every page teaching you how to smoke meat. What my first book touched on, this second book takes it into much greater detail with lots of pictures.
It also includes a complete, step-by-step tutorial for making your own smoked "streaky" bacon using a 100 year old brine recipe.
Get Almost Anything at Amazon
If you enjoy the newsletter and would like to do something helpful, then..
The next time you decide to order something at Amazon.com, use THIS LINK to get there and we'll get a small commission off of what you purchase.
Thank you in advance for using our special link: http://www.smoking-meat.com/amazon
---
Printable Recipe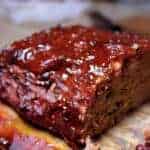 Print Recipe
Planked Smoked Meatloaf - Jalapeno Buttermilk
My amazing jalapeno buttermilk planked smoked meatloaf is just what the doctor ordered for your tastebuds and you will be mesmerized by how good it is made in your smoker.
Ingredients
1-1/3

lbs

ground beef

((I use 85/15 or 90/10))

2/3

lb

hot breakfast sausage

((ground))

2

eggs

((beaten))

1

cup

buttermilk

3

TBS

onions

((chopped))

4

TBS

pickled jalapenos

((chopped))

3/4

cup

bread crumbs

3

TBS

of Jeff's original rub

((purchase recipe here))

3

TBS

of Jeff's original barbecue sauce

((purchase recipe here))

1

plank of wood

((cedar, oak, maple, etc.))
Instructions
Place the ground beef, sausage, bread crumbs, jalapeños, onions, buttermilk, eggs and Jeffs' original rub into a large bowl and combine.

Remove the meatloaf mixture and form it into a loaf that is rectangular in shape and about 2 to 3 inches thick on top of a wood plank.

This can be made in advance if you wish and put into the fridge until you are ready to smoke it.

Set up your smoker for cooking at 225-240°F with indirect heat. If your smoker has a water pan, fill it up.

Place the plank with the meatloaf on the smoker grate and cook with smoke until the internal temperature of the meatloaf reads 160°F as measured by a digital probe meat thermometer.

About 30 minutes before the meatloaf is finished cooking, add a layer of Jeff's original barbecue sauce to the top and sides of the meatloaf.

When the meatloaf is finished cooking, remove it from the smoker.

Let it rest for about 10 minutes before serving.

Slice into ½ inch pieces and enjoy!