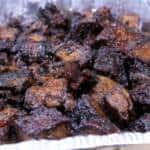 Print
Smoked Chuck Roast Burnt Ends
When you think of smoked burnt ends, most folks don't think of using chuck roast but I tried it and I can tell you that it is just as good as brisket in my opinion.
3

lb

chuck roast x 2

(find ones that are uniform and even in thickness for best results)

Lidded container for marinating meat

Worcestershire sauce

Jeff's original rub recipe

Jeff's original barbecue sauce
Place chuck roast into a lidded container.

Pour 4-6 ounces of Worcestershire over the meat.

Sprinkle some of Jeff's original rub onto the top of the meat.

Use a sharp knife to make cuts through the top into the center of the meat.

Drizzle on more Worcestershire so it can seep down into the holes.

Place a lid on the container and let the meat marinate overnight.

Preheat smoker to 240 °F using indirect heat and cherry wood for smoke.

Place chuck roast directly on smoker grate.

Let the meat smoke cook for about 8 hours or until it reads 190°F in the thickest part.

Cut the chuck roast into bite size cubes.

Place the cubes in a foil pan.

Add Jeff's original sauce and original rub onto the meat making sure it is well coated.

Place the meat back into the smoker at 240 °F for about 2 hours stirring every 30 minutes.

Note: you can also place the meat on the grill over high heat or in the oven on broil stirring every few minutes to get it done much quicker. When the color is right and the sauce/rub is caramelized, they are done.