Smoked Beer can chicken (or root beer chicken if you prefer) is one of those things that people love to do in the smoker or grill and while the science seems to indicate that the liquid isn't all that important, it's super cool and as you know, presentation and aesthetics plays a big part in the meal.
I've been doing these for years, my family and friends love them and that's enough science for me;-)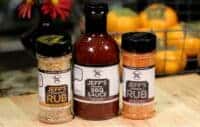 Please note that my rubs and barbecue sauce are now available in 2 formats– you can
purchase the formulas
and make them yourself OR you can
buy them already made
, in a bottle, ready to use.
Purchase the
Formulas
 for Jeff's Rub and Sauce
***Note: you get the Texas style rub recipe free with your order!
If I could give these recipes away, I would do that. I really want you to have them! But, then, this is how I support the newsletter, the website and all of the other stuff that we do here to promote the art of smoking meat.
Read these recent testimonies:
I recently purchased both recipes. The files did not come thru right but Jeff was prompt to get it fixed. I tried them both last weekend and they were a huge hit. I followed his burnt ends recipe to the letter and my neighbors thought I was some master chef! Thanks Jeff!  -Susan T.
Thank you for the great advice. Followed your rib recipe and everyone loved them. Used your rub and sauce. On point!  -Charles W.
Love the sauce and rub recipes. So far I have used them on beef ribs, pork ribs, and different chicken parts. Can't wait to do a beef brisket. Texas rub is great as well!  -Peter S.
Love the original rib rub and sauce! We have an annual rib fest competition at the lake every 4th of July. I will say we have won a great percent of the time over the past 15 years so we are not novices by any means. However, we didn't win last year and had to step up our game! We used Jeff's rub and sauce (sauce on the side) and it was a landslide win for us this year! Thanks Jeff for the great recipes. I'm looking forward to trying the Texas style rub in the near future!  -Michelle M.
I tried the rub on a beef brisket and some beef ribs the other day and our entire family enjoyed it tremendously. I also made a batch of the barbeque sauce that we used on the brisket as well as some chicken. We all agreed it was the best sauce we have had in a while.  -Darwyn B.
You see the raving testimonies and you wonder, "Can the recipes really be that good?"
No worries! Make up a batch and if it's not as good as you've heard.. simply ask for a refund. Now that's a bargain and you know it. Let's review:
You decide you don't like the recipes.. you don't pay!
The recipes are absolutely amazing!
Once you order, there'll be no more recipe ads in the email version of the newsletter
Well.. what are you waiting for.. click on the big orange button below to order the recipes now.
I really, really appreciate the support from my newsletter friends and be sure to let me know if you have any questions about this.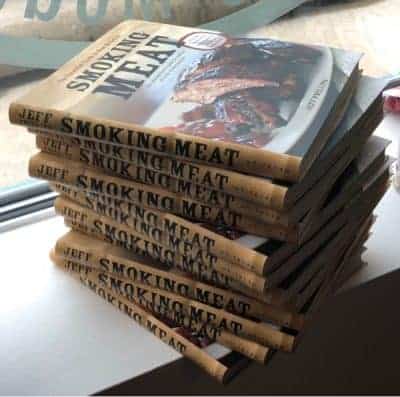 The book is full of recipes and contains tons of helpful information as well. Some have even said that "no smoker should be without this book"!
With more than 900 reviews on Amazon.com and a rating of 4.7 out of 5 stars, it comes highly recommended.
It is a Bestseller in Barbecueing & Grilling books on Amazon.
Thin Blue Foods Store | Amazon | Barnes & Noble | German Edition
Get Almost Anything at Amazon
If you enjoy the newsletter and would like to do something helpful, then..
The next time you decide to order something at Amazon.com, use THIS LINK to get there and we'll get a small commission off of what you purchase.
Thank you in advance for using our special link: http://www.smoking-meat.com/amazon
---
Printable Recipe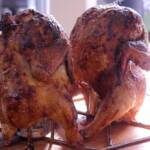 Print Recipe
Hot Smoked Beer Can Chicken
Beer can chicken is one of those things that people love to do in the smoker or grill and while the science seems to indicate that the liquid isn't all that important, it's super cool and as you know, presentation and aesthetics plays a big part in the meal.
Ingredients
2

whole

chickens

1

cup

mayonnaise

3

tablespoons

Jeff's original rub recipe

(get the recipes here)

2

cans

beer or a soft drink

(I like to use root beer)
Chicken Brine
1

gallon

water

,cold

1

cup

kosher salt

,course

1

cup

brown sugar
Instructions
Brine the Chicken(s)
Make the brine in a large 1 gallon pitcher by adding the water, kosher salt and brown sugar.

Mix well until all ingredients are dissolved and the liquid becomes a clear amber color.

Place the chicken(s) into a zip top bag or other plastic or glass container and pour the brine over the chicken to cover. Place the container with the chicken into the fridge for about 4 hours.

At the end of the brining time, rinse the chicken under cold water and pat dry.
Season the Birds
Place the chickens over cans of beer, root beer or other soft drink and use the legs to support some of the weight.

Mix 1 cup of mayonnaise with 3 tablespoons of Jeff's original rub and apply this mixture all over the outside of the chickens.
Cook in the Smoker and Serve
Preheat the smoker to 275°F and once it's ready place the chickens on the grate and cook until the internal temperature reaches 165 °F in the thickest part.

Rest the chicken for 10 minutes before serving.