On New Years Day and even St. Patrick's Day, there's no better way to celebrate than by making a couple of smoked corned beef briskets in your backyard but don't you go and forget about this great hunk of meat for the next 365 days.. it's too darn good to only eat it once or twice a year!
If you want to cure your own corned beef, you can do that by following these instructions (assuming you start at a minimum of 6 days prior to when you need it).
Here's a link to more corned beef brisket recipes for you to peruse ;-)
Helpful Information
Prep Time: 10 minutes
Cook Time: 8-10 hours
Smoker Temp: 240°F
Meat Finish Temp: 200°F
Recommended Wood: Hickory, Cherry or Maple (a mixture of these is great)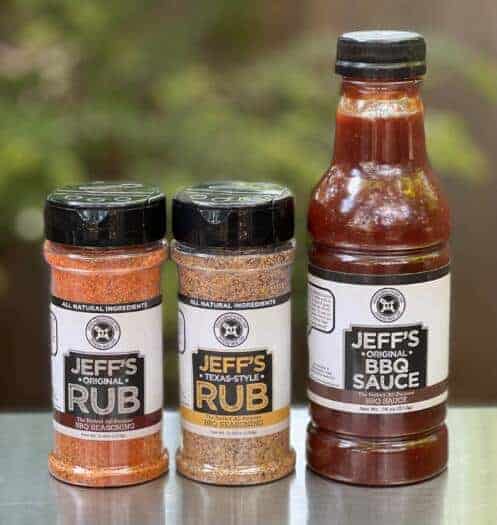 Please note that my rubs and barbecue sauce are now available in 2 formats– you can
purchase the formulas
and make them yourself OR you can
buy them already made
, in a bottle, ready to use.
What to Purchase
You'll probably see these everywhere now that we are this close to New Years Day and St. Patricks day and they usually run in the 3-4 lb size. You are looking for one that feels tender, has about a quarter inch fat cap and has a fairly even thickness.
Other than that, there's not much to it.
If you are interested in wet curing your own corned beef briskets, check out this post.
Step 1: Prep for Cooking
The long, drawn out portion of making pastrami is in the curing of the brisket. Since we are purchasing the meat already ready to go, the final steps in preparing and smoking it is very easy to do and other than taking a little time in the smoker, it is hard to get wrong.
Optional Test/Remove Some of the Salt
Cut off a very small slice of the beef and do a quick fry on it using a skillet. If it's perfect, then continue but if you find that it is saltier than you like (common problem), you can do something about that at this stage in the game.
Place the brisket in a pan of water in the fridge for 2 hours.
Test again
If it's good now, then proceed, otherwise, change the water and soak it for 2 more hours
Test again, hopefully it's good now so you can proceed to the mustard and seasoning
Place the meat down in a pan to keep things less messy.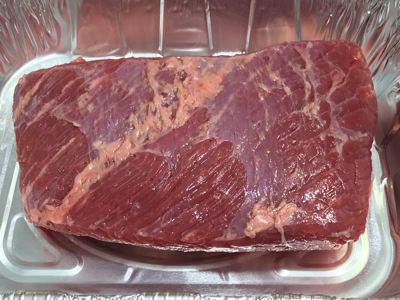 I recommend using some brown spicy mustard or your favorite Dijon mustard to help my original rub (Purchase formula here | Purchase bottled rub) stick to the top and sides of the brisket.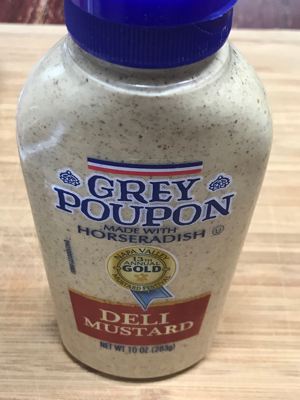 Slather on a thin coat.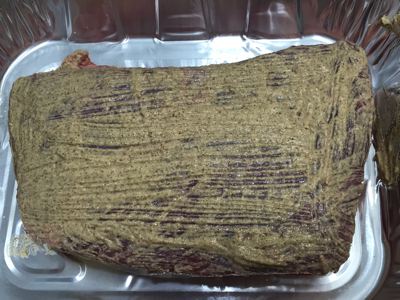 my original rub (Purchase formula here | Purchase bottled rub) is the cat's meow and the bees knees on a whole lot of things including this corned beef brisket.
Be generous with it!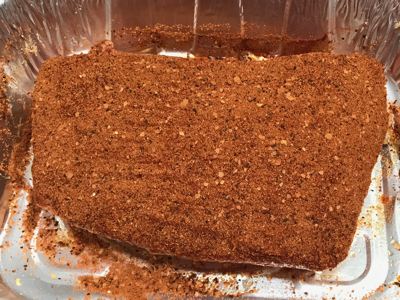 After a few minutes, the tiny bit of salt in my rub pulls some of the juices to the surface and makes the rub look wet.
That's exactly what you want.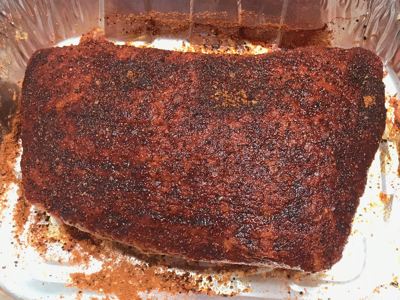 Flip it over to fat side up and do the same thing again with the mustard and more of my original rub (Purchase formula here | Purchase bottled rub). Be sure to get the sides with mustard and rub as well.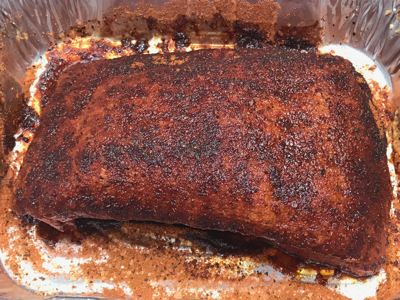 Believe it or not, the corned beef brisket is now ready for the smoker.. see how easy that was?
Step 2: Set Up the Smoker
Let the brisket sit there in the pan while you go get the smoker ready.
Any smoker will work as long as you can maintain a temperature of 240°F with indirect heat and provide smoke for about 4-5 hours.
I used a pellet smoker, the Camp Chef Woodwind, one of my favorite types of smokers right now. I love cooking with real wood and having this kind of flexibility and ease of use!
If you use a smoker that has a water pan, fill it up as well.
When the smoker is ready to go, it's time to get cooking!
Step 3: Smoke Time
You can place the meat directly on the smoker grate if you like but it's also completely ok to leave it in the pan. Just place the pan on the smoker grate and leave it there while it cooks.
This also makes it easier when we cover it later with foil.
Using a Thermometer
I highly recommend using a thermometer to monitor the temperature of the meat while it cooks. My thermometer of choice was the Thermoworks "Smoke" but if you have something different that's ok too as long as it's accurate.
The "Smoke" is a dual probe, remote meat thermometer and connects to an app on my phone via an optional Wifi gateway. This allows me to go about my day, even go to the store or anywhere else I please and still know exactly what's going on with the temperature of my smoker and the meat.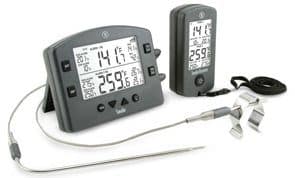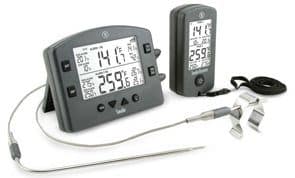 You can also use a handheld thermometer such as the Thermapen or ThermoPop to check it now and then and see where the temperature is.
If you can feel of the brisket with your fingers and guess the temperature AND actually get it dead-on every time, then you may not need a thermometer. The rest of us, need a little technology to get it right and there's nothing like getting it perfect every time with no guess work.
Step 4: Cover or Wrap
Once the brisket reaches 150-160°F , it's a good idea to wrap or cover the meat with foil to allow a little braising. This will tenderize the meat even further.
My brisket was in a pan so it was really easy to throw a piece of foil over it for a while.
Once the brisket hit about 185°F, I removed the foil to help the crust to firm back up.
Step 5: Finish and Serve
Corned beef briskets are often tenderized with papain and other ingredients from the factory to help make them end up more tender so the finish temperature is sort of dependent on the tenderness factor.
I sometimes use a long skewer to check the tenderness once the meat hits about 190°F and I dont' call it done until I can push the skewer in with very little resistance. This is usually anywhere from 195 to 200°F.
When the pastrami is finished, remove it from the heat and keep foil tented over it for at least 30 minutes before slicing into it.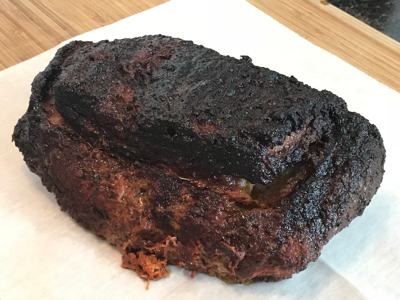 Order Jeff's Rubs and Barbecue Sauce TODAY!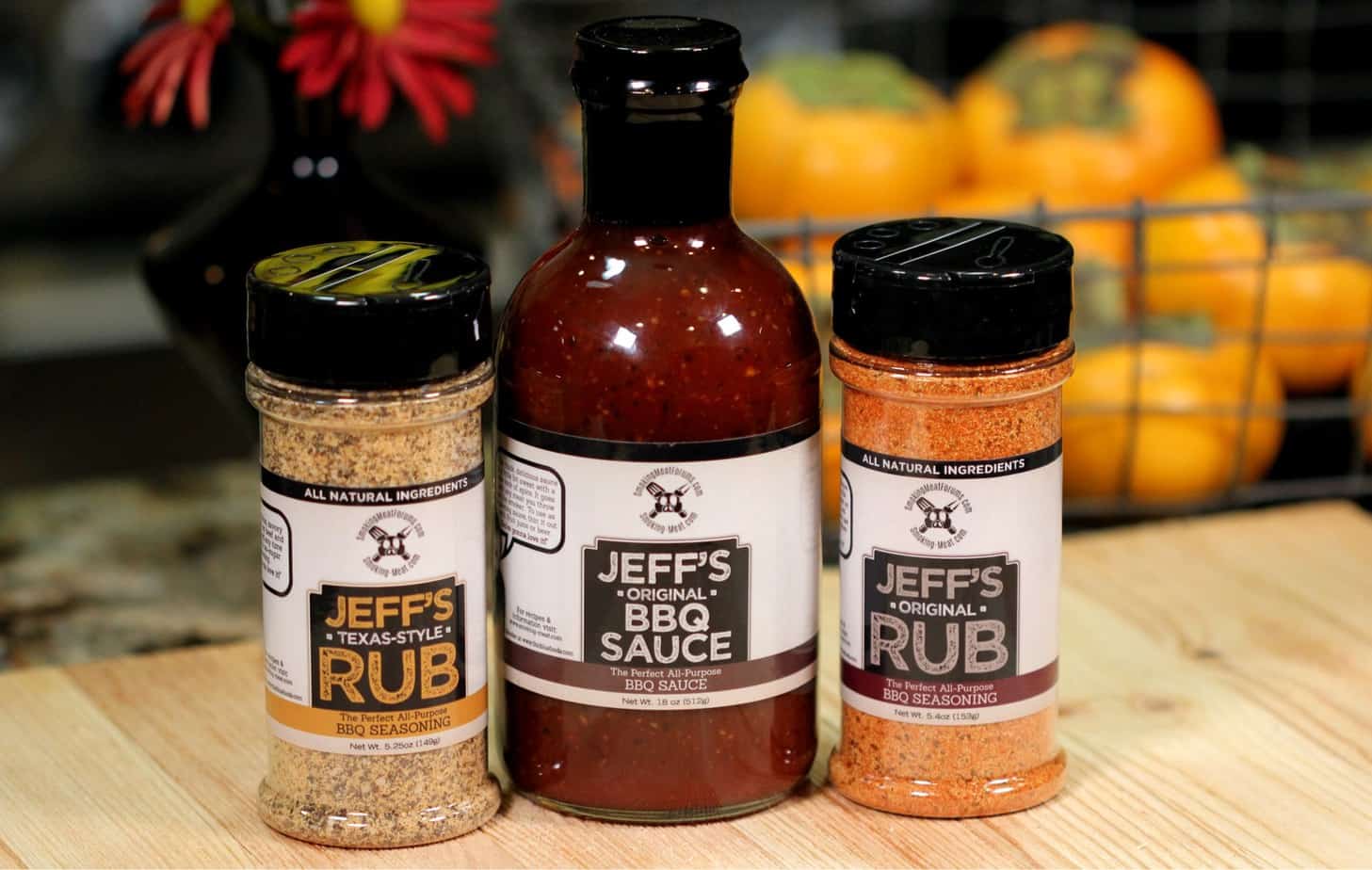 ✅ If you haven't ordered my rubs or sauce yet you can do that HERE. They are the best thing you've ever tasted and it's a great way to support what we do!
We ship blazingly fast and orders over $50 ship free!
You can also order the formulas for my rubs and sauce and make these yourself at home. Grab those HERE and download immediately.
Jeff's Smoking Meat Books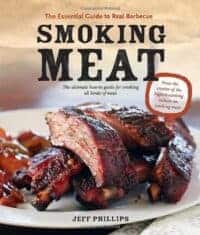 Smoking Meat: The Essential Guide to Real Barbecue – The book is full of recipes and contains tons of helpful information as well. Some have even said that "no smoker should be without this book"!
With more than 1000 reviews on Amazon.com and a rating of 4.7 out of 5 stars, it comes highly recommended and is a Bestseller in Barbecuing & Grilling books on Amazon.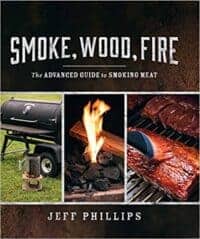 Smoke, Wood, Fire: The Advanced Guide to Smoking Meat – Unlike the first book, this book does not focus on recipes but rather uses every square inch of every page teaching you how to smoke meat. What my first book touched on, this second book takes it into much greater detail with lots of pictures.
It also includes a complete, step-by-step tutorial for making your own smoked "streaky" bacon using a 100 year old brine recipe.
Get Almost Anything at Amazon
If you enjoy the newsletter and would like to do something helpful, then..
The next time you decide to order something at Amazon.com, use THIS LINK to get there and we'll get a small commission off of what you purchase.
Thank you in advance for using our special link: http://www.smoking-meat.com/amazon
---
Printable Recipe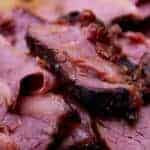 Print Recipe
Smoking a Corned Beef Brisket (The making of Pastrami)
With St. Patricks day around the corner, my attention has turned to smoked corned beef brisket otherwise known as pastrami. There's no better way to get your "Irish" on so grab a couple of corned beef briskets and let's get the party started!
Ingredients
3-4

lb

corned beef brisket

Dijon Mustard or spicy brown mustard

Jeff's original rub recipe

((get the recipes here))

Foil pan

Foil
Instructions
Place the corned beef brisket into a pan, fat side down, for ease of cleanup.

Slather a thin coat of Dijon mustard on the top and sides of the brisket.

Apply Jeff's original rub (get the recipes here) generously all over the top and sides of the brisket and let it continue to sit until it get's a "wet" look. (about 10-15 minutes)

Flip the brisket over to fat cap up and repeat the mustard and rub on the fatty side of the brisket.

Let the brisket sit while you go get the smoker ready for cooking at 240°F using indirect heat.

Place the pan of brisket on the smoker grate and let it cook until it reaches about 160°F.

Cover the top of the pan with a piece of foil and let it continue cooking with just heat until the meat reaches a temperature of 195-200°F.

Use a skewer or toothpick to check for tenderness. It should have little to no resistance when inserted.

Let the meat rest with a piece of foil loosely tented over the top for approximately 30 minutes before slicing.