Smoked Chicken Quarters with Beer BBQ Sauce Glaze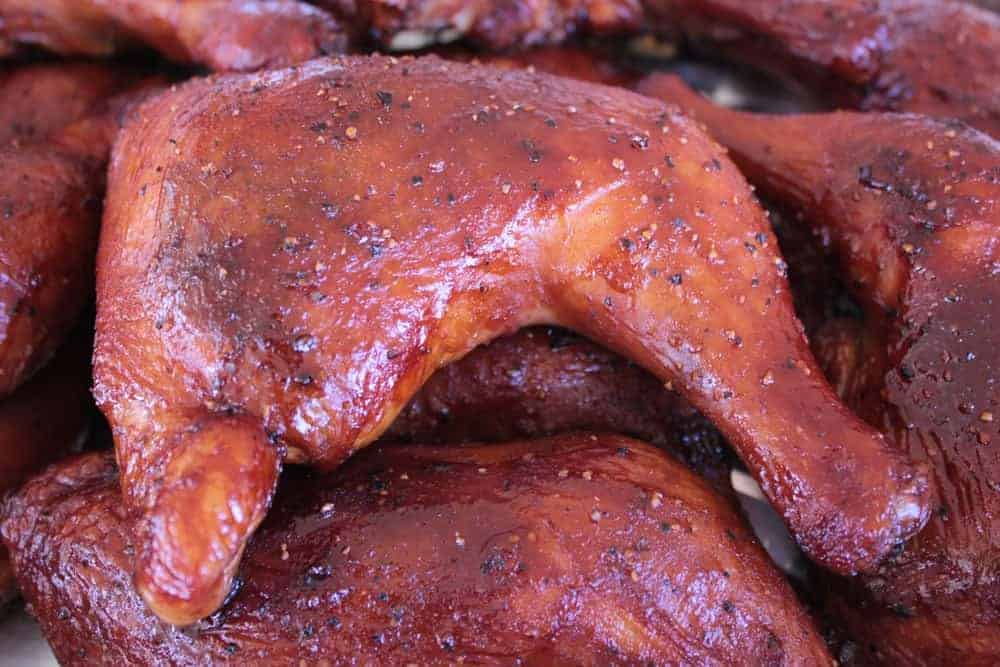 Smoking-Meat.com is supported by its readers. We may earn an affiliate commission at no extra cost to you if you buy through a link on this page.
Read this article without ads
It just so happens that my smoked chicken quarters are quick, easy, and very tasty and I am happy to show you my fool proof method for making these turn out great every time.
I highly recommend brining these as I do with most poultry and I will, of course, walk you through that process in the article below.
These were no ordinary chicken quarters though and with this batch, I decided to try something a little different in getting the rub up under the skin and it worked like a charm.
I also used my original sauce recipe to make a beer barbecue glaze which I applied a couple of times during the smoking/cooking process and it was a winner as well.
Brine Time: 2 hours | Prep Time: 20 minutes | Cook Time: 2.5 hours | Smoker Temp: 225 – 240°F | Meat Finish Temp: 165°F | Recommended Wood: Pecan or Cherry
What You'll Need
10 lbs of chicken quarters, about 13 pieces
1/3 can of beer (the cheap stuff is fine)
1/2 stick butter (4 TBS)
Brine (recipe below)
Turkey baster
Foil pan (optional but keeps the work area a lot cleaner)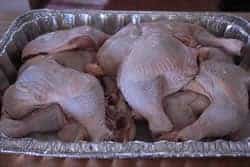 I highly recommend brining the chicken pieces and while you don't have to do this, it will make the chicken more juicy and it adds some flavor to the chicken meat itself.
If you choose to brine, here's how to do it. Otherwise, skip on down to the preparation instructions below.
How to Brine the Chicken Quarters
Mix up your brine following the basic recipe below.
Place the chicken in a large Ziploc bag or a lidded plastic or glass container.
Pour the brine over the chicken and place it in the fridge for 2 hours.
Once it's done brining, rinse the chicken really good under cold water.
Basic Brine Recipe
1 gallon water
1 cup of kosher salt
3/4 cup of brown sugar (dark brown is best but light will work)
I like to use the basic recipe but if you want to add fruit juice, beer, wine, hot sauce, Zesty Italian dressing to the mix you can certainly do that. One of the really nice thing about brines are that whatever you put into the brine, will end up inside the meat.
Using a 1 gallon pitcher, pour kosher salt into water and stir until it is dissolved and water returns to clear. Then add brown sugar and stir until dissolved.
Preparing the Chicken Quarters for Smoking
Once the chicken is done brining you will, of course, want to add some seasoning to it, and my original rub recipe (purchase recipe here) is just the ticket.
Mix my original rub with melted butter using the recipe below:
I ran the rub through a coffee grinder to make it more smooth but you do not have to do that. It's nice but not entirely necessary. The turkey baster has a nice large opening and will suck up the rub/butter mixture just like it is.
Use the microwave to heat the butter for about 30 seconds before adding the rub.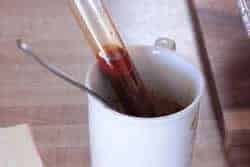 Once you have some mixture in the baster, inject a little under the skin of each chicken quarter at the leg section and at the thigh section.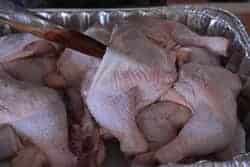 Once all of the chicken quarters are injected with the rub/butter mixture, they are ready to smoke.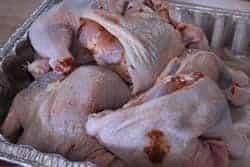 Prepare the smoker to cook at about 240°F.
These can be smoke cooked on any smoker whether it is electric, gas, charcoal or wood. If you need more information on various smokers, please see my smoker instructions page where you can find instructions for several different smokers. Even if they are not exactly what you have, you can garner some good information from reading them.
Once the smoker is perking along at your goal temperature and ready to go, place the chicken quarters directly on the smoker grate with about 1 inch between each piece so the smoke can have good access to the meat.
You can expect these to take about 2.5 to 3 hours under normal circumstances and I recommend keeping them in the smoke the entire time if you are using something other than a wood fired smoker.
Beer Barbecue Sauce Glaze
Here's the fun part!
Make up a batch of my original barbecue sauce then mix about 1 cup of sauce to 1/2 cup of beer to thin it down and make a sort of glaze out of it. You can make it as thin as you like by altering the amount of beer that you add.
My sauce is naturally pretty thick and it works well just like it is if you want sticky chicken quarters but the idea for these is to just glaze them a little throughout the process.
Apply the sauce/glaze when the chicken reaches about 135°F then again at about 150°F internal.
Finishing the Smoked Chicken Quarters
You can let them continue to smoke cook at 240°F if you like but I like to turn up the heat to about 265°F if possible when the chicken reaches about 150°F internal.
This increase in heat will help to crisp up the skin and puts a nice finish on the glazed skin. It also helps it to get done a little faster and chicken can always handle high heat just fine.
The only reason for cooking poultry slow is to give them more time in the smoke.
Use an instant read digital thermometer such as the Thermapen or use a digital probe meat thermometer that stays in the chicken while it cooks such as the "Smoke" by Thermoworks to monitor the temperature of the chicken. It is done when it reaches 165°F in the thickest part of the leg or thigh.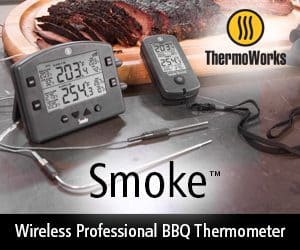 Let them rest for a couple of minutes after they finish and before serving them.
Voila!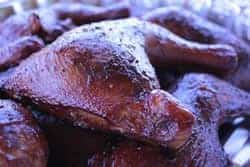 Get Jeff's Products!