Stuffed and Smoked Salmon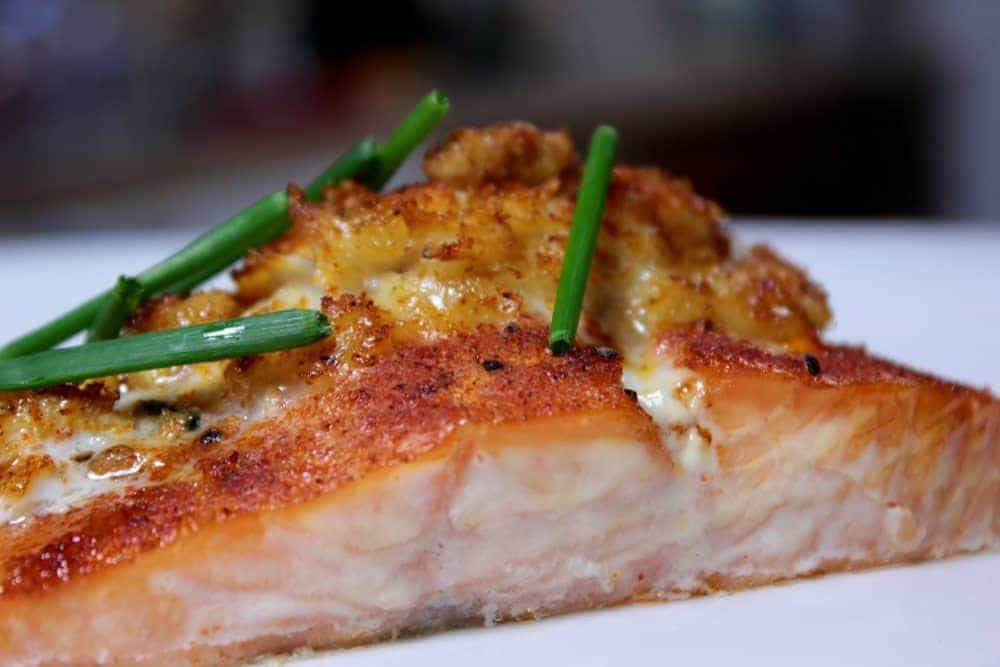 Smoking-Meat.com is supported by its readers. We may earn an affiliate commission at no extra cost to you if you buy through a link on this page.
This week I am going to show you how to smoke a salmon but in a slightly different way. It will be a stuffed smoked salmon, stuffed with lump crab meat, walnuts, and brie.
Smoked salmon is easy and you will also find that it does not take much time to do. In as little as 4 hours, you can brine, dry, prepare, stuff and smoke a salmon for dinner and that is pretty fast fixing when it comes to smoking meat.
Many of you have asked for some fish recipes so there you go!
This stuffed smoked salmon recipe is extremely easy to make and smokes up quick. I do not cover brining the fish in this recipe and I cook it at normal smoking temperatures however, many folks recommend brining for about an hour and using slower or augmented cooking methods to keep the white fat, called albumin, from cooking out of the fish.
Prep Time: 45 minutes | Cook Time: 45-60 minutes | Smoker Temp: 220°F | Meat Finish Temp: 145°F | Recommended Wood: Hickory or Pecan
Ingredients
Salmon filet, skin removed is best
Stuffing mixture (recipe below)
Prepare the Salmon
Place salmon filet on cutting board or other cutting surface
Note: I removed the skin of this salmon using a very sharp knife. If you are not comfortable skinning the fish, you can omit this step or you can ask your butcher to do it for you. They are usually happy to oblige on things like this.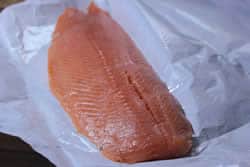 Cut the filet into pieces that are about 2 inches wide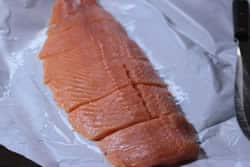 Cut a groove lengthwise into the pieces of salmon for holding the stuffing.
Note: Cut as deep as you can without going all the way through then pull apart to accept the mixture.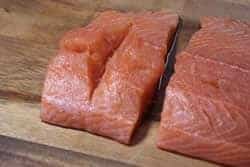 The pellicle
If you want to brine, you can do so for about an hour or so by submerging the fish in a basic brine solution of  1 cup of kosher salt to 1 gallon of cold water.
Put a fan on the fish for about 20 minutes to dry the outside a little which will create a nice sticky surface called the pellicle or you can place the fish in the fridge uncovered for 3-4 hours to do the same thing over a longer period of time.
It is believed that this pellicle helps the smoke to adhere better to the meat. It also helps to prevent the white fatty albumin from seeping out during the cooking process.
Once you see the pellicle formed, a nice shiny surface on the fish that is tacky to the touch, you can proceed.
Stuff the Salmon
Here's a couple of stuffing recipes.. choose one, do them both or create your own.
---
Crab and Boudin Stuffing 
1/2 cup lump crab meat, drained
4 oz. link of boudin, removed from casing
1/2 lemon, peeled and segmented
1 tsp. fresh chives
1 Tbs. butter
1 egg
3 Tbs. all-purpose flour
Instructions
Combine ingredients carefully to form a mixture being careful to not break up crab more than necessary.
---
Brie and Walnut Stuffing
4 oz. brie, room temperature
2 Tbs. walnuts
1 tsp. fresh chives
1/2 c. lump crab meat, drained
Instructions
Leave brie out of fridge for an hour or so to soften at room temperature. Combine ingredients carefully to form a mixture being careful to not break up crab or walnuts more than necessary.
---
Spoon about two tablespoons of the stuffing mixture (recipes below) into groove of salmon so that it is mounded up above the salmon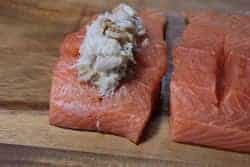 Sprinkle my original rub all over the fish and the stuffing.
You can also add the rub before you stuff it as I did in the one on the right (pictured below)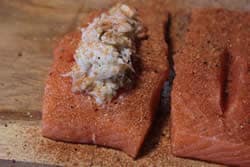 Smoke Time
Prepare smoker for cooking at 220-225°F with hickory or pecan if you prefer the fish to be well smoked. If you want a very mild smoke flavor then use the traditional alder or a light tasting wood such as apple.
Note: you can also cook the salmon at about 180°F for 1.5 hours or until it reaches 140-145 °F in the thickest part. Cooking salmon at lower heat is always better but it does increase the cook time.
Place salmon pieces on wood planks for great presentation and flavor. Place planks onto smoker grate and cook for 45-60 minutes depending on the thickness of the fish.
My salmon took right at 50 minutes and was perfectly done, very moist in the center and might have been the best I've done;-)
If you are watching the temperature, you want the fish to reach about 140-145°F for safety purposes. If not, watch for the fish to begin to flake and this is a great indicator that it is done.
Whatever you do, do not overcook it as salmon dries out quickly and dry fish is no good.
If you have enough planks, consider serving each piece on it's on plank or you can transfer it to a plate using a thin metal spatula.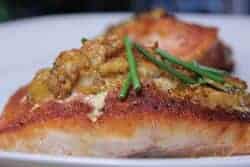 Did you know? You can order the MASTER FORMULAS which allow you to make Jeff's rubs and barbecue sauce at home using your own ingredients! Order the Recipes