I love smoked appetizers.. maybe as much as any other part of the meal and one of my favorites are the stuffed jalapeños which I am redoing in this newsletter to show you a variation or two on my previous recipe from the last newsletter I did on smoked appetizers and party foods.
I'm getting hungry so let's get started!
Pig Candy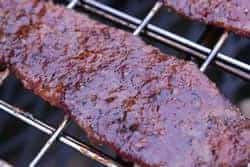 Traditional pig candy is simply bacon coated with a mixture of brown sugar and cayenne but I (of course) took it a step further and used my rub on it first for that "kick" then once that settled in real good, I sprinkled brown sugar on top of that. Let's just say that it got lots of compliments from my testers. I did  try some the traditional way and then some my way and everyone agreed that the kind with my rub + the straight brown sugar on top was the bomb!
Prep Time: 15 minutes | Cook Time: 2 hours | Smoker Temp: 225 F – 240°F | Meat Finish Temp: 160°F
Recommended Wood: 50:50 Oak/Apple Mix
Ingredients
Instructions
Place bacon on cutting board and sprinkle some of my original rub (purchase recipe here) on it. Once the rub gets a wet look to it, generously sprinkle brown sugar on the bacon. If you have Bradley racks, I recommend laying the bacon on the rack before adding the rub and brown sugar to minimize "fall off" of the brown sugar.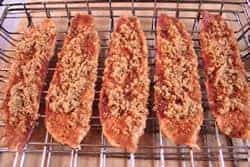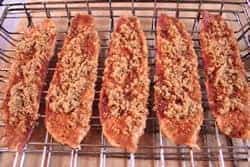 Place the bacon on a cookie sheet or Bradley rack and place in a 225°F smoker for about 2 hours.
Allow candy to cool before eating.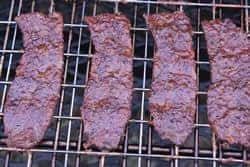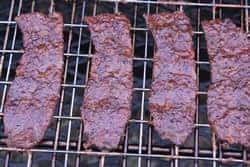 Note: it will get more crisp as it cools.
---
Pulled Pork Scoops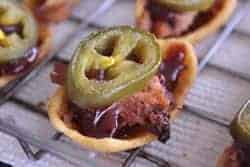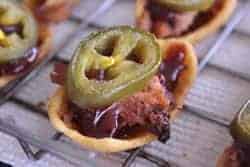 I have not come up with a really catchy name yet (feel free to help out with this) but you have to know that I have received rave reviews on these bad boys and they are just perfect for games, parties, get togethers or just about any time.  The corn chip scoops are perfect for holding fillings and while you can obviously use your imagination on these, I like to use pulled pork for a filling with a little sauce and jalapeno on top. My wife was using leftover cream cheese from the ABT's on top of these as well so maybe there's an idea..
Prep Time: 10 minutes | Cook Time: 45 minutes | Smoker Temp: 225°F
Recommended Wood: Hickory
Ingredients
Instructions
Place a small bit of pulled pork down in the scoop and squirt some of my barbecue sauce (purchase recipe here) on it. Place a jalapeno slice on top and you're good to go. Place the scoops on a Bradley rack or a cookie sheet and into the smoker for about 30-45 minutes at 225°F.
Options:
You could put some shredded cheese on top of the jalapeno and let it melt down over it to hold everything together.
I saw my wife putting a dab of the cream cheese mixture from the ABT's onto the top of the chip before eating it, great idea!
These are easy to put together, in and out of the smoker in no time and a great appetizer for the smoker.
---
Dragon Tongues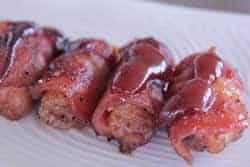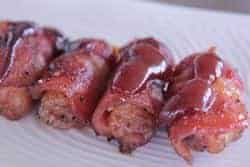 This is something that I've seen from time to time online and in multiple places so I don't know who the originator is. It's almost too simple to have such a fancy name. but.. folks love 'em so why not try these at your next event or party!
Prep Time: 15 minutes | Cook Time: 3 hours | Smoker Temp: 225°F | Meat Finish Temp: 160°F
Recommended Wood: Apple
Ingredients
Bacon (cut into half slices)
Instructions
Lay 1/2 strips of bacon on cutting board.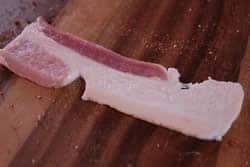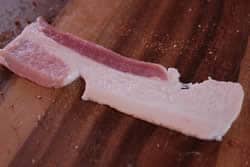 Sprinkle on some of my original rub (purchase recipe here).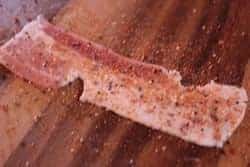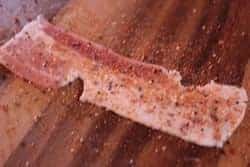 Roll up as tightly as you can.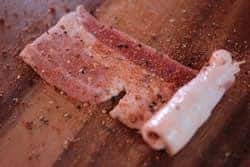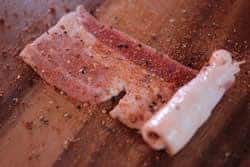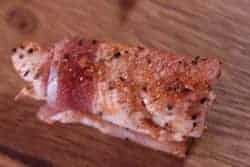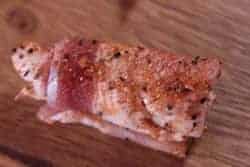 Sprinkle more rub on top and then lay down a mean bead of my barbecue sauce (purchase recipe here).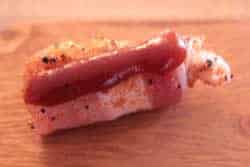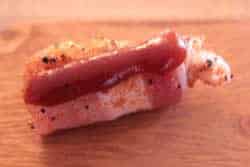 Smoke these for about 3 hours or until they are crispy.
---
Bacon Wrapped Sausage Links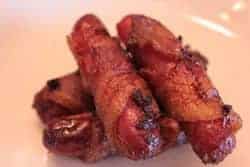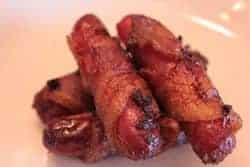 These are a great smoked appetizer but can also be a great thing to serve at breakfast when you don't want your guests to have to choose between bacon or sausage. Give them both!
Prep Time: 15 minutes | Cook Time: 2 hours | Smoker Temp: 225 F – 240°F | Meat Finish Temp: 160°F
Recommended Wood: 50:50 Oak/Apple Mix
Ingredients
Bacon (cut into half slices)
Breakfast sausage links
Instructions
Lay sausage link on cutting board and sprinkle some of my original rub (purchase recipe here) onto all sides of it.
Wrap a half piece of bacon around the link and sprinkle on more rub.
Lay the wrapped sausage link onto a Bradley rack or cookie sheet.
Place in smoker and cook for about 2.5 – 3 hours at 225°F.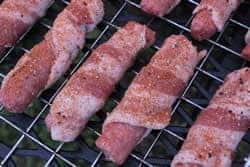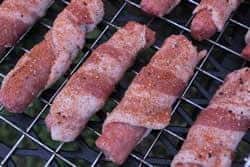 ---
Atomic Buffalo Turds (ABT's)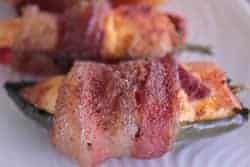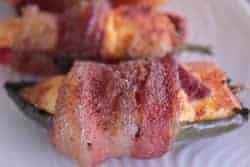 ABT's are one of my favorite appetizer and I make these quite often even if there's not a party or event going on. They are easy to make, fairly quick to put together and about 3 hours into whatever else you are cooking, snacks are ready to eat.
Prep Time: 30 minutes | Cook Time: 3 hours | Smoker Temp: 225 – 240°F
Recommended Wood: Pecan
Ingredients
Jalapenos or Mini sweet bell peppers for the kids (I like to do some of each)
8 oz box of cream cheese, softened
1/2 cup shredded cheddar cheese
Bacon (cut into half slices)
Instructions
Make cream cheese mixture by putting cream cheese and shredded cheddar in a mixing bowl and combining the two ingredients with a fork until it is well mixed. Add about 1/4 cup of my original rub (purchase recipe here) and stir that in well.
Set the cream cheese mixture aside.
Cut peppers in half and clean out the seeds/veins.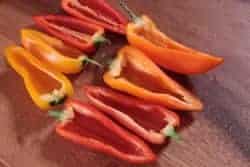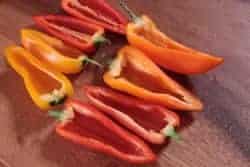 Fill pepper boats with the cream cheese mixture.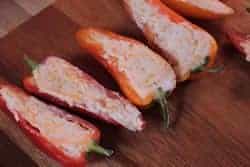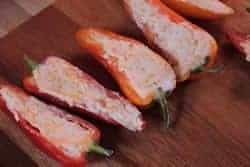 Wrap half piece of bacon around center of pepper and lay them onto a Bradley rack or foil pan.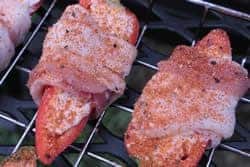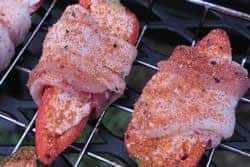 If you are not using a Bradley rack, place the peppers directly on the grate. Smoke peppers for 3 hours at 225°F.
Note: If you cannot find the mini sweet peppers in your location, you can tame jalapenos by soaking the cleaned halves in Sprite® for 2-4 hours depending on how tame you want them. The longer you soak, the more mild they become.
***Note: you get the Texas style rub recipe free with your order!
If I could give these recipes away, I would do that. I really want you to have them! But, then, this is how I support the newsletter, the website and all of the other stuff that we do here to promote the art of smoking meat.
Read these recent testimonies:
"Love the sauce and rub recipes. So far I have used them on beef ribs, pork ribs, and different chicken parts. Can't wait to do a beef brisket. Texas rub is great as well!" ~Peter S.
"I tried the rub on a beef brisket and some beef ribs the other day and our entire family enjoyed it tremendously. I also made a batch of the barbeque sauce that we used on the brisket as well as some chicken. We all agreed it was the best sauce we have had in a while." ~Darwyn B.
"Love the original rib rub and sauce! We have an annual rib fest competition at the lake every 4th of July. I will say we have won a great percent of the time over the past 15 years so we are not novices by any means. However, we didn't win last year and had to step up our game! We used Jeff's rub and sauce (sauce on the side) and it was a landslide win for us this year! Thanks Jeff for the great recipes. I'm looking forward to trying the Texas style rub in the near future!" ~Michelle M.
You see the raving testimonies and you wonder, "Can the recipes really be that good?"
No worries! Make up a batch and if it's not as good as you've heard.. simply ask for a refund. Now that's a bargain and you know it. Let's review:
You decide you don't like the recipes.. you don't pay!
The recipes are absolutely amazing!
Once you order, there'll be no more recipe ads in the email version of the newsletter
Well.. what are you waiting for.. click on the big orange button below to order the recipes now.

I really, really appreciate the support from my newsletter friends and be sure to let me know if you have any questions about this.
Jeff's Smoking Meat Book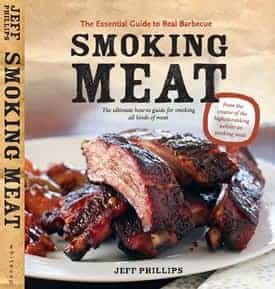 The book is full of recipes and contains tons of helpful information as well. Some have even said that "no smoker should be without this book"!
With more than 800 reviews on Amazon.com and a rating of 4.7 out of 5 stars, it comes highly recommended.
It is a Bestseller in Barbecueing & Grilling books on Amazon.
Amazon | Barnes & Noble | German Edition
Digital versions available via Nook | iTunes | Kindle
Get Almost Anything at Amazon
If you enjoy the newsletter and would like to do something helpful, then..
The next time you decide to order something at Amazon.com, use THIS LINK to get there and we'll get a small commission off of what you purchase.
Thank you in advance for using our special link: http://www.smoking-meat.com/amazon