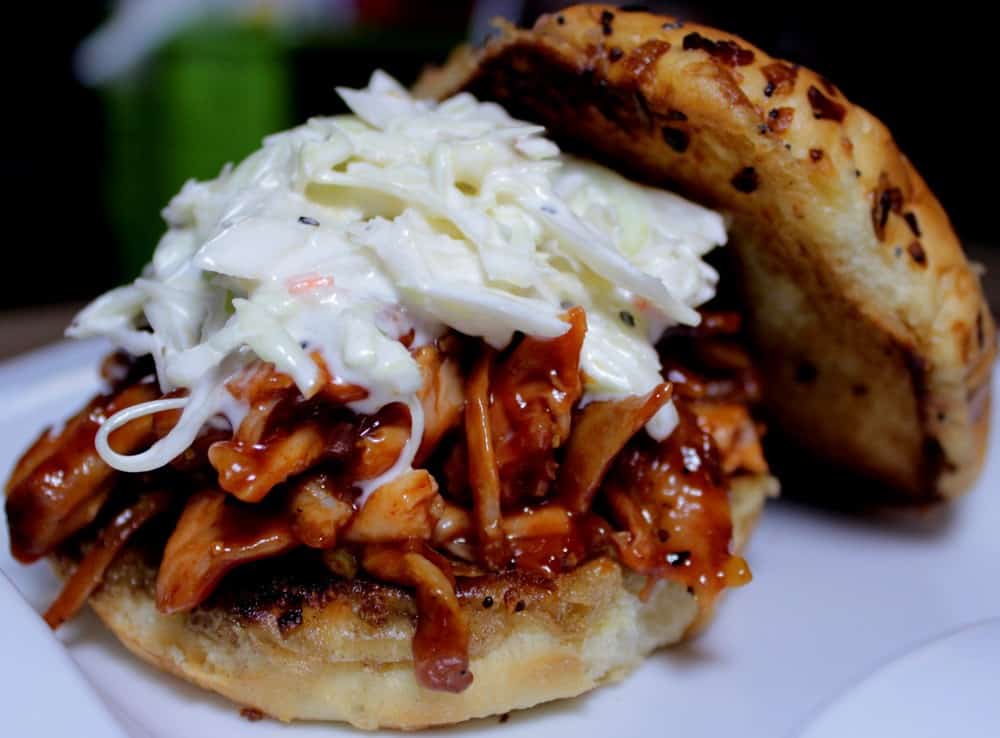 Smoking-Meat.com is supported by its readers. We may earn an affiliate commission at no extra cost to you if you buy through a link on this page.
Read this article without ads
My wife likes most of what I cook, but pork and beef have never been her favorite things. She'd always rather have smoked chicken and she absolutely loves this smoked pulled chicken that I make, piled high on a bun with creamy cole slaw and my barbecue sauce mixed in.
Smoked shredded chicken is very similar but I prefer the larger pieces that you get with these instructions.
This smoked pulled chicken recipes uses my original rub (Purchase formulas here | Purchase bottled rubs) for maximum flavor and if you like it saucy, the original barbecue sauce (Purchase formulas here | Purchase bottled sauce) is just the thing. Let your taste buds rejoice!
Helpful Information
Prep Time: 15 minutes
Brine Time: 3 hours
Cook Time: 3 hours
Smoker Temp: 230°F (110°C)
Meat Finish Temp: 175°F (79°C)
Recommended Wood: Pecan
What You'll Need
5 lbs of chicken thighs, about 24 pieces (I like the boneless, skinless variety)
2 Gallon sized zip top bags
½ gallon Brine (recipe below)
¼ cup Yellow mustard or Olive Oil (optional)
½ cup Jeff's original rub
Large buns (for the sandwich)
Creamy coleslaw
Making the Brine
1/2 gallon water
1/2 cup kosher salt
1/2 cup dark brown sugar
3 TBS Louisiana hot sauce (optional)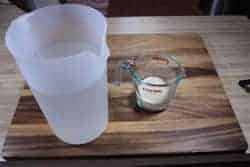 Pour the salt into the water
Note: you might notice that the salt is not "white" like normal. I used some smoked salt that I had made up a while back which tends to be a light brown color.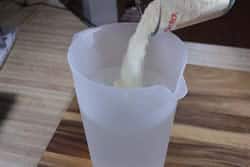 Mix well until the salt is completely dissolved. Usually the water becomes clear when the salt is dissolved but since this is smoked salt, the water became a sort of pink color.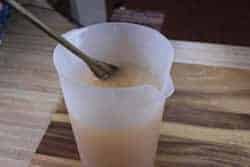 Add the brown sugar and the hot sauce to the water and once again stir to mix the ingredients into the water.
Brining the Chicken
24 boneless, skinless chicken thighs
Note: I used the boneless, skinless chicken thighs which is fine but if you do not protect them a bit, the outside will dry out and get tough. I would say the thighs with skin probably make a lot more sense that way the skin protects the meat while it smokes. When you're done, you simply remove the skin and you have nice tender chicken thighs for pulling.
Also, You can use chicken breasts for a leaner version of smoked pulled chicken or even whole chicken if that is what you have available.
See my butter mop recipe below to help keep them moist during cooking.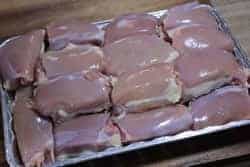 Place the thighs into zip top bags inside of mixing bowls to prevent leakage. I was able to get 12 thighs into a 1-gallon zip top. I used 2 bags to contain the 24 thighs that I needed to brine.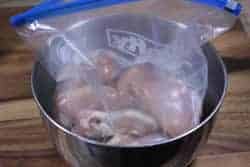 Pour 1/2 of the brine (about 1 quart) into each of the bags with the chicken thighs and seal up the zip top bag. Be sure to press all of the air out of the bag as you seal it up.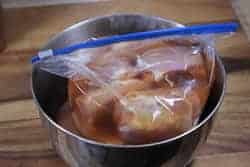 Place the bowl(s) with the bags of thighs into the refrigerator to keep them nice and cold while they brine.
Preparing the Chicken Thighs for Smoking
Once the thighs have brined for 3 hours, remove them from the fridge and rinse them well under cold water. Drain well using a colander and place them into a mixing bowl or another zip top bag for seasoning.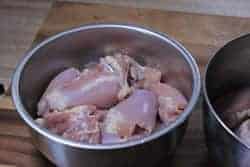 Add some mustard to the chicken and make sure all of the chicken is well coated with the mustard. This is to help the rub to bind to the chicken.
Note: mayonnaise is sometimes a better pairing with chicken if you want to use that instead of mustard.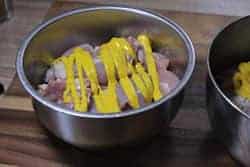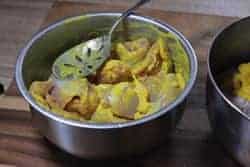 Add about 1/4 cup of my original rub (Purchase formula here | Purchase bottled rub) and make sure the chicken is well coated with the rub/mustard mixture.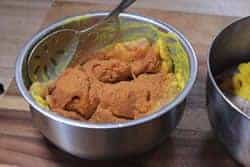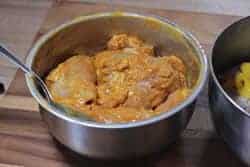 Repeat the last step by adding in another 1/4 cup of my original rub (Purchase formula here | Purchase bottled rub) and stirring it in well.
You should end up using about 1/2 cup of rub on 24 chicken thighs
The chicken is now ready to smoke.
Place the rubbed chicken thighs on Weber grill pans or cooling racks for easy transport to and from the smoker.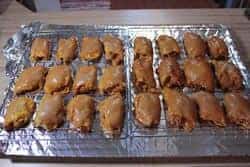 Smoking the Chicken Thighs
Set up your smoker for cooking with indirect heat at about 230°F (110°C). I highly recommend a robust wood like mesquite for that great smoke flavor that we all love and enjoy. You can also use hickory, pecan or a fruit wood of your choice using wood chips or chunks.
Once the smoker is preheated and maintaining the set temperature, place the chicken thighs into the smoker.
Let the chicken thighs smoke cook until they reach 175°F (79°C).
I recommend an instant read thermometer such as the Thermapen One to ensure the chicken has reached the proper temperature before removing it from the smoker.
Note: if you opt to use chicken breasts, let them only cook to 165°F (74°C) as they are leaner and dry out more easily.
Why 175°F for thighs instead of the normal 165°F that we usually cook smoked chicken to?
The thighs definitely have more fat than the other parts of the chicken and can handle longer cook times. The brining also adds more moisture to the meat and reduces the chance of them drying out in the heat. By cooking them just a little longer they end up a little more tender which helps with the pulling.
The chicken thighs are done cooking and can be brought in and cooled for a few minutes before pulling.
You will notice that I brushed a little of the original barbecue sauce (Purchase formula here | Purchase bottled rub) onto mine about 30 minutes before they were finished cooking. Just personal preference here.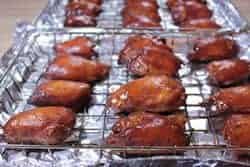 How to help skinless chicken end up more juicy
Option 1: Let the chicken thighs smoke for about 1.5 hours then place them into aluminum foil pans covered with aluminum foil. A little chicken broth, beer, apple juice, etc. in the bottom of the pan will create some steam and help to tenderize the meat and end up more moist and juicy. Leave them in this configuration until the internal temperature of the chicken reaches 175°F (79°C).
Option 2 (my favorite): Brush them with melted butter about every 15 minutes to make sure they stay nice and moist and juicy throughout. This adds a little time to the overall cooking time (due to heat loss while the lid/door is open) but it's worth it.
A favorite mop that I use consists of the following:
It's good enough to drink.. but please don't. Save it for the chicken ;-)
Pulling the Smoked Chicken
Let the chicken cool for about 5 minutes once you bring it in then simply pull the meat from the bone (if not boneless) and tear it into small pieces with your hands or use a couple of forks for this task.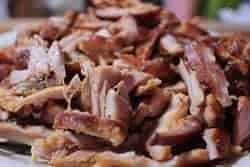 Saucing up the Meat
With pulled pork, I prefer to drizzle the bbq sauce on top of the meat but, with the smoked pulled chicken, I decided to mix some of my original barbecue sauce right in with the meat. Don't add too much but just enough so that it is moist through and through.
If you'd rather not sauce the meat, that's perfectly fine too.
Making the Smoked Pulled Chicken Sandwich
Toast the buns then add a healthy portion of smoked pulled chicken on the bottom of the bun. Spoon on some slaw and top it with the other half of the bun. Add a pickle or two if you like and serve.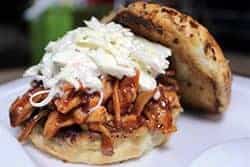 This chicken sandwich is one for the gods!
The Creamy Cole Slaw
I used a recipe from my book for the "Creamy Cole Slaw". If you have a great cole slaw recipe that you love, that will also work. Don't be tempted to skip the slaw — it really makes the sandwich.
Classic Creamy Coleslaw
4 cups cabbage, shredded
½ cup purple cabbage, shredded (optional)
1 cup carrots, shredded
½ cup mayonnaise
2 Tablespoons heavy whipping cream
1 teaspoon lemon juice
¼ tsp celery seed (optional)
1 teaspoon sugar
¼ teaspoon salt
¼ teaspoon coarse black pepper
In a small bowl, whisk together mayonnaise, cream, lemon juice, celery seed, sugar, salt & pepper. Taste and add more salt if necessary. Pour over green cabbage & carrots and toss with dressing to coat. Cover and refrigerate until ready to serve. Tip: If adding shredded purple cabbage for color, add just before serving. Otherwise all the ingredients will be tinted purple.
Smoked Pulled Chicken
You are absolutely gonna love this
smoked pulled chicken
recipe! It's meant to be piled high on a bun with creamy cole slaw and
my barbecue sauce
mixed in so do it justice ;-)
Ingredients
5

lbs

of chicken thighs

(about 24 pieces (I like the boneless, skinless variety)

Gallon

sized zip top bags

Brine

(recipe below)

Yellow mustard or Olive Oil

(optional)

Large buns

(for the sandwich)

Creamy coleslaw
Instructions
Make the brine using:
1/2 gallon water

1/2 cup kosher salt

1/2 cup dark brown sugar

3 TBS Louisiana hot sauce

Add all of the ingredients to the water and stir until everything is dissolved and mixed in well.

Using gallon sized zip top bags, put 12 thighs in each bag and pour enough brine into the bag to cover. I used about ½ of the brine in each bag and it was plenty.

Seal the bags pressing out all of the air and let them sit in the fridge during the brining process. I recommend sitting the bags down in bowls to prevent the risk of leakage.

After 3 hours, remove the bags from the fridge and discard the brine liquid.

Place 12 chicken thighs into each bowl and coat well with yellow mustard.

Setup smoker for cooking at 225-240°F with indirect heat using mesquite, pecan or whatever wood you have available for smoke.

If your smoker has a water pan, fill it up.

When the chicken is finished cooking, de-bone it (unless it's boneless), then pull the meat into pieces.

Make sandwiches with the pulled chicken topping it with coleslaw, pickles and onions.
Get Jeff's Products!