Throughout this website and especially on poultry, I am always encouraging folks to brine the meat they are getting ready to smoke but what is brining meat? That's exactly what I am going to explain on this page.
After reading this page you should know what brining meat is, why you should brine meat and most importantly, how to get the job done in a way that brings results.
What is Brining
I am not a scientist and I won't try to explain what I don't understand but I will tell you that when you put meat and salt together, the salt finds it way into the center of the meat in a most remarkable way.
Brining meat is simply placing salt on meat or putting meat down into very salty water and allowing that salt to go through a series of natural scientific processes to find it's way inside of the meat.
In it's most basic form, these processes seek to equalize the amount of salt on the outside of the meat with the amount of salt on the inside.
As you very well know there is little if any salt inside the turkey therefore the salt and water is drawn deep into the meat fibers of the meat creating the process we call meat brining. The really neat thing about this process is that you can add other spices, herbs, flavorings, etc. down into the bucket with the salt water solution and it will get drawn in as well and thereby flavor the meat.
This process seems to work the best on poultry but it is also works well on pork, beef, fish, lamb, etc.
Why Brine Meat?
This question is sort of answered above but in essence, we brine meat to improve flavor and to increase the moisture level in side of the meat. During brining, moisture gets drawn into the meat fibers and it gets trapped there. During the cooking process, moisture loss happens.. it's a given. A brined piece of meat has more moisture inside and while it also experiences  moisture loss during the cooking process, it started with more and therefore ends up more moist and juicy than it would have been.
Ingredients for Brining Meat
The standard water to salt ratio is 1:16 or 1 cup of Kosher salt per gallon of non-chlorinated water. I usually require around 2 gallons of water to cover a 12 pound turkey and therefore I use 2 cups of kosher salt and 2 gallons of water. Any seasonings you choose to add after the base solution should contain little or no salt else the brining meat you are using can become too salty.
How to Make the Brine
First you need the liquid (it doesn't have to be water). It can be juice, milk, wine, soda pop, etc. In the following example, I used a juice mixture.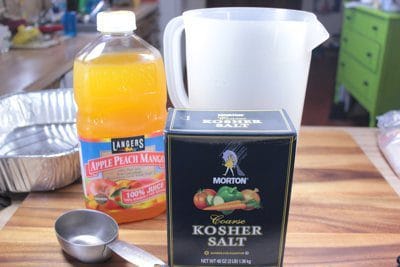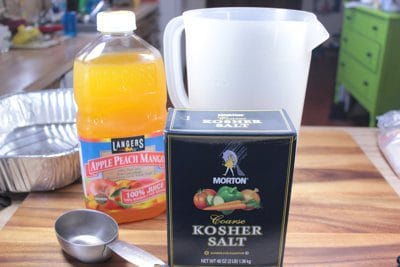 The juice is poured into the pitcher. Looks like I used ½ gallon here so I added ½ cup of kosher salt.
The salt is stirred into the liquid until it is completely dissolved.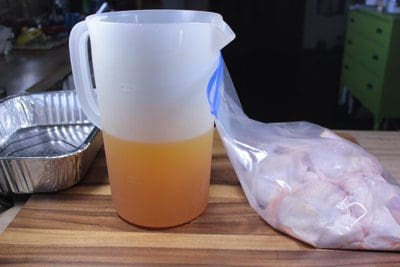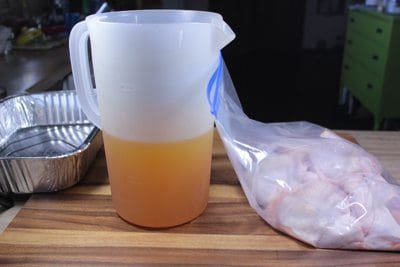 A ziptop bag is one of the best brine containers. In the picture above, the chicken was placed into a gallon sized bag.
The brine is poured into the bag to cover the chicken.
Be sure to press out as much of the air as you can before zipping the bag closed.
Bags are not always 100% leak proof so I recommend placing the bag into a large bowl or pan just in case.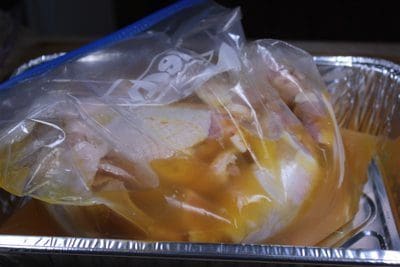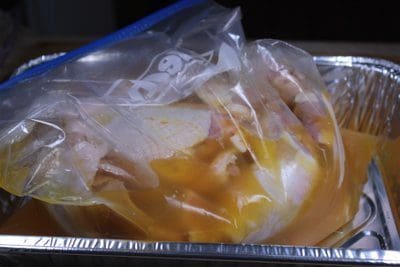 Most things like chicken pieces can be brined for as little as just a few hours or overnight.
Here is a more complex recipe I use once in a while using the same process as above:
2 Gal Water
2 Cups Kosher Salt
3 Cups Sugar
1/4 Cup Zatarains Liquid Crab Boil
4 TBS Black Pepper
1 TBS Dried Rosemary
1 TBS Thyme
1/4 Cup Molasses
1/4 Cup White Wine (not Cooking Wine)
1/4 Cup Worcestershire
Soak a 12 pound turkey in this mixture overnight or 10-12 hours in the fridge
Experiment with Your Favorite Brine Ingredients
You can get real creative with meat brining and add pinches and dashes of this and that until you find the right combination. On the recipe above you can leave out the crab boil for a less Louisiana flavor. Try a dash or two of cinnamon for a nice twist. Wanna spice things up a bit…add a few teaspoons of cayenne or run a couple of jalapenos through the food processor and pour the puree into the mix…oh yeah!
After the meat has brined for 10-12 hours take it out of the bucket, rinse the meat real well making sure there is no traces of salt left on the outside of the brining meat and discard the brine. Smoke (or bake if you must) as usual.
What About Dry Brining?
Dry brining is a slightly different animal since it uses no extra water. This is simply done by sprinkling a generous amount of kosher salt all over a piece of meat such as a steak.
In this example you can see the type of salt coverage that I use and recommend.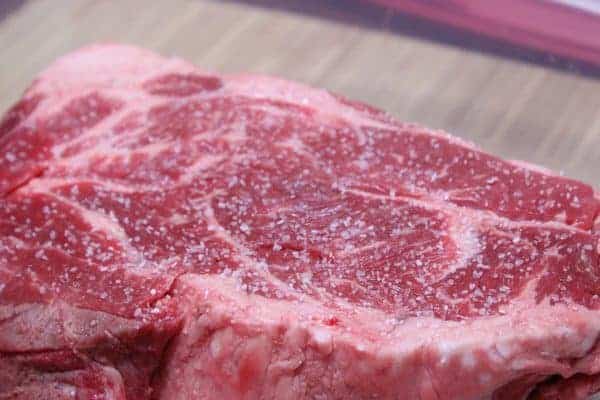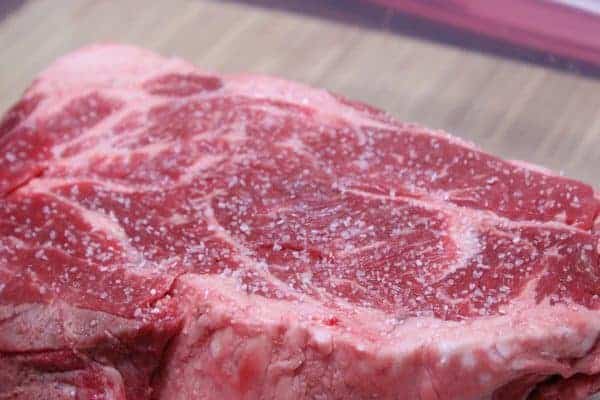 Set the steak(s) on a plate or pan and allow it to sit in the fridge for 2-4 hours. The thicker the steak or meat, the longer it should be allowed to sit.
First the salt begins to draw moisture to the surface. This happens in about 5-10 minutes.
The moisture causes the salt to dissolve and the mixture becomes a salty slurry. This happens within the first 30-45 minutes
This salty moisture is then drawn back deep into the meat.
A steak that has been dry brined, will taste slightly salty and flavorful, all the way through to the center even if you add no extra salt.
When the dry brining process is finished, it is ready to cook.
I have not found it to be necessary to rinse the meat after this brining process but it also does not hurt if you are worried about it being overly salty.
***Note: you get the Texas style rub recipe free with your order!
If I could give these recipes away, I would do that. I really want you to have them! But, then, this is how I support the newsletter, the website and all of the other stuff that we do here to promote the art of smoking meat.
Read these recent testimonies:
"Love the sauce and rub recipes. So far I have used them on beef ribs, pork ribs, and different chicken parts. Can't wait to do a beef brisket. Texas rub is great as well!" ~Peter S.
"I tried the rub on a beef brisket and some beef ribs the other day and our entire family enjoyed it tremendously. I also made a batch of the barbeque sauce that we used on the brisket as well as some chicken. We all agreed it was the best sauce we have had in a while." ~Darwyn B.
"Love the original rib rub and sauce! We have an annual rib fest competition at the lake every 4th of July. I will say we have won a great percent of the time over the past 15 years so we are not novices by any means. However, we didn't win last year and had to step up our game! We used Jeff's rub and sauce (sauce on the side) and it was a landslide win for us this year! Thanks Jeff for the great recipes. I'm looking forward to trying the Texas style rub in the near future!" ~Michelle M.
You see the raving testimonies and you wonder, "Can the recipes really be that good?"
No worries! Make up a batch and if it's not as good as you've heard.. simply ask for a refund. Now that's a bargain and you know it. Let's review:
You decide you don't like the recipes.. you don't pay!
The recipes are absolutely amazing!
Once you order, there'll be no more recipe ads in the email version of the newsletter
Well.. what are you waiting for.. click on the big orange button below to order the recipes now.

I really, really appreciate the support from my newsletter friends and be sure to let me know if you have any questions about this.
Jeff's Smoking Meat Book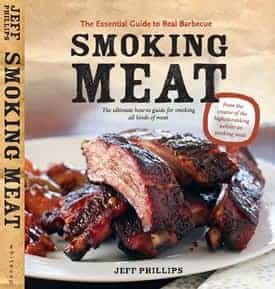 The book is full of recipes and contains tons of helpful information as well. Some have even said that "no smoker should be without this book"!
With more than 800 reviews on Amazon.com and a rating of 4.7 out of 5 stars, it comes highly recommended.
It is a Bestseller in Barbecueing & Grilling books on Amazon.
Amazon | Barnes & Noble | German Edition
Digital versions available via Nook | iTunes | Kindle
Get Almost Anything at Amazon
If you enjoy the newsletter and would like to do something helpful, then..
The next time you decide to order something at Amazon.com, use THIS LINK to get there and we'll get a small commission off of what you purchase.
Thank you in advance for using our special link: http://www.smoking-meat.com/amazon