How to Make Pork Butt Burnt Ends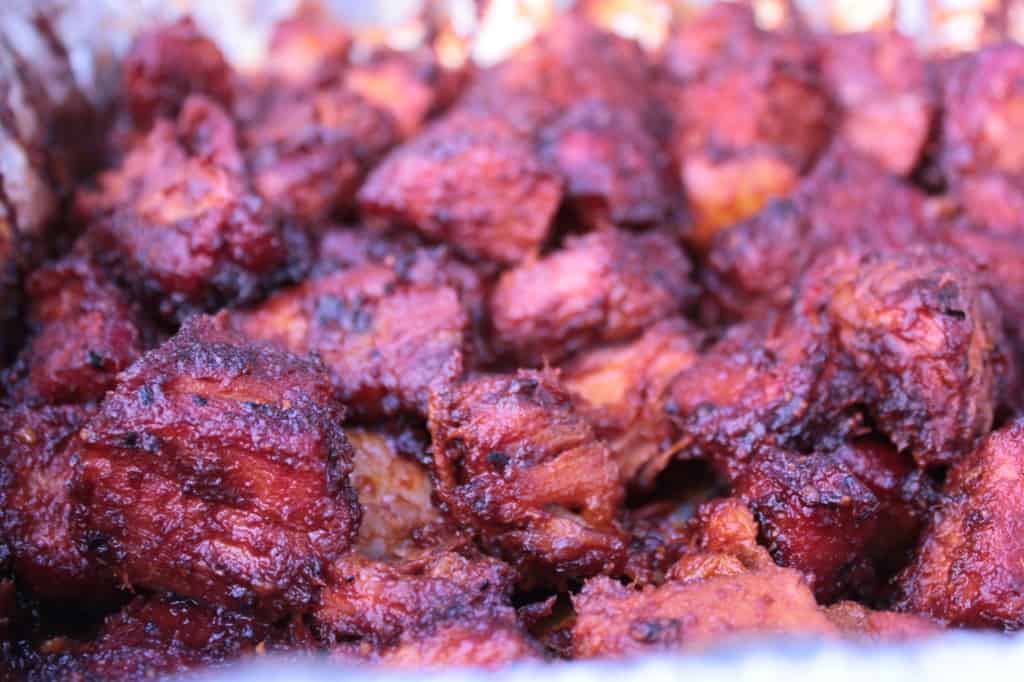 Smoking-Meat.com is supported by its readers. We may earn an affiliate commission at no extra cost to you if you buy through a link on this page.
Read this article without ads
Burnt ends are something of a legend and I have not met too many folks who will turn them away. If you have not tried them then you are missing out.
So, what are burnt ends? I thought you'd never ask!
Smoke a whole packer brisket and you get lots of wonderful slices from that flat end but once you get to that point end all you're left with is lots of fatty meat which, at first glance, doesn't seem to be much good for anything.
Take that fatty point end and cube it up into pieces that are about 1 inch by 1 inch. Place the pieces in a foil pan with a little sauce and more rub and cook it for an hour or two longer and you end up with something that is is nice and crispy on the outside while soft, delicious and amazingly delectable on the inside.
Try this and you'll be saying, "Burnt ends.. where have you been all my life!"
As is my style, I just had to stretch the parameters and see if you could also make these wonderful things from a pork butt which is also somewhat fatty and handles the longer cooking times really well.
In this newsletter I show you how to make pork butt burnt ends and I have to tell you that, just like brisket burnt ends, they are extremely wonderful and a must-try item for your next smoking weekend!
If you are interested in brisket burnt ends then Go HERE to read about it otherwise, keep reading below for how to make pork butt burnt ends.
Important Information
Prep Time: 10 minutes
Cook Time: 6-8 hours + 2 hours
Smoker Temp: 250 F
Meat Finish Temp: 170 F
Recommended Wood: Hickory/Apple Mix
What You'll Need
7-8 lb Pork butt (Boston butt)
Worcestershire sauce (or yellow mustard)
Jeff's rub and sauce
Large foil pan
Foil
Preparing the Pork Butt
Lay the pork butt in a pan to contain the mess then douse it with Worcestershire sauce or you can use regular yellow mustard if that suits your fancy. it's just to help the rub stick to the meat a little better.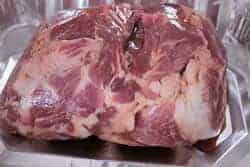 Apply rub generously to the top and sides of the pork butt.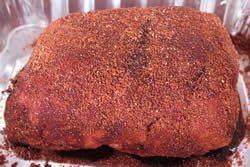 Get the Smoker Ready
Set your smoker up for cooking at about 250 degrees with a mixture of hickory and apple wood if you have it available.
Once the smoker is maintaining a steady temperature, it is ready for the pork butt to go on.
If your smoker has a water pan, be sure to use it.
Smoking the Pork Butt
Place the pork butt directly on the smoker grate fat side down and leave it alone until it reaches 170 degrees which should normally take about 6-8 hours depending on your smoker temperature.
Keeping an eye on the temperature is paramount. Be sure to use a super-fast Thermapen or a good digital probe meat thermometer such as the Maverick ET-732 to make sure you know exactly what the temperature of the meat is while it is cooking.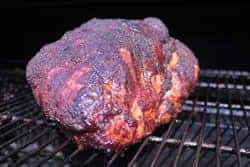 Making the Burnt Ends
Once the pork butt reaches 170 degrees, remove it from the smoker and place it on a large cutting board.
At this point in the game, the pork butt is still firm enough to cut into pieces without it falling apart or trying to shred.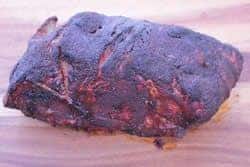 Remove or cut the bone away from the pork butt then cut the pork butt into cubes that are 1 inch by 1 inch (approximately) and place them in a foil pan.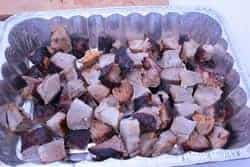 Add about 1 cup of sauce to the top of the cubed meat and stir it around to coat all of the pieces.
Add about 1 cup of my rub and stir it around once again to coat all of the meat.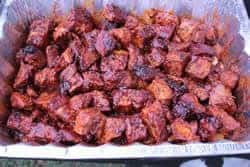 Place the pan of cubed meat into the smoker and leave it for about an hour.
When Are the Pork Butt Burnt Ends Finished?
The burnt ends are finished when they are as dark and charred as you like them. I usually wait about an hour and sometimes 2 hours just depending on how big of a hurry I am in.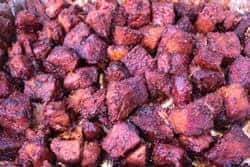 About every hour, grab one and toss it in your mouth. If it tastes heavenly and you want to go ahead and serve them then go for it.
You can easily speed up this process by doing this on the grill at a much higher temperature. Stir often to keep them from burning too much on the bottom.
The cool thing about pork butt burnt ends that YOU make yourself is that you can get them just as dark or charred as you like- it's totally up to you. I like mine just slightly charred while I have friends who want them nearly black.
You really can have them YOUR way;-)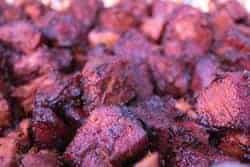 Serving the Pork Butt Burnt Ends
I love burnt ends as a main entree of as a side item to ribs, chicken or whatever else you are cooking.
You can also make a mean sub or poboy with burnt ends.. try it and let me know how it goes for you!
Get Jeff's Products!