I've written about smoked shrimp and it was really good but it has so much more potential as I have shown in this newsletter. I have taken extra large shrimp and butterflied them, stuffed them with a cream cheese mixture, wrapped them in a half-slice of bacon and  then smoked them to perfection.
These babies surpassed my every expectation and were everything I thought they could be and more!
I know that you are going to want to try these very soon and maybe even this weekend. They are quick and easy and I would have no problem serving them on paper plates at a backyard barbecue or on my best china at a fancy dinner.
It's that kind of dish!
These smoked shrimp make a great appetizer or even a main entree depending on your setting.
Enjoy!
Important Information
Prep Time: 30 minutes
Marinate Time: 3 hours
Cook Time: 35 minutes
Smoker Temp: 225 F
Meat Finish Temp: N/A
What You'll Need
2 lbs extra large shrimp (22-26 count)
Large zip top bag
8 oz cream cheese
1/2 cup mozzarella cheese, shredded
1/4 cup sharp cheddar cheese, shredded
1/4 cup monterey jack cheese, shredded
2 lb bacon
Toothpicks
Peeling the Shrimp
I like to buy the easy-peel shrimp but obviously, if you have access to fresh local shrimp then that is better and they may not be easy-peel.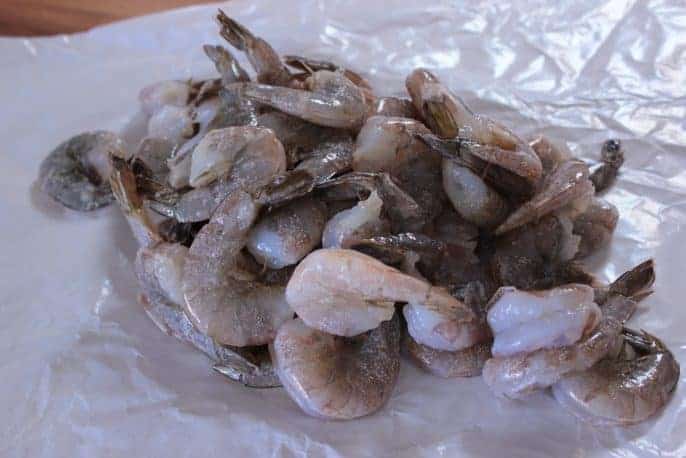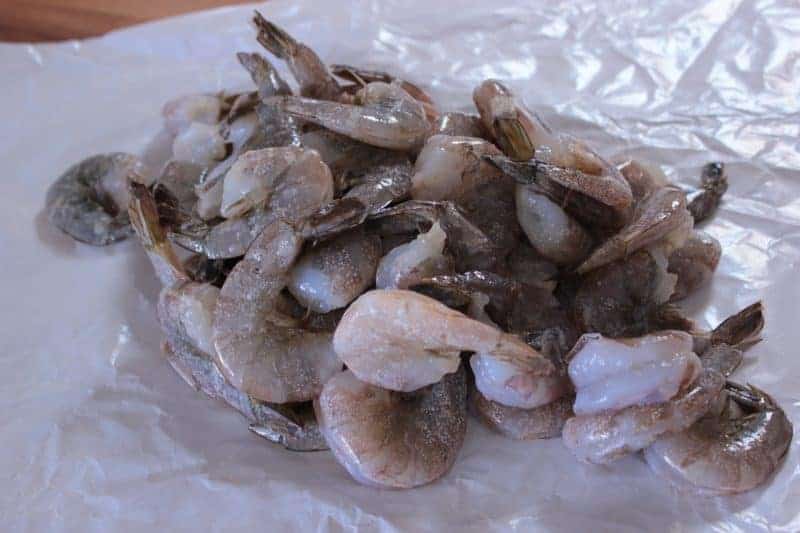 I am big on food safety so I like to fill a metal mixing bowl about half full with ice. I then set a slightly smaller metal mixing bowl onto the top of the ice.
The shrimp goes into the slightly smaller bowl to keep them cold while I'm peeling. The metal does a better job than plastic to transfer the cold from the ice to the shrimp.
Also go ahead and remove the tail as well while you're at it.
Butterflying the Shrimp
Using a sharp knife, make a cut along the outside edge of the shrimp without cutting all the way through.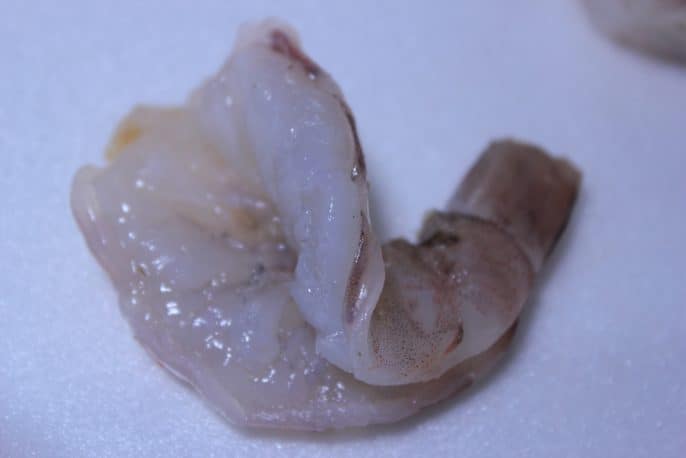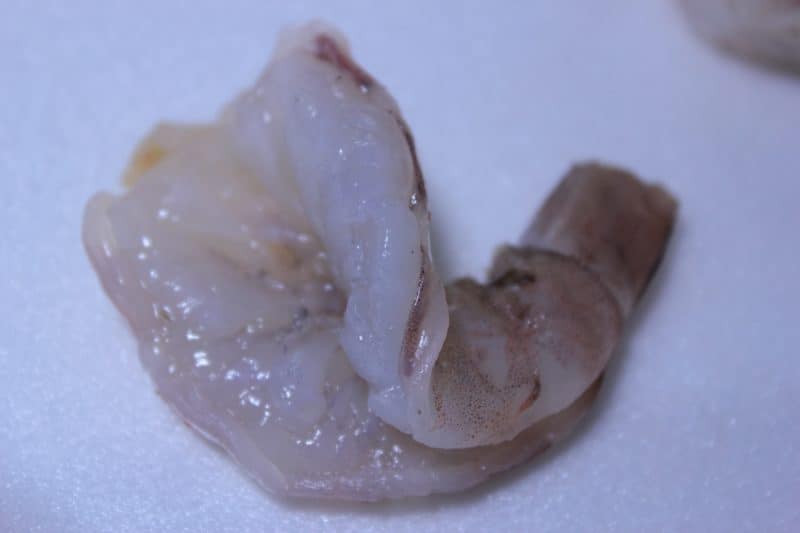 Marinating the Shrimp
Once all of the shrimp are peeled with tails removed, and butterflied, place them into a large zip top bag.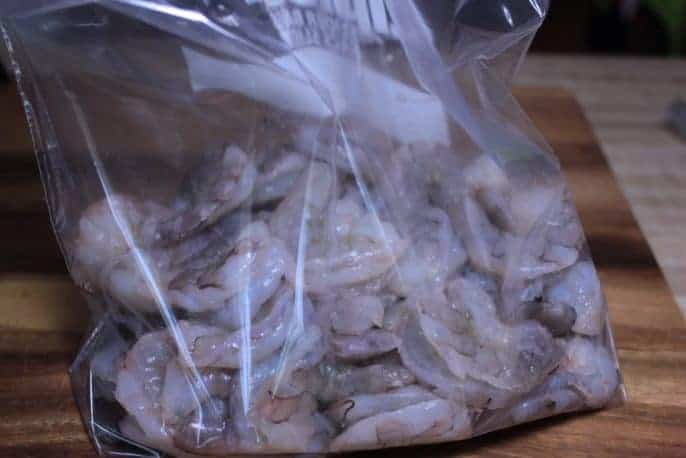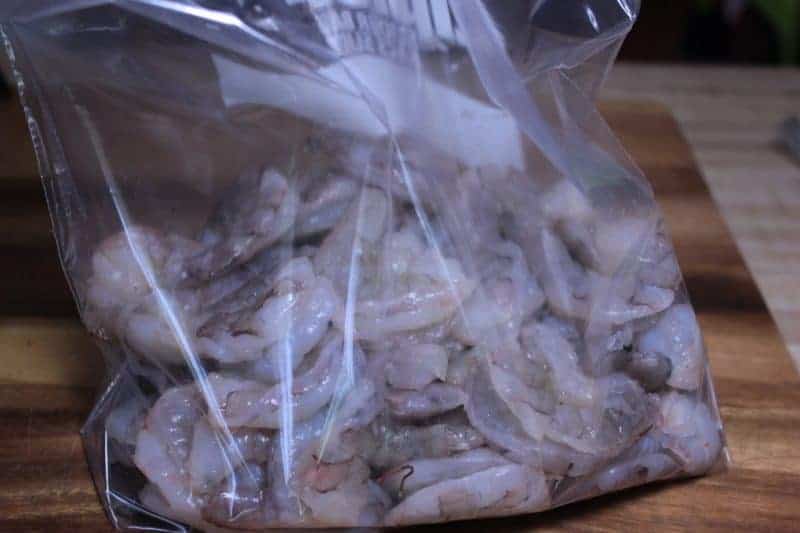 Pour about 1/2 cup of my rub (purchase recipes here) into the bag right on top of the shrimp.
Seal the bag and roll it around to thoroughly coat the shrimp with the rub.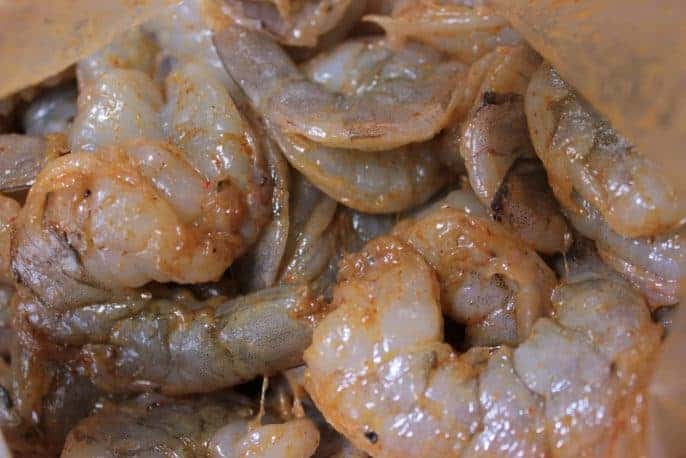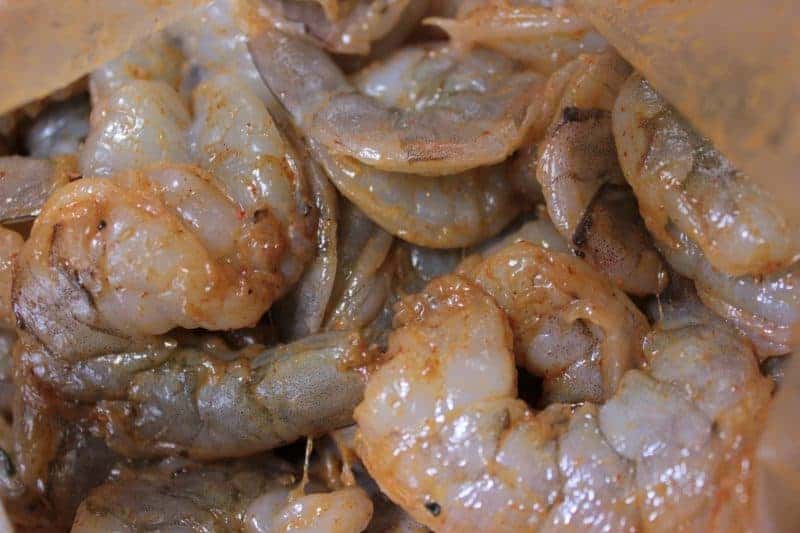 Once the shrimp are coated well, place the bag of shrimp in the fridge for 3 hours. The delicious rub will mix with the delectable juices in the shrimp and create a marinade that will amaze your tastebuds!
Making the Stuffing
Mix a single 8 oz. package of softened cream cheese with the shredded mozzarella, cheddar and Monterey jack cheese and combine well.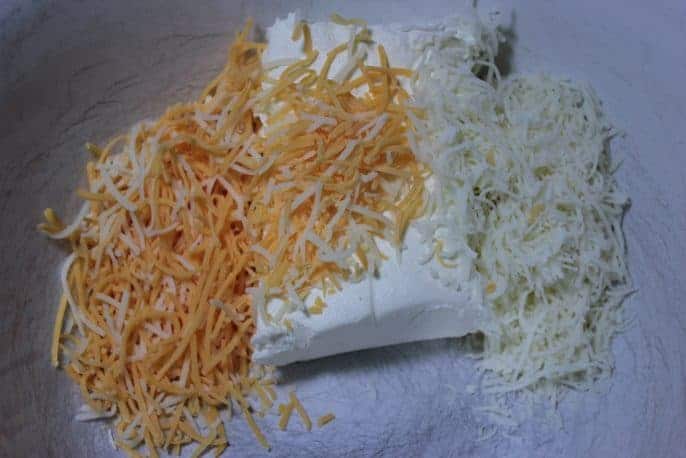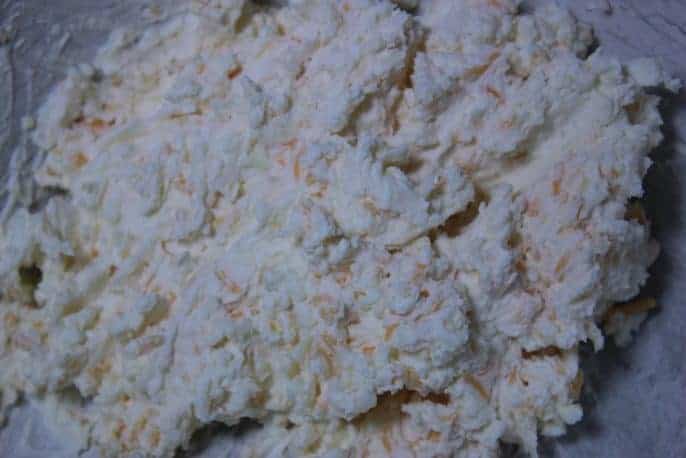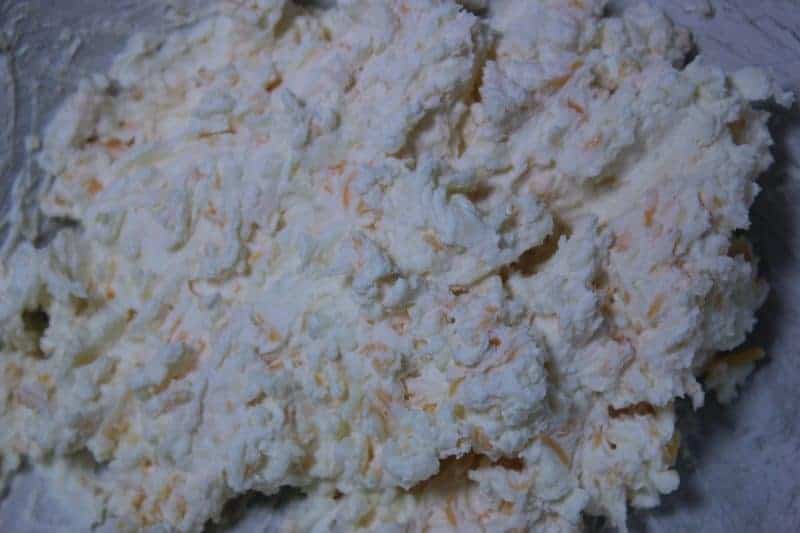 Precooking the Bacon
I highly recommend pre-cooking the bacon. The shrimp cook so quickly that the bacon doesn't even have time to start getting done in the smoker.
To pre-cook the bacon:
Preheat the oven to 375°F
Place strips of bacon on a baking sheet
Cook bacon for about 6 minutes then remove (no flipping or turning required)*
*I used thin cut bacon. If the bacon is thicker, it will probably require more time to pre-cook.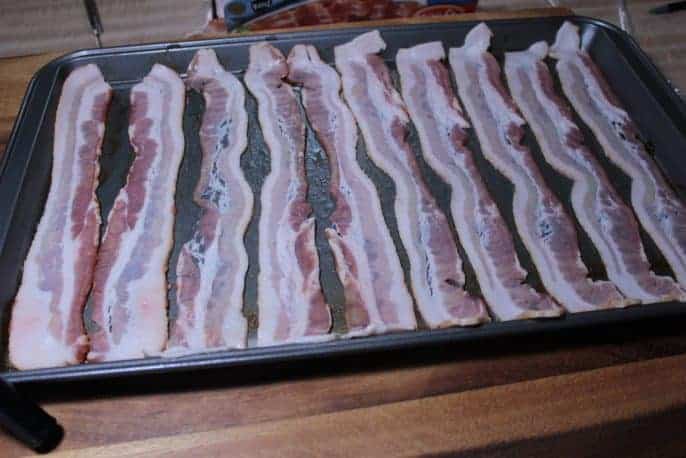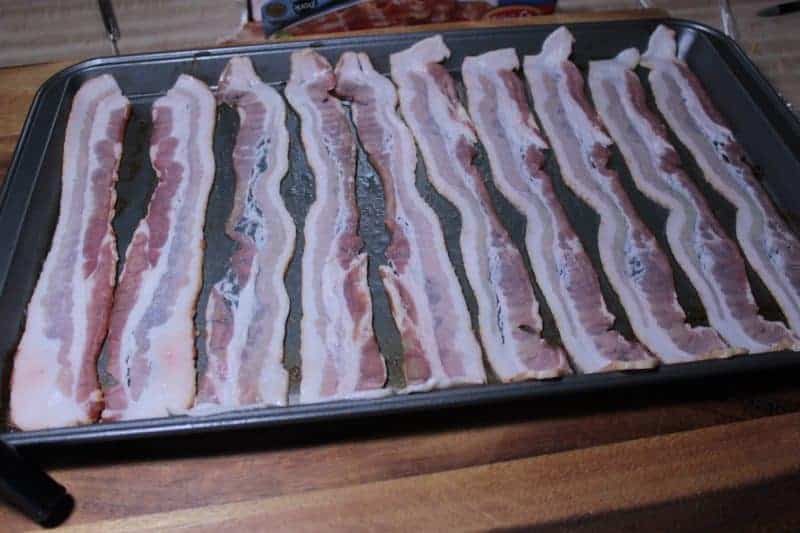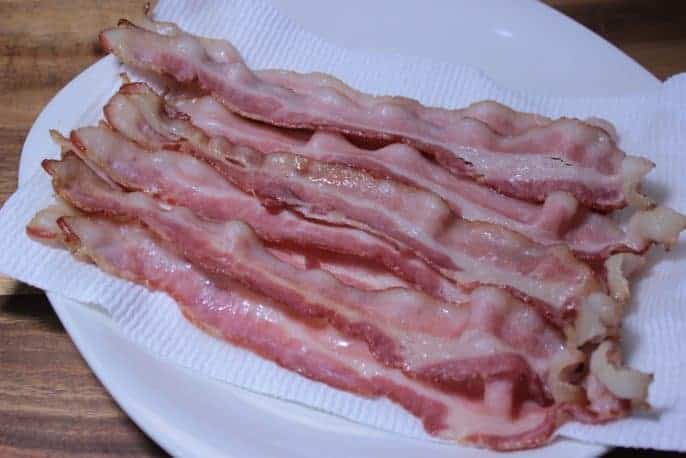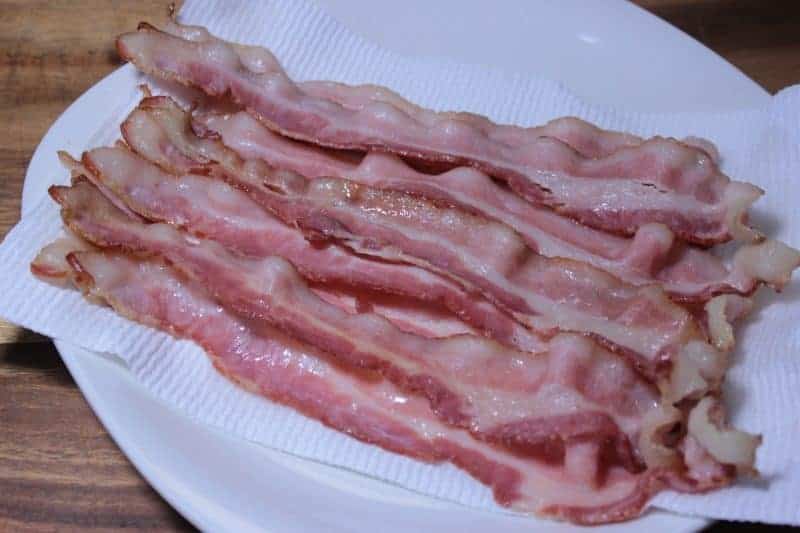 Stuffing and Wrapping the Shrimp
After 3 hours the shrimp are done marinating and can be removed from the fridge. Do NOT rinse.
Place about 1/2 teaspoon of the cream cheese mixture into the butterflied part of each shrimp then wrap a half-slice of pre-cooked bacon around it's midriff. Secure with a toothpick and that's all there is to it.
If you have some Bradley racks or Weber Grill pans, the stuffed, bacon wrapped shrimp can be transported to and from the smoker without being disturbed.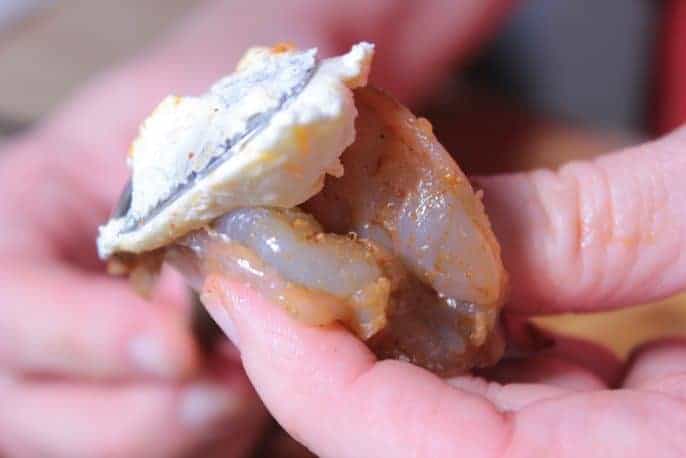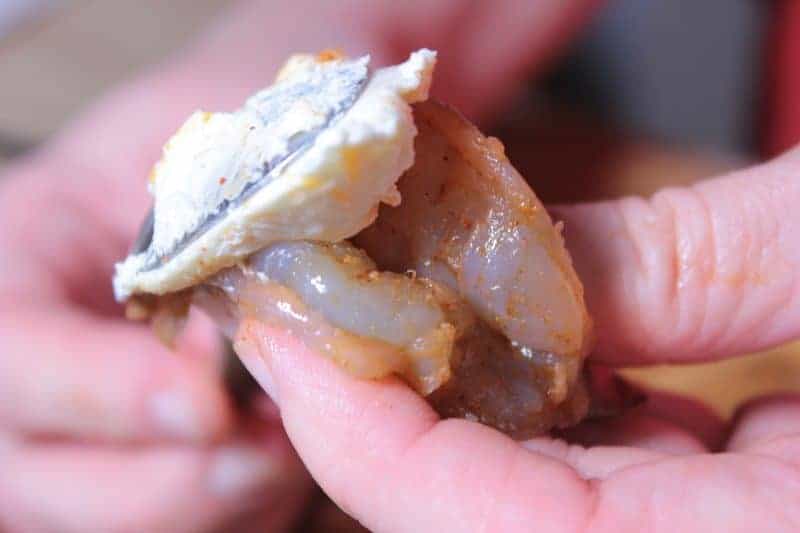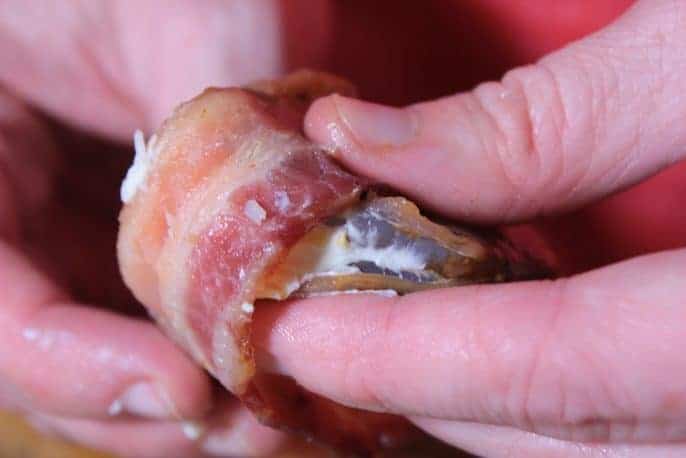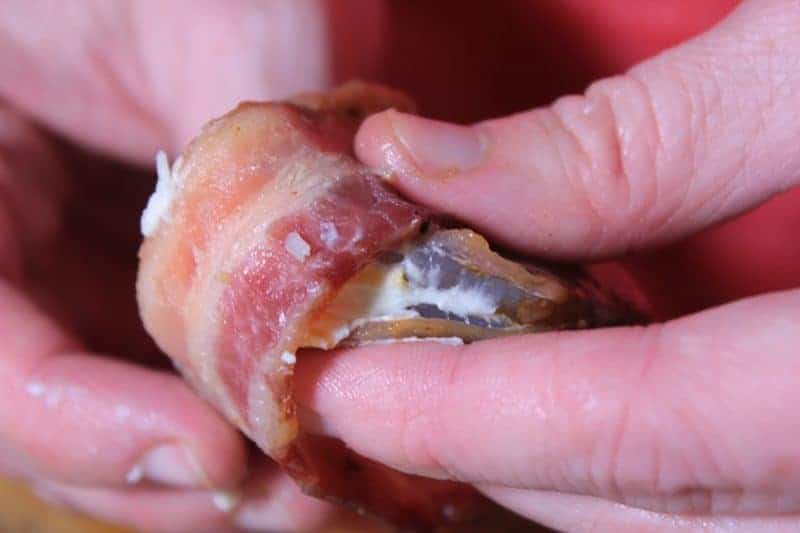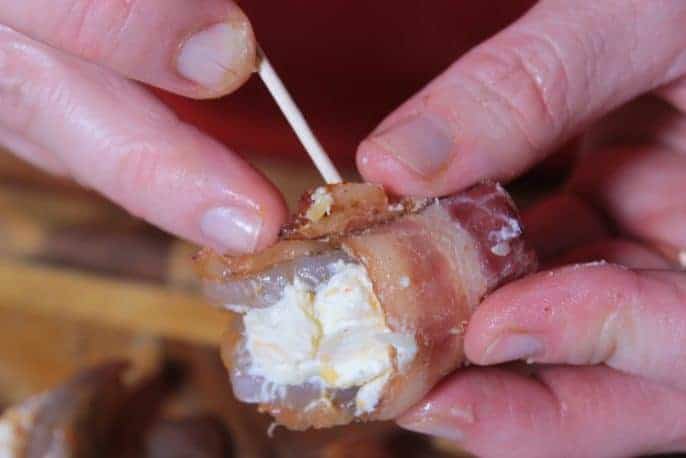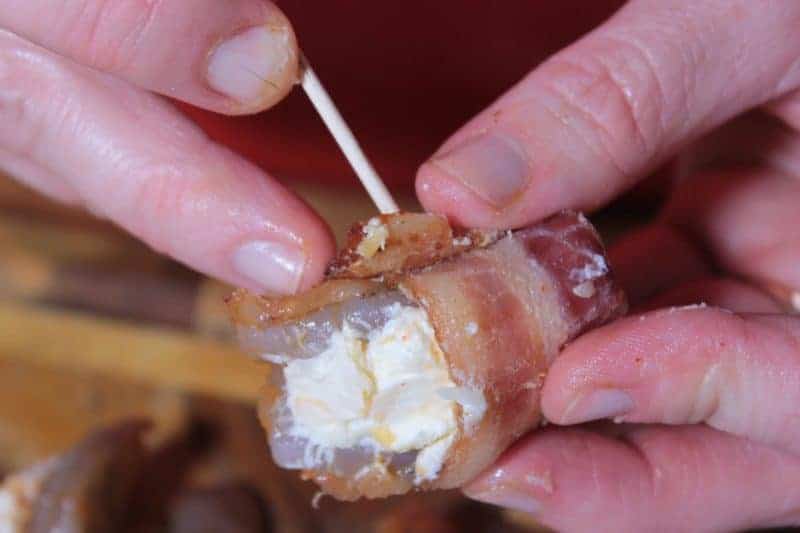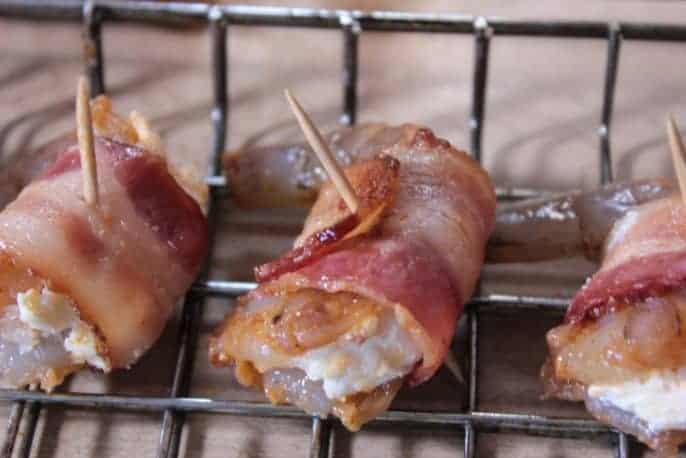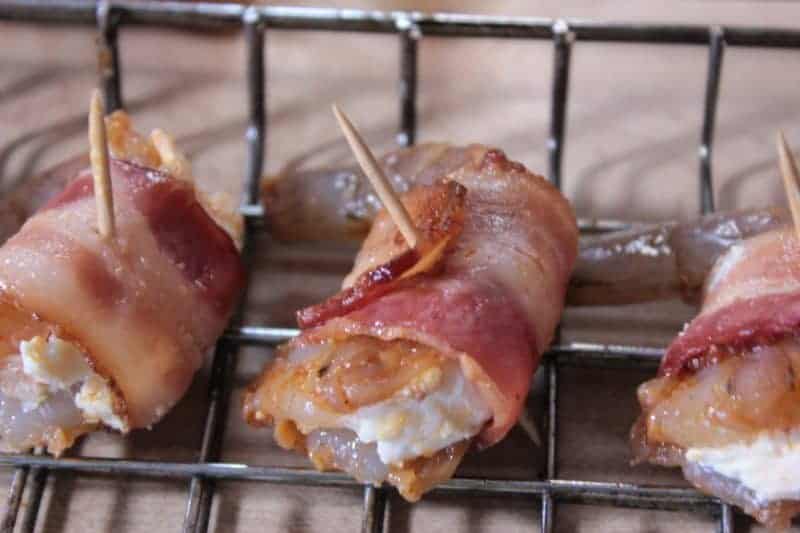 Getting the Smoker Ready
Set your smoker up for cooking at about 225°F with apple wood or another favorite wood. I prefer a milder tasting wood on these but any smoking wood will technically work just fine.
Once the smoker is maintaining a steady temperature, it is ready for the shrimp.
If your smoker has a water pan, use it.
Smoking the Shrimp
Place the stuffed, wrapped shrimp on a Bradley rack or on a baking sheet if you do not have anything better. Something mesh-like which will allow the smoke to come up through the bottom is your best option.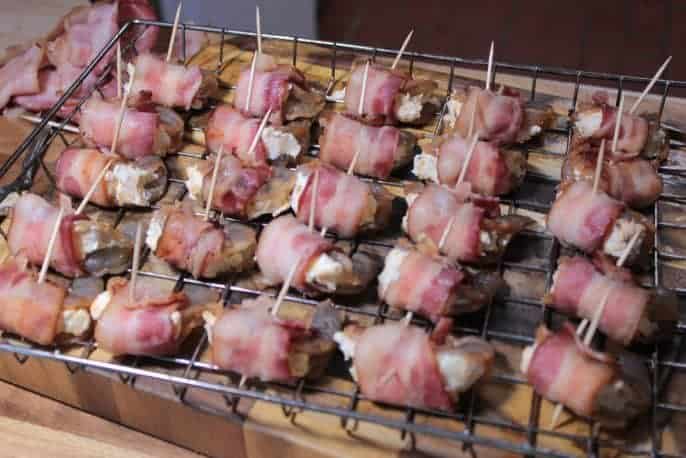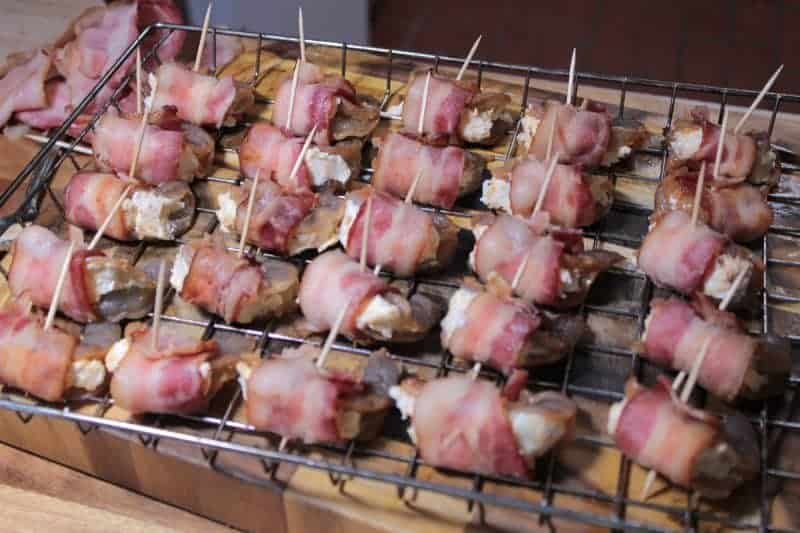 When Are the Shrimp Finished Cooking?
Most shrimp will turn pinkish when they are done and this is a good indicator but you do not want to overcook shrimp or they will get rubbery. The meat will turn from translucent to somewhat opaque when they are near perfect.
They will also feel firm and plump.
Shrimp will also curl into a distinct "C" shape when they are finished but this is somewhat subjective.
I recommend making sure that your smoker is absolutely maintaining 225°F at grate level using a very reliable thermometer then let them cook for 20-25 minutes. Check them again in 5 minute intervals if they are not quite done yet.
I have done multiple batches of these and they consistently come out perfect in 35 minutes at 225°F at grate level.
Serving the Shrimp
I love serving these smoked shrimp as appetizers especially when something else I am cooking is going to take a while.
Alternatively, these smoked shrimp would work well on skewers.
Place 4-6 on a long, wooden skewer and serve them with grilled asparagus or another favorite side as an entree that will delight your family and friends.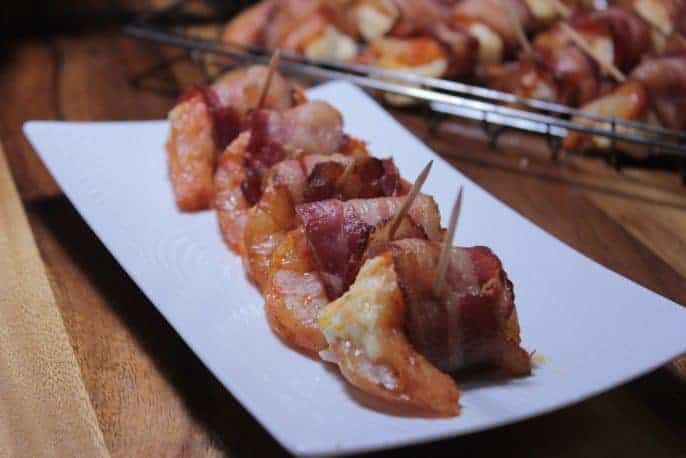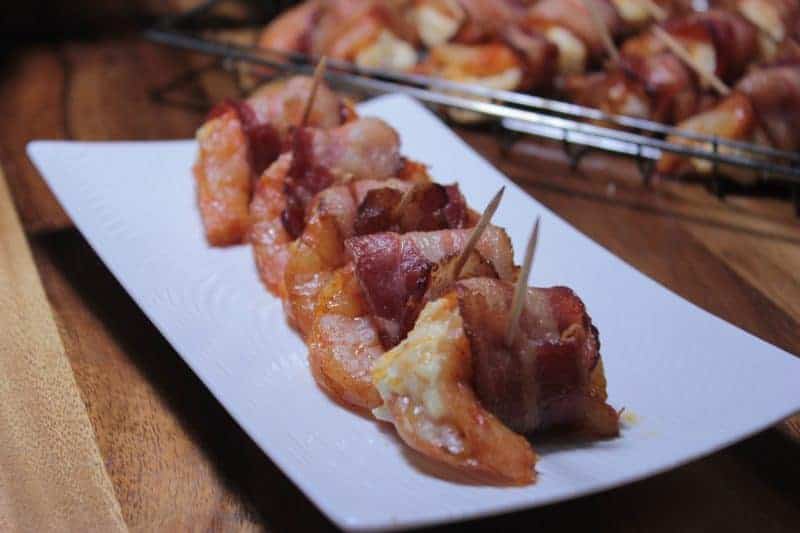 Here's my barbecue cocktail sauce that I came up with the last time I wrote about smoked shrimp:
Jeff's Barbecue Cocktail Sauce
Mix until well blended.
Seems too simple? It is simple but you will love it and folks will want the recipe. I recommend keeping an air of mystery about it for a while before divulging your secret;-)
Notes:
I really like horseradish, if you don't like it as much as I do, you might want to start with 1 TBS, taste it, then add more to taste.
You can use another barbecue sauce however, I cannot vouch for the ingredients or the flavor. My list of ingredients just happen to work really well for the sauce, others may not.
***Note: you get the Texas style rub recipe free with your order!
If I could give these recipes away, I would do that. I really want you to have them! But, then, this is how I support the newsletter, the website and all of the other stuff that we do here to promote the art of smoking meat.
Read these recent testimonies:
"Love the sauce and rub recipes. So far I have used them on beef ribs, pork ribs, and different chicken parts. Can't wait to do a beef brisket. Texas rub is great as well!" ~Peter S.
"I tried the rub on a beef brisket and some beef ribs the other day and our entire family enjoyed it tremendously. I also made a batch of the barbeque sauce that we used on the brisket as well as some chicken. We all agreed it was the best sauce we have had in a while." ~Darwyn B.
"Love the original rib rub and sauce! We have an annual rib fest competition at the lake every 4th of July. I will say we have won a great percent of the time over the past 15 years so we are not novices by any means. However, we didn't win last year and had to step up our game! We used Jeff's rub and sauce (sauce on the side) and it was a landslide win for us this year! Thanks Jeff for the great recipes. I'm looking forward to trying the Texas style rub in the near future!" ~Michelle M.
You see the raving testimonies and you wonder, "Can the recipes really be that good?"
No worries! Make up a batch and if it's not as good as you've heard.. simply ask for a refund. Now that's a bargain and you know it. Let's review:
You decide you don't like the recipes.. you don't pay!
The recipes are absolutely amazing!
Once you order, there'll be no more recipe ads in the email version of the newsletter
Well.. what are you waiting for.. click on the big orange button below to order the recipes now.

I really, really appreciate the support from my newsletter friends and be sure to let me know if you have any questions about this.
Jeff's Smoking Meat Book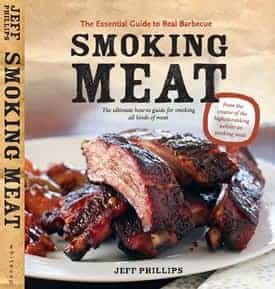 The book is full of recipes and contains tons of helpful information as well. Some have even said that "no smoker should be without this book"!
With more than 800 reviews on Amazon.com and a rating of 4.7 out of 5 stars, it comes highly recommended.
It is a Bestseller in Barbecueing & Grilling books on Amazon.
Amazon | Barnes & Noble | German Edition
Digital versions available via Nook | iTunes | Kindle
Get Almost Anything at Amazon
If you enjoy the newsletter and would like to do something helpful, then..
The next time you decide to order something at Amazon.com, use THIS LINK to get there and we'll get a small commission off of what you purchase.
Thank you in advance for using our special link: http://www.smoking-meat.com/amazon