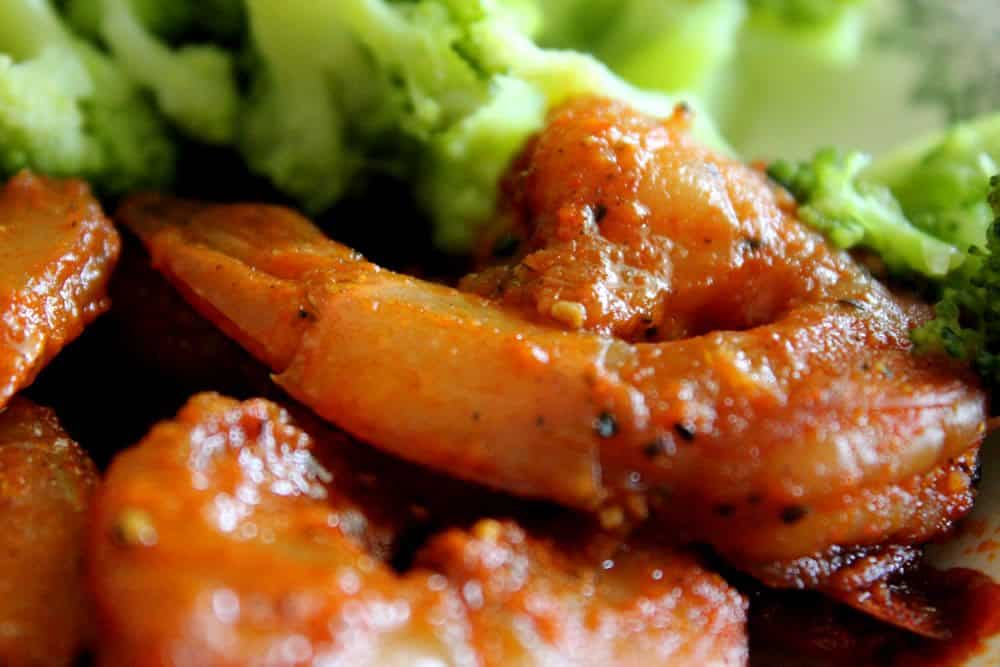 Smoking-Meat.com is supported by its readers. We may earn an affiliate commission at no extra cost to you if you buy through a link on this page.
Read this article without ads
I have been wanting to do an article on smoking shrimp for a while and that time is finally here. You will find lots of folks telling you that these should only be grilled or cooked in a very hot stove or grill but I beg to differ.
These are so simple to do and so very good.. the only trick is to not overcook them. Thankfully, shrimp have a tail-tale sign to let us know when they are perfectly done.. they usually turn bright pink.
What to Purchase
I used the jumbo sized shrimp.. I recommend you do the same but then that's entirely up to you. Here in Oklahoma, about the only thing we have access to is the previously frozen seafood but if you can get the fresh stuff then go for it. The fresher the better. Be sure to purchase raw shrimp, deveined, peeled and tail on for best results.
Thawing them Out
If the shrimp are frozen like the ones I used, just put them in a colander and run cold water over them until they are thawed out. This usually only takes about 5 minutes. Drain the water when you are finished and proceed.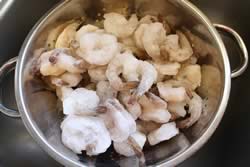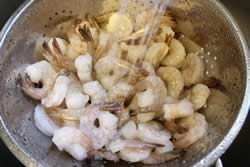 Marinating the Shrimp
Obviously, my rub recipe is the absolute best option in my opinion. The flavor is beyond amazing and perfectly compliments the flavor of the smoke. Put the shrimp in a large ziploc bag and pour enough olive oil over them to fully coat them on all sides. I had 3 lbs of shrimp and used about 1/4 cup of oil. Once the shrimp are coated with oil, pour on about 1/4 cup of my rub recipe per lb of shrimp. I used about 3/4 cup of the rub recipe on mine.
Feel free to use more or less of the rub recipe depending on how seasoned you want them to be. The rub is not "salty" so you can use more than you would almost all other seasonings.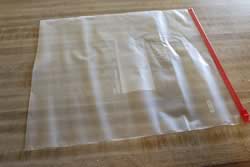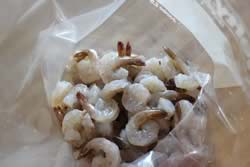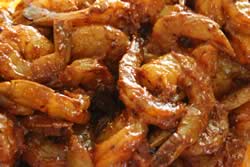 Zip up the bag and shake and roll it to completely coat the shrimp with the oil/rub mixture. Once you are satisfied that they are fully covered, place them in the fridge for about 2 hours.
Note: the rub can easily be adjusted to be just as spicy or mild as you like by reducing or increasing certain key ingredients. I have some notes in the recipe on how to do this and/or I can help via email at your request once you order.
Preparing the Shrimp for Smoking
This recipe is so simple you might wonder why I haven't written about it before and that simply because I had never documented the process which is what is required in order for me to tell you how to do it. It is extremely easy and after marinating them, I simply melted a stick (1/4 lb) of butter and poured it into the bottom of a 9 x 13 disposable pan. I then laid the shrimp neatly into rows overlapping them just a little on top of the tails.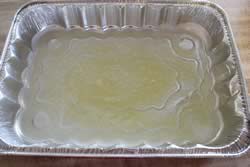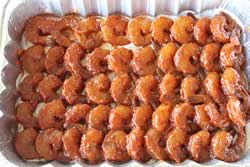 Getting the Smoker Ready
As you may have noticed in my most recent articles, I have been using my propane smoker a lot and that is no coincidence. We have had over a month of 100-114 degree days with no rain and having any kind of open fire is very dangerous due to the dryness of everything.
Propane or electric is my only option right now and I have even had to be extremely careful with that. Fortunately this Great Outdoors Smoky Mountain of mine does a great job and everything has worked out like a charm.
Getting this smoker ready consists merely of turning on the propane, filling the water pan with cold water, lighting the burner for preheating, and filling the chip box with dry wood chips or chunks and setting it aside.
Note: I like to wait until about 5 minutes before adding the meat to place the chips/chunks in the smoker. This allows me to get the meat into the smoker and get some pictures if needed before the smoke starts flowing too heavy.
In the gas smoker, I leave the knob set on HIGH until I put the shrimp into the smoker since I need to get the chips/chunks going quickly. Once I place the shrimp in, I watch for smoke then turn it down to a more medium setting to maintain my goal temperature.
Smoking the Shrimp
Place the pan(s) of shrimp into the smoker and DON'T go anywhere for long. These things will be done faster n' you can imagine as is the way with these little, great tasting buggers.
I was unable to maintain less than 235 degrees in this smoker due to the 113 degree Oklahoma heat even with cold water in the water pan. The smoker was not in the shade and that's just the best that could be done under the circumstances. For this reason, I used pecan knowing that it would be able to impart some good flavor in a relatively short amount of time.
15-20 minutes and the shrimp were starting to turn a bright pink.. a sure sign that they are perfectly done. You can successfully smoke them at a lower temperature to add some extra smoking time just don't take your eyes off of them for long. Some folks cook them as low as 180 degrees for 45 minutes to an hour to get the extra smoke flavor.
Using a stronger smoking wood such as mesquite, hickory or pecan will ensure that you are able to get a nice smoke flavor in the small amount of time that they are in the smoker.
We usually say "if you're looking you ain't cooking" but that does not apply to shrimp. Use a good flashlight (or torch if you're in the UK) and after about 8-10 minutes start checking them every 3 minutes, crack the lid or door just a wee bit and shine the light onto the pan to check for that bright pink color. Once you have bright pink, get them out of the heat so they don't overcook and get rubbery on you.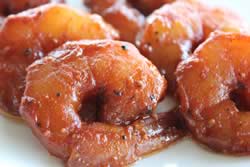 Serve the Shrimp
Many times at my house, the food from the smoker never makes it to the table. I bring it in and set it on the cabinet and it's a contest to see who can grab the most.. the fastest. Such was the case with these shrimp.
These were great right out of the smoker, they would also be great on skewers, laid on top of a bed of noodles or even served cold on a salad.
My wife ate some cold the next day and said they were some of the best cold shrimp she had ever eaten with a very nice hint of smokiness.. no cocktail sauce needed due to my tasty rub being on them however, if you really, really love cocktail sauce, I have the perfect recipe below:
Jeff's Barbecue Cocktail Sauce
Seems to simple? It is simple but you will love it and folks will want the recipe. I recommend keeping an air of mystery about it for a while before divulging your secret;-)
Notes:
I really like horseradish, if you don't like it as much as I do, you might want to start with 1 TBS, taste it, then add more to taste.
You can use another barbecue sauce however, I cannot vouch for the ingredients or the flavor. My list of ingredients just happen to work really well for the sauce, others may not.
Here's some of the smoked shrimp reheated with a side of steamed broccoli for your viewing pleasure: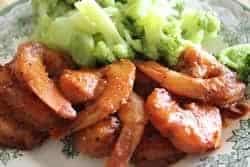 Get Jeff's Products!