Bacon Wrapped Smoked Turkey Tenderloins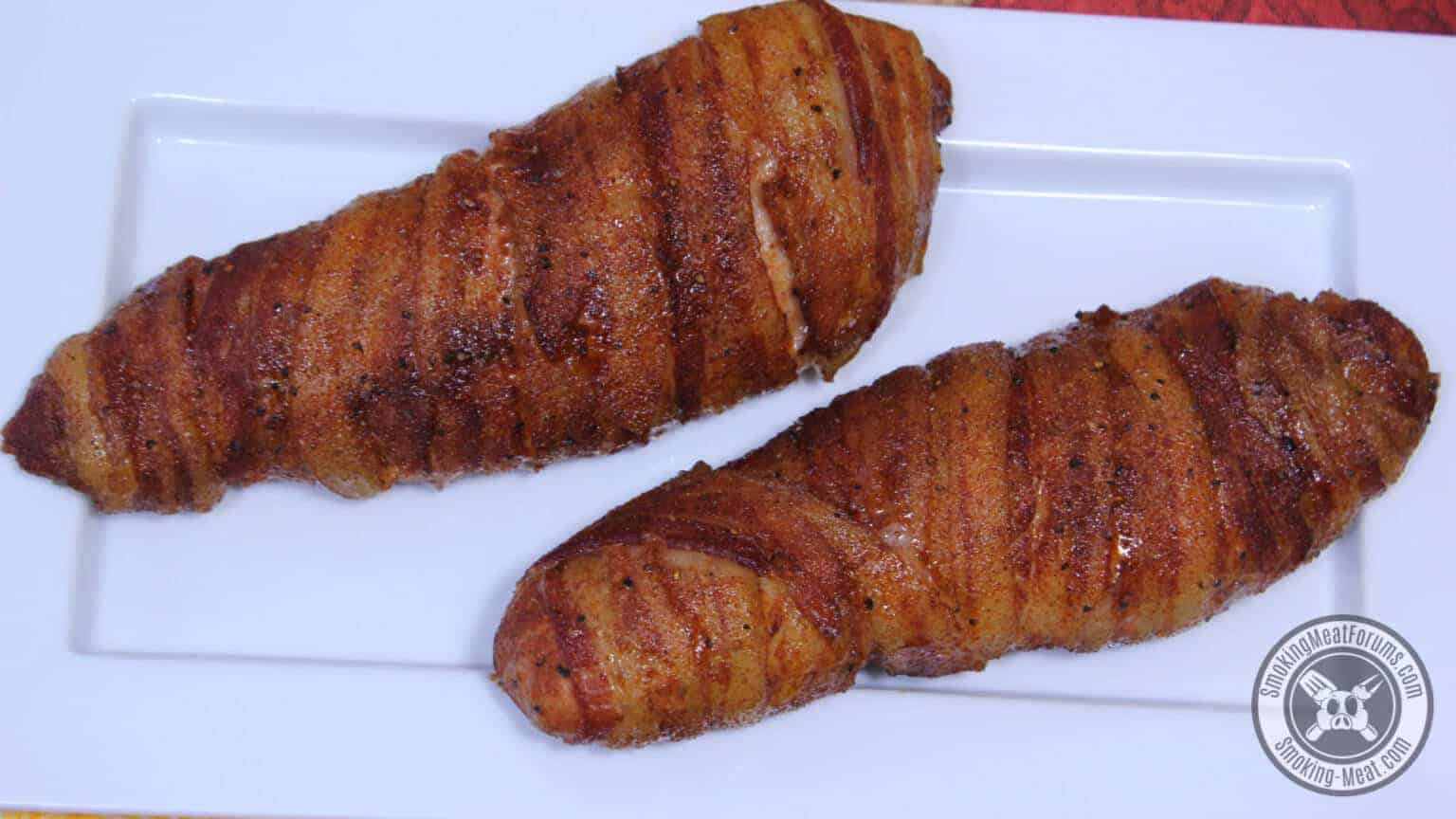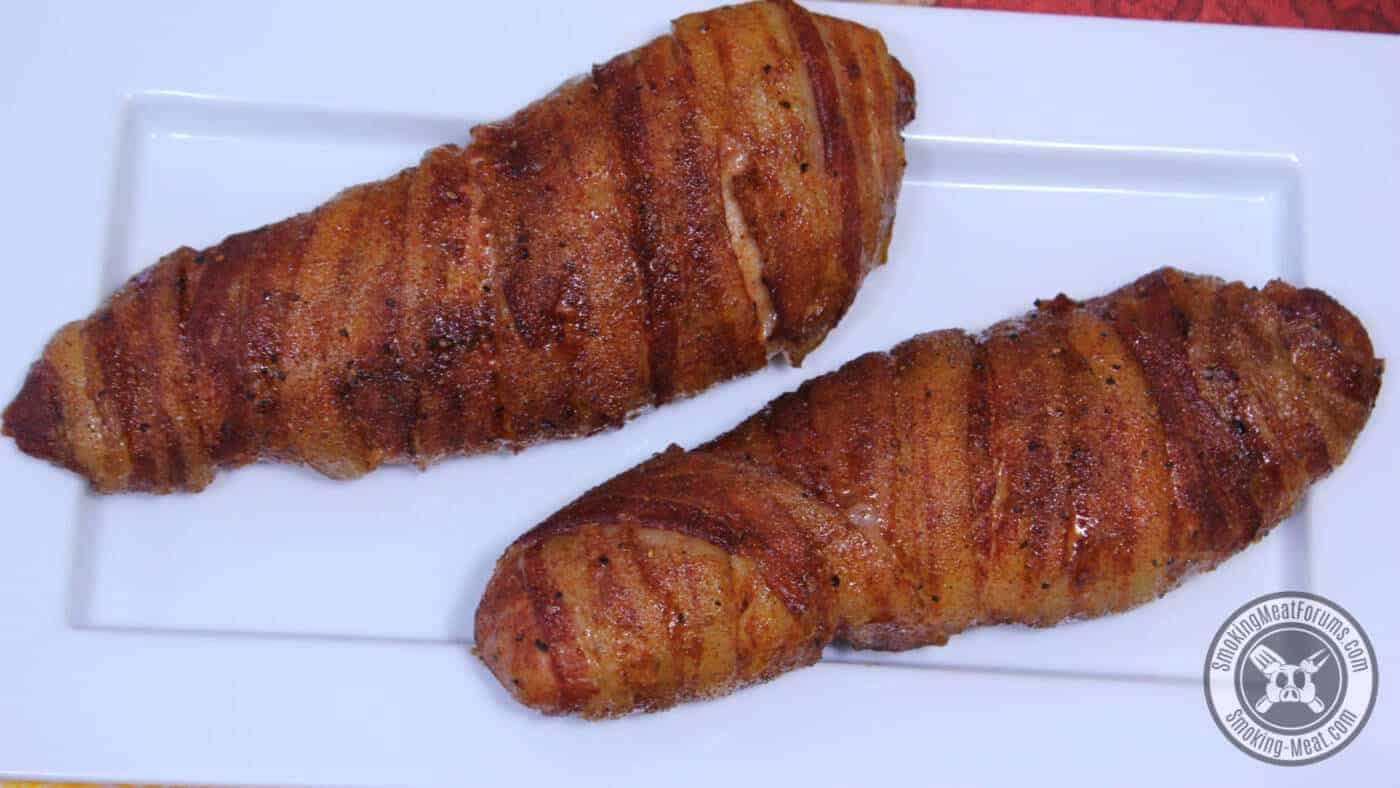 Smoking-Meat.com is supported by its readers. We may earn an affiliate commission at no extra cost to you if you buy through a link on this page.
Read this article without ads
Helpful Information
Prep Time: 25 minutes
Cook Time: 2 hours 30 minutes
Smoker Temp: 240°F
Meat Finish Temp: 165°F
Recommended Wood: Cherry
What You'll Need
2 turkey tenderloins
1 lb bacon or about 12 slices
1/2 cup Jeff's original rub
Turkey brine (recipe below)
To Brine or Not to Brine
First off, brining is so simple a caveman can do it so there's no real good reasons not to, considering the fact that it does so much for poultry. If you hate dry, tasteless turkey and only eat it because tradition calls for it or because grandma will have hurt feelings if you don't, then I'm getting ready to show you something that will change your mind about turkey for the rest of your life.
I have NEVER liked turkey, white meat or dark and my most fond memories of Thanksgiving are of lots of delicious food, family and friends and that dry, awful turkey. It just never tasted very good to me and this is no insult to anyone who has ever made turkey in my childhood.. turkey tends to be dry and I just didn't like it.
Move ahead 20 years and I discover brining and what it does for poultry and turkey becomes, not only something I tolerate, but I look forward to it. Juicy, delicious white meat turkey that is so succulent and moist that you don't need gravy on it and you go back for seconds and thirds.
Seriously, brining really does that much for turkey!
So, What is a Brine?
You're probably wondering, "what is a brine anyway?". Well, it 's a simple salt and water solution to which you can add other things if you like but you don't have to. The turkey is soaked in this solution for a number of hours or overnight and the slightly salty, flavorful water gets pulled into the turkey by some scientific process that I don't care to understand or explain. The water gets trapped within the meat fibers along with the flavor.
During cooking there is always moisture loss but since you now have extra water inside the turkey, you end up with turkey meat that is so much more juicy than it would be otherwise. If you added herbs, spices, etc. to the brine then the flavor of those things also get carried into the turkey.
For this year's turkey brine I used rosemary and thyme along with black pepper, red pepper flakes and lots of garlic. I steeped all of this in a pan to make a "tea" before using it on the turkey and what I ended up with was a delicious brine that I could taste all the way through the turkey when it finished cooking.
Now let's get started making the brine and applying it to today's recipe. We'll use the same brine throughout the month on all the turkey we cook and especially next week for the main turkey event.. I can hardly wait!
Make the Brine
Get the brine made up a day or two early so it can cool down in the fridge before you need to use it. You can always add ice but that dilutes it some.
Brine Ingredients:
1 quart of water
a couple of 4-inch sprigs of thyme
a couple of 4-inch sprigs of rosemary
1 tablespoon of course ground black pepper
1 tablespoon of red pepper flakes
8-10 garlic cloves smashed with the side of a knife to release lots of flavor.
1 cup kosher salt
Directions:
Add all of the ingredients (except the kosher salt) into a medium sized pot. Cover the pot and bring it just to boiling and then turn off the heat. Let the ingredients steep in the water for 20-30 minutes before removing the cover. Put the "tea" in the fridge to cool down. I recommend giving it several hours at least but overnight is best.
If you procrastinated, don't worry.. I have your back. Simply pour the hot brine through a sieve into a gallon sized pitcher. Add about a quart of ice and stir the ice and brine mixture to cool it down.
Add more ice if you need to to cool it on down.
Finally, to the pre-cooled brine mixture, add enough cold water to bring it up to a gallon.. you should have a total of 1 gallon of liquid in the pitcher.
Add 1 cup of kosher salt to this liquid and stir gently for a minute or two until the salt is completely dissolved.
This, my friends, is your brine.
Note: if you want to make a simple brine with nothing extra, add 1 cup of kosher salt to 1 gallon of cold water and stir until the salt is dissolved. This will also do wonders for the juiciness of the turkey.. it just won't add anything other than a little bit of saltiness to the meat.
Brine the Turkey Tenderloins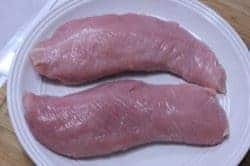 Place the turkey tenderloins into a plastic or glass bowl, or a zip top bag and pour the brine mixture over them to cover.. Seal or cover the container and place them in the fridge for at least 4 hours but overnight is also fine.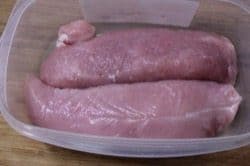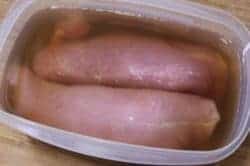 When the brining process is complete, pour off the brine and discard. Rinse the turkey tenderloins well under cold water to remove any residual salt.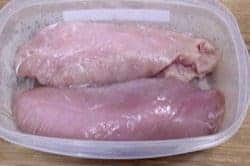 Season the Turkey
Place the turkey tenderloins into a pan or bowl to contain the mess and season them all over with Jeff's original rub.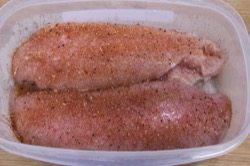 I often add something to help the rub to stick however after brining and rinsing, this is usually not necessary on these and the rub will stick really well.
Wrap with Bacon
Your mileage may vary but I used 6 slices of bacon to wrap each tenderloin. If you take the time to stretch the bacon, you may be able to get by with only 4 pieces each, but then, unless you have a shortage of bacon, you can't really overdo it.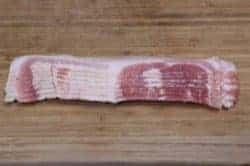 Start at one end wrapping the bacon around the tenderloin overlapping when you start a new piece.
There's no right or wrong way to do this as long as you have full coverage.
The bacon tends to stick to itself pretty well so no toothpicks were required to hold it on.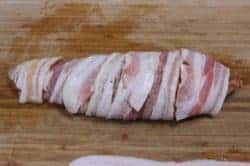 Season the outside of the bacon wrap with Jeff's original rub and they are ready for the smoker.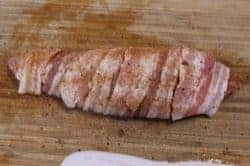 Get the Smoker Ready
Set up your smoker for cooking at about 240°F with indirect heat. I opted to leave the water pan empty for these so the bacon would crisp up better.
Use cherry wood, if you have it available, for smoke. Any good smoking wood will work just fine.
Let the smoker preheat for 30 minutes or longer to warm up the metal.. this is especially important in cold weather.
Once it's ready, you can proceed with the smoking process.
Smoke it Up!
I like to place things like this on a Weber grill pan (shown) or Bradley rack to make them easier to transport to the smoker and then back to the kitchen. A cooling rack or any type of oven proof wire grid will work for this purpose.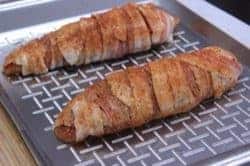 You can also just place them directly on the smoker grate if that is more convenient.
Place the meat in the smoker and close the door or lid.
Keep the smoke going for at least an hour but longer is recommended.
These smoked turkey tenderloins took 2 hours and 19 minutes to reach 165°F at which point I removed them from the heat.
I monitored the temperature of the smoker and the meat with the "Smoke" thermometer by Thermoworks and I don't know when I've been more impressed with a smoking gadget!
The main part of the unit stays outside by the smoker..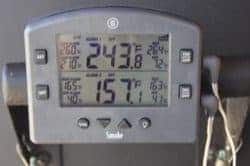 The receiver part of the unit goes around your neck, in your pocket or on the table next to where you are.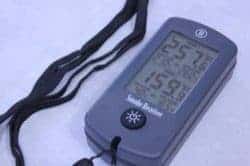 This is the best product that's come out in a long time for us smokers.. range is about 300 feet, big, easy to read numbers, batteries last 1800 hours, it lights up, it's splash proof and it's super easy to set the high and low alarms.
The best part is that it comes paired together from the factory so when you turn it on, it's immediately ready to go.
Get your hands on one of these and you'll see what I mean.. it looks and feels extremely tough. Check it out!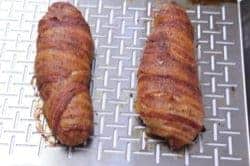 Bring them into the house and let them rest with a loose piece of foil laid over them for about 10 minutes before cutting into them.
Slice and Serve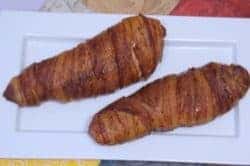 Using a very sharp knife, slice the smoked turkey tenderloins about ¼ to ½ inch thick trying to keep the bacon in place around each slice as well as you can.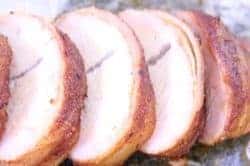 Bacon Wrapped Smoked Turkey Tenderloins
Today I am introducing to you the bacon wrapped smoked turkey tenderloin which is lean, smokes beautifully and is a great cut for the holidays or any day.
Ingredients
2

turkey tenderloins

1

lb

bacon or about 12 slices

½

cup

Jeff's original rub

Turkey brine recipe

(below)
Instructions
To a medium pot add 1 quart of water, 1 TBS of course ground black pepper, 1 TBS of red pepper flakes, 2 long sprigs of thyme, 2 long sprigs of rosemary and 8-10 garlic cloves smashed with the side of a knife.

Bring to a boil then remove it from the heat and let it steep covered for 20-30 minutes.

Place the mixture in the fridge for several hours to cool.

To make the brine, add 3 quarts of cold water to a gallon sized pitcher and 1 cup of kosher salt.

Stir the mixture until the salt is dissolved.

Add the cooled mixture from the fridge into the brine and stir to combine.

Place the turkey tenderloins into a plastic bowl or zip top bag and pour the brine over them to cover.

Place the container with the brining turkey into the fridge for at least 4 hours or overnight.

When the brining is complete, rinse the turkey under cold water to remove any residual salt and discard the brine.

Season the turkey with

Jeff's original rub

then wrap the entire tenderloin with bacon. This will take approximately 4-6 pieces of bacon.

Setup your smoker for cooking at about 240°F using indirect heat and cherry wood for smoke.

When the smoker is ready, place the meat into the smoker and close the lid or door.

Let the turkey smoke cook until it has reached 165°F in the thickest part.

Remove the turkey from the heat and allow it to rest under a loose piece of foil for about 10 minutes.

Slice and serve.
Get Jeff's Products!