Smoked Thanksgiving Turkey – "Lots of Butter" Method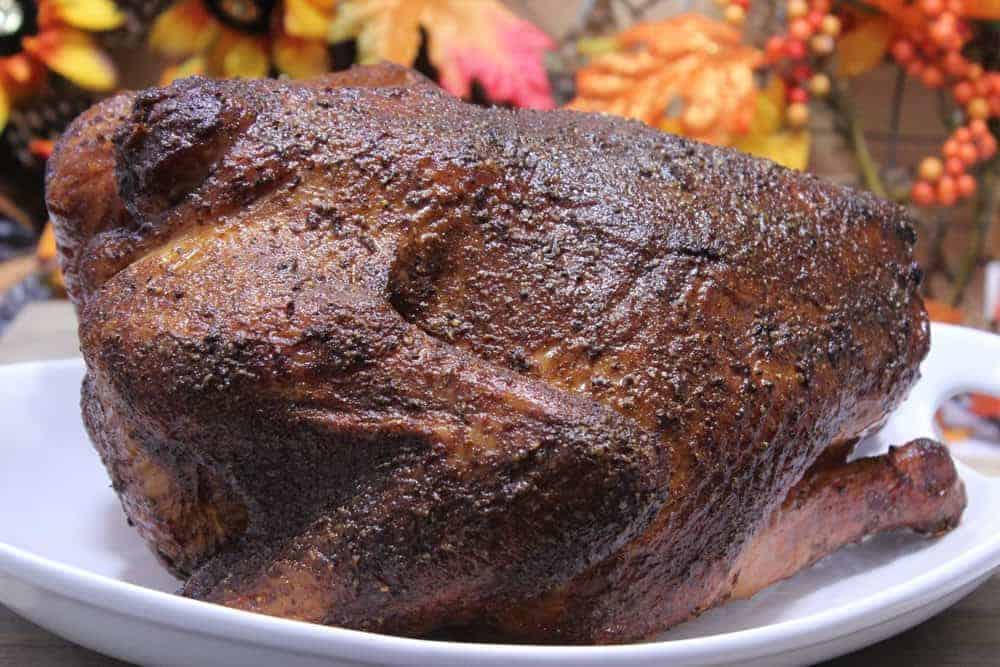 Smoking-Meat.com is supported by its readers. We may earn an affiliate commission at no extra cost to you if you buy through a link on this page.
Read this article without ads
Thanksgiving is just around the corner and, if you haven't already, you need to nail down  your plan for smoking the turkey.
We've done a lot of great birds over the years and any one of them would be a huge success at your dinner table but, this year I sort of went nuts and mixed my original rub  with soft, melty REAL butter.
This wonderful goodness was stuffed under the skin, on top of the skin and brushed all over the turkey while it smoked. To say it was too good for words would be an understatement!
On that delicious thought, let's get started!
Helpful Information
Prep Time: 35 minutes
Brine Time: 8-10 hours
Cook Time: 5 hours 30 minutes
Smoker Temp: 240°F
Meat Finish Temp: 165°F
Recommended Wood: Apple/Hickory
What You'll Need
12-14 lb turkey*
3 sticks of butter (¾ lb)
1/2 cup Jeff's original rub
Turkey brine (recipe below)
*When smoking meat, it is always better and safer to smoke multiple turkeys of 12-14 lbs or less rather than a single larger one. The caveat to this is when spatchcocking the bird, a much larger bird is relieved of it's backbone and then laid open like a book so that it cooks quicker and more evenly than it would otherwise.
Thaw the Turkey
Millions of Americans will end up with a frozen turkey this year and, if so, you'll need to thaw it before it can be used. The best way to do this is to place it in the fridge several days before you are ready to use it.
Turkey tends to thaw at a rate of about 5 lbs per day so you'll have to do a little quick math to figure out how soon it needs to go in the fridge. I usually give a 12 pounder about 3 days.
Another method of thawing a turkey quickly is to run the kitchen sink full of cold water and place the turkey into the water. Replace the water every 30 minutes and flip the turkey over each time. With this method, you can thaw a turkey in 4 to 6 hours.
Using this method, it is also important to make sure the turkey is in a leak proof package. If in doubt, place it in a very large zip top bag that can be sealed.
I usually also sanitize the sink really well before and after this process.
Why Brine the Turkey?
I almost always brine turkeys and there's a great reason for it. It turns out birds that are a lot more awesome than they are without brining.
Brining in a nutshell is simply soaking meat, such as turkey, in a 6% salty solution for several hours. The salty solution is drawn deep into the meat fibers making it more flavorful and more moist. If you add flavors such as herbs, spices, juice, etc. to the brine, those flavors also end up inside the meat. It's easy to see how potentially beneficial and exciting this can be.
I created a new turkey brine for this Thanksgiving and I am using it on all of the turkey that I prepare this month. The recipe and directions are below:
Make the Brine
Get the brine made up a day or two early so it can cool down in the fridge before you need to use it. You can always add ice but that dilutes it some.
Brine Ingredients:
3 quarts of water (approx.)
1 to 1.5 quarts of ice
A couple of 4-inch sprigs of thyme
A couple of 4-inch sprigs of rosemary
1 tablespoon of course ground black pepper
1 tablespoon of red pepper flakes
8-10 garlic cloves smashed with the side of a knife to release lots of flavor.
1 cup of kosher salt
Directions:
Add 1 quart of the water, the rosemary and thyme, black pepper, red pepper flakes and garlic into a medium sized pot. Cover the pot and bring it just to boiling and then turn off the heat. Let the ingredients steep in the water for 20-30 minutes before removing the cover. Put the "tea" in the fridge to cool down. I recommend giving it several hours at least but overnight is best.
If you procrastinated, don't worry.. I have your back. Simply pour the hot brine through a sieve into a gallon sized pitcher. Add about a quart of ice and stir the ice and brine mixture to cool it down.
Add more ice if you need to to cool it on down.
Finally, to the pre-cooled brine mixture, add enough cold water to bring it up to a gallon.. you should have a total of 1 gallon of liquid in the pitcher.
Add 1 cup of kosher salt to this liquid and stir gently for a minute or two until the salt is completely dissolved.
This, my friends, is your brine.
Note: if you want to make a simple brine with nothing extra, add 1 cup of kosher salt to 1 gallon of cold water and stir until the salt is dissolved. This will also do wonders for the juiciness of the turkey.. it just won't add anything other than a little bit of saltiness to the meat.
Turkey Prep
Remove the turkey from the packaging, remove the neck, giblets, etc from the cavity and set aside, remove the popup timer and discard.
Brining the Turkey
Place the turkey down into an empty cooler, a food safe plastic bucket, a large zip top bag, whatever works and pour the brine over it to cover. If you use a container that is just the right size for the turkey a gallon of brine should be enough. If you have to use a much larger  container, you may have to double the brine recipe.
How much brine is needed is totally dependent on the size of your turkey and the size of your container so you'll have to play this by ear.
With the turkey completely submerged in brine, place in the fridge, use bags of ice or place in an outbuilding (if the outside temperature is cold enough) so that the temperature of the brine and turkey stay at or below 40°F. About 37°F is ideal.
Leave the turkey in the brine overnight or about 8-10 hours for best results.
When the turkey is finished brining, rinse well under cold water and pat dry with a paper towel.
Make the Butter/Rub Mixture
Thanksgiving is not the best time to be on a diet unless you are under orders from your doctor in which case, I do not want to steer you in the wrong direction. For the rest of you, butter is your friend and you just can't overdo the stuff on this turkey for this special day.
Mix the butter and my original rub  together while the bird is brining so it'll be ready when you need it.
Butter/Rub Mixture
Ingredients
3 sticks of butter (¾ lbs)
3 heaping TBS of Jeff's original rub
Directions
Leave 3 sticks of butter sitting out on the counter for several hours or until it gets very soft.
Place the butter into a mixing bowl and add 3 heaping tablespoons of Jeff's original rub . Mix well to combine and set aside.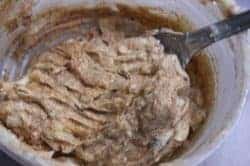 Trim the Wings (optional)
The turkey wings are made up of 3 sections called the drumette (part closest to the body) the mid-section and the wing tip. You can either tuck the wing tips under the bird or cut them off and I chose to simply snip them off.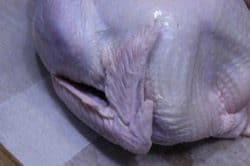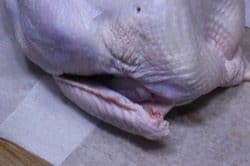 Loosen the Skin Over Breast
With the breast side up on the table, carefully work your hands under the skin surrounding the breast being careful to not let it tear.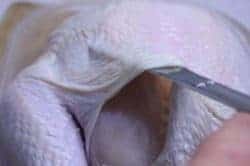 The handle end of a butter knife works well for this if you have large hands and/or you want to be extra careful so that it does not tear.
Apply Butter/Rub Mixture
Apply about 1/3 of the rub butter mixture under the skin of the breast making sure to spread it evenly on both sides.
Apply another 1/3 of the rub butter on the outside of the turkey breast, legs, wings and back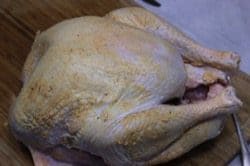 Note: Use a paper towel to dry the area under the skin and on the outside of the skin to help the butter adhere better.
Apply Jeff's Rub to Entire Turkey
My original rub  sets the bar very high where seasoning is concerned. I get emails every year from folks telling me that the rub made a huge difference in the outcome of their turkey. It's what I use for my guests and there's a reason for that.. it's delicious!
Apply the original rub all over the outside of the turkey.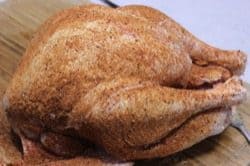 After it sat for 30 minutes, the sugar in the rub began dissolving and it was looking real happy!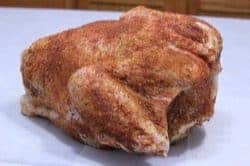 You can leave the turkey just like that or go ahead and set it on a Weber Grill Pan or cooling rack to make it easy to carry to and from the smoker.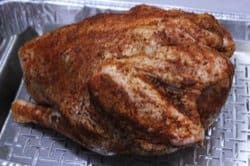 Set Up Smoker
You can use any smoker to cook the Thanksgiving turkey.. if it will heat to at least 220°F or so (240°F or even a little higher is better) and can be setup to cook with indirect heat, it will work great.
I used the Traeger pellet smoker for this one but I have done plenty of these on simple electric smokers. charcoal bullet smokers, ceramic cookers, and big reverse flow wood smokers such as the Meadow Creek TS120P and the Lone Star Grillz 20×36. If you maintain the heat, keep a good light smoke going, and remove it from the heat when it reaches about 160°F, it will be perfect.
Setup whatever smoker you have so that it is cooking at 240-250°F or as close to that as you can get. Turkey can be cooked hotter than this even but I don't like to risk burning the rub. For this reason, I do not recommend more than 250°F.
Make sure you have enough wood for about 4 hours of smoke. I used a mix of apple and hickory. It worked out very well with great flavor but many other smoking woods will also work well. Use what you have available.
Let the smoker preheat for at least 30 minutes and you are ready to go.
Smoke the Turkey
Place the turkey directly on the grate or you can place the Weber grill pan with the turkey directly on the grate to make it easy. Both methods will work great.
Quickly close the door or replace the lid and let the cooking and smoking commence.
Don't worry about anything other than heat maintenance for the first 3 hours or so. After this, you will want to insert a thermometer probe into the breast meat so you can scientifically know when the turkey is perfectly done. This is no time for guesswork!
I monitored the temperature of my smoker and turkey with the new "Smoke" thermometer by Thermoworks and I have been so impressed with with this new smoking gadget!
The main part of the unit stays outside by the smoker..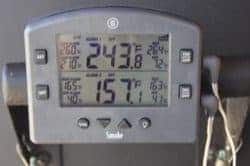 The receiver part of the unit goes around your neck, in your pocket or on the table next to where you are.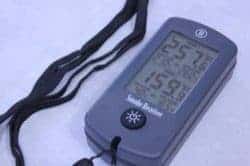 This is the best product that's come out in a long time for us smokers.. range is about 300 feet, big, easy to read numbers, batteries last 1800 hours, it lights up, it's splash proof and it's super easy to set the high and low alarms.
The best part is that it comes paired together from the factory so when you turn it on, it's immediately ready to go.
Get your hands on one of these and you'll see what I mean.. it looks and feels extremely tough. Check it out!
Melt the butter/rub mixture in the microwave so that's it's easy to brush on and baste the turkey with this about an hour before it's finished and then again about 30 minutes before it's finished.
Turkey is safely done at 165°F in the breast however, as we've discussed before, turkey tends to keep cooking for several minutes after you remove it from the heat. This is called carryover cooking and it can go up by as much as 5-7 degrees or even more in larger turkeys.
I usually figure on about 3-5 degrees of carryover cooking to be on the conservative side of safe and I  remove it from the heat at 160-162°F.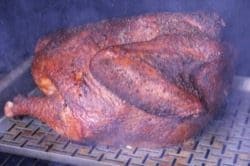 Finish and Serve
When the turkey has reached 160-162°F, remove it from the heat immediately and carry it into the house. Tent a loose piece of foil over it and let it rest for 15-20 minutes before carving it. During this time, it will rise to 165°F and the juices inside will redistribute throughout the turkey.
Resting completed, carve the turkey into a platter and call dinner.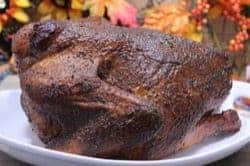 ---
Printable Recipe
Smoked Thanksgiving Turkey - "Lots of Butter" Method
A smoked Thanksgiving turkey recipe with seasoned real butter stuffed under the skin, rubbed onto the skin and then brushed on while it cooks in the smoker.
Ingredients
12-14

lb

turkey*

3

sticks of butter

(¾ lb)

½

cup

Jeff's original rub

Turkey brine recipe
Instructions
Thaw turkey in fridge 2-3 days before needed.

Remove turkey from package and remove giblets, neck, etc from cavity and set aside.

Remove and discard popup timer

To a medium pot add 1 quart of water, 1 TBS of course ground black pepper, 1 TBS of red pepper flakes, 2 long sprigs of thyme, 2 long sprigs of rosemary and 8-10 garlic cloves smashed with the side of a knife.

Bring to a boil then remove it from the heat and let it steep covered for 20-30 minutes.

Place the mixture in the fridge for several hours to cool.

To make the brine, add 3 quarts of cold water to a gallon sized pitcher and 1 cup of kosher salt.

Stir the mixture until the salt is dissolved.

Add the cooled mixture from the fridge into the brine and stir to combine.

Place the turkey into a brining container and pour the brine over the turkey to cover and then into the fridge for 8-10 hours.

After brining is complete, rinse the turkey under cold water.

Pat the turkey dry with a paper towel and set aside.

Mix 3 sticks of softened butter with 3 heaping tablespoons of Jeff's original rub to create the rub butter mixture.

Stuff 1/3 of this mixture under the loosened skin of the breast on both sides.

Rub 1/3 of the rub butter mixture onto the outside of the turkey breast, legs, wings and back.

Season the outside of the turkey generously with Jeff's original rub.

Setup smoker for cooking at 240°F with indirect heat.

Place turkey on smoker grate and cook until internal temperature of breast reaches 162°F.

Brush with remaining rub butter (melted) a couple of times during the last hour of the cooking process.

Remove from heat and rest turkey under foil for 20 minutes.

Carve and serve.
Get Jeff's Products!