These smoked flat iron steaks have gained in popularity over the last few years and some even say they rival the sirloin, tri-tip and tenderloin in flavor and tenderness.
I usually get these as large steaks about ¾ inch thick, 4 inches wide and about 12 inches long but I found some for this article that are already cut into individual portion sizes.
These go great with my smoked twice baked potatoes and a nice green salad.
Important Information
Prep Time: 10 minutes
Marinate time: 6-8 hours
Yield: 6 servings
Cook Time: 45 minutes
Smoker Temp: 225°F
Meat Finish Temp: 135-140°F (medium rare to medium)
Recommended Wood: Mesquite
What You'll Need
About 3-4 lbs of flat iron steak
Olive oil
Prepare the Steaks
Rinse the steaks under cold water then pat them dry with a paper towel.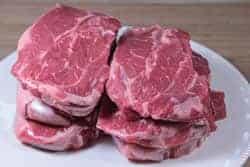 Marinate the Steaks
Brush olive oil onto the steaks then sprinkle my rub onto the steaks. Flip them over and do the same on the back side.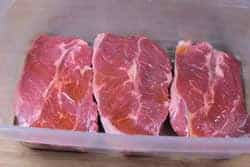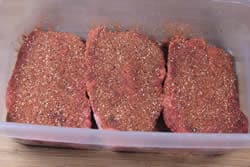 Place the steaks into a plastic or glass bowl with a lid and place in the fridge overnight or for 6-8 hours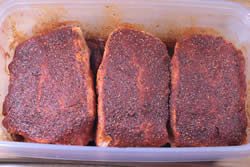 Getting the Smoker Ready
I used my XL Big Green Egg for cooking these and it does a great job but I can't help thinking that these would also be an excellent thing to do on the new Woodwind SG by Camp Chef. You could get some good smoke on these and then throw them on that legendary 900 degree searbox for a minute or two.. oh my! Read my review on that thing.. it's pretty sweet for cooking meat– I'm a poet!
Back to Earth, Jeff.. back to Earth!
Set up your smoker for cooking at about 225°F with plenty of smoking wood to last about 1 hour. I recommend using mesquite for great smoke flavor that marries well with these beefy wonders but make sure you have good airflow into and out of your smoker. Pecan is a safer choice and also tastes great.
Note: In colder weather, it is advisable to preheat the smoker at least an hour or more before you are wanting to use it. Keep the door closed as much as possible and even skip basting if necessary to maintain proper smoking temperatures.
Smoking the Steaks
Place the steaks directly on the grate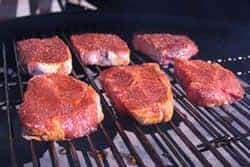 Depending on how thick your steaks are, they should take about 45 minutes or so to reach 140°F in the center. If you want them more or less rare, adjust the time accordingly.
I recommend using a trusty thermapen thermometer or a remote digital probe meat thermometer like the Smoke (which I am quite fond of) and staying close by the smoker so you don't overcook these and ruin them.
If you want to sear these or lay down some grill marks, simply remove the steaks from the smoker when they reach about 100°F and throw them onto an already hot grill (or that 900°F searbox if you have the Woodwind SG by Camp Chef).
Continue to watch the temperature and be sure to pull them when they reach your desired doneness.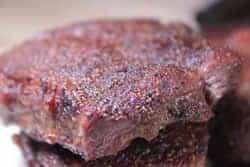 Serving the Steaks
Let the steaks rest for about 15 minutes then serve with my smoked twice baked potatoes.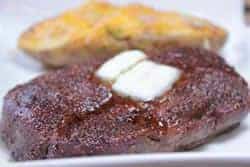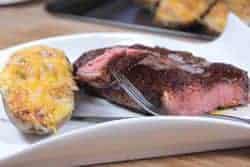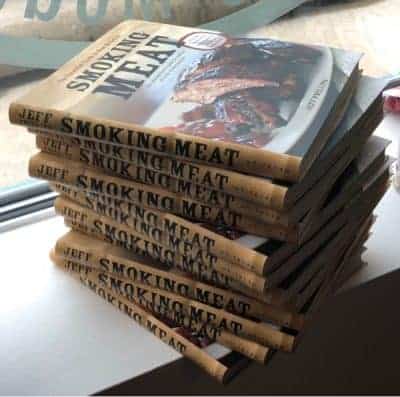 The book is full of recipes and contains tons of helpful information as well. Some have even said that "no smoker should be without this book"!
With more than 900 reviews on Amazon.com and a rating of 4.7 out of 5 stars, it comes highly recommended.
It is a Bestseller in Barbecueing & Grilling books on Amazon.
Thin Blue Foods Store | Amazon | Barnes & Noble | German Edition
Get Almost Anything at Amazon
If you enjoy the newsletter and would like to do something helpful, then..
The next time you decide to order something at Amazon.com, use THIS LINK to get there and we'll get a small commission off of what you purchase.
Thank you in advance for using our special link: http://www.smoking-meat.com/amazon
---
Printable Recipe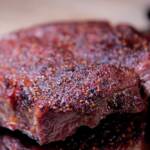 Print Recipe
Smoked Flat Iron Steaks
I love smoking steaks nice and slow on the smoker to get that wonderful smoky flavor into the meat. If you like the seared, slightly charred outside, you can always pull them at about 100°F and finish them over a hot grill but in my opinion it's not even needed. Smoke them until they are your desired doneness and eat like a king for the day!
Instructions
Prepare and Marinate Steaks
Rinse steaks under cold water and pat dry with a paper towel

Coat steaks with olive oil

Place steaks in glass or plastic bowl with lid

Marinate in fridge for 6-8 hours or overnight
Smoke Flat Iron Steaks
Place steaks directly on the grate of smoker

Smoke at 225°F for about 45 minutes or until they reach desired doneness

Let steaks rest for 15-20 minutes before serving