These are called smoked twice baked potatoes because you bake them in the smoker (or any heat source for that matter), cut them in half, scoop out the insides and mix it with my original rub (Purchase formula here | Purchase bottled rub), bacon, cream cheese, jalapeños, etc., and grated cheese on top, then put it back into the potato skins and bake them even more until the cheese melts on top.
They are baked twice in the smoker thus they are called smoked twice baked potatoes.
Many folks use sour cream in these but I like to use cream cheese for a richer, fuller flavor.
You can mix just about anything you like into these including onions, hot sauce, parmesan, fresh ground black pepper.. the list is completely endless and only limited by your imagination.
Helpful Information
Prep Time: 30 minutes
Cook Time: 3.5 hours
Smoker Temp: 225-240°F
Meat Finish Temp: N/A
Recommended Wood: Pecan
What You'll Need
6 baking potatoes
1-½ cups grated Cheddar or Cheddar/Monterey Jack mix
4 jalapeños, cleaned, deseeded and diced
4 oz cream cheese, softened
½ stick (1/8 lb) real butter, softened
Jeff's original rub (Purchase formula here | Purchase bottled rub)
6-8 slices of bacon, fried and crumbled
½ cup heavy whipping cream (milk will also work but I like the richer flavor of the cream)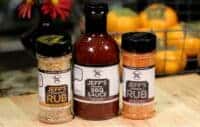 Please note that my rubs and barbecue sauce are now available in 2 formats-- you can
purchase the formulas
and make them yourself OR you can
buy them already made
, in a bottle, ready to use.
Preparation
Start with nice, consistently sized potatoes. I like the ones that are oblong.
Wash them under running water and dry them with a paper towel.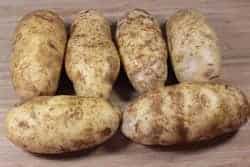 Rub olive oil on them.
Place them in a large bowl and drizzle the oil on them.
Then pick each one up individually and rub the oil all over them with your hands.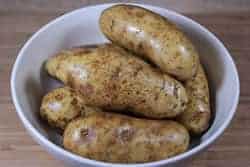 Sprinkle with a good dose of kosher salt and they are ready for the smoker.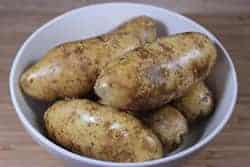 First Smoke
Set up your smoker for indirect cooking and if your smoker has a water pan, fill it ½ to ¾ full of water.
3 hours on the smoker grate at about 240°F  should get them nice and tender. If not, let them go longer.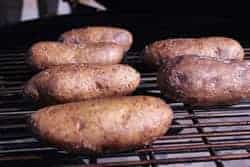 The Filling
Cut them in half.
Be careful as they are very hot and you might want to hold them with a dish towel while you slice them open.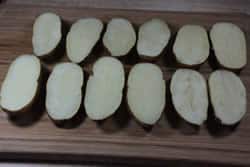 Use a large spoon to scoop out the potato from the skins.
Be careful that you don't tear the skin if you can help it. It is ok to leave a little layer of potato in there to help sturdy them up a bit.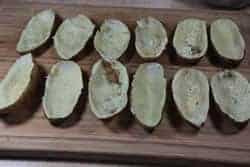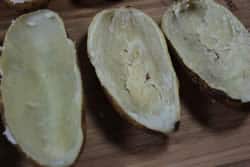 Use a potato masher or your hands, or whatever it takes to mash the potato up real good.
Mix the cream cheese, bacon, jalapeño, 2 TBS of Jeff's original rub (Purchase formula here | Purchase bottled rub), 1 cup of the grated cheese, whipping cream and whatever else you might like to add into the potato that you scooped out.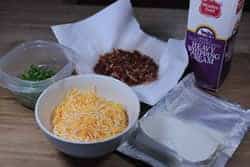 ---
Make the bacon crumbles while the potatoes are smoking..
I highly recommend making your own bacon crumbles as they are so much better than the fabricated stuff in the bag (in my opinion of course) which may or may not be something you are familiar with.
Simply put the bacon in the freezer for 30 minutes or so to firm it up.
Lay the bacon out on the cutting board and cut into ¼ inch wide strips.
Then, cut the strips into ¼ inch pieces.
That's just how I do it.. you can also just fry the bacon and then crumble it. Whatever floats your boat!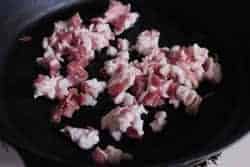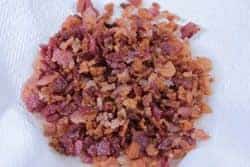 ---
Once you have all of the ingredients mixed in with the potato and it is nice and creamy, simply stuff it back into the skins all heaped up and stuff.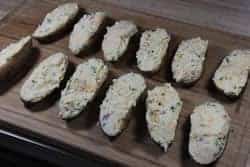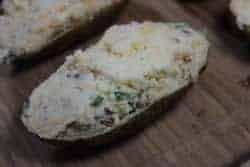 Place the stuffed potato halves onto a cookie sheet and give it a good sprinkling of my original rub (Purchase formula here | Purchase bottled rub).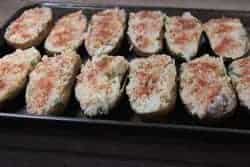 Top with a good healthy portion of grated cheese.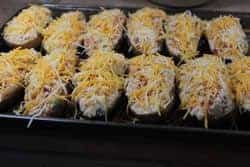 Second Smoke
Place them back into the smoker for about 30 minutes or if you want them faster, into a preheated 325°F oven for about 15-20 minutes or until the cheese is all nice and melty to your liking.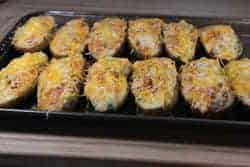 Finish and Serve
Yeah, Baby!
Smoked twice baked potatoes.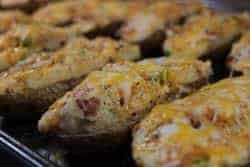 Jeff's Smoking Meat Books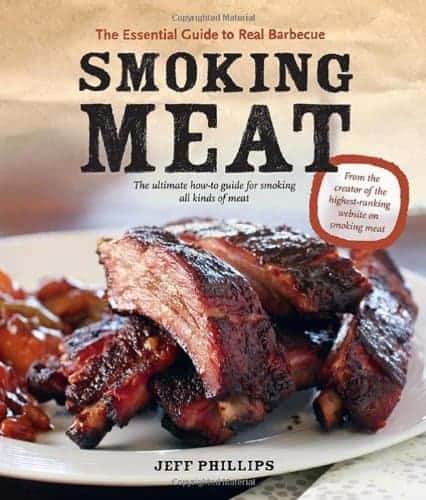 Smoking Meat: The Essential Guide to Real Barbecue – The book is full of recipes and contains tons of helpful information as well. Some have even said that "no smoker should be without this book"!
With more than 1000 reviews on Amazon.com and a rating of 4.7 out of 5 stars, it comes highly recommended and is a Bestseller in Barbecuing & Grilling books on Amazon.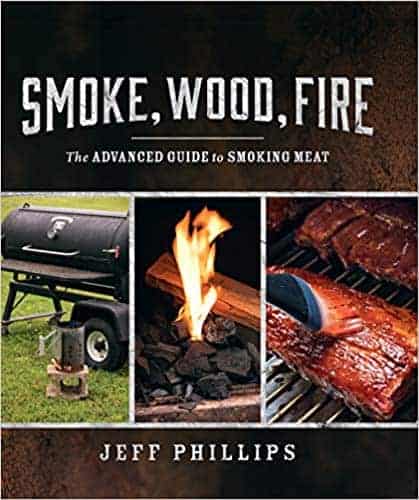 Smoke, Wood, Fire: The Advanced Guide to Smoking Meat – Unlike the first book, this book does not focus on recipes but rather uses every square inch of every page teaching you how to smoke meat. What my first book touched on, this second book takes it into much greater detail with lots of pictures.
It also includes a complete, step-by-step tutorial for making your own smoked "streaky" bacon using a 100 year old brine recipe.
Amazon | Barnes & Noble
Get Almost Anything at Amazon
If you enjoy the newsletter and would like to do something helpful, then..
The next time you decide to order something at Amazon.com, use THIS LINK to get there and we'll get a small commission off of what you purchase.
Thank you in advance for using our special link: http://www.smoking-meat.com/amazon