Miniature Bacon Explosion (Smoked Bacon Wrapped Fatty)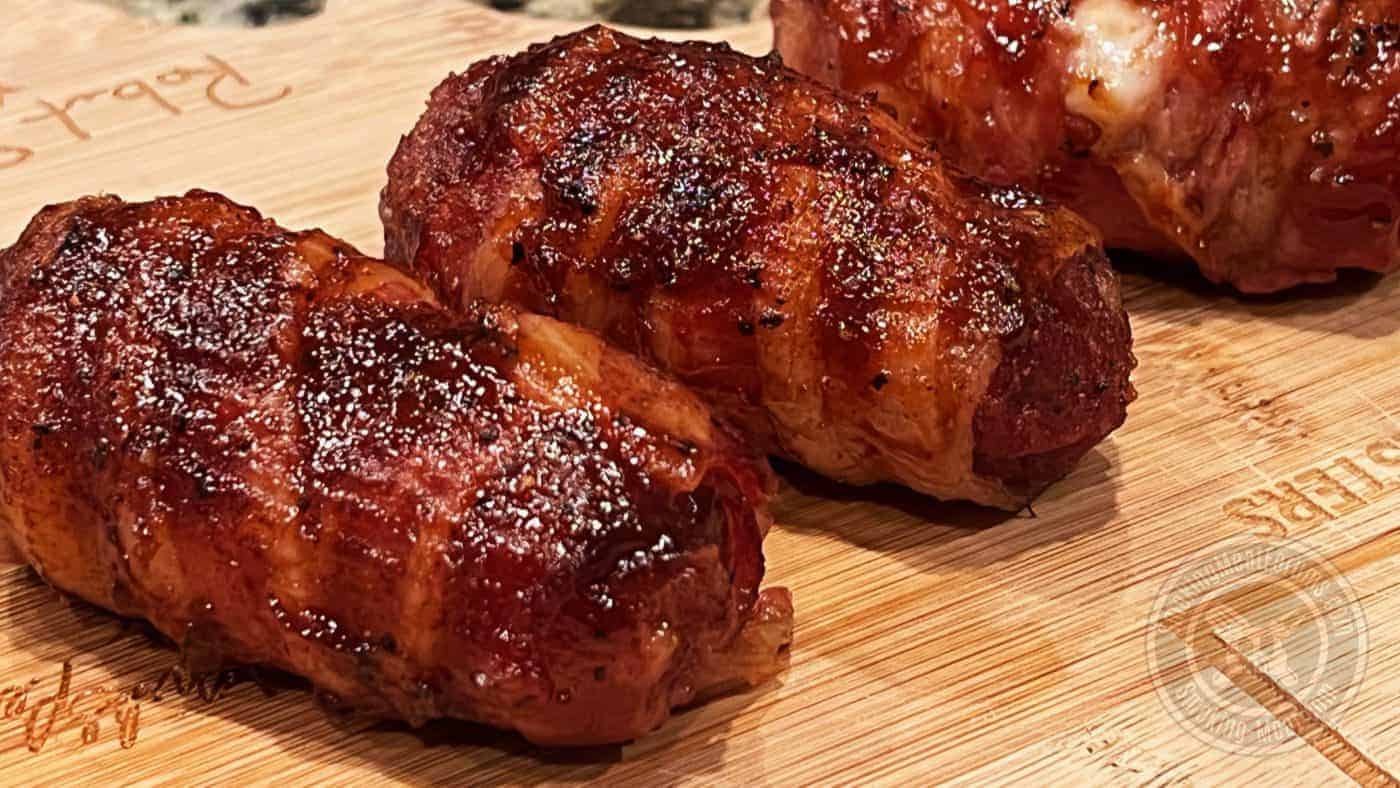 Smoking-Meat.com is supported by its readers. We may earn an affiliate commission at no extra cost to you if you buy through a link on this page.
Read this article without ads
The smoked "bacon explosion" has been around for a while and it is probably one of the best smoking recipes around.
For those not in the know, a smoked bacon wrapped fatty is simply a pound of sausage, rolled out flat, stuffed with cheese, veggies, other meats, whatever the mind can think up, and then wrapped in a blanket of bacon that has been weaved together carefully. It is then smoked for three hours and the end result makes your eyes roll back in your head when you taste it.
This miniature smoked bacon wrapped fatty is the bomb diggety and I think you'll readily agree once you've tried them. It's perfect for parties, get togethers, holiday events, the list is endless.
Important Information
Prep Time: 1 hour
Yield: About 12-14 pieces
Cook Time: 1 hour
Smoker Temp: 275°F (135°C)
Meat Finish Temp: 160°F (71°C)
Recommended Wood: Mesquite
What You'll Need
Prepare the Fillings
For the full size bacon explosion or "fatty" as some folks call it, you would just layer on lots of ingredients such as cheese, onions, jalapeños, pulled pork, ham, barbecue sauce, etc. but since we are working with miniatures, it's generally better to use fewer ingredients while still maintaining a theme (pizza for instance).
I have provided several ideas for filling combinations below but don't feel constrained by the ingredients. Let your imagination run wild.
Reuben Filling
Pastrami, chopped or torn into small pieces
Sauer kraut
Swiss cheese, grated
1000 Island dressing
Ham and Cheddar
Ham, diced
Cheddar cheese cubes
Hawaiian Pulled Pork
Pulled pork, shredded into small pieces
Pineapple, crushed
Buffalo Chicken
Chicken, diced or shredded
Cheddar, shredded or cubed
Frank's Original Red Hot sauce
Asian Pulled Pork
Pulled pork, shredded into small pieces
Sriracha sauce
Hellman's REAL mayonnaise
Pepperoni, miniature or diced
Red onions, chopped
Mozzarella cheese, shredded
Frank's Original Red Hot sauce
Surf n' Turf
Raw* sirloin (or other tender steak), chopped into small pieces
Shrimp cut into small pieces
Green peppers/onions diced and cooked until al dente
Worcestershire sauce
*The steak will reach at least medium during the cooking process. If you are worried about it, you can always cook/grill it first.
Cream cheese, softened
Mixed cheese, grated (Mexican blend, 4 cheese blend, etc.)
Jalapeño, cleaned, deseeded and chopped (pickled jalapeño might also work fine)
By the way, if you come up with different variations, post them in the comments area below for everyone to enjoy!
Prepare and Fill the Sausage/Chuck
Combine the ½ lb of sausage and the 1 lb of ground chuck together in a large bowl with your hands but it's best to not over mix.
Note: you can use ground sausage only however, it can be a little rich and I think the ground chuck does a great job of toning it down to the perfect flavor.
How I made the FIRST SIX of them (not the easiest way)
When I first started messing with these, I made the meat balls then pressed all of them flat on a piece of wax paper.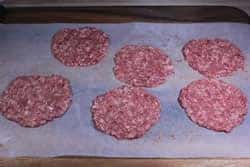 I then placed the filling in the center of the meat patty.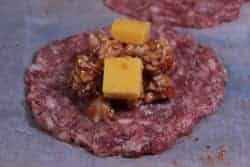 I then carefully removed the patty from the wax paper by working my hand under it all the way around and folded it over and around the filling sealing the edges by pinching it.
It worked but it was a little time consuming and the ground meat was sticking to the wax paper and making me mad.
New plan!
The BETTER WAY
I then discovered that I could simply make the meat into a ball then flatten it into a boat right there in my hand.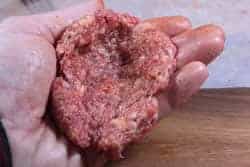 It was also easy to stuff with the filling right there in my hand.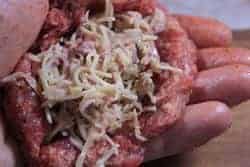 With no need to work it off the wax paper, it was fairly quick and easy to fold it over like a taco and pinch the edges together to seal it closed.
Form into shape by rolling in your hand and pressing in on both ends just a little bit.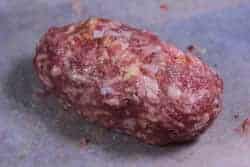 Wrap in a single strip of bacon..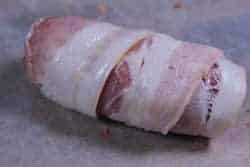 Roll in a plate of Jeff's original rub if you so desire. You can also just apply the rub to them after they are wrapped and that will work just fine.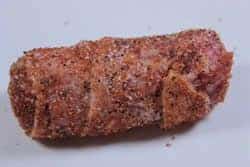 And Voila!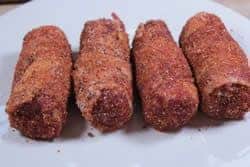 Just to give you an idea of the size of these.. I'll compare it to a normal sized jalapeño pepper.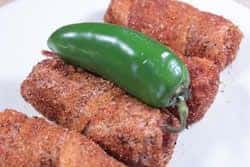 I made several variations and in order to keep them separate, I placed each individual kind in a separate plate with a small label on the edge of each plate notating what the filling was.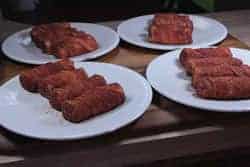 I also made myself a diagram showing where they would be located on the smoker grate so I could keep them straight.
Getting the Smoker Ready
Set up your smoker for cooking at about 275°F (135°C) (if you are able to) with plenty of smoking wood to last about 1 hour. The higher heat gives the bacon a better finish. It won't be crisp but it shouldn't be chewy either. Just a nice bite.
I recommend using mesquite for a good smoke flavor in a limited amount of time.
You can also cook them at 225°F (107°C) but they'll take about 2 hours total.. nothing wrong with that and more smoke time was never a bad thing.
If you're using a pellet smoker: Start them off in the special smoke setting which typically maintains around 180°F (82°C) and produces a lot of smoke. After 1 hour, turn them up to 275°F (135°C) and they'll be done in about 35-40 minutes after that.
Here's 9 of my best tips for using a pellet smoker
Smoking the Bacon Wrapped Fatties
Place them directly on the grate making sure, as I did, to notate the filling of each group.
Watch the temperature and when they reach 160°F (71°C) in the center, they are done.
About 10 minutes before they are finished, glaze on a little of my barbecue sauce (Purchase formula here | Purchase bottled sauce) if you want to add another layer of flavor. I recommend it!
Serving the Smoked Bacon Wrapped Fatties
No need to do anything special with these like resting, just bring them in and let everyone dive right in while the cheese and filling is still bubbling.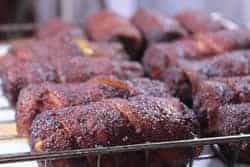 The ham and cheddar cheese cut open.. cheese oozing nicely even after it's been sitting for a few minutes.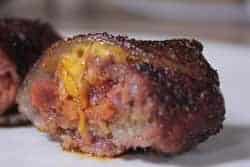 The reuben version was especially good but I felt like I wanted more sauer kraut taste. You'll have to see if you agree with me on that.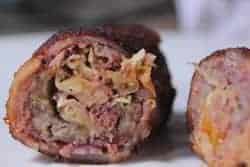 And finally, the Hawaiian pulled pork was absolutely heavenly!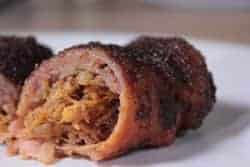 Printable Recipe
Miniature Bacon Explosion
Call it a bacon wrapped fatty or a bacon explosion but the bottom line is that these baby's are one of the best things since sliced bread. I have discovered that making them miniature sized just ups the ante on awesomeness!
Ingredients
½

lb

ground breakfast sausage

1

lb

Ground chuck

(80/20)

1

lb

Bacon

(1 strip each)

3

TBS

Jeff's original rub

¼

cup

Jeff's barbecue sauce
Pizza Filling
1

tsp

Mozzarella cheese

(shredded)

¼

tsp

Red onion

(minced or diced)

4

pieces

Pepperoni

(minis)

5

drops Franks Red Hot Original
Instructions
Combine the ½ lb of ground sausage with the 1 lb of ground chuck in a large bowl with your hands but don't over mix.

Make a 1.5 inch meat ball in your hand then flatten it into a sort of boat in your hand.

Place your filling ingredients into the boat. These work best if you don't overfill.Note: I used a pizza filling for these but you can fill them with any combination of cheeses, meat, vegetables, etc. to make your own themes. (more filling ideas in the full text instructions above)

Fold the ends of the boat together and pinch edges to seal

Form into shape by rolling the sausage in your hand

Wrap an entire piece of bacon around the filled sausage

Sprinkle the top and sides with Jeff's original rub

Smoke at 275°F for about 1 hour

You can also smoke them at 225°F but they will take approx. 2 hours.

When they reach 160°F, they are finished and ready to eat.

Serve immediately
Get Jeff's Products!