Stuffed Jalapeños – Atomic Buffalo Turds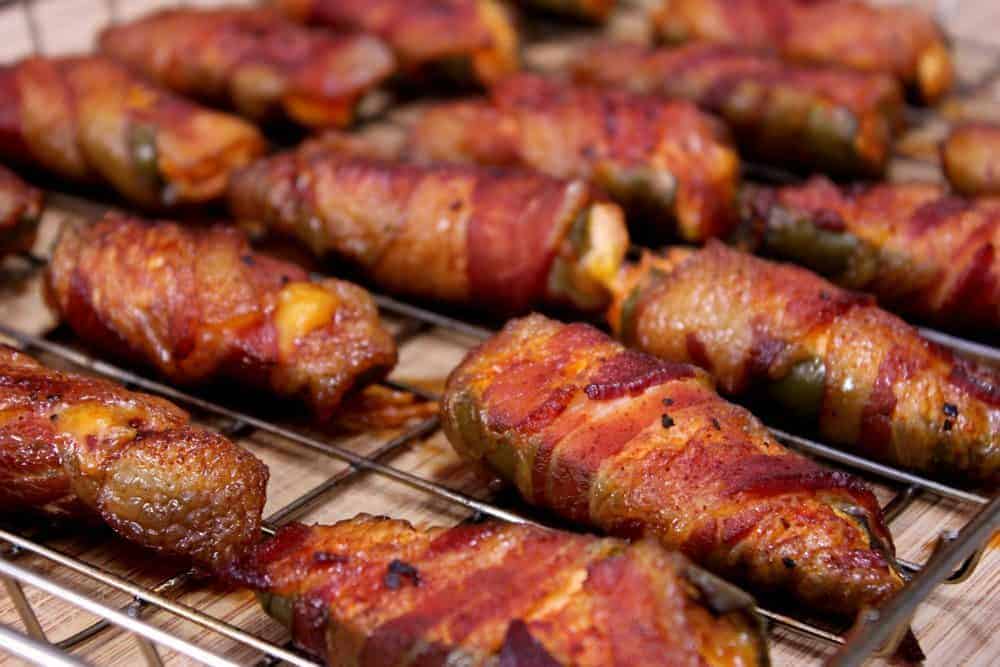 Smoking-Meat.com is supported by its readers. We may earn an affiliate commission at no extra cost to you if you buy through a link on this page.
Read this article without ads
This week I am sharing stuffed jalapeños wrapped in bacon, one of my favorite smoked appetizers. These are also are called "Atomic buffalo turds" or ABT's for somewhat obvious reasons =)
These jalapenos are stuffed with a mixture of cream cheese and extra sharp cheddar then wrapped in bacon. These are amazing for parties, get togethers, anytime it's gonna be a while till dinner and guests are hungry, or just because you are craving them.
Helpful Information
Prep Time: 45 minutes
Cook Time: 3 hours
Smoker Temp: 230°F
Meat Finish Temp: N/A
Recommended Wood: Maple or Cherry
What You'll Need
Jalapeños*
Cream Cheese*
Extra sharp cheddar, grated*
Bacon, thin cut is best
*I suggest making a lot of these but make sure you have a few hands to help put these together. It works a lot better as an assembly line.
For the bacon, I use a whole piece for the whole peppers and a half piece of bacon for the half pepper boats. Most thin cut bacon will have about 13 slices but you should probably count them while you are in the store to make sure you get enough.
Prepare Jalapeno Peppers
There's a couple of different ways to prepare these– leave them whole or cut them in half.
Personally, I like them cut in half but you can try them both ways and see how you like them.
Regardless of whole or half, you do the initial prep the same so let's get started.
Wash the peppers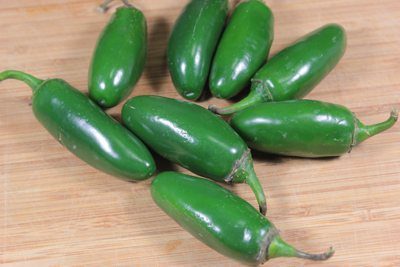 Remove the handle (stem)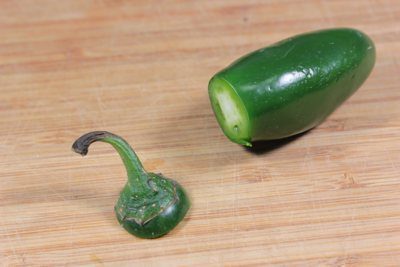 Remove the seeds and veins
I usually do this with a small paring knife but I just recently purchased a special tool for this at the local hardware store and it works pretty good. Here's a similar one on Amazon if you want to see it.
If you know that you are planning to cut them in half and you don't have a special tool for coring out the peppers, you can cut them in half first then remove the seeds and veins if that's easier for you.
You have to find your own mojo on these and it will get better with a little practice.
Trust me.. by the time you do 30 of these, you'll be quite the expert.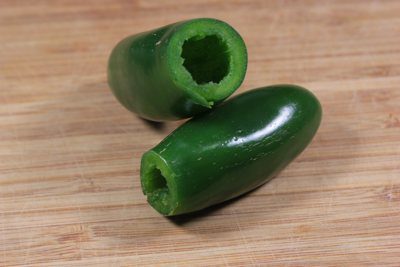 At this point you probably need to fully decide if you want to leave them whole or cut them in half.
Here are the 9 peppers that I left whole.. sitting in a pepper holder that came with my jalapeño corer: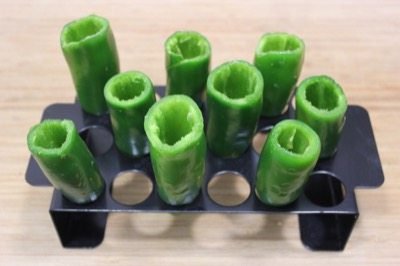 And then here's the 43 boats that I made by cutting 21 of the peppers in half.
I have no idea how I ended up with an extra.. maybe I actually started with 22 and dropped one of the halves?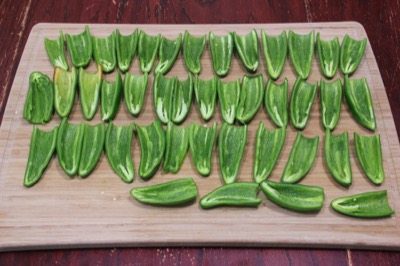 Make Cream Cheese Mixture
This cream cheese mixture is the bomb and it's so good you may be tempted to lick the spoon.. I also had this problem.
As long as you know that if you lick the spoon too much, you may not have enough to fill all of the peppers ;)
I try to figure on 8 oz of cream cheese, 1 cup of shredded cheese and ¼ cup of my original rub per 12-15 whole peppers or 24-30 half peppers.
I purchased around 30 peppers so I decided to make a double batch of the mixture with the following ingredients:
16 oz of cream cheese (soften on counter for an hour)
2 cups of shredded cheddar (extra sharp)
½ cup of Jeff's original rub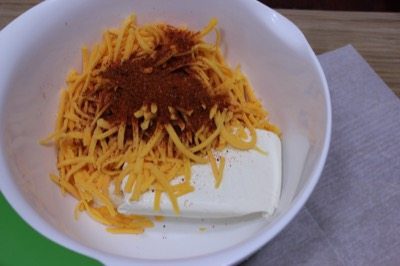 Mix it all up with a fork or whatever utensil works for you.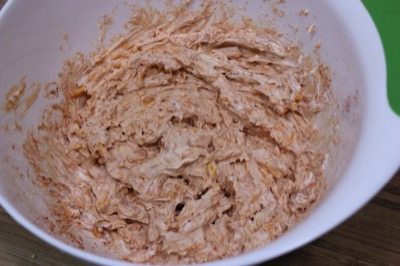 Lick the mixing utensil.. it'd be a shame to waste it!
Make the Stuffed Jalapeños
Now we are ready for my favorite part, stuffing the peppers with this delicious mixture =)
There's no right or wrong way to do this.. just use a spoon to get the mixture into the whole peppers or into the half pepper boats.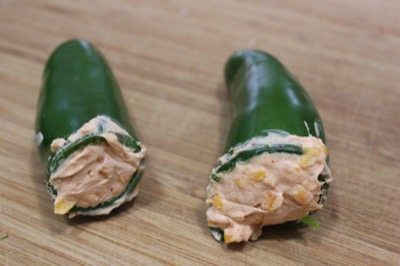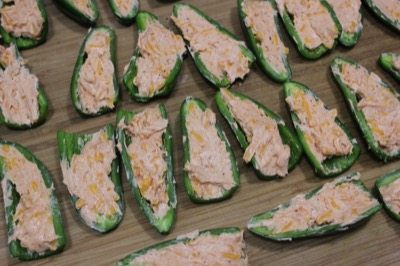 Wrap in Bacon
1 slice per whole pepper or half slices for the half pepper boats works best for me.
I purchased 3 lbs of bacon and used just slightly over 2 lbs.
Wrap the bacon around the pepper and try to figure it so it ends up finishing on the bottom of the pepper. In this way, the pepper sits on the end of the bacon and no toothpick is required to hold it in place.
I stopped using toothpicks several years ago and never looked back.. just not really necessary in my opinion.
Here's the whole peppers wrapped in bacon: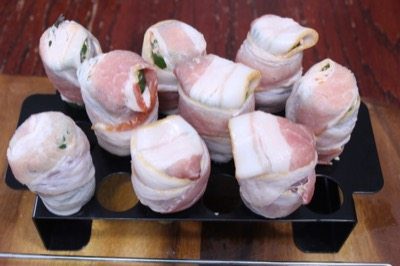 And the boats all wrapped up: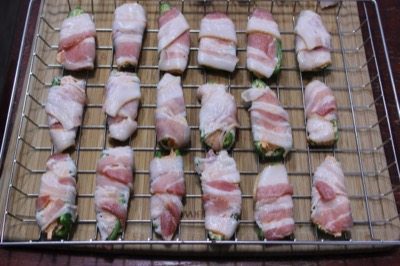 Give them another sprinkle of my original rub and they are ready for the smoker.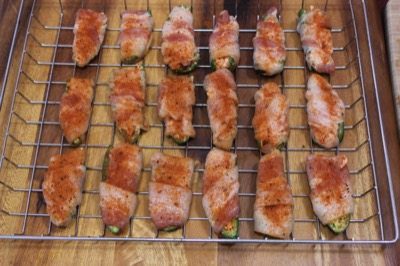 Smoke Time
About the smoker..
For these wonderful smoked stuffed jalapeños appetizers I used the new Bradley Smart Smoker.. it's a good smoker and perfect for so many applications.
One of the things that we talked about in the last newsletter (the one with questions and answers) is how to get more smoke in electric smokers. Some electric smokers have trouble producing smoke due to the heating element cycling on and off and to make the chips and chunks smolder and produce smoke, you need constant heat really.
This is where the Bradley really shines.. it has it's own low wattage heat plate that produces constant heat. The bisquettes move onto the heat plate and this constant heat has been calibrated perfectly so that it causes the wood to smolder but not ignite. Heck, you can even run the smaller heat plate to produce smoke and leave the main heating element turned off.. I'm thinking smoked cheese baby!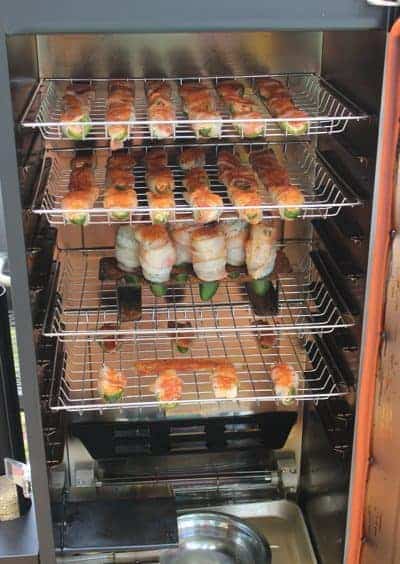 Set up..
I got the Bradley set up with enough maple bisquettes for 2 hours of smoke and 3 hours of cooking time at 230°F which is perfect for these ABT's.
Once the Bradley was hovering around 230°F, I put the Bradley racks filled with the prepared jalapeños into the smoker.
I also placed the pepper rack with the 9 whole peppers on one of the racks.
The door was closed and it was hands off for 3 hours while I waited for the peppers.
Finish and Serve
At exactly 3 hours I opened the door and removed the stuffed jalapeño peppers to the kitchen. As expected they were perfectly done and the flavor was amazing.
If you are not planning to eat these right away, put them into a foil pan covered with foil and into a oven at it's lowest setting (usually about 170°F) to keep them hot.
Serve and watch them disappear like magic!
Tips
Get some help
Solicit a few other people to help with this. If you set up an assembly line where someone is cutting stems, a couple of folks are coring and then someone is cutting them in half, etc. it's much easier.
I was an engineer (IE & ME) in a previous life so this appeals to me.. the person removing the stems could also be cutting them in half to balance out the work and reduce bottlenecks.
If you only have one other helper, perhaps one could remove the stem and core while the next person cuts them in half and stuffs. You could then work together to wrap with bacon.
As you can see, this can be engineered down to a well oiled machine..
Reduce the "hotness"
If jalapeños are just too hot for some, you can soak them in sprite or some other lemon lime soda for a couple of hours once the seeds and veins are removed. You can do this whole or in halves.. works great either way.
Some of the spiciness will leach out into the soda and the peppers will become more mild. The longer you soak, the more mild they become.
Save the soda to use when marinating chicken or some other meat.. it will give them a nice jalapeño flavor.
I know some of you are wondering.. I have no idea if you can use other types or flavors of soda. I heard about this trick several years ago and it worked so I figure if it's not broke…
Finding thin bacon
As I mentioned, anytime you are wrapping things in bacon for the smoker, thin bacon usually works best.
Bacon is usually not labeled as "thin" but what you can do is count the slices to see how thin it is. If you find a pound size package of bacon and it has 12-13 slices, it is cut fairly thin. The more pieces of bacon in the pound package, the thinner the bacon.
Stuffed Jalapeños - Atomic Buffalo Turds aka ABT's
Jalapeños stuffed with a mixture of cream cheese and extra sharp cheddar then wrapped in bacon. Folks who make these call them Atomic Buffalo Turds or ABT's.
Ingredients
30

Jalapeños*

16

oz

Cream Cheese*

2

cups

extra sharp cheddar

(grated*)

½

cup

Jeff's original rub

30

slices

bacon

(thin cut is best (about 2 lbs)
Instructions
Prepare Jalapenos Wash the jalapeños. Cut off the stems and remove the seeds and veins. Cut the peppers in half lengthwise so they become boats.

Make Stuffing Combine 16 oz of cream cheese, 2 cups of shredded extra sharp cheddar and ½ cup of

Jeff's original rub

into a large bowl. Mix well.

Stuff Jalapenos Stuff the mixture into the boats just slightly heaped up over the edges.

Wrap Cut the bacon slices in half and wrap a half slice of bacon around each stuffed pepper.

Lay Out Place the stuffed, bacon wrapped jalapeños onto a Bradley rack for easy transport into and out of the smoker.

Prepare Smoker Set up your smoker for cooking at about 230°F and enough wood for about 2 hours of smoke.

Smoke Smoke cook the stuffed jalapeños for 3 hours or until the peppers are wimpy and the bacon is done and has good bite thru.

Serve Serve immediately.
Get Jeff's Products!