Smoked Turkey Roast Basted with Bacon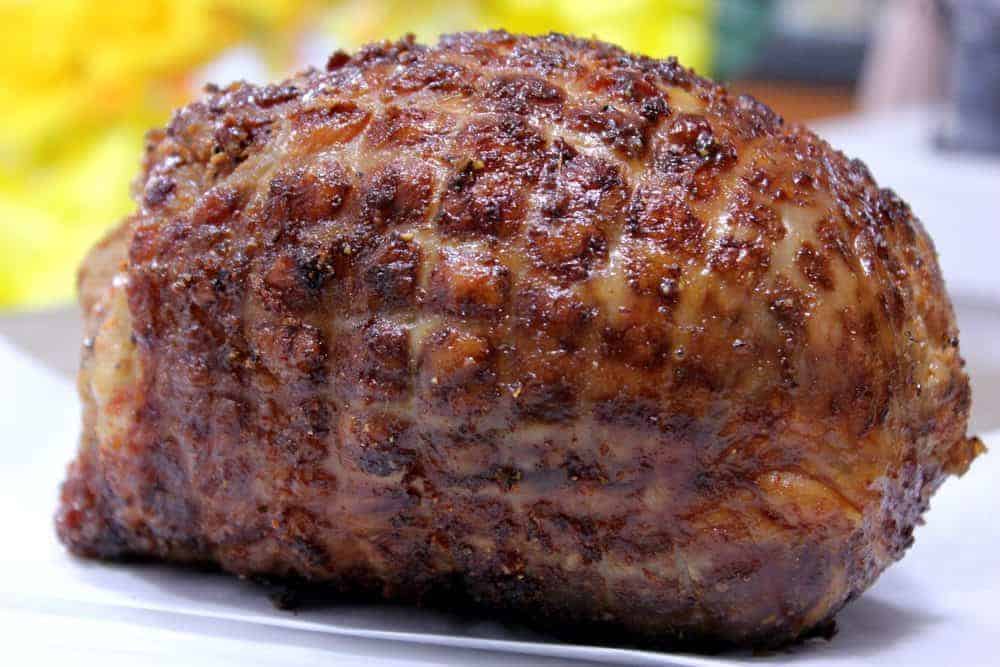 Smoking-Meat.com is supported by its readers. We may earn an affiliate commission at no extra cost to you if you buy through a link on this page.
Read this article without ads
In this recipe, I will show you how to smoke this turkey roast using a little bacon inside the cooking net so that it comes out extremely tender and delicious with a tasty edge that will make everyone say wow with every bite.
Be sure to use my original rub (Purchase formula here | Purchase bottled rub) for that perfect crust!
Helpful Information
Prep Time: 15 minutes
Brine Time: 4 hours
Cook Time: 5-6 hours
Smoker Temp: 225°F (107°C)
Meat Finish Temp: 165°F (74°C)
Recommended Wood: Maple
What You'll Need
3 lb turkey roast (feeds 4-6)
Olive oil or vegetable cooking oil
3-4 slices of thick cut bacon
About Turkey Roasts
These can be found all year long in most places where you shop for groceries and meats. They are usually frozen so be sure to allow time for thawing.
I noticed when I went to get these that there are some that are already flavored and seasoned.. I recommend getting the ones that are NOT seasoned or flavored already so you can do your own thing to them.
These roasts are sometimes all breast meat and sometimes they are a mix of white and dark meat.. I purchased the latter.
Most of these are around 3 pounds and will feed 4-6 depending on how hungry everyone is. If in doubt or you have more than 4 eating, it wouldn't hurt to make an extra one.
Thawing Methods
Fridge Method (when you have plenty of time)
Place these in the fridge and it takes about a day to a day and a half to fully thaw.
Cold Water Method (when you need it done in a hurry)
Clean the sink, put in the stopper and run it full of cold water.
Place the wrapped frozen turkey roast into the sink. If it tries to float, place a heavy plate on top of it to keep it submerged.
Change out the water every 30 minutes to keep it cold and in about 3-4 hours, the turkey roast will be thawed.
Remove from Packaging
Remove the plastic net on the outside (if applicable) and then the plastic wrapping.
You will notice that the turkey roast is in a cotton net– leave this be or it will fall apart into pieces (ask me how I know this).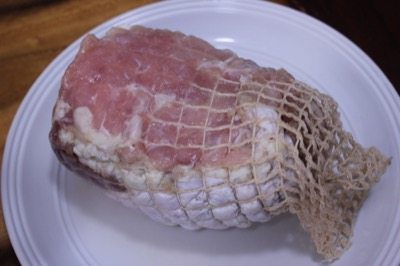 Rinse the turkey with cold water while holding it by the net.
Important: pull at the net to loosen it from the meat all over. This will make the net easier to remove once it's done cooking.
Wet Brine (optional but recommended)
I often get panicky emails from folks wondering if they should brine the turkey since it's already been brined at the factory..my answer: it doesn't hurt anything.
The process they use at the factory is extremely subpar to to the tender loving care you can show that hunk of meat at home. Go ahead and show it a little brining love!
Here's how:
Add ½ cup of coarse kosher salt to ½ gallon of cold water. Mix well until the salt is completely dissolved.
Then add ½ cup of brown sugar (dark is best but light will work). Mix that in until everything is dissolved.
The brine solution is now ready to use.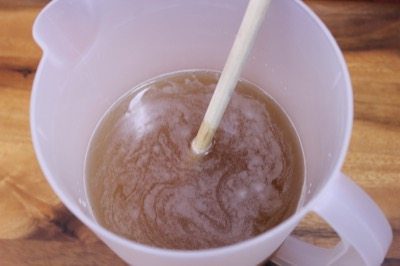 I mixed the brine into a 1-gallon tea pitcher and just placed the turkey roast right down into the pitcher once it was ready.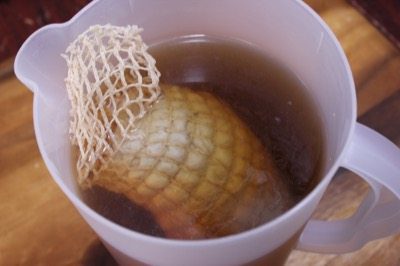 You can also place the turkey roast into a bowl or even a zip top bag and pour the brine over it if that's what tickles your fancy (whatever that is).
It is important that the turkey roast is submerged in brine. If you use a container that's a lot larger than the turkey roast or if you are doing more than one turkey roast, you may need to make an extra batch of brine.
With the turkey roast submerged in brine, place it in the fridge so it will stay nice and cold during this process.
About 4 hours is all it needs but it will be fine if you need to leave it in the brine all night.
Rinse and Season
When the brining process is complete, lift the roast out of the brine and rinse it really well under cold water to remove any salt residue left on the outside of the meat.
Pat the turkey dry with a couple of paper towels.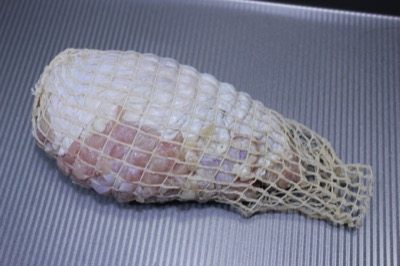 Pour olive oil all over the turkey roast making sure the net and the meat are well coated. Be generous!
Now season the turkey roast all over with my original rub (Purchase formula here | Purchase bottled rub).
I mean, get the top, bottom, sides and all around really good. This will be the crust and once you slice it, this is a bit part of the flavor. Since it's low in salt, it won't be a problem to be generous with it.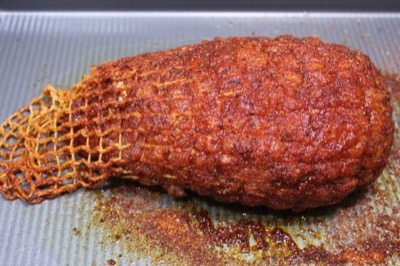 You might think it's ready for the smoker now.. it's not. We have one more very important step!
Add Bacon
We are going to add a little bacon to the outside to keep things self-basted while it cooks.
Where we place the bacon is determined by how you plan to place it in your smoker.
Hang it up
This is my favorite way to cook these turkey roasts and a smoker like the Bradley Smart Smoker makes this really easy.
There's already a net so it will be easy to hang it and I'll show you how later.
If this is your method, grab 4 thick slices of bacon and stuff it down in the net, right on top of the turkey roast.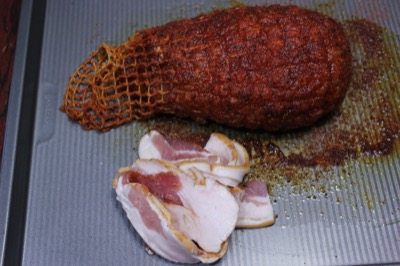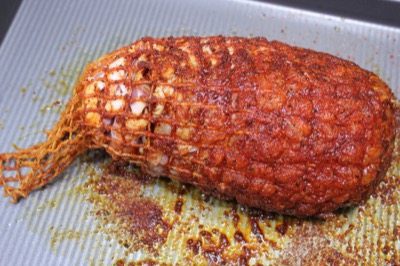 The bacon will render while it cooks and that bacon grease will run down the turkey roast keeping it moist and will even add some extra flavor.
Lay it on it's side
All smokers will not make hanging easy, if that's your case then you'll want to lay the turkey roast on it's side.
In this case, I recommend placing the turkey roast on a Bradley rack or Weber grill pan then drape the bacon over the turkey roast length wise.
Set Up Smoker
It's time to fire up the smoker and get that heat and smoke going.
I used the Bradley smoker for this cook but you can use ANY smoker for this.
We want indirect heat at about 225°F (107°C).
If your smoker has a water pan, fill it up.
Once the smoker is up to temperature and ready to go, it's time to add the meat to the smoker.
Smoke Time
How to Hang the Turkey Roast
I used a Bradley rack by twisting the end of the cotton net and poking it through one of the holes in the rack.
I then threaded a chopstick through several of the holes in the net to make it secure and hold it in place. You could also use a spoon handle, or even a good strong stick from the yard for this purpose.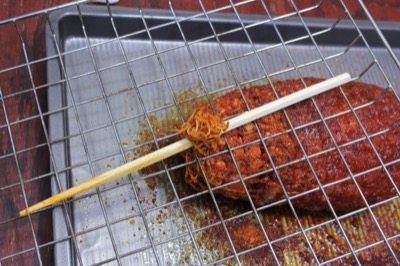 The Bradley rack was then placed at the uppermost position with the turkey roast hanging down.
I placed another Bradley rack just below the meat in case the unthinkable happened and the net did not hold. Leave nothing to chance!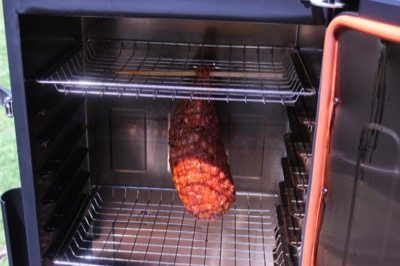 Laying Flat Method
If you are not hanging the turkey roast, then you can just place the Bradley rack or Weber grill pan or whatever you are using to hold the turkey roast onto the grate of your smoker.
For smoke, I used maple bisquits in the Bradley Smart Smoker. This is a great choice for smoke in any smoker or you can use whatever smoking wood you have available.
I set the smoke time to 3 hours.
You can expect this roast to take about 5-6 hours depending on how cold it is when it goes into the smoker, how often you open the door to peek, how well your smoker holds the set temperature, etc.
Finish and Rest
Be sure to use an accurate thermometer such as the "Smoke by Thermoworks" to monitor the temperature and so you'll know exactly when it reaches it's perfect done temperature. The actual done temperature is 165°F (74°C) but due to carry over cooking, I recommend taking it out of the smoker at 160°F (71°C).
By the way, ThermoWorks released a new thermometer a while back and I am a huge fan– it's called Signals and comes equipped with 4 probes, bluetooth/wifi connectivity, graphing capability via the smartphone app, min/max temperature on all 4 channels and so much more.
Fortunately, the Bradley Smoker came with 2 meat probes that can be plugged into the controller. You can then set a done temperature on the Bradley app on your smart phone and it will alert you when the meat is within 10°F of being done then again once it's finished.
I double checked the meat with my Thermapen hand-held thermometer and it matched the Bradley probe reading exactly.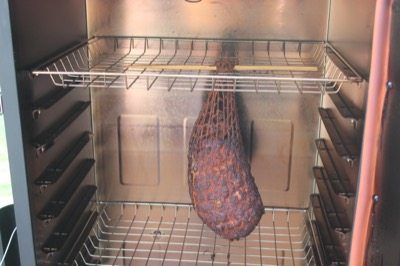 The close-up..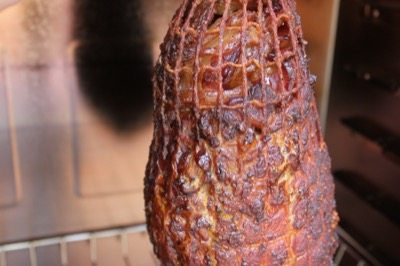 Let it rest with foil tented over the top for 10-15 minutes before slicing into it.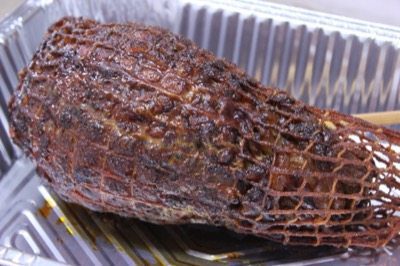 Once it's done resting, cut the net, pull the net away from the meat gently trying not to disturb the rub crust any more than is necessary. You can discard the bacon, eat it, feed it to the dog, your choice.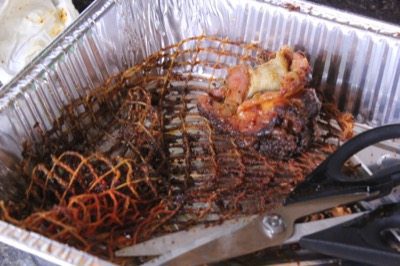 Slice and Serve
Looks a lot like a ham doesn't it? The net and my original rub together create a beautiful texture.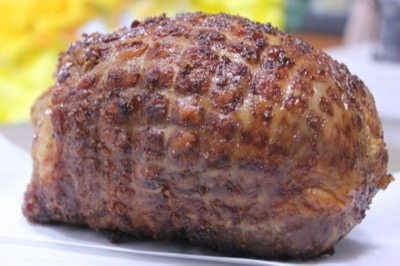 Slice the turkey roast as thick as you like and serve immediately with corn, mashed potatoes, gravy, peas, all the good stuff!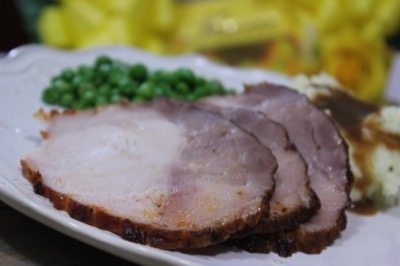 Smoked Turkey Roast with Bacon
In this recipe, I will show you how to smoke this turkey roast so that it comes out extremely tender and delicious with a tasty edge that will make everyone say wow with every bite.
Ingredients
3

lb

turkey roast

(feeds 4-6)

½

gallon

Brine solution

(recipe below)

2

TBS

Olive oil or vegetable cooking oil

¼

cup

Jeff's Original rub

4

slices

3-4 slices of thick cut bacon
Instructions
Remove the turkey roast from it's plastic net and packaging but leave it in the cotton net. Rinse the meat, net and all, under cold water.

Set the roast aside and make a brine solution of ½ gallon of water, ½ cup coarse kosher salt and ½ cup brown sugar. Mix well until everything is dissolved.

Place the netted roast down into the brine and place it in the fridge for 4 hours. After 4 hours, remove the meat from the brine and rinse well under cold water. Pat dry with a paper towel.

Pour olive or vegetable oil all over the roast making sure it is well coated. Sprinkle Jeff's original rub onto all sides of the roast-- be generous.

Place 3-4 pieces of bacon into the net if you are planning to hang it in your smoker or place the roast on a rack with the bacon draped over it if you plan to cook it on the grate.

If hanging on a Bradley rack, push the net through one of the holes and thread a chopstick through to hold it in place. You can also use a spoon handle or other similar object.

Set up your smoker for cooking at about 225°F with indirect heat.

Place the meat in the smoker and close the lid/door. Keep the smoke going for about 3 hours.

The turkey roast should take about 5-6 hours to reach 160°F at which point it should be removed and allowed to rest for 10-15 minutes with foil tented over it.

Once rested, cut the net and carefully remove it from the roast. Slice the meat as thick as you like and serve immediately with mashed potatoes, corn, peas, gravy and all of the fixins.

Enjoy!
Get Jeff's Products!