I receive emails every week asking how to make super tender spare ribs in the smoker and some even say that the 3-2-1 method still doesn't get them as tender as they like. This week I'm going to show you how to make spare ribs that are so fall apart tender that you can just pull the bones out as if they were in hot butter.
Not your thing? No need to email me saying that this is not how spare ribs are supposed to be cooked. If that's your paradigm, then you can ignore this recipe– no hard feelings =)
I made these spare ribs a while back and we deboned them (very easily I might add) and made one of the best rib sandwiches I've ever had (and that's saying something)!
The flavor is also unbelievable since we will apply my original rub (Purchase formula here | Purchase bottled rub) on them the night before and give them things of beauty all night to soak up the good stuff. I could not get over the flavor as well as the tenderness on these and everyone at the table agreed that these were to die for.
Helpful Information
Prep Time: 20 minutes
Cook Time: 10 Hours
Smoker Temp: 225-240°F
Meat Finish Temp: 195-200°F
Recommended Wood: Pecan/Cherry mix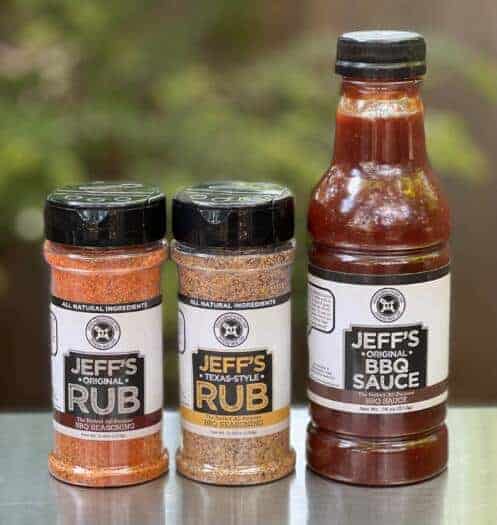 Please note that my rubs and barbecue sauce are now available in 2 formats– you can
purchase the formulas
and make them yourself OR you can
buy them already made
, in a bottle, ready to use.
Rinse and Pat Dry
Remove the spare ribs from the package and rinse under cold water.
I purchased my ribs already cut St. Louis style and for this reason, I wanted to make sure that there was no bone fragments. The rinsing takes care of this.
The ribs are then patted dry with a clean paper towel and set aside.
What Are St. Louis Style Spare Ribs
It occurred to me that some of you may not know what St. Louis style ribs are.. it's just a style of trimming the ribs to get rid of the less desirable parts of the spare ribs and make them into a better looking rack much resembling a rack of baby backs.
The picture below will show you a basic pattern for cutting the full size spare ribs into St. Louis stye: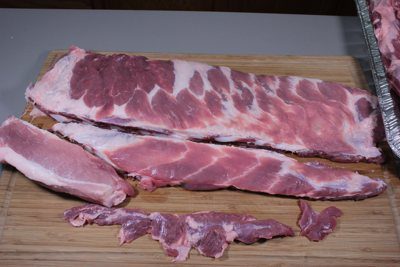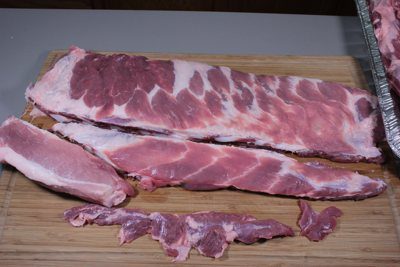 Remove Membrane
With the ribs laying bone side up, you'll notice a shiny, plastic-like membrane covering the bones.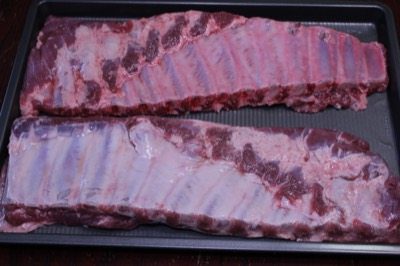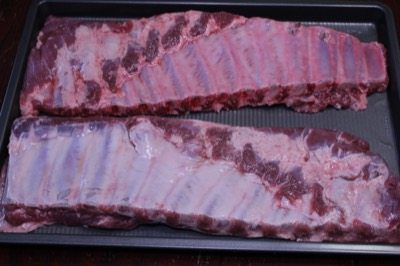 Work your finger, a spoon or some other implement under the membrane, work it loose and grasp it with a paper towel to pull it clean off.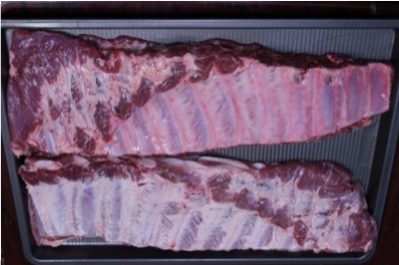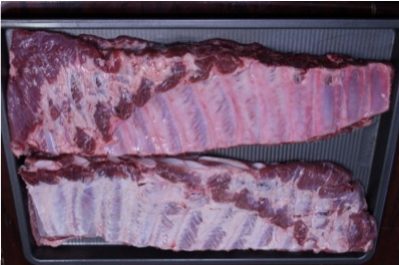 This takes practice but in no time you'll have it.
Don't fight with it.. if you have trouble with it, just get what you can and leave it at that. It's not the end of the world if it remains.
Apply Rub 12 Hours Before
Bone Side
With the ribs still laying bone side up, coat the meaty part of the bone side with lots of the original rub (Purchase formula here | Purchase bottled rub). Be extremely generous as this will create the delicious crust that you'll rave about later.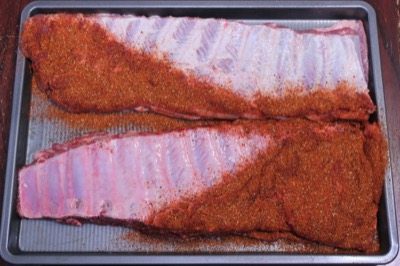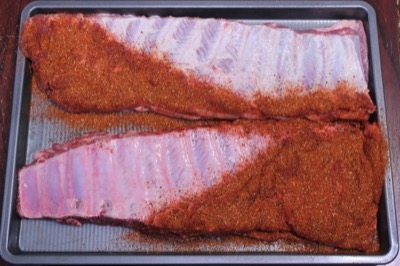 Give a light sprinkling over the bone area as well..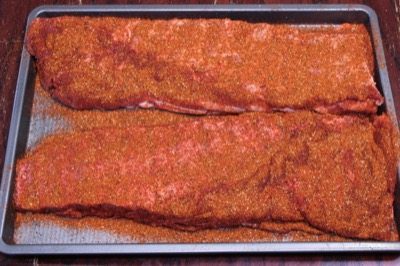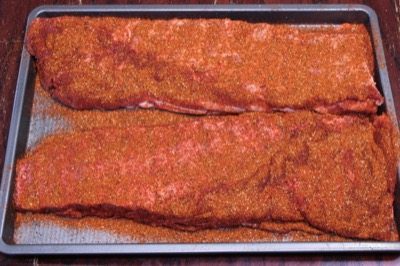 Leave them sitting in this configuration for about 10 minutes or until they get that "wet" look.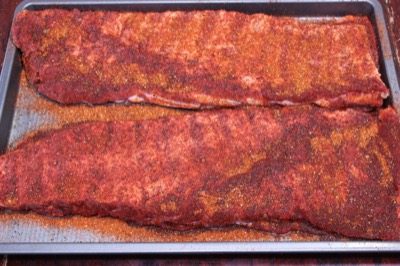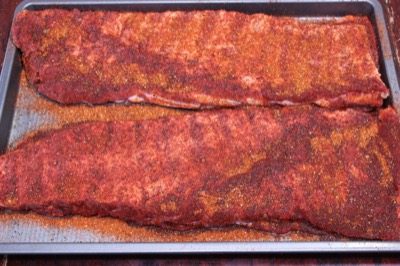 Top Meaty Side
Turn the ribs over to meaty side up and generously sprinkle my original rub (Purchase formula here | Purchase bottled rub) all over making sure to hit the sides and ends as well.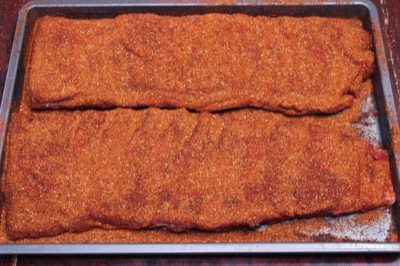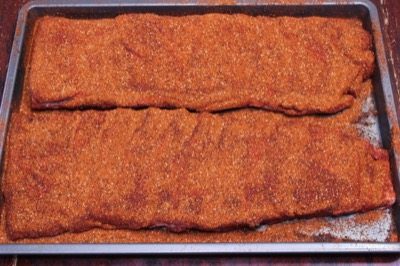 You can place them in the fridge at this point but after just an hour or so, you'll see how the rub draws the moisture to the top and creates a nice paste. The flavors merge and some of that is drawn back into the ribs. It's a beautiful thing!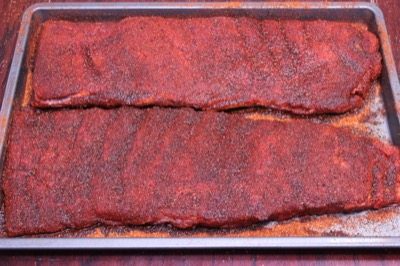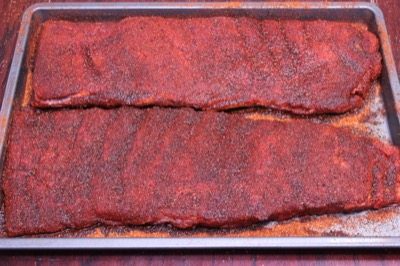 Prepare Smoker
Setup your smoker for cooking at about 230°F using indirect heat. If your smoker has a water pan, fill it up with water.
You will need enough smoking wood to last about 4 hours– I recommend a mix of pecan and cherry but any smoking wood will work great.
Smoke and Set Rub Crust
Once the smoker is ready, place the ribs on the smoker grate bone side down with at least an inch between each one to allow the smoke and heat to have access to all sides of the meat.
The ribs will stay in this configuration for 4 hours.
During this time the rub will turn into a crust (a good thing), the heat will cook the meat and the smoke will flavor the meat.
Wrap and Continue Cooking
Very carefully remove the ribs from the smoker and wrap the ribs individually with heavy duty foil. I did not get pictures of this process but I wish I had so I could show you how I wrap them.
I tear off as many pieces of 18-inch foil about 30-36 inches long as I have racks of ribs. I had 2 racks of ribs so I had 2 pieces of foil this size laid on top of each other.
The first rack was taken off and laid in the center of the top piece of foil.
Note: often during this wrapping stage we'll add a liquid of some kind but I don't recommend it on these since they will be in the foil for so long. We want them to tenderize but if there's too much moist steam, it can make the rub crust soft and in some cases even dissolve it and we want it to stay intact and crispy.
The bottom of the foil was brought up over the ribs then the top was folded down over that. Each side is then carefully folded over.
I say carefully because some time a bone will be sticking out and that can easily puncture the foil. The foil doesn't have to be airtight but it's best if it doesn't have holes that allow the steam and juices to escape.
The wrapped ribs are placed into a full sized steam pan (about 12 x 20). For what it's worth, I can fit about 4-5 racks of wrapped ribs in one of these.
The purpose of the pan is to catch leaks. The foiled ribs will most likely leak.. it's bound to happen and in my opinion, this is an easy way to contain it. Less cleanup is always a good thing!
If you have an electric smoker or one that is very easy to maintain a good set temperature, then the pan of wrapped ribs can just go right back into the smoker at the same temperature (230°F)
If it's easier, you can also just place the pan of wrapped ribs into your kitchen oven set to 230°F.
Keep them at this temperature for 2 hours.
Super Tenderize at Lower Heat
At this point the ribs are done and somewhat tender but we want to super tenderize them, remember?
Turn the smoker or oven down to about 200°F since we don't want to cook them a lot more but just let them tenderize
This super tenderizing step will go on for about 2 hours.
I recommend checking the ribs at the end of this step using the Thermapen Mk4, one of my favorite handheld thermometers which has a very small tip and is able to get between the bones very easily.
Open one side of the foil very carefully and check one of the racks to see if it's where it needs to be.
The temperature should be around 195-200°F at this point.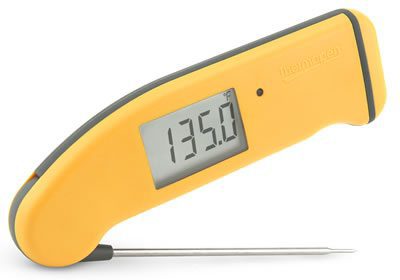 Rest at Really Low Heat
Now we just want to let the ribs rest at a really low heat during which time the meat will continue to tenderize, the fat will continue to render and the bones will loosen from the meat.
For the final step in the cooking/tenderizing process, turn the smoker or oven down another 30 degrees to 170°F.
This step only took about 1.5 hours but be ready to be flexible. At 1.5 hours open one of the packages, grab a bone and try to rotate it. If the ribs are ready you should be able to rotate the bone and even pull it cleanly from the meat with little to no resistance.
If you are able to rotate/remove the bones, then good, If there's resistance, wrap it back up and give them 30 more minutes.
Unwrap and Remove Them Bones
Unwrap the ribs, flip the rack over to bone side up so you can get to the bones. If they break in half during this step (very likely) it's ok. They will be so tender that they will be falling apart.. that's what we wanted on these.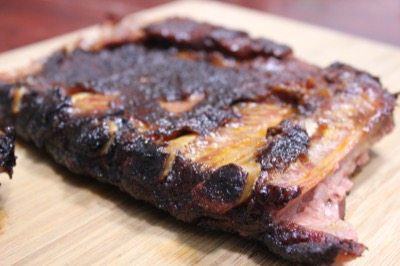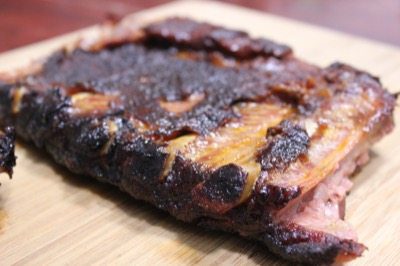 Grasp each bone and rotate to make sure it's loose then simply pull it out of the meat and discard.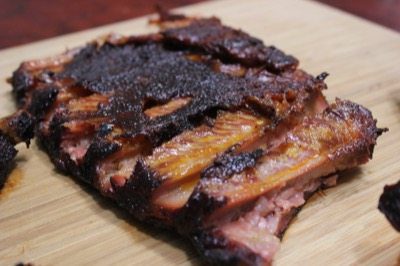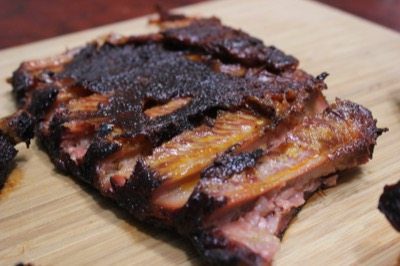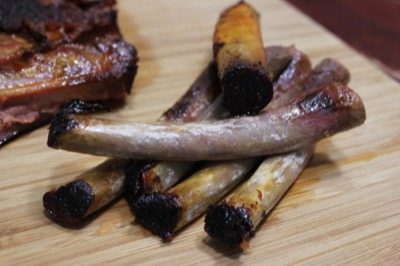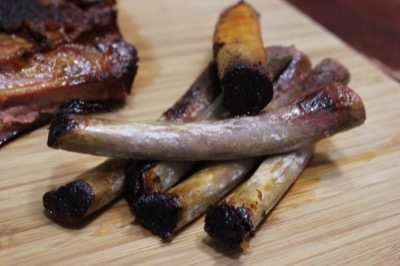 Once the bones are removed from the entire rack, cut the meat into pieces about 1 inch wide and they are ready to serve.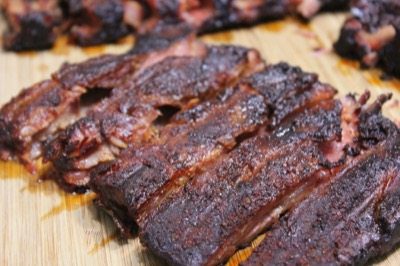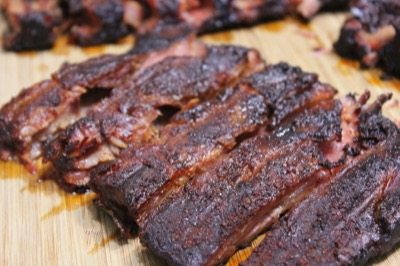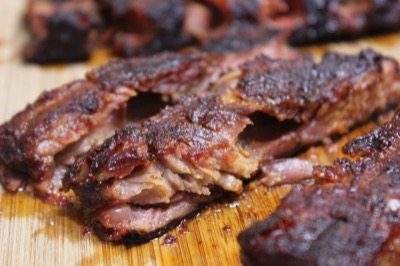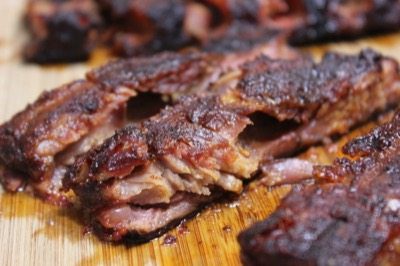 Here's a close up to show you just how tender and juicy these end up being: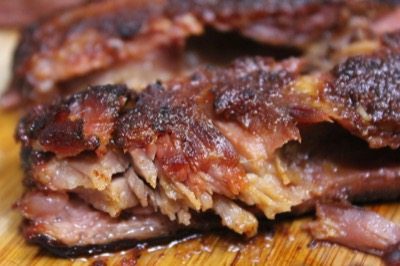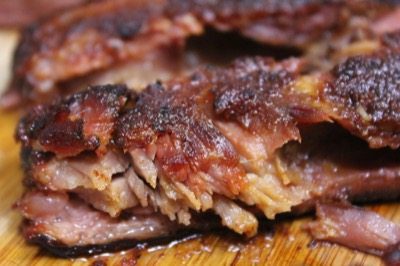 This Recipe in 8 Easy to Follow Steps
Because there's so many steps, this one may seem complicated so let me break it down for you in 8 easy to follow steps:
Rinse, pat dry, and remove membrane.
Apply my original rub (Purchase formula here | Purchase bottled rub) heavier than usual.
Place in fridge on a cookie sheet overnight
Setup smoker for cooking at 230°F
4 hrs @ 230°F – laid on grate with pecan/cherry smoke
2 hrs @ 230°F – wrapped (no smoke required)
2 hrs @ 200°F – wrapped (no smoke required)
1.5 hrs @ 170°F – wrapped (no smoke required)
Order Jeff's Rubs and Barbecue Sauce TODAY!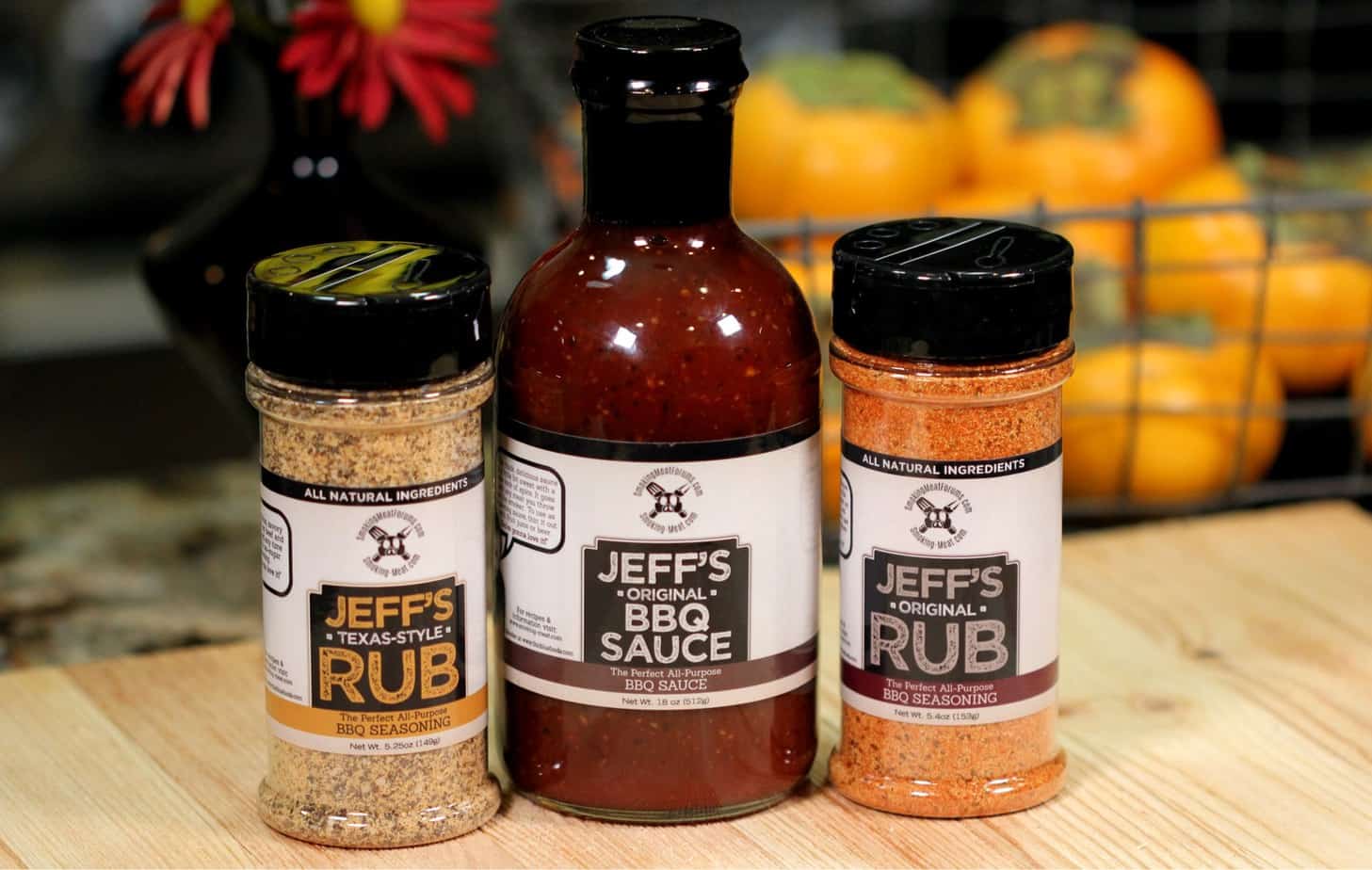 ✅ If you haven't ordered my rubs or sauce yet you can do that HERE. They are the best thing you've ever tasted and it's a great way to support what we do!
We ship blazingly fast and orders over $50 ship free!
You can also order the formulas for my rubs and sauce and make these yourself at home. Grab those HERE and download immediately.
Jeff's Smoking Meat Books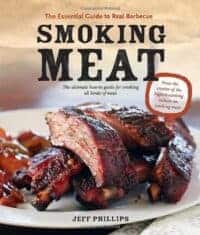 Smoking Meat: The Essential Guide to Real Barbecue – The book is full of recipes and contains tons of helpful information as well. Some have even said that "no smoker should be without this book"!
With more than 1000 reviews on Amazon.com and a rating of 4.7 out of 5 stars, it comes highly recommended and is a Bestseller in Barbecuing & Grilling books on Amazon.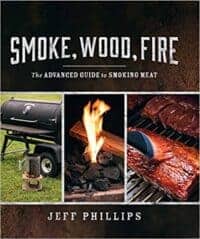 Smoke, Wood, Fire: The Advanced Guide to Smoking Meat – Unlike the first book, this book does not focus on recipes but rather uses every square inch of every page teaching you how to smoke meat. What my first book touched on, this second book takes it into much greater detail with lots of pictures.
It also includes a complete, step-by-step tutorial for making your own smoked "streaky" bacon using a 100 year old brine recipe.
Get Almost Anything at Amazon
If you enjoy the newsletter and would like to do something helpful, then..
The next time you decide to order something at Amazon.com, use THIS LINK to get there and we'll get a small commission off of what you purchase.
Thank you in advance for using our special link: http://www.smoking-meat.com/amazon
---
Printable Recipe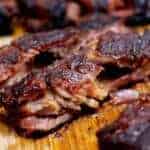 Print Recipe
Smoked Spare Ribs that Literally Fall Apart
In this recipe, I show you how to make smoked spare ribs that are so fall apart tender that you can just pull the bones out as if they were in hot butter.
Ingredients
2-4

racks of St. Louis style spare ribs

Jeff's Original rub recipe

((instant download after purchase))

Foil

((Heavy Duty))

Full size foil pan

((approx. 12 x 20 works best))
Instructions
Remove ribs from package and rinse under cold water.

Cut brisket bone and square ends to make them St. Louis style spare ribs.

Remove membrane.

Generously coat bone side of ribs with Jeff's original rub.

Wait about 10 minutes for the rub to take on a "wet" look. This means the rub has mixed with the rib juices and will stick to the ribs without falling off when you turn them over.

Flip the ribs over to meaty side up and coat the top and sides with generous amounts of Jeff's original rub.

With the ribs on a cookie sheet, place them in the fridge overnight to allow the flavors in the rub to seep into the meat.

Set up your smoker for cooking at about 230 °F with indirect heat. If your smoker has a water pan, fill it up with hot water.
Follow this cooking schedule:
-4 hrs @ 230°F - laid on grate with pecan/cherry smoke

-2 hrs @ 230°F - wrapped (no smoke required)

-2hrs @ 200°F - wrapped (no smoke required)

-1.5 hrs @ 170°F - wrapped (no smoke required)

Remove the ribs from the foil and pull the bones out of the meat.

Slice the meat into ribs that are about 1-inch wide.

Serve right away.