Apricot and Honey Chicken Wings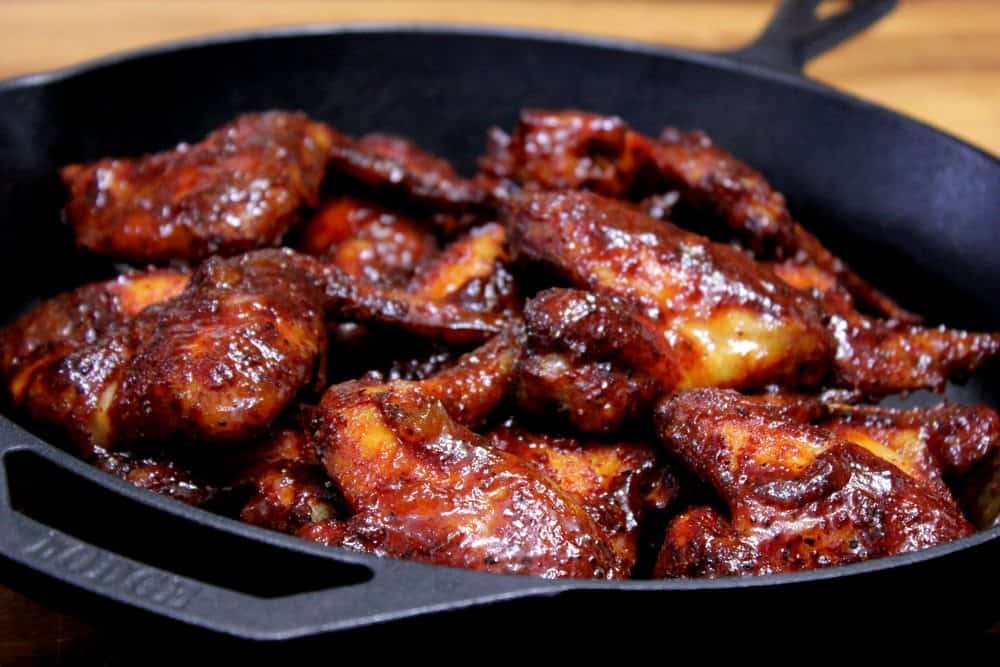 Smoking-Meat.com is supported by its readers. We may earn an affiliate commission at no extra cost to you if you buy through a link on this page.
Read this article without ads
My affinity for smoked chicken wings is known far and wide– my most recent experiment involved brushing a mixture of apricot spreadable fruit and honey onto the wings when they were almost done cooking. The sweetness of the fruit and honey mixed with the spiciness of my original rub created an awesome combination that had me licking my fingers like no one was watching!
Helpful Information
Prep Time: 15 minutes
Dry Time: 4 hours
Cook Time: 1 hour 45 minutes
Smoker Temp: 225-240°F
Meat Finish Temp: 175-180°F
Recommended Wood: Hickory
What You'll Need
12-14 whole chicken wings
Mayonnaise
½ cup or 4-5 ounces apricot spreadable fruit (I use Smucker's SimplyFruit® which has no added sugar)
½ cup Honey
Dry Skin in Fridge (optional but recommended)
Let's face it, chicken skin cooked in the smoker is never going to be crisp but it can have what we call, "good bite through". A great way to make sure it's not rubbery but has decent bite through is to dry the skin in the fridge for several hours or even overnight.
Rinse the chicken wings If you like then pat them really dry with a paper towel. Heck use a couple of paper towels if you need to =)
Once they are good and paper towel dried, place them on a cooling rack over a sheet pan for best results or you can just lay them in a pan or large container. Place the chicken in the fridge for 3-4 hours or optimally, overnight.
The moisture in the skin will evaporate and the skin will become dry. This is exactly what you want.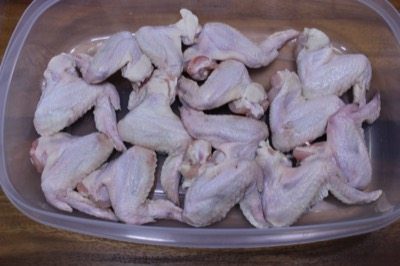 Apply Mayo to Skin
Once you've dried the skin in the fridge, we will apply a base on the chicken to help the rub to stick.
I prefer to use Mayonnaise on chicken but you can also just use olive oil or vegetable oil.
Rub the mayo all over the top and bottom of the chicken wings.. be generous with it.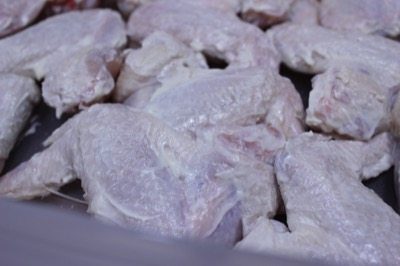 Sprinkle my original rub on the bottom side of the chicken wings then let them sit there and get that "wet" look before flipping them over.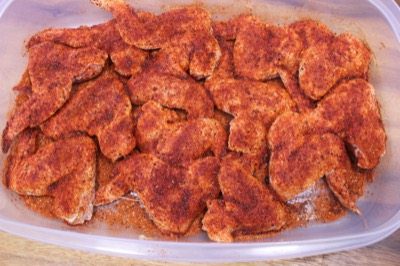 Repeat the original rub on the top side of the wings and let them sit while you go get the smoker ready.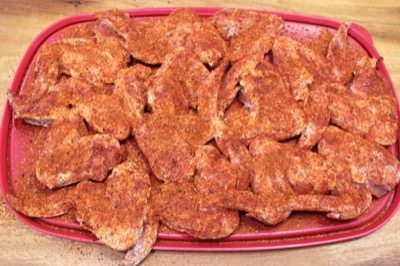 Smoke Time
Set up your smoker for cooking at about 225-240°F using indirect heat.
Since we are trying to get the skin to obtain a good bite through, I recommend leaving the water pan dry for these.
Like the legs and thighs, there is plenty of fat in the wings to help keep them moist while they cook.
Note: Some folks cook chicken in the smoker at 275°F or a little higher and this is fine if your smoker will do that but this also gives you less time in the smoke and reduced smoke flavor. I try to find a balance between plenty of smoke flavor and good heat.
Once the smoker is ready, place the chicken wings on the smoker grate skin side up.
Use hickory wood for smoke. You can also use pecan, or almost any fruit wood. Apply smoke throughout the entire cooking process if possible.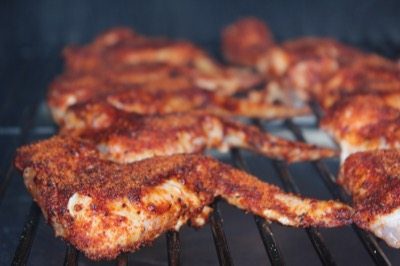 When the chicken wings reach about 165°F, it's time to apply the glaze.
Make and Apply Glaze
I used apricot spreadable fruit– Smucker's SimplyFruit® and honey to create the glaze.
½ cup Smucker's apricot SimplyFruit®
½ cup honey
Instructions: place the ingredients into a small sauce pan over low heat to allow the honey and fruit to combine. Stir gently and once the mixture is hot and thoroughly mixed, remove from the heat.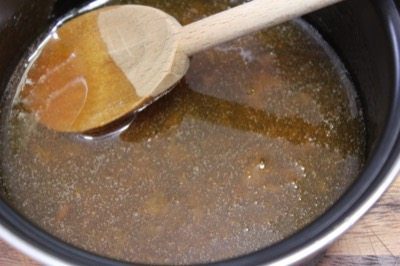 Brush the glaze liberally onto the tops of the chicken wings and let them continue to cook until they reach 175°F in the thickest part of the meat.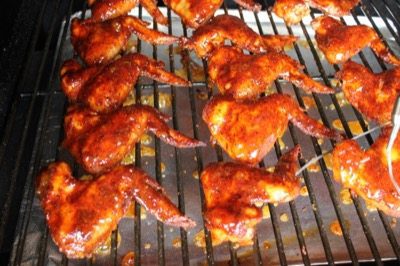 If you have a smoker that allows you to turn up the heat easily, feel free to crank up the heat to 250-275°F to help the glaze to have a better finish.
Finish and Serve
Chicken is safely done at 165°F however, darker, more fatty chicken meat can handle much higher finish temperatures and even tend to get more tender if you cook them a little longer and higher than what is required.
I recommend cooking these to 175-180°F for better tenderness.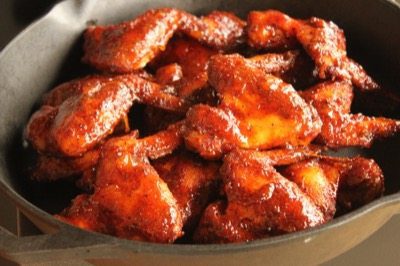 Serve immediately and watch them disappear.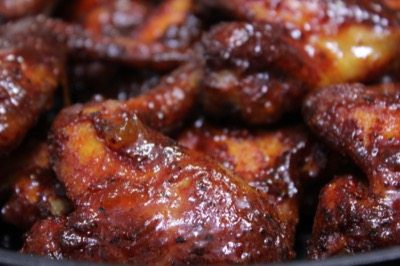 Notes
This recipe is for a dozen wings so you can easily double or triple the recipe according to who is eating, whether they are appetizers or entrees and based on the hunger level of those you are serving. I used half of a 10 ounce jar of the spreadable fruit (which is approximately ½ cup) instead of measuring closely. To double the recipe just use the entire jar and a full cup of honey.
It took 1 hour 16 minutes for the smoked chicken wings to reach 165°F then another 31 minutes to acquire a temperature of 175°F after glazing. Let the temperature be your guide since many things can influence the time such as how cold the wings are when they go into the smoker, comparative size of the chicken wings, outside temperature, airflow in your smoker, how often you open the smoker door/lid, etc.
Use a reliable digital meat thermometer such as the Thermapen (handheld) or a leave-in device such as the "Smoke" by Thermoworks to monitor the temperature and make sure you get the chicken wings done perfectly.
Apricot and Honey Chicken Wings
In this smoked chicken wing recipe, I used apricot spreadable fruit with honey along with
my original rub
to create a flavor profile that you are going to love!
Ingredients
12-14

Chicken wings

(whole)

Mayonnaise

Jeff's original rub

½

cup

Apricot spreadable fruit

(I use Smucker's SimplyFruit® which has no added sugar)

½

cup

Honey
Instructions
Place the chicken wings on a

cooling rack

over a sheet pan and pat dry with a paper towel.

Set the chicken in the fridge to allow the skin to dry for about 4 hours or optimally overnight.

Apply a coat of mayonnaise all over the chicken.

Season the chicken wings liberally with Jeff's original rub.

Setup your smoker for cooking at about 225-240°F using indirect heat and

hickory wood

for smoke.

Place the chicken wings directly on the smoker grate and let them cook for about 1.5 hours or until they reach 165°F in the thickest part of the meat.

Make a glaze of ½ cup Smucker's apricot simplyfruit® or any apricot spreadable fruit and ½ cup honey.

Heat the ingredients in a small saucepan to help the mixture to combine more easily.

Once the glaze is finished, brush it liberally onto the chicken wings.

Let the wings continue cooking until they reach about 175-180°F in the thickest part.

Serve the wings immediately.
Get Jeff's Products!