Extreme Smoked Pulled Pork Recipe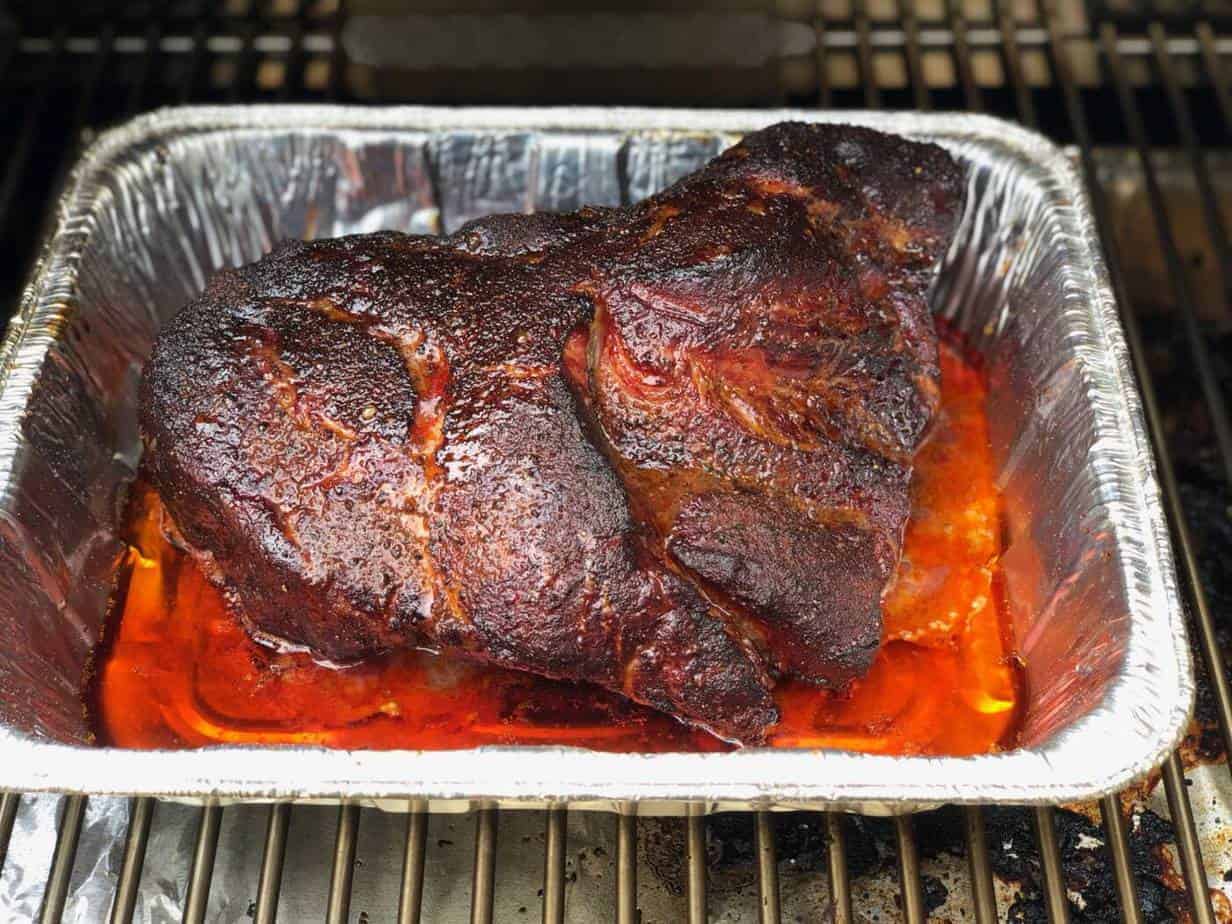 Smoking-Meat.com is supported by its readers. We may earn an affiliate commission at no extra cost to you if you buy through a link on this page.
Read this article without ads
The REC TEC with its PID WiFi controller is one of the most accurate cookers on the planet.. for it's maiden voyage, I decided to cook a boneless pork butt and it was not only beautiful with an amazing smoke ring, but it was smoky, tender and delicious.
Helpful Information
Prep Time: 10 minutes
Cook Time: 9 to 14 hours (depends on thickness)
Smoker Temp: 225-250°F
Meat Finish Temp: 205-207°F
Recommended Wood: Hickory or REC TEC blend of red oak, white oak and hickory
What You'll Need
Pork butt(s)
Yellow mustard or oil
Butter and Rub Mop (recipe below)
Foil pan
Heavy duty foil
Digital thermometer such as the ThermoWorks Smoke or the FireBoard to make sure the meat gets done perfectly.
About Pork Butts
These are sometimes called Boston butts, usually weight anywhere between 5 and 8 lbs and are sold bone-in and boneless just depending on what you want.
I almost always purchase bone-in and try to find one that's around 7 to 8 lbs but this one was on sale at my local grocer, was boneless, only weighed about 5 lbs and was secured by a net.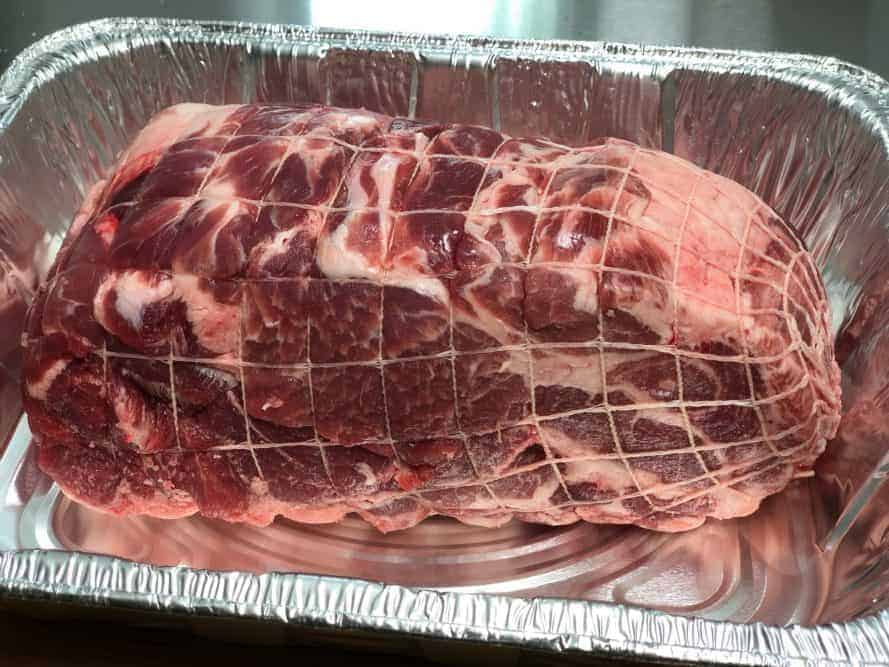 After removing the net..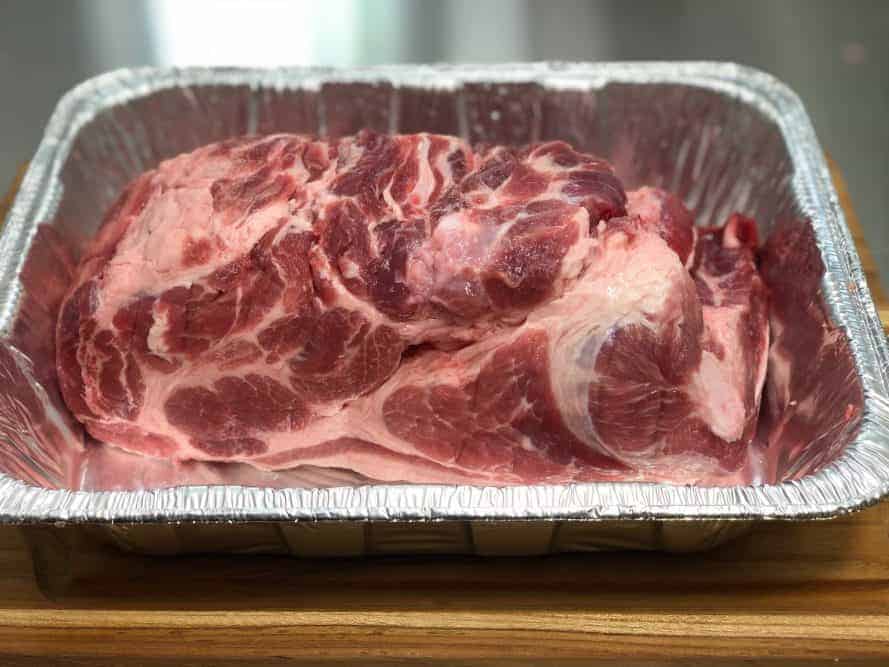 I guess you noticed it's down in a pan.. there's no real scientific reason for that and I won't be putting it in the pan during the cooking session until it reaches about 160°F or higher. It's just simply to keep the rub from being thrown all over the kitchen..I can get a little wild eyed when I start slinging rub on a pork butt!
Now it's ready for seasoning.
Step 1: Season with Rub
Now mind you, I also did not use oil or mustard or any other binder on this. I do recommend doing that most of the time but the original rub will do just fine if you want to apply it directly to the meat, you just have to let it sit there long enough to pull some moisture to the surface before you turn it over or mess with it.
I did the top first and waited until it got that wet look before I turned it over and applied rub to the other sides.
Here is the top rubbed down..
After just a few minutes it starting pulling some moisture to the surface..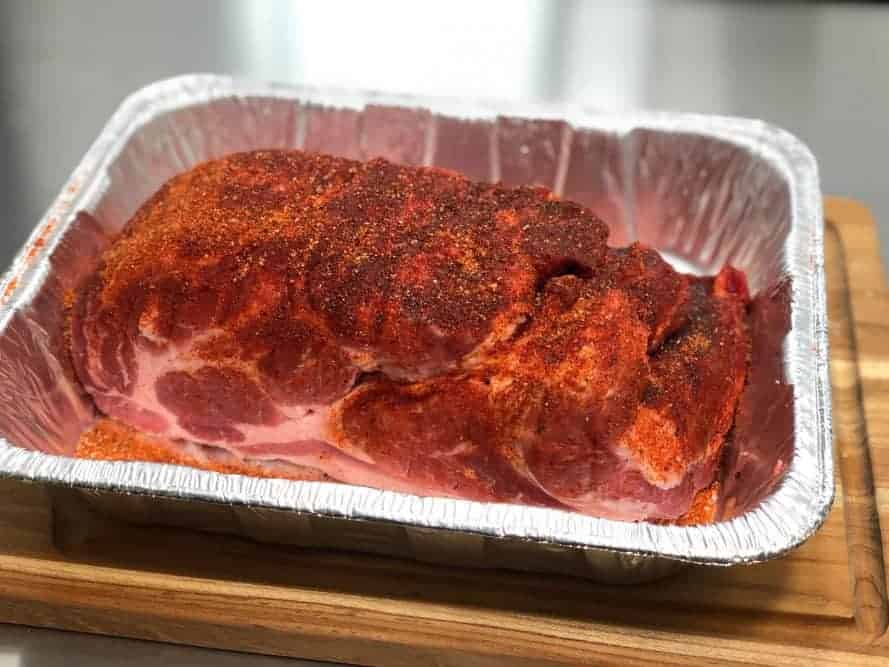 And fast forward to all sides done and ready for the smoker.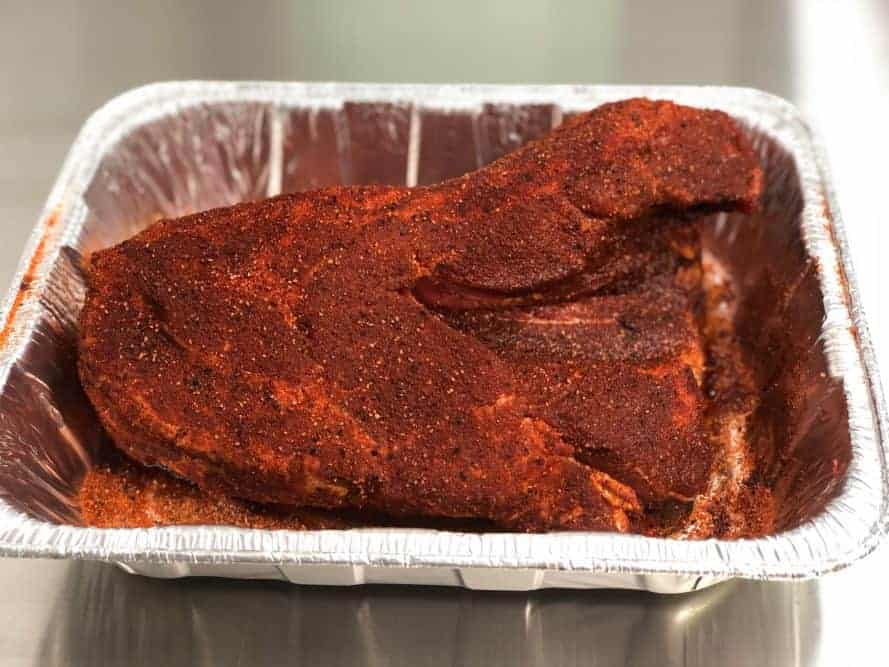 Step 2: About the Smoker
You can smoke pork butt on any smoker as long as it can maintain a temperature around 225 to 250°F and you can provide some smoke to it while it cooks.
REC TEC, a company well known for their heavy duty pellet grills, sent me their new RT-700, they call it "the Bull" and if you haven't seen it, it is a massive beast and lives up to it's name complete with stainless steel horns on the front that serve as handles for opening the lid.
Unlike most other pellet grills, it is run by a PID which just means that it has a fancy system that uses an algorithm to apply responsive correction to a control, temperature in this case, and this allows it to maintain an exact temperature regardless of whether it's raining, cold outside, etc.
If you like exact temperatures then this is probably the smoker for you.. it will hold a set temperature all day long with little to no deviation.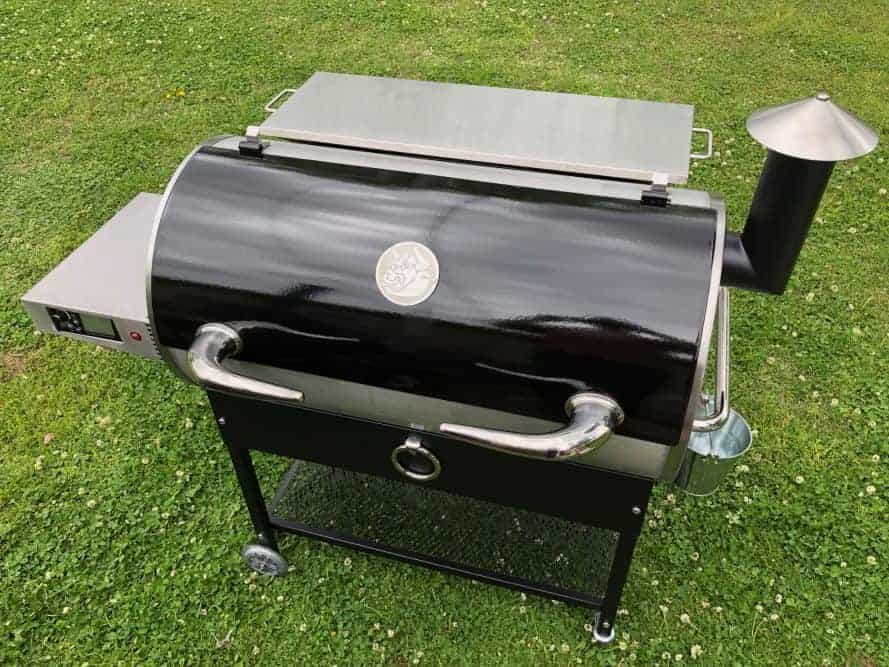 It also holds 40 lbs of pellets in it's huge hopper and has more stainless than you've probably ever seen in a single smoker..it's a real beauty and it's serious about cooking meat.
One other feature that I"ll throw out there.. the controller is wifi enabled meaning it connects to your wifi signal and you can monitor and control the thing from anywhere.. you heard me correct.. anywhere!
Ok, enough about the smoker– Here's the full review if you want to read it
Let's get to cooking this pork butt on "the Bull".
Step 3: Let There Be Smoke
No matter what smoker you are using, set it up for cooking at about 240°F with indirect heat.
If your smoker uses a water pan, fill it up.
Once the smoker is ready, place the pork butt directly on the grate.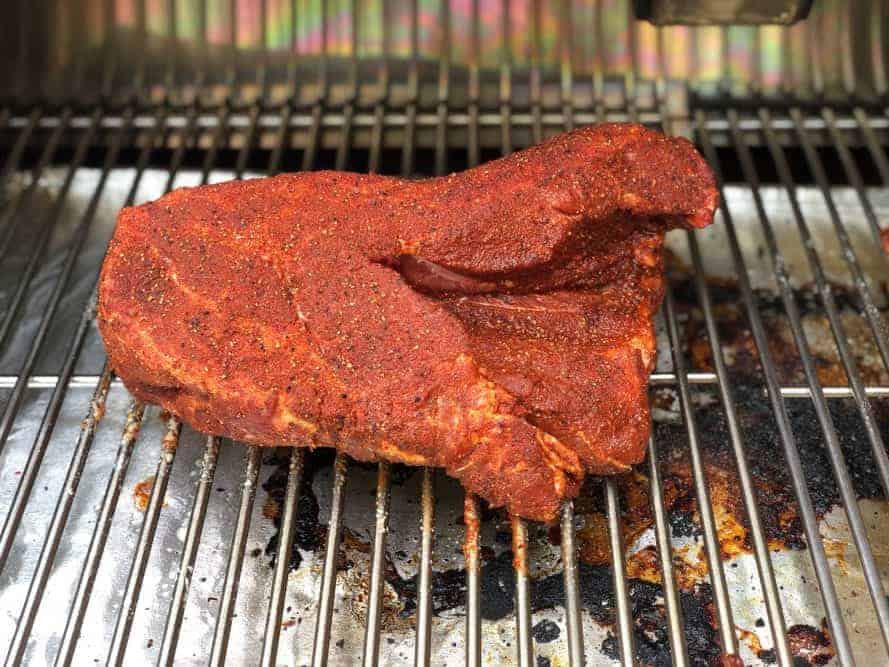 Some go fat cap up, others go fat cap down. There's school of thought for both. I typically do fat cap down as that leaves the rub (which becomes the crust) undisturbed but you should experiment with both ways and see what works best for you.
Simply maintain the temperature in your smoker and keep the smoke going.
I set the controller on "Extreme Smoke" for about an hour then turned it up to 250°F for the rest of the cook.
I made up some of my butter and rub mop to brush on now and then..
It's basically:
Keep it warm and stirred up while you're using it.
I was able to sit it on the top of the hopper and it stayed warm and melted throughout the cooking process.
Step 4: Wrap or Pan the Pork Butt
When the pork butt reaches about 160°F, it's a great idea to place it in a foil pan or you can wrap it in heavy duty foil. This not only allows you to catch the drippings, it will help it to get done faster as well.
I placed my pork butt down in a pan and just placed another pan on top to create a closed environment.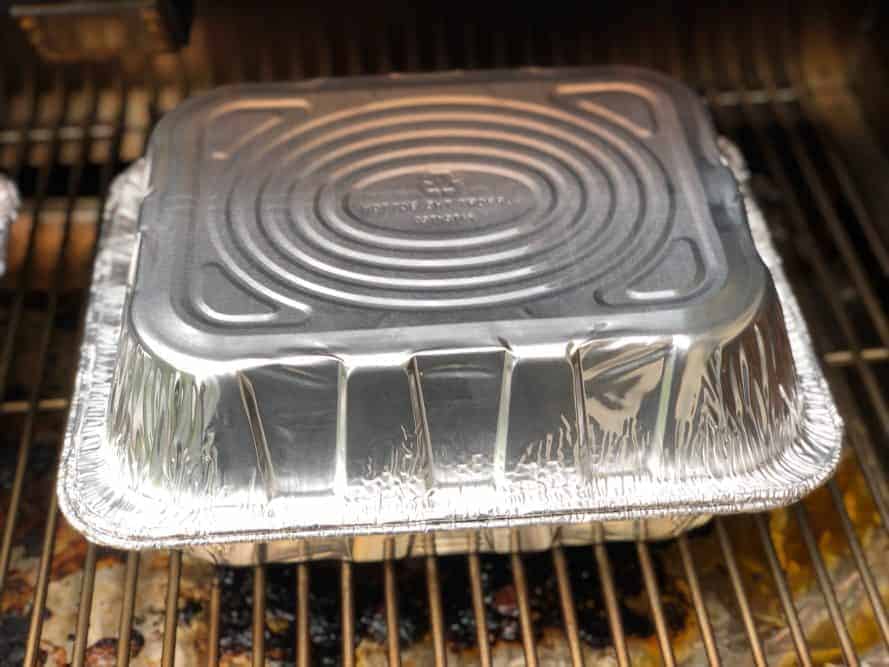 After a few hours of this, I removed the top pan and just let it finish uncovered.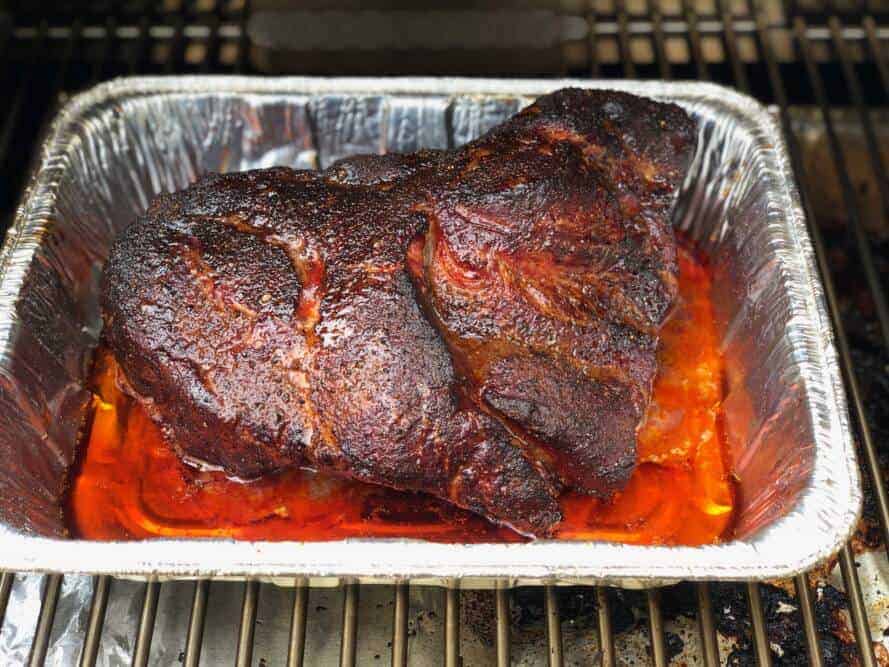 When the pork butt reaches about 205-207°F, it is finished.
Step 5: Finish and Pull
Take the meat into the house, remove it from the pan and lay it on a cutting board with foil tented over it slightly for about an hour. It's way too hot to pull at this point and the resting helps the juices to redistribute throughout the meat so more of it stays in the meat.
This is a great time to pour the juices into a jar and place it into the fridge. You may need this later.
If you don't have a grease separator, you can simply scoop off and discard the congealed fat once it's cold and you're left with the tasty stuff that can be added back into the pulled pork later to juice it up.
After an hour or two, you can begin pulling the meat into pieces. If you cooked it long enough, it will be easy to do. I often use a couple of forks and it just sort of falls apart.
I am pretty picky about pulled pork and remove any clumps of fat, gristle, etc. from the actual meat.
Here's an initial piece that came off and it was begging to be devoured.. beautiful pink smoke ring, eh?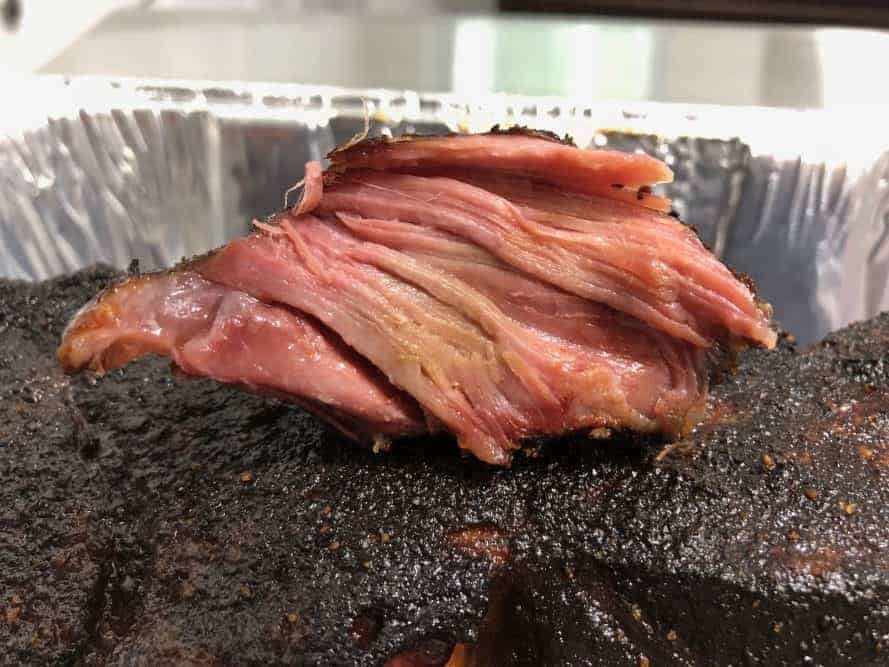 All pulled apart and ready for eating!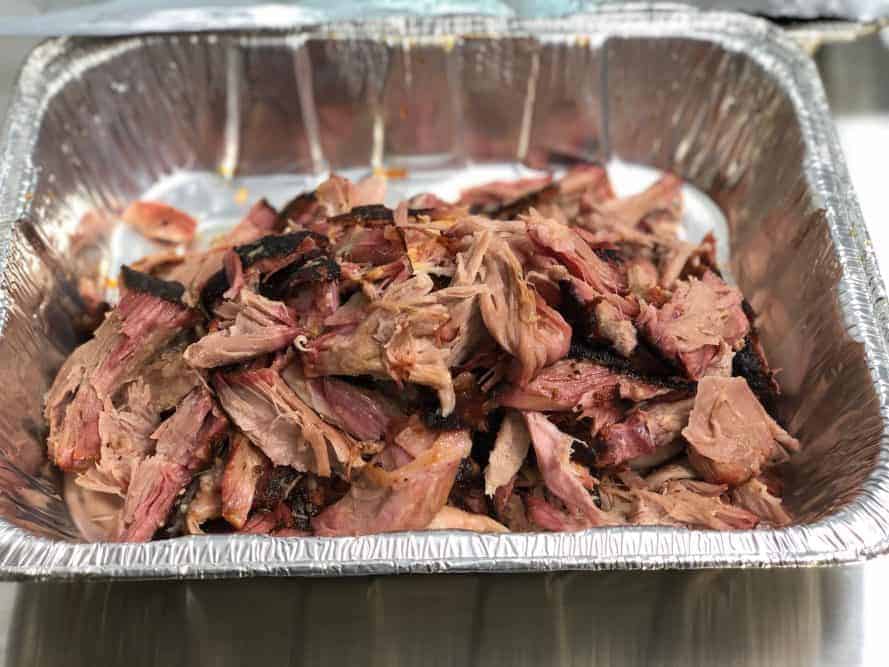 Step 6: Notes and Comments
Pulled pork usually yields about 50-60% of it's original weight. So an 8 lb pork butt will give you about 4-5 lbs of usable pulled pork.
If you want to reheat it, add a good sprinkle of my original rub all over, about ¼ to ½ cup is what I do and about ½ cup or more of the de-fatted juices. If you did not save the juices, a stick of melted butter works well. Reheat in a foil pan covered with foil at 275°F for about 30 minutes or until it reaches a good eating temperature.
Be sure to serve some of my barbecue sauce (Purchase formula here | Purchase bottled sauce) on the side warmed up for dipping. It's also great if you are making sandwiches.
REC'n TEC'n Extreme Smoked Pulled Pork
The
REC TEC
with its PID WiFi controller is one of the most accurate cookers on the planet.. for it's maiden voyage, I decided to cook a boneless pork butt and it was not only beautiful with an amazing smoke ring, but it was smoky, tender and delicious.
Ingredients
Pork butt

(s)

Yellow mustard or oil

Butter and Rub Mop

(recipe below)

Foil pan

Heavy duty foil

Digital thermometer such as the ThemoWorks Smoke or the FireBoard to make sure the meat gets done perfectly.
Instructions
Rub the pork butt with thin coat of yellow mustard. You can omit this step but it helps the rub to stick better.

Set the meat aside while you get the smoker ready to cook.

Set up your smoker for cooking at about 225-250°F using indirect heat.

If your smoker uses a water pan, fill it up.

Place the meat directly on the smoker grate and close the lid. If you are using a pellet grill/smoker, I recommend starting out in the special "Smoke" setting for about 1 hour then adjust to 225-250°F

When the meat reaches 160°F, it's a great idea to place it into a foil pan to catch the drippings and to help it to cook faster.

Use a thermometer such as the ThermoWorks Smoke to monitor the internal temperature of the roast.

When the meat reaches 205-207 °F it is done and perfectly tender.

Allow it to rest under a tent of foil for about an hour before proceeding.

Pull the meat into pieces using a couple of forks and discard any fat and gristle that you find.
Get Jeff's Products!