Bacon Wrapped Stuffed Sausage Fatty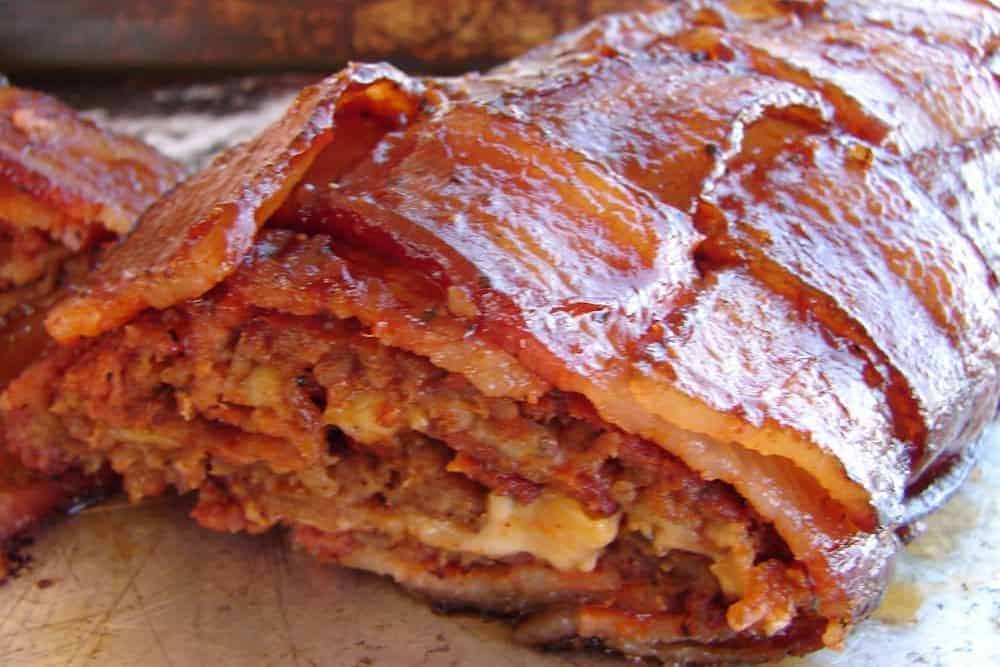 Smoking-Meat.com is supported by its readers. We may earn an affiliate commission at no extra cost to you if you buy through a link on this page.
In this recipe, I show you how to make one of my most favorite smoked delicacies.. the bacon wrapped stuffed sausage fatty also called a Bacon Explosion.
Around here we just call it a fatty and everyone knows what we are talking about.
If you have never tried eating one of these or making one then you are in for a real treat.. it is unbearably delicious and it's not nearly as difficult as it looks. The first time may not go so fast but once you see the process, the lights will come on and the next one will go much faster and easier.
Helpful Information
Prep Time: 30 minutes
Cook Time: 2.5 to 3 hours
Smoker Temp: 225-240°F
Meat Finish Temp: 160°F
Recommended Wood: Mesquite, Pecan or Hickory (something robust)
What You'll Need
3 lbs quality, thick sliced bacon
2 lbs ground breakfast sausage (mild or spicy)
8 oz Pepper Jack cheese slices
2 jalapeno peppers
2 gallon-sized ziplock bags
2 pieces of wax paper (I use parchment paper)
Step 1: Preparation
I like to do all of my preparation before even starting to put the fatties together. Remove the seeds from the peppers and then dice them up or slice them however you like, make the rub and the sauce, etc.
If you are using onions or other veggies, you can go ahead and slice and dice those as you see fit and set them aside.
The bacon weave will require thirteen pieces of bacon per weave and if you are making two weaves, you will need twenty-six pieces total. Count out and set aside the bacon you will need for the weaves and fry the rest up real nice and crispy. Place it on a paper towel to absorb some of the grease and set aside.
Step 2: Weave the Bacon
This may look difficult but once you do it one time, you will see how easy it really is.
Lay out 7 pieces of bacon horizontally on the wax paper butting them up to each other with no overlapping.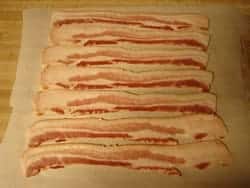 Now remove the 2nd, 4th, and 6th piece and lay them aside.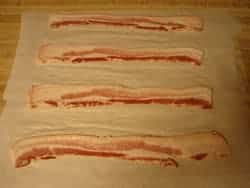 Lay a piece of bacon vertically all the way to the left and on top of the horizontal pieces.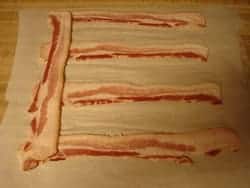 Replace pieces 2,4 and 6 that you removed earlier to the exact location that you removed them from.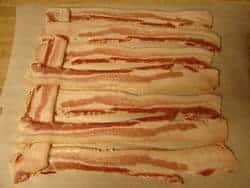 Fold horizontal pieces 1, 3, 5, and 7 back to the left over the top of the first vertical piece.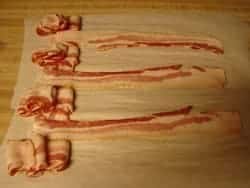 Lay down the 2nd vertical piece just to the right of the 1st vertical piece and lay horizontal pieces 1, 3, 5, and 7 back down into their original location.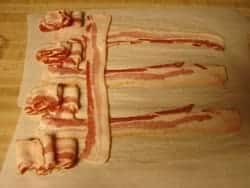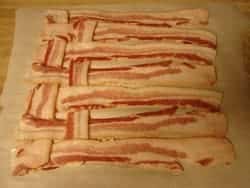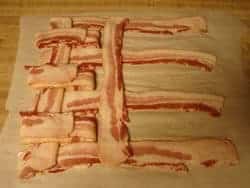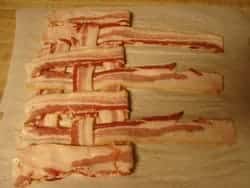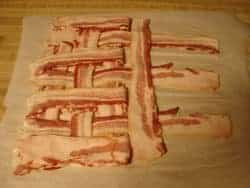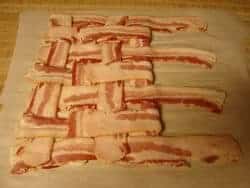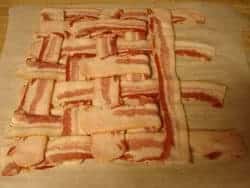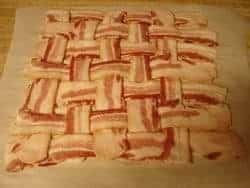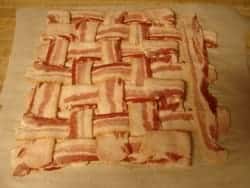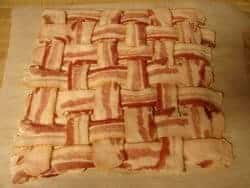 You get the idea.. continue this alternating pattern until you have 6-7 vertical pieces of bacon woven into the 7 horizontal pieces.
This completes the weave that will be wrapped around the roll of stuffed sausage.
Sprinkle a healthy portion of my original rub onto the bacon weave(s) and set aside.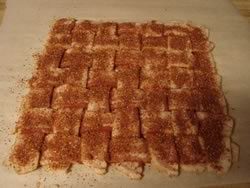 Step 3: Flatten the Sausage
Place the one pound sausage roll into a gallon sized ziploc bag and seal it up.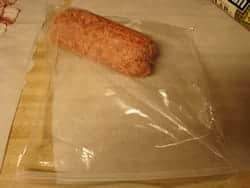 Then use your hand or a rolling pin to flatten it out to an even square. To avoid air pockets you can snip off a corner or two of the bag to allow some air to escape.
You can also just flatten the sausage out into a square that is approximately the same size as your bacon weave or slightly smaller without using a bag.
If you used the bag to make the square of sausage, use a very sharp knife to cut the top of the plastic away from the sausage.. down one side, across the bottom and up the other side to where the zipper is located.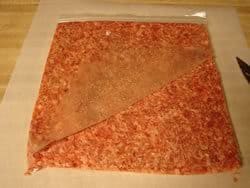 You should then be able to lift the sausage square up and flip it over carefully onto the wax paper allowing you to then remove the remaining bottom of the plastic bag from the sausage.
Step 4: Stuffing
What you put on the sausage is a matter of preference.. I made one the traditional way with a layer of my barbecue sauce , 5-6 slices of pepper jack cheese, 10 pieces of bacon fried crispy and torn into small one inch pieces.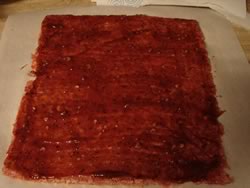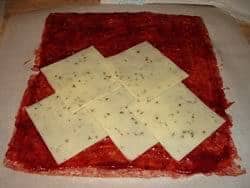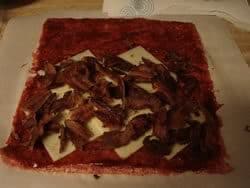 The second one was simply 5-6 pieces of pepper jack cheese, spinach greens, chopped red onion, and one seeded, chopped jalapeno.
Note: place all of the stuffing in the bottom two thirds of the sausage square for best results.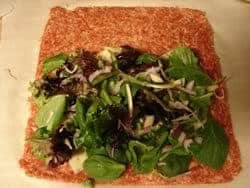 Step 5: Rolling Up the Sausage
Lift up the wax paper and roll the sausage as tightly as possible making sure that the ingredients are rolled up into the sausage. An assistant is very helpful with this process.
Be sure to remove the wax paper as you go so it does not get rolled into the sausage as well.
When it is completely rolled up, very carefully lift up the roll of sausage and place it on top of the bacon weave at the bottom end.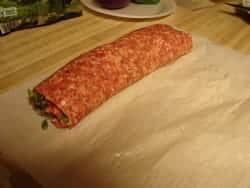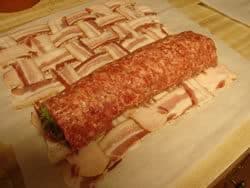 Step 6: Wrapping the Bacon Weave Around Sausage
As with the sausage, lift the bottom of the wax paper up to help start the bacon weave around the sausage.
Continue to roll the bacon weave until it is completely around the sausage roll. Be sure to keep the wax paper pulled back so it does not get rolled up with the bacon weave.
Brush on another coating of the barbecue sauce and you are ready to place on the smoker.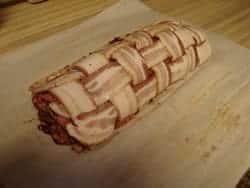 Step 7: Get the Smoker Ready
Prepare your wood, charcoal, electric or gas smoker for about 225-240°F. I used mesquite for this experiment since I wanted a really nice robust smoke flavor.
Feel free to use your favorite type of wood. I would imagine that pecan, oak, apple, cherry, etc. would all be wonderful woods to use.
Step 8: Smoke Time
Place the fatties on the grate. The bacon wrapped stuffed sausage rolls will take about 2-3 hours to reach 165°F in the center. I recommend that you keep the smoke flowing for at least 2 hours. Use a digital probe meat thermometer and remove them from the smoker when they reach 165°F.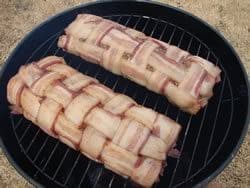 I have read that it takes about one hour per inch of thickness. I am not sure how well that holds true but one of mine got done about 30 minutes before the other one. The one that got done early was thicker than the one that took the longest so.. go figure.
Let the temperature tell you when it is done no matter how long it takes.
I recommend a digital probe meat thermometer such as the Smoke by Thermoworks to monitor the temperature of the fatty while it cooks.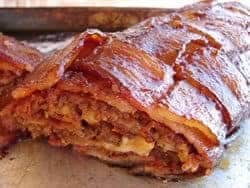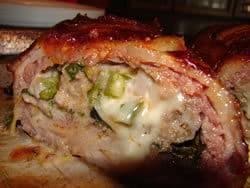 Option: Crisping up the Bacon
When you first remove the fatty from the smoker, the bacon on the outside will not be crispy. If you prefer crispy bacon then pop it into a 500°F broiler for a couple of minutes but keep a very close eye on it– it will burn if you're not careful.
I have also wondered if you could place the whole fatty on a griddle once it is done smoking and do a fry on the outside of the bacon weave after it is finished. I have not tried this but I have a feeling it would work.
If you do the griddle trick, you would probably want to put toothpicks thought the fatty to make sure the bacon does not come unwrapped. You would also have to turn it a few times to get all sides crisp.
If you happen to try this, let me know how it goes.
Step 9: Slice and Serve
There are no rules as to how to eat these. Let them rest for about 10 minutes then slice them into 1/2 inch pieces to be eaten as is, on a large biscuit or make a sandwich out of it. Either way, they are simply delicious and you will do these time and time again, I promise!!
Want a Healthier Fatty?
Purchase two pounds of turkey sausage and two pounds of turkey bacon. I know.. I know!! It won't be as good as a real pork and real bacon but if you are on a reduced calorie or reduced fat diet then maybe this would be an "ok" alternative.
Bacon Wrapped Stuffed Sausage Fatty – Bacon Explosion
This bacon wrapped stuffed sausage fatty tutorial is just what you need to wow your family. Also called a bacon explosion in some circles.
Author:
Prep Time:

30 minutes

Cook Time:

3 hours

Total Time:

3 hours 30 minutes
3

lbs

quality ((thick sliced bacon))

2

lbs

ground breakfast sausage ((mild or spicy))

8

oz

Pepper Jack cheese slices

2

jalapeno peppers
Jeff's original rub ((purchase recipes here))
Jeff's barbecue sauce ((purchase recipes here))

2

gallon

-sized ziplock bags

2

pieces of wax paper ((I use parchment paper))
Instructions
Start by prepping your vegetables and doing any slicing, cleaning, chopping ,etc..
Make a bacon weave on a piece of wax or parchment paper that is  7 slices by 6 slices. Weave them so they interlock and it forms a blanket of bacon.
Sprinkle some rub on the top of the bacon weave and set aside.
Place 1 lb of bacon into a gallon-size zip top bag and press it out flat. Snip off a small piece of the corner of the bag to avoid air bubbles.
Use a sharp knife or scissors to cut and remove the top side of the zip top bag.
Flip the flattened sausage over onto a piece of wax or parchment paper.. you can also just leave it on the plastic if you prefer.
Add the stuffing by layering on spinach, cheese, onions, peppers, egg slices, etc.
Use the plastic or was paper under the flattened sausage to help you roll it up. Do not roll up the plastic, continually pull it away as the sausage rolls.
Move the stuffed, rolled up sausage onto the edge of the longest side of the bacon weave.
Use the wax or parchment paper to help you roll the weave over the sausage roll making sure to continually pull the paper away as the weave is rolled up.
Set up your smoker for cooking at 225-240°F with indirect heat. I prefer to leave the water pan dry for these to encourage the bacon to crisp up better.
Smoke cook for 2.5 to 3 hours or until the internal temperature reaches 160°F.
Let them rest for about 10 minutes then slice about ½ to ¾ inch thick using a sharp knife.
Great on sliders or as a side for fried eggs at breakfast!
Did you know? You can order the MASTER FORMULAS which allow you to make Jeff's rubs and barbecue sauce at home using your own ingredients! Order the Recipes