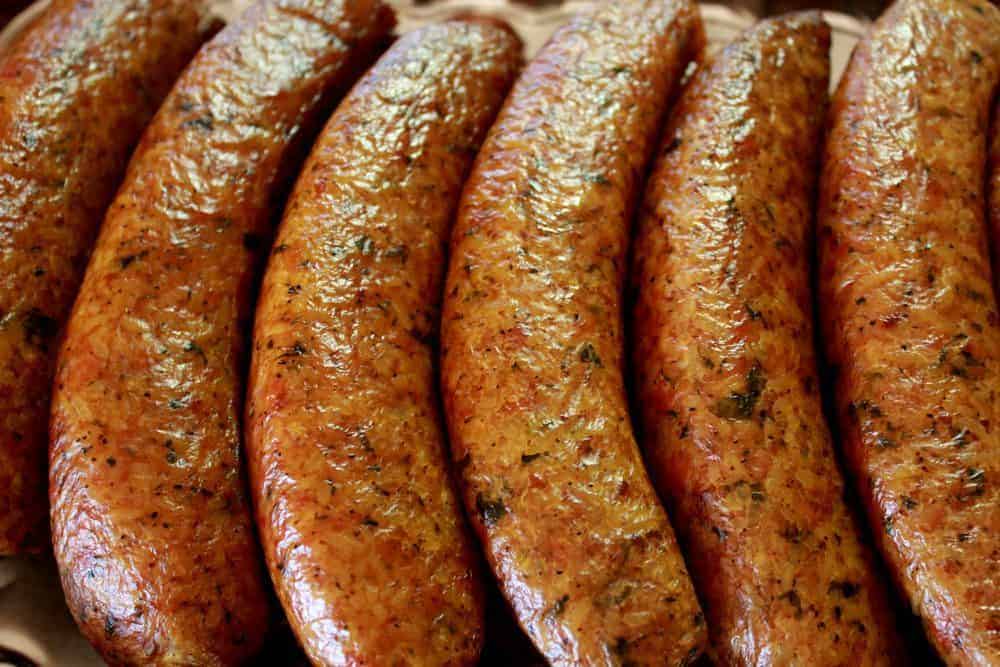 Smoking-Meat.com is supported by its readers. We may earn an affiliate commission at no extra cost to you if you buy through a link on this page.
Read this article without ads
Hello friends and welcome to this fine June 2009 edition of the smoking meat newsletter! I have been doing lots of experimentation with different meats and products so as to come up with some new things to share and this month I am going to share my smoked boudin recipe.
This stuff nearly blew my socks clean off.. I think if my shoes had not been tied real tight it probably would have;-)
At any rate.. I have always eaten Cajun boudin (pronounced boo-dan) either boiled or slightly pan seared but smoking it just adds a whole new dimension.
Here in a bit, I am going to share this lovely treat, how to smoke it and where to order it if you aren't lucky enough to be able to find it locally.
Just for a second I want to mention as always that we are solely supported by the products that we sell and by the donations that come in. A few dollars here and a few dollars there is what pays the bills and for that I am thankful to all of you.
Smoked Boudin
Now here in Tulsa we are extremely fortunate or at least I seem to think so.. our local walmart grocery has been carrying boudin in the meat section of the store. You have to look for it and if you can't find it just ask the "meat person" and if you are really lucky, they will know what you are talking about and direct you right to it.
Boudin is basically rice and pork with some other spices and flavors added in. It is better than any sausage you ever eat and up until recently I had never eaten it smoked.
Boudin is usually placed in just a little water and heated up that way or thrown on the grill – that is how you heat it up quick. As with all things smoked, it requires patience but you soon learn that the wait is worth it.
Smoke goes with boudin much like it goes with ribs.. after experiencing it that way you just don't want to eat it any other way.
Assuming you have found some boudin and purchased some.. prepare it by opening the package and brushing on a little EVOO (extra virgin olive oil) onto each one. If you want to live on the wild side you can sprinkle on a little rub. I usually don't add anything to the kind I buy.
Get the smoker going and once it is perking along at about 225 degrees F, place the boudin
directly on the grate and close the lid.
About once every hour, brush on some fresh EVOO and close the lid again.
After about 3 hours the boudin can be removed from the smoker and served. Some like to eat it
with crackers, others make sandwiches out of it..
Me.. I like to just eat it like a banana.. skin and all.
When I was in Louisiana, I had a boudin burger and it was simply delicious. Now, mind you it was not smoked so my idea of delicious was based on a much lower bar than it is now.
I have included my recipe for the burger using smoked boudin below.. this is guaranteed to
make you happy.. VERY happy!!
Smoked Boudin Burger Recipe
Ingredients:
Large Hamburger buns
3-4 links of boudin
Flour
salad items like lettuce, tomato, onion, cheese
condiments like ketchup, mustard, mayo, Tabasco, whatever
Directions:
Extract smoked boudin from the casing and form into a large patty. Roll patty in flour and fry until golden brown.
Toast inside of buns lightly just before patties are done frying.
Place fried boudin patty on bun and add lettuce, tomato, mayo, onions, whatever you like on your burger.
Enjoy with home cut fries and a tall glass of sweet iced tea.
You will love this and you better make extra 'cause all of those folks who said it did not sound good will take a bite and then want their own sandwich.
Do yourselves a favor and try this.. you can give me a real manly hug later for turning you on to another one of life's good things;-)
Note: In the event that you cannot find boudin anywhere in your area, you can order it online from the Cajun Grocer.
Be sure to tell them that Jeff from Smoking-Meat.com sent you their way.
Competition BBQ Secrets Revealed – Ordering Info
Remember that Competition BBQ Secrets book that I offered in late November of 2008, the response was amazing and many of you sent emails thanking me. Since then, I have had quite a few requests asking for the information to order the e-book so here it is again for anyone who is interested..
Competition BBQ Secrets Revealed
The book has a ton of great info on smoking meat and we get a little cut from it as well..
My Recipes
As always, I offer my rub recipe and my sauce recipe at a price that helps us pay the bills and affords you the ability to wow all of your friends and family with a couple of the best recipes you can find anywhere. I am a little prejudiced cause I engineered these myself over the course of about 6 years but since then I have had thousands of folks tell me that they have not tasted better rub or sauce anywhere.
I am not going to rant on and on about it.. here is a couple of recent testimonies from folks just like yourself who decided to take the chance and were very glad they did!
---
I bought your rub/sauce recipes and really like the rub. I used it on back ribs, brisket and some sausage, and a tritip yesterday every thing came out wonderful!
---
I threw away all my other books and cut outs from different magazines and only follow your website now. The course was great and I purchased the rub & sauce recipe. Use the rub already and loved it
---
I purchased your rib and sauce recipes, and brother I have to tell you–one taste and I could instantly tell I was working with something on a completely different level from anything I had ever used. It's like a savory symphony playing on your tongue, it must have taken tons of experiments to perfect. My kids like it so much, they even steal some from my ziploc and eat it plain!
---
Folks, I don't pay for these testimonies.. they speak for themselves. Furthermore, it supports the site and I have a feeling that yours just might be the next testimony I get!
My very own rub recipe and sauce recipe.. $18.95 and in the words of so many… worth EVERY penny.
Get Jeff's Products!