Spicy Orange Juice Brined Smoked Brisket Flat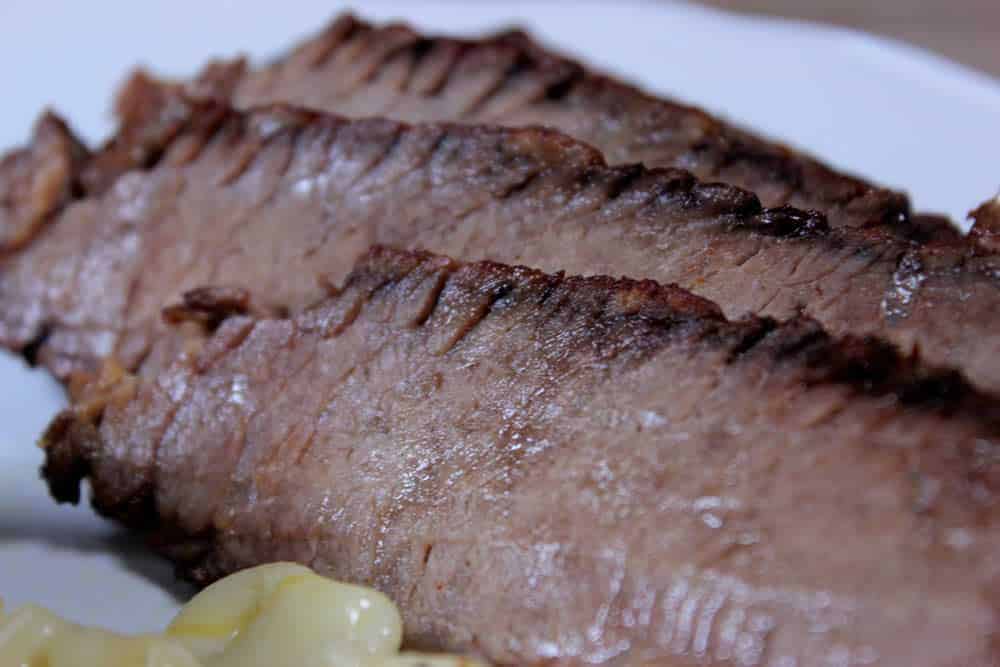 Smoking-Meat.com is supported by its readers. We may earn an affiliate commission at no extra cost to you if you buy through a link on this page.
Read this article without ads
Smoked brisket is the holy grail of beef barbecue and one of the most intimidating things to cook in the smoker for many folks new to cooking with a smoker.
I can say that I have turned out some amazing briskets in my time and a few that I don't like to talk about but, all in all, I am always up for a challenge and trying to improve my process.
While cleaning out the freezer a few days ago, I found a 4 lb brisket flat that was just crying out to be smoked and I heeded the call but, with a twist. I decided to brine it with some orange juice and something to add a little spiciness to it.
You don't usually think about brining when you think about smoked brisket but then I've never been one to be stuck in a rut with my cooking methods. I love to experiment and sometimes it works and other times not so much.
This is one that worked quite well and I highly recommend that you try it very soon.
Important Information
Prep Time: 1 hour
Brine Time: 8-10 hours
Cook Time: 9 hours
Smoker Temp: 240°F
Meat Finish Temp: 200°F or tender
Recommended Wood: Red oak or pecan
What You'll Need
4-5 lb Brisket Flat
1 quart orange juice
Tabasco brand Habanero hot sauce
Kosher salt
1 gallon zip top bag or other brining container
Yellow mustard
Heavy duty foil
Brining the Brisket Flat
Remove the brisket from the package and rinse it off under cold water. Pat dry with a paper towel and set it aside.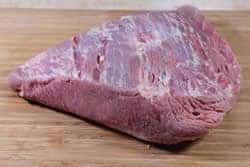 Make the orange juice brine by pouring 1 quart of orange juice and 2 TBS of Tabasco brand habanero sauce into a pitcher and adding ¼ cup of kosher salt.
Note: If you tend to like things really spicy, you might try adding 4-5 TBS of the habanero sauce (if you dare).
Stir until the salt dissolves completely.
Here is what the hot sauce bottle looks like: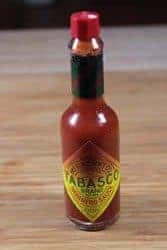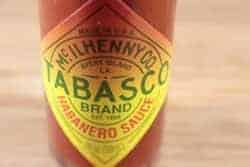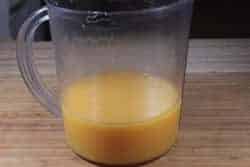 Place the brisket flat in a gallon sized zip top bag or another glass or plastic container with a lid.
If you use a different brining container you may have to make extra brine to make up for the extra room (the meat must be submerged)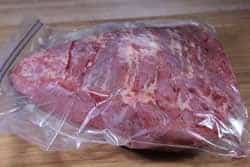 Pour the orange juice brine over the brisket until it is completely covered.
Press out as much air as you can and seal it up.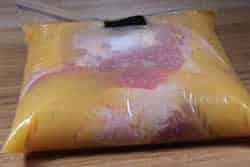 I used a piece of heavy duty tape to tape the zip top to the top to prevent leakage. I also placed it down in a large bowl to further guarantee that it did not leak.
The entire bowl with the brisket/brine bag goes into the fridge so that it stays below 40°F.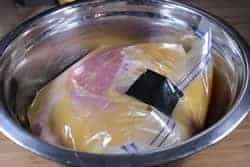 9 hours later, after several turns and repositions to make sure the brisket brined evenly, I removed the brisket from the fridge and rinsed it several times under cold water to remove any excess salt.
At this point, I wanted to see what the flavor was like up front to make sure it was not too salty. I cut off a small slice to fry up and to also show which way the grain was running.
I fried the small slice of brisket on medium-high heat for a couple of minutes and tasted it. It was not over salty but I felt it could use more spiciness for me. Unfortunately, I was cooking for the entire family and I did not want to over-do it.
If you do this and it does happen to be too salty or too spicy, you can soak the brisket in water for several hours, changing it every 30 minutes or so to reduce the salt and/or flavor.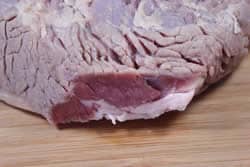 The brisket is now ready for seasoning and smoking.
Seasoning the Brisket Flat for Smoking
Apply a little yellow mustard (or even some spicy brown mustard would work) to the entire outside of the brisket flat as a sticky base for the rub to stick to.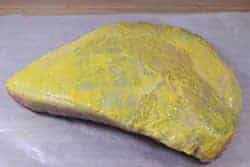 Sprinkle my rub generously all over the top, bottom and sides of the brisket.
I say be generous with it and you might say, "wow, that's a lot of rub" but some of that will fall off, get rubbed off, etc. so you won't end up with as much as you might thing when it's all said and done.
Having said that, my rub recipe is low in salt and big on flavor so you can use more than you would if you were using something store-bought.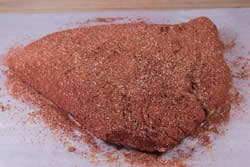 Place it on a bradley rack if you happen to have one or on a cookie sheet so it's easy to carry out to the smoker.
Let it sit for a few minutes until it starts to get that famous "wet" look that lets you know it's ready to smoke.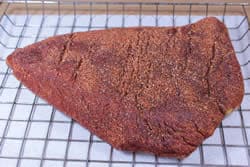 The brisket flat at this point is ready for the smoker.
Getting the Smoker Ready
I have been using the Big Green Egg (BGE) for about the last 3 weeks now running several experiments and trying out some add-ons which I will write about in future articles.
Set the smoker of your choice up for cooking at 240°F for about 8-10 hours depending on the size and thickness of your brisket flat.
If you are using the BGE or any other ceramic cooker, this is an indirect cook and you should use the plate setter or similar heat deflector to make the heat move around the meat instead of directly up from the live coals.
Likewise, in many other smokers, the water pan serves this same purpose and should be used with water. An alternate method would be to use sand in the water pan covered with foil to catch any drippings and to keep the sand from getting dirty.
I have had a lot of requests for pellet grill information so I should have one of these very soon so I can give out helpful tips and information about using this type of cooker.
Here's some information that I have written on various other smokers.
Note: In colder weather, it is advisable to preheat the smoker at least an hour or more before you are wanting to use it. Keep the door closed as much as possible and even skip basting if necessary to maintain proper smoking temperatures.
Smoking the Brisket Flat
If you used a Bradley rack and it fits your particular smoker, you can just lay the rack directly on the grate. If not, place the brisket flat directly on the grate. This flat did not have much of fat cap but I did opt to place it fat cap down so as to not disturb the rub layer on the meat side.
For the BGE, I also placed a shallow drip pan on top of the plate setter and under the grate to catch any drippings. I did not want that stuff mucking up my cooker.
For smoke, I selected some red oak that I had been saving. You can also use regular oak, pecan, or your own favorite smoking wood.
I monitored the temperature of the brisket and once it reached 160 °F I wrapped it in a large piece of heavy duty foil, fat cap down, and placed it back on the grate.
Please note: you do not have to wrap in foil but it does help to power the meat through the stall and helps to retain some moisture in the brisket while it cooks.
I am generally looking for about 200 °F for brisket to be done but, more importantly, I am looking for tenderness. When sticking the probe into the meat, it should feel like it's going into warm butter.. almost effortless with very little resistance.
I know folks who don't even worry about the temperature, they just keep probing it until it feels right and that works just as well.
Once it's reaches that magical point of tenderness, keep it wrapped up but remove it from the smoker and let it sit and rest on the counter for about an hour or you can place it in a small ice chest (with no ice) wrapped in towels or small blankets to keep it hot longer.
A brisket like this can stay hot and safe for 3-4 hours using the ice chest method.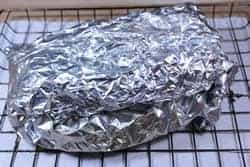 After an hour, I unwrapped the brisket and it was a beautiful piece of tenderness!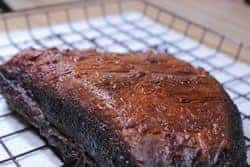 Sliced..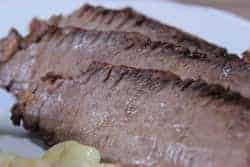 Serving the Brisket Flat
I served this particular brisket with smoked mac and cheese and some "grillin' beans"
I used a different method with the mac and cheese recipe and stirred it often while it cooked to get the smoke flavor all through it instead of just letting the cheese brown on top. The canned "grilling' beans" are not bad for something not home made. I heated them up on the smoker, stirring occasionally and added a few bacon crumbles on top for good measure.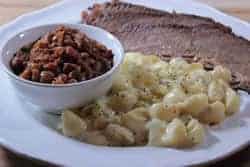 Printable Recipe
Spicy Orange Juice Brined Smoked Brisket Flat
While most of us usually prefer to smoke the entire brisket, a small flat can be a quick way to produce tender slices of juicy and tasty brisket without much fuss. I took it a step further by brining the brisket overnight in a spicy orange juice brine.
Ingredients
4-5

lb

Brisket Flat

1

quart

orange juice

Tabasco brand Habanero hot sauce

Kosher salt

1

gallon

zip top bag or other brining container

Yellow mustard

Heavy duty foil
Instructions
Brining
Rinse the brisket flat with cold water

Pat the brisket dry with a paper towel and set aside

Mix 1 quart of water, 2 TBS of Tabasco habanero sauce and ¼ cup of kosher salt

Stir until salt is dissolved

Place brisket is a gallon sized zip top bag or suitable brining container

Pour orange juice brine over brisket until it is covered

Seal bag and place in fridge overnight
Seasoning
Using cold water, rinse brisket with cold water to remove extra salt

Pat brisket dry with a paper towel

Apply a thin coat of yellow mustard to the outside of the brisket
Smoking
Place brisket directly on smoker grate fat side down

Smoke at 240°F for 8-10 hours or until very tender

Wrap in foil when meat temperature reaches 160°F
Serving
Leave brisket in foil once it finishes and let it rest on counter for about 1 hour

Slice across the grain and serve immediately
Get Jeff's Products!