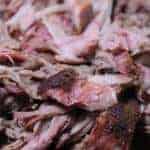 Print
How to Make Smoked Pulled Pork
Smoked pulled pork is extremely easy to make with only a few steps required for getting the pork ready for the smoker. The hard part is in the keeping the smoker going for 14+ hours while it slowly smoke cooks to perfection.
Remove the Skin on Pork Picnic Roast (optional)
Lay the roast on the cutting board skin side up.

Make a cut through the skin right down the center as shown.

While pulling up and away from the center, run the blade of a sharp knife along the attached skin.

Turn the roast over to finish removing the skin.
Mustard and Rub the Pork
Spread mustard all over the meat.

Sprinkle about ¼ cup of rub all over the top of the roast then rub it in so that it mixes with the mustard.

Flip the roast over and get the bottom side the same way.
Ready the Smoker
Set up the smoker for cooking at 225 °F and make sure you have plenty of smoking wood for the long haul. If you are using an electric, charcoal or gas smoker, I recommend having enough wood chips, chunks or splits for about 6-8 hours of smoke.

Once the smoker is running steady at the prescribed temperature, it is time to put the meat on the smoker grate.
Smoking the Pork Roast
Place the pork butt directly on the smoker grate fat side down.

Keep the cherry wood smoke going for 6-8 hours if possible.

I recommend using a meat thermometer for the most failsafe way to tell when the meat is done. Once you've cooked a few and you want to start experimenting with the guess work, go for it.

I like to leave the pork butt open and on the smoker grate for the entire time but if you want to speed things up somewhat, you can wrap it in foil once it reaches 160°F. Once you wrap it, no more smoke is required and it can even be moved to the kitchen oven at 225°F if you want to.

When the pork butt reaches 200-205 in the very center, it is done.
Resting the Pork Butt
Place the wrapped bundle into an empty ice cooler and fill in any remaining space with more towels, small blankets or pillows.

Hold for up to 4h ours if desired or it can be used immediately.