The Ultimate Bacon Jam Recipe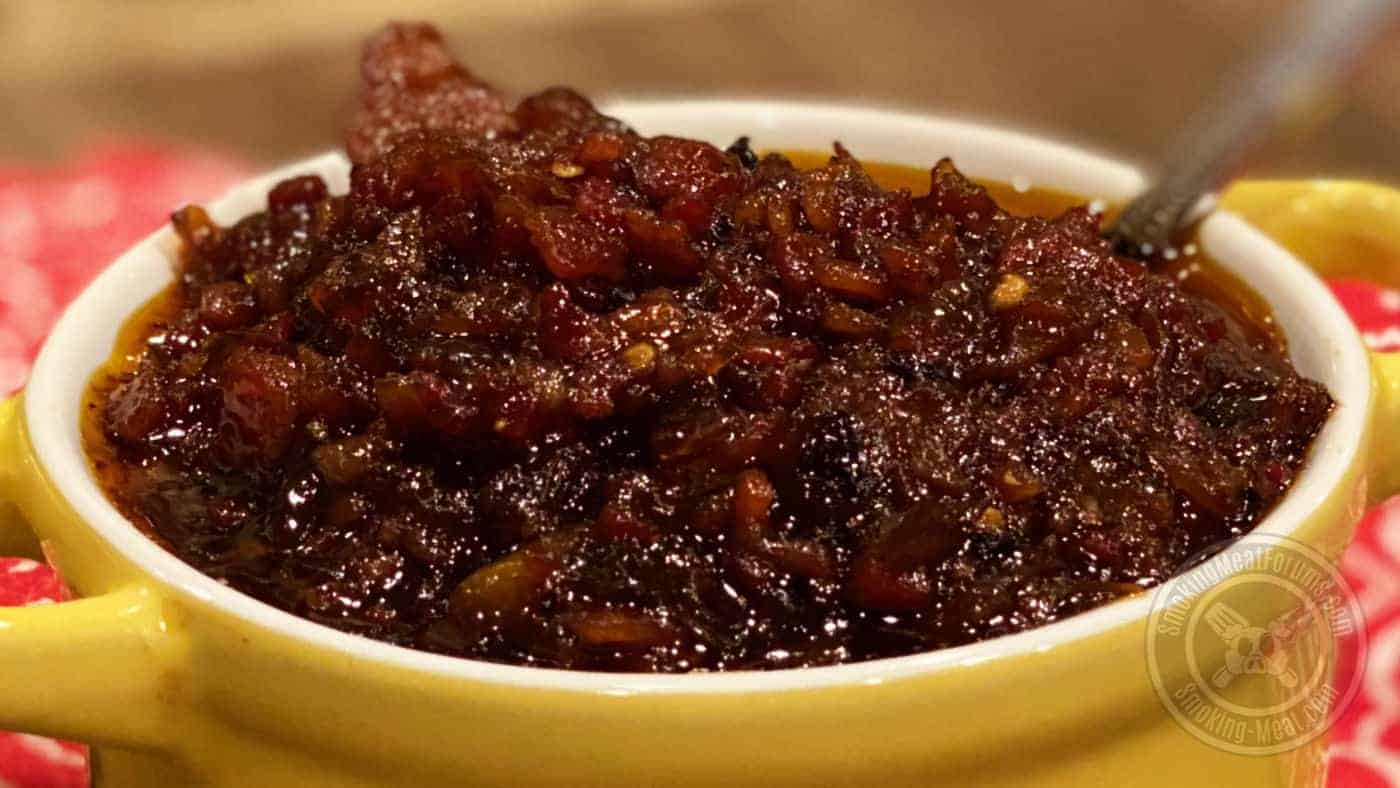 Smoking-Meat.com is supported by its readers. We may earn an affiliate commission at no extra cost to you if you buy through a link on this page.
Read this article without ads
I have wanted to create my own bacon jam recipe for a while now and I finally carved out some time and went to work slinging ingredients around like a mad scientist.
There's actually a lot of similarities between most bacon jams and I had no desire to completely reinvent the wheel but I did want to tweak the heat, the sweetness, and the depth to what I felt was a perfect balance of those three nuances that make bacon jam so dang amazing!
You can of course, tweak this recipe to your own liking if you so desire.
More importantly, make some of this and have it ready as we are going to be using this in several recipes coming up and I personally cannot wait!
Helpful Information
Prep Time: 25 minutes
Cook Time: ~20 minutes
Smoker Temp: N/A
Meat Finish Temp: N/A
Recommended Wood: N/A
Makes: Just shy of a pint
What You'll Need
1 lb bacon
1 large yellow onion, diced or chopped
2 cloves garlic, minced
1 TBS Jeff's original rub
½ cup brown sugar (light or dark is fine)
1 tsp red pepper flakes
1/3 cup maple syrup
1/3 cup apple cider vinegar
¼ cup coffee (strong brewed)
2 TBS Jeff's barbecue sauce
Step 1: Cook the Bacon
In the picture below you will see that I cut the bacon into ~1-inch pieces before cooking it. This worked fine but you can also cook the bacon as whole slices if you prefer.
I decided on frying the bacon in a 10-inch iron skillet since I wanted it to be somewhere between soft and crispy.
The end result works best if it is firm but not crispy. Remember that bacon keeps cooking for minute or two when you remove it from the pan.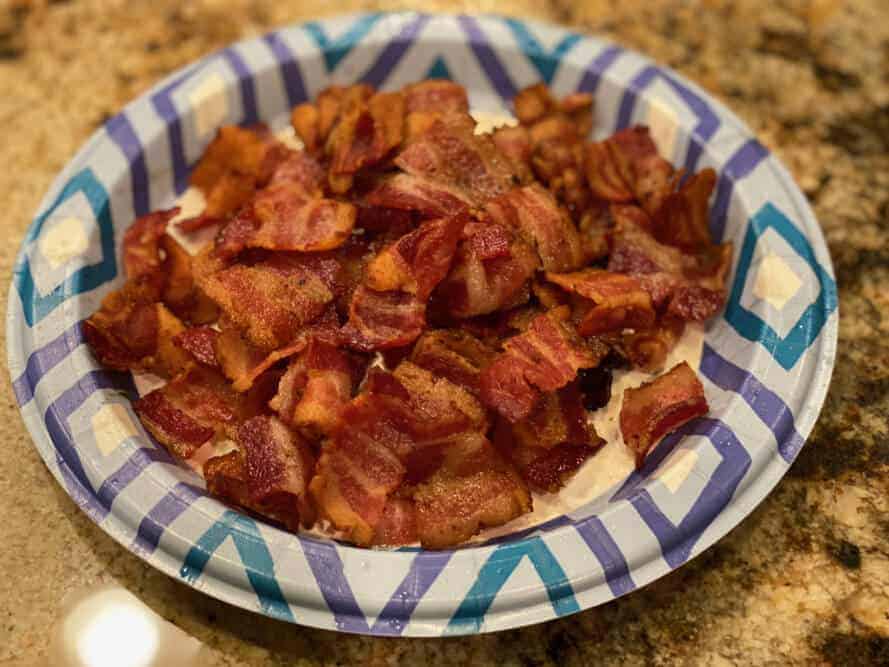 When the bacon is finished cooking, remove all but a couple of tablespoons of the bacon grease from the pan.
Step 2: Dice/Chop the Onion
To do while the bacon is cooking:
Dicing an onion creates nice and neat little cubes while chopping creates various, irregular shapes of onion. I like the texture variation of chopping the onion for this recipe but if you prefer it to be a little more consistent, dicing is the way to go.
I used an onion that was somewhere between medium and large.. not quite a softball, but close.
Yellow onions are nice and sweet and they caramelize up really well but, if you have a large bag of red or white onions that need to be used up, that will work just fine as well.
Step 3: Sauté the Onions & Garlic
Remember that skillet that we used to fry the bacon and then we left a couple of tablespoons of bacon grease in it?
Add the onions and minced garlic to that skillet over medium high heat.
Also add the 1 teaspoon of red pepper flakes so the heat from that can go ahead and start transferring into the mix.
Let this mixture cook, stirring occasionally until the onions are caramelized well and soft.
When they are done, leave them in the pan but set them aside.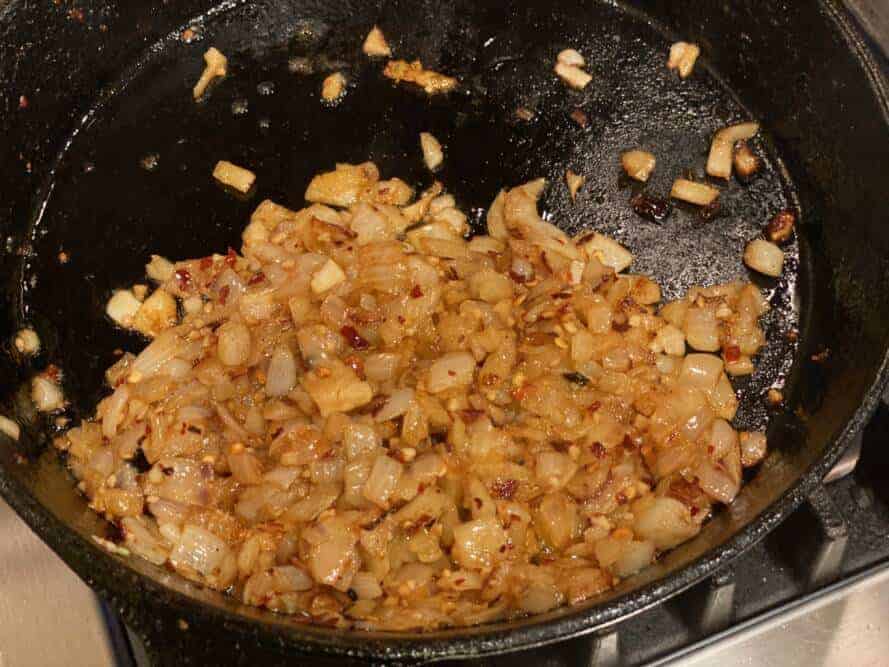 Step 4: Chop the Bacon
To do while the onion/garlic is cooking:
Grab a large, sharp knife and with the bacon piled up on a cutting board, commence to chopping it into smaller pieces. This will end up giving you a pile of various sized pieces of bacon ranging from crumbs to ¼ inch pieces.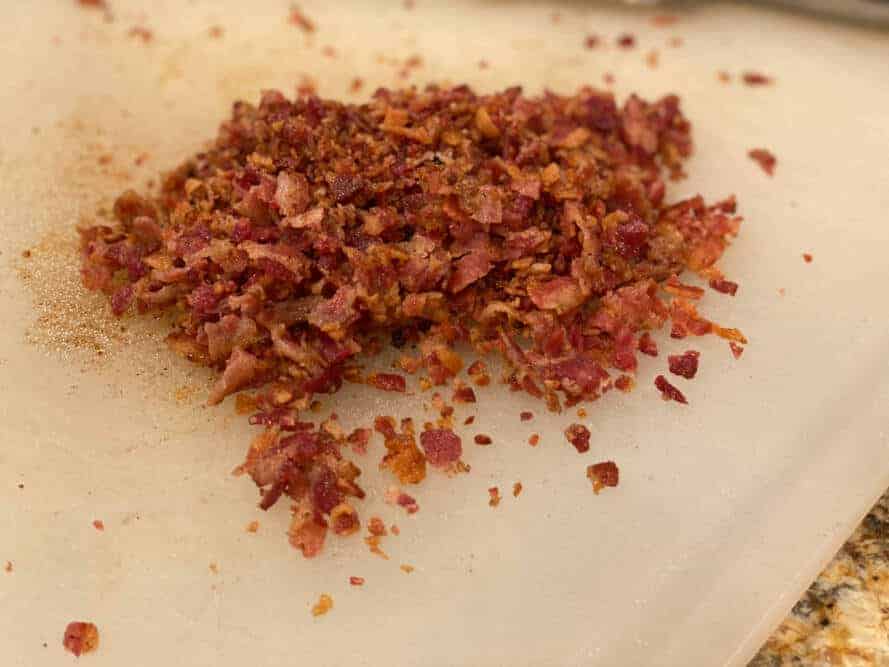 If you prefer the bacon pieces to be more consistent, you can stack it up and cut it into more evenly sized pieces.
Step 5: Let's Make Some Jam!
Place that pan of sautéed onions and garlic over low heat and add the bacon, brown sugar, Jeff's original rub , maple syrup, apple cider vinegar, brewed coffee and Jeff's barbecue sauce.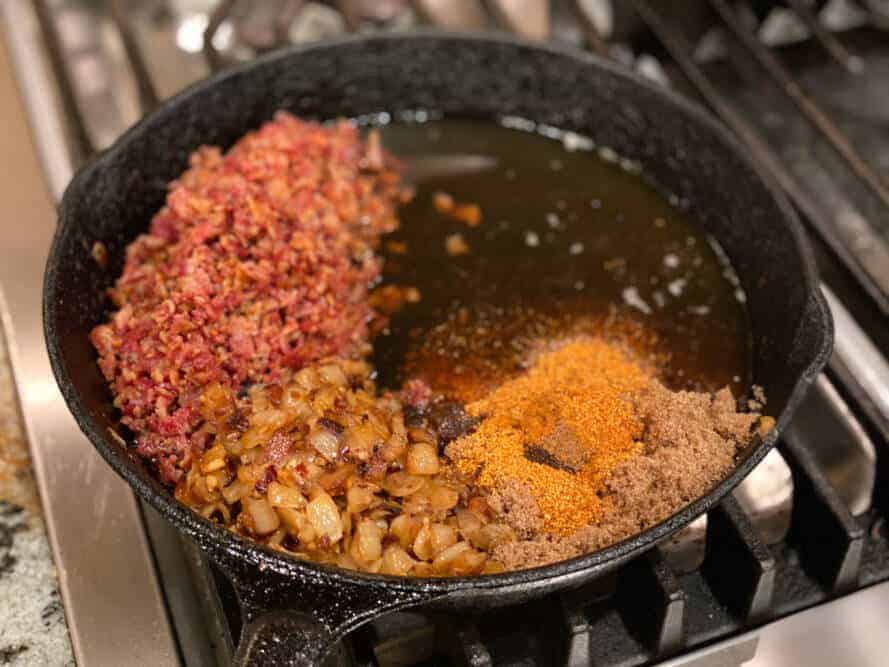 Combine the ingredients really well.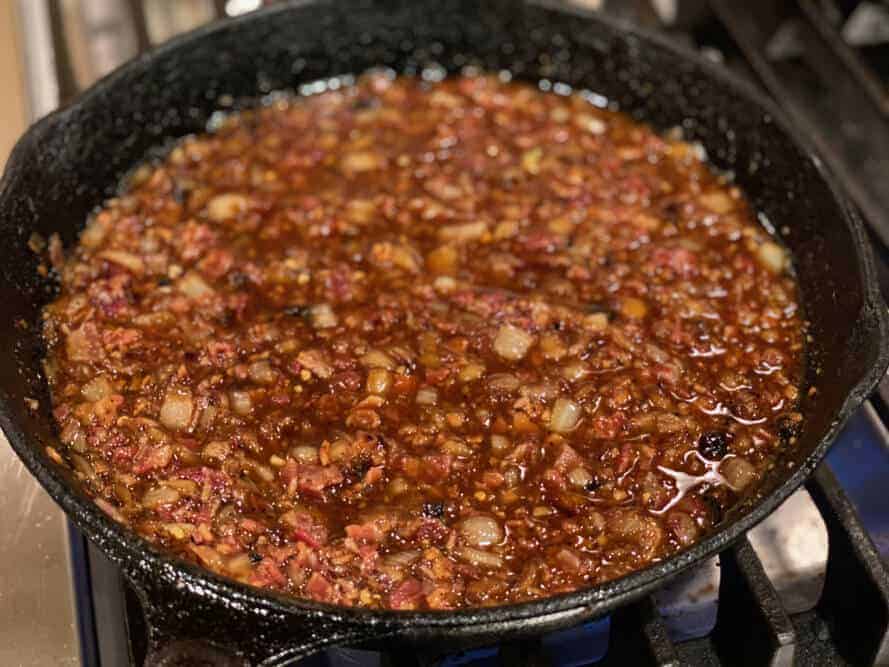 Let the mixture simmer for 15-20 minutes or until the liquid reduces to a thick, syrupy jam.
You'll know it's done when you can drag a spoon through it and the jam stays in place for a few seconds before trying to come back together again.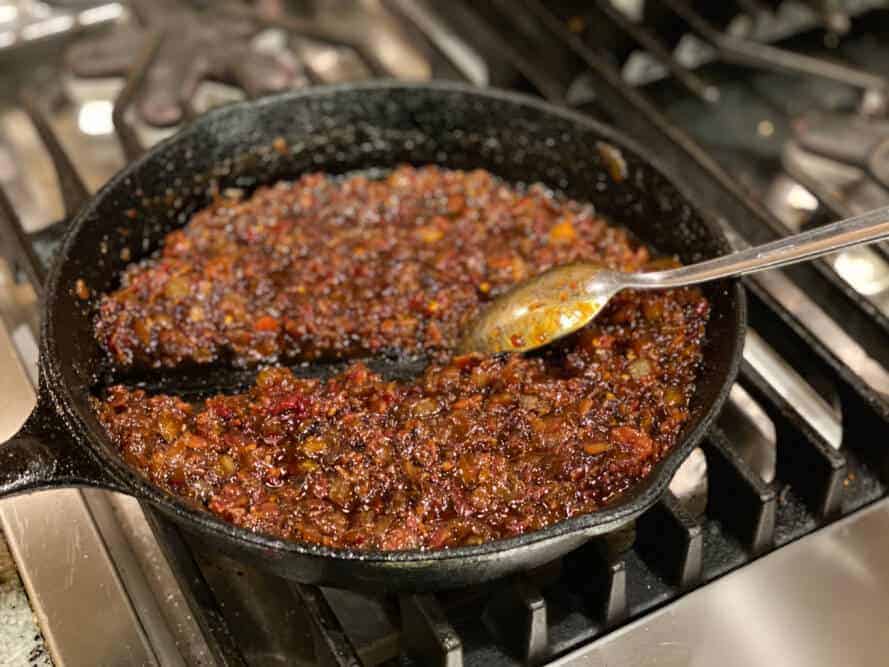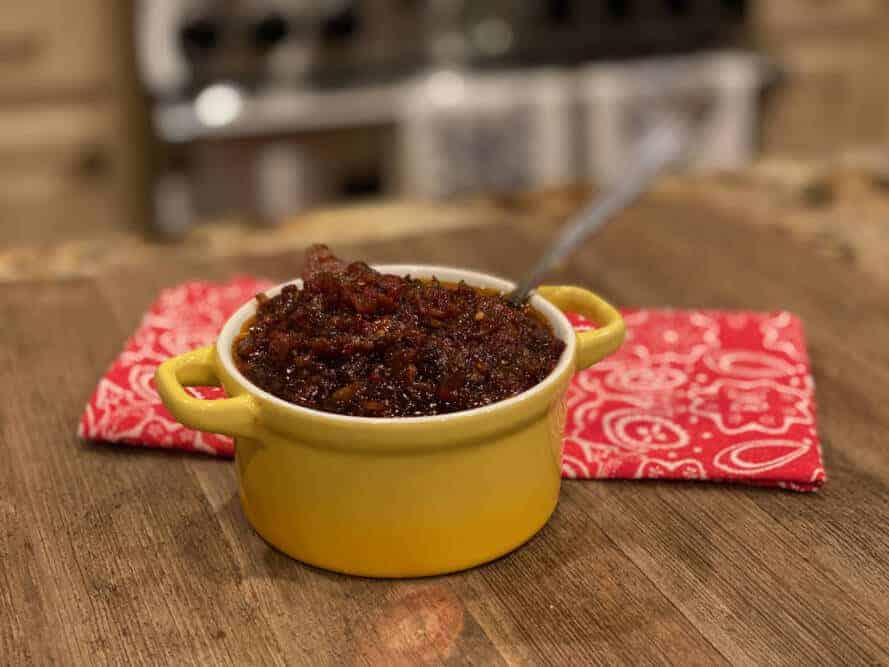 Step 6: How to Use
How much do I love bacon jam? Let me count the ways!
Great on anything or sneak a bite here and there when you need a good smile.
It's great on:
Hotdogs
Burgers
Tacos
Pizza
Toast
Crackers
Stuffed into other meat
On a cheese tray
Etc.
The Ultimate Bacon Jam Recipe
Ingredients
1

lb

bacon

1

large yellow onion

(diced or chopped)

2

cloves

garlic

(minced)

1

TBS

Jeff's original rub

½

cup

brown sugar

(light or dark)

1

tsp

red pepper flakes

⅓

cup

maple syrup

⅓

cup

apple cider vinegar

¼

cup

brewed coffee

2

TBS

Jeff's barbecue sauce
Instructions
Slice bacon into 1-inch pieces and cook until done but not quite crispy. Remove all but about 2 TBS of the bacon grease from the pan.

Chop bacon into pieces that are 1/4 inch or less.

Dice onion, mince garlic.

Sauté onion, garlic and red pepper flakes in the 2 TBS of bacon grease that we left in the pan over medium high heat until onions are caramelized and soft.

Simmer mixture over low heat until liquid is reduced and a spoon dragged through the mixture takes a few seconds to come back together.

Bacon jam should be wet and sticky but not soupy.

Enjoy on everything!
Notes
Great on:
Hotdogs
Burgers
Tacos
Pizza
Toast
Crackers
Stuffed into other meat
On a cheese tray
Etc.
Get Jeff's Products!