Smoked Pork Loin- Tender, Juicy, Flavorful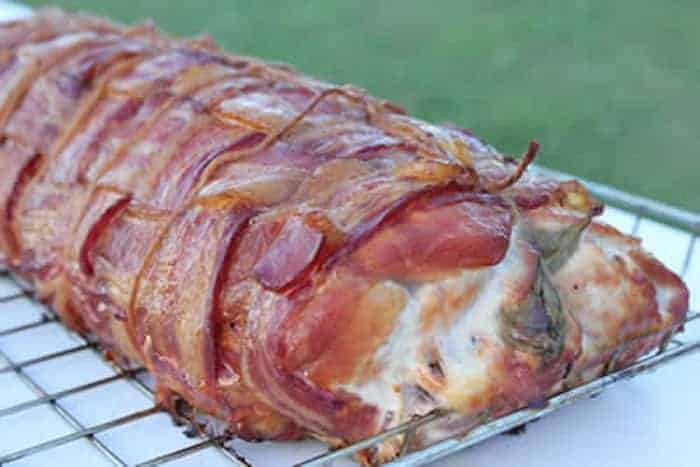 Smoking-Meat.com is supported by its readers. We may earn an affiliate commission at no extra cost to you if you buy through a link on this page.
Smoked pork loin is wonderful and when you wrap it in bacon, well, it is beyond amazing! A big part of making sure smoked pork loin does not end up dry is in cooking it to the right temperature however, wrapping it in bacon also helps a lot to keep it juicy and it's so easy to do!
Here's one you'll do time and time again!
Helpful Information
Prep Time: 30 minutes
Cook Time: 4 hours
Smoker Temp: 225°F
Meat Finish Temp: 145°F
Recommended Wood: Equal mix of peach, pear, cherry and apple
What You'll Need
8-10 lb Pork Loin
2 lbs thin sliced bacon
Link sausage such as andouille (pre-cooked to 160°F)
Baby spinach
Sliced almonds
Peach pie filling
Butcher's twine
The Preparation
A full pork loin is usually way more than my family can eat at one sitting so I normally cut them in half and freeze one of the halves for another day. In this newsletter I have used both halves to show you a couple of variations.
I have taken one of the halves, stuffed it with sausage and wrapped it with single slices of bacon.
The other half has been butterflied, stuffed with peach pie filling, sliced almonds, baby spinach leaves, wrapped with a bacon weave and then tied up with butchers twine to hold it all together.
I am drooling right now just thinking about it!
Sausage Stuffed Pork Loin
To stuff it with sausage you simply use a long sharp knife to cut about a 1 inch slit all the way through the half pork loin. Then slide the link sausage through the hole until it comes out the other side. Use more than one piece if necessary to make it stick out slightly on both ends.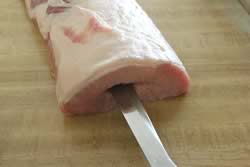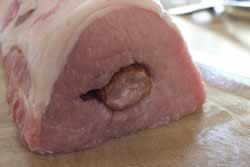 **Note: make sure the sausage is pre-cooked to 160 degrees before stuffing it in the pork loin. Since we are only cooking the pork loin to 145 degrees, the sausage links, which are made from ground sausage would not be entirely safe to eat. Precooking them corrects this issue.
You can use a little olive oil or butter to make this job easier but I usually just make the hole slightly larger than it really needs to be and it has no problems.
Spray or brush a little olive oil onto the outside of the pork loin half and apply Jeff's original rub  liberally. It's a thick piece of meat and my original rub is not super salty like most rubs so you can apply it generously for lots of flavor with no fear of getting it too salty.
Once the rub is applied, lay out your bacon on the counter if you want to do a really neat job or if you are in a hurry you can just drape it over the pork loin. Either way will not effect the taste at all.. just the way it looks.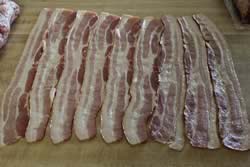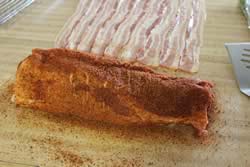 I tried to set a good example and do a real neat job for the pictures but if I was just cooking for myself, I might not be so fussy about it.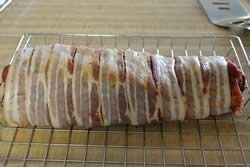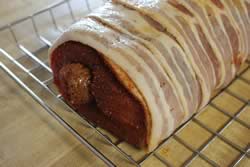 Butterflied and Stuffed Pork Loin
Butterflying pork loins is not too difficult and I certainly need to make a video showing this process. If you are not familiar with this process, you can look it up on YouTube or you can cut a pocket in the pork loin starting at about an inch in on each side of the pork loin and vertically down into the meat without cutting all the way through. The filling can be stuffed into this pocket for a very similar effect.
If you are butterflying it, try to get the pork loin about 1/2 inch in thickness all over once it's laid out flat and it as you can see, it certainly does not have to be perfect. Once it's rolled up, the imperfections just sort of go away. The main thing is that you don't cut through the meat anywhere causing your stuffing to leak out.
Once it's butterflied and laid out flat, spread about 4-5 heaping tablespoons of the peach pie filling onto the top then sprinkle some Jeff's original rub   generously on top of the pie filling.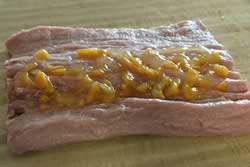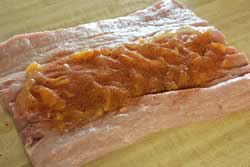 Next lay on some almond slices and a layer of baby spinach leaves just before rolling it all up. You could also use pineapple slices, pecans, cheese, bacon crumbles, etc.. whatever you like to stuff it with. Get as creative as you dare.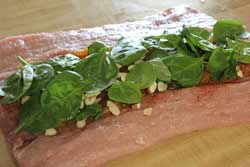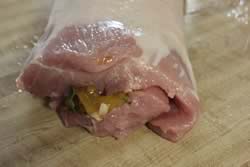 For this one, I am going to show you how to get a little more fancy with it and use a bacon weave instead of just laying the slices over the pork loin. For more information on how to weave bacon, see my instructional pictures HERE
Tip: I forgot to do the weave on wax paper and I had a heck of a time getting that wrapped around the pork loin without the weave coming apart. Make the weave on wax paper and it will make it a lot easier.. trust me!
On this one, I applied Jeff's original rub to the bacon weave instead of the pork loin.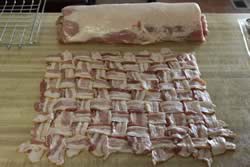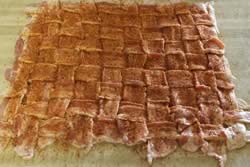 Here is the pork loin all wrapped up in the bacon weave.. ain't it pretty?! I also decided to tie the pork loin up with butchers twine to hold everything together better.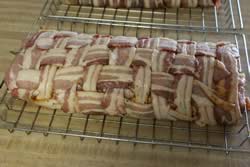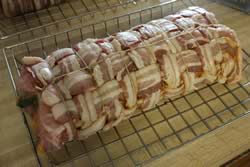 Preparing the Smoker
Prepare your smoker for cooking at about 225°F using indirect heat for around 4 hours depending on the thickness of your pork loin, your smoker temperature and how often you open the door to peek or baste the meat.
Smoking the Pork Loin
Once your smoker is going and maintaining 225°F, place the meat directly on the grate or use a pan and rack to make things real easy. The pan and rack I use can be seen HERE.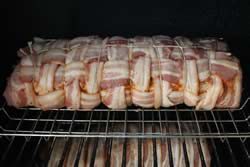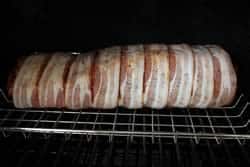 If your smoker uses a water pan, fill it up to help regulate the temperature in the smoker. This also creates humidity in the smoker which reduces the natural drying effect of heated air.
Keep the smoke going for the entire time if possible but if you can't, then at least for 2-3 hours. I used an equal mix of peach, pear, cherry and apple chips for this pork loin and kept it going the whole time.
I did not baste the pork loins until the last 30 minutes or so at which time I brushed my barbecue sauce (Purchase formula here | Purchase bottled sauce) onto the half that was stuffed with sausage.
It took about 4 hours for both pork loin halves to reach 145°F at which time I pulled them out and let them rest for about 10 minutes before slicing.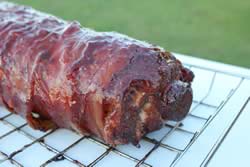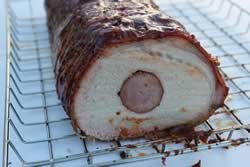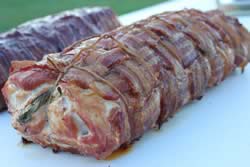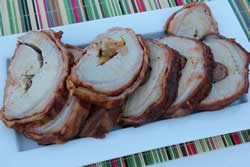 145 Degrees for Pork.. What's Up With That?
The USDA has declared that 145°F is the new safe temperature. This is welcome news when it comes to cuts such as pork loin which are extremely lean and dry out so easily during cooking. The old, outdated 160 degree safe temperature made it almost impossible to enjoy pork loin, at 145°F pork loin is juicy and amazing.
Summary
Sausage Stuffed Pork Loin
Purchase a 8-10 lb pork loin
Cut the pork loin in half (use both as I did or freeze one for later)
Cut a 1-inch slit all the way through the center of the pork loin lengthwise
Stuff with link sausage
Spray or brush olive oil onto the pork loin and apply Jeff's original rub  generously.
Drape bacon over and/or around the pork loin
Place on a Bradley rack for easy moving to and from the smoker
Smoke at 225°F for 4 hours or until it reaches 145°F in the center of the pork loin
Brush with Jeff's barbecue sauce (Purchase formula here | Purchase bottled sauce) about 30 minutes before it is finished cooking
Let it rest for about 10 minutes then slice and serve
Butterflied and Stuffed Pork Loin
Purchase a 8-10 lb pork loin
Cut the pork loin in half (use both as I did or freeze one for later)
Butterfly the pork loin so that it lays flat and is about 1/2 inch thick
Stuff with pie filling, almond slices, and baby spinach leaves or your choice of vegetables, cheese, pie fillings, etc. making sure to apply some of my rub and even some sauce for an extra shot of flavor in the middle.
Roll the stuffed pork loin back up into a roll
Spray or brush olive oil onto the pork loin and apply Jeff's original rub  generously
Make a bacon weave and wrap the bacon around the pork loin
Tie the pork loin up with butchers twine and place on a Bradley rack for easy moving to and from the smoker
Smoke at 225°F for 4 hours or until it reaches 145°F in the center of the pork loin
Let it rest for about 10 minutes then slice and serve
Did you know? You can order the MASTER FORMULAS which allow you to make Jeff's rubs and barbecue sauce at home using your own ingredients! Order the Recipes