Texas Twinkies -Jalapeños Stuffed with Smoked Brisket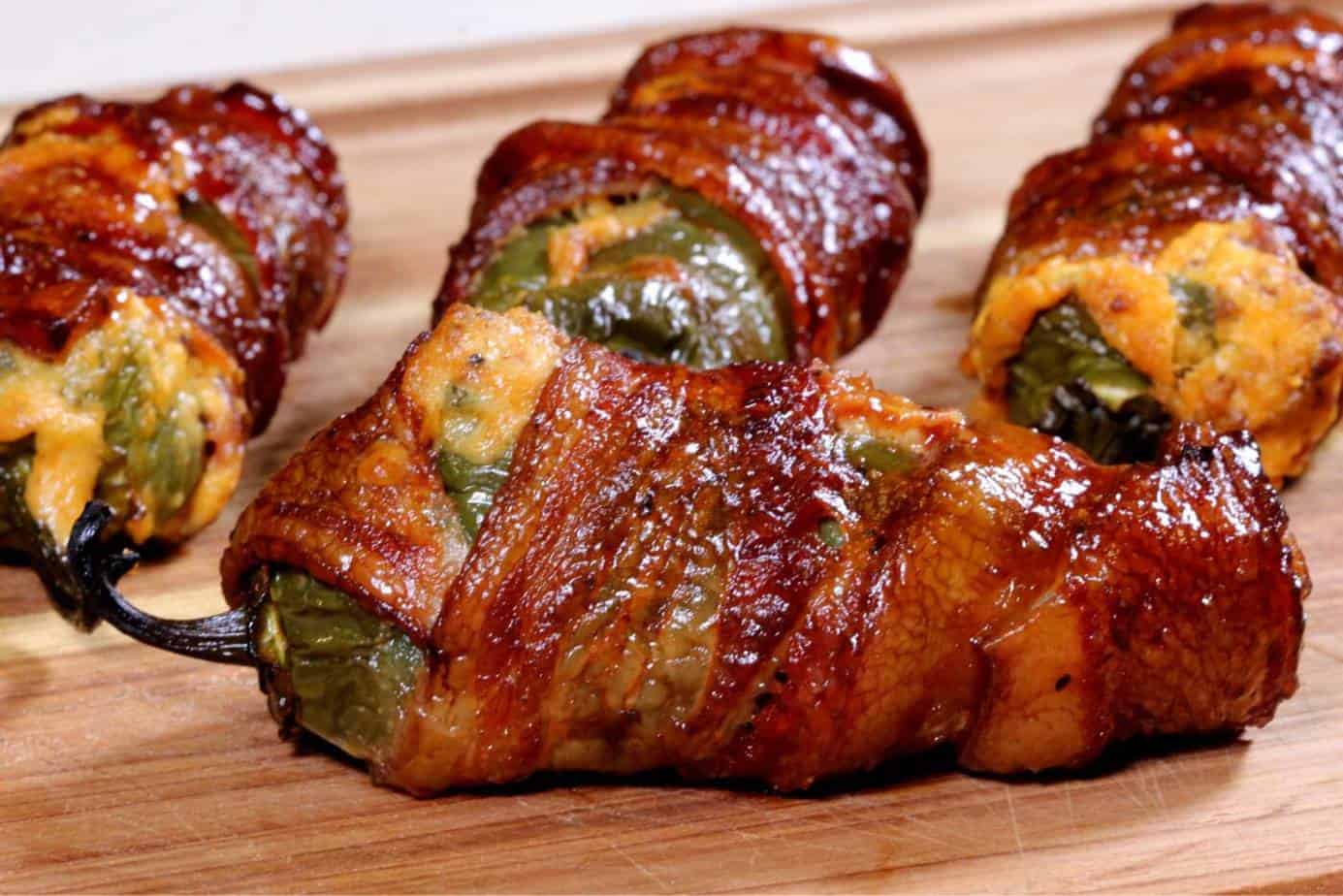 Smoking-Meat.com is supported by its readers. We may earn an affiliate commission at no extra cost to you if you buy through a link on this page.
Read this article without ads
These "Texas twinkies" were named and made famous by Hutchins BBQ in McKinney, TX. Many of us have been stuffing peppers with cheese and meat and wrapping them in bacon for as long as we can remember but this version uses whole extra large peppers stuffed full with delicious smoked brisket, wrapped with a thick slice of bacon and smoked until perfect.
As usual, I've put my own spin on these but I will go over the exact way that they make them in McKinney, TX so you can duplicate that at your house if you're so inclined.
Remember that Wooster brisket I cooked a while back (hopefully you've had a chance to try it too)? I had a couple of pounds of bits and pieces from the fatty point of that smoked brisket and that's what I used for this recipe.
Let's get to stuffin' and wrappin'!
Helpful Information
Prep Time: 45 minutes
Cook Time: 3 hours
Smoker Temp: 225°F (107°C)
Meat Finish Temp: n/a
Recommended Wood: Pecan
What You'll Need
12-14 jalapenos, extra large
16 ounces cream cheese
1 lb smoked brisket
1 lb chorizo, precooked (optional)
2 cups smoked gouda, shredded
12-14 slices bacon, thick sliced
Jeff's original sauce
Step 1: Purchase and Prepare the Jalapenos
When acquiring the peppers, it's important that you hunt around and find the largest jalapenos you can find. I happen to know that my local grocery store always has large ones so that's where I went and I was not disappointed. These peppers where super-sized!
Caution: If you are not accustomed to handling raw peppers, it is advisable to wear gloves for this exercise. If you choose to not wear gloves, don't touch your eyes, nose or any sensitive part of your body until you have washed your hands several times and you are sure that the oils have been removed.
To prepare the peppers, I cut a "T" in them to give me ample access while reducing the ability for them to leak cheese during the cooking process. The pictures will explain what I mean:
Cut halfway through right below the stem.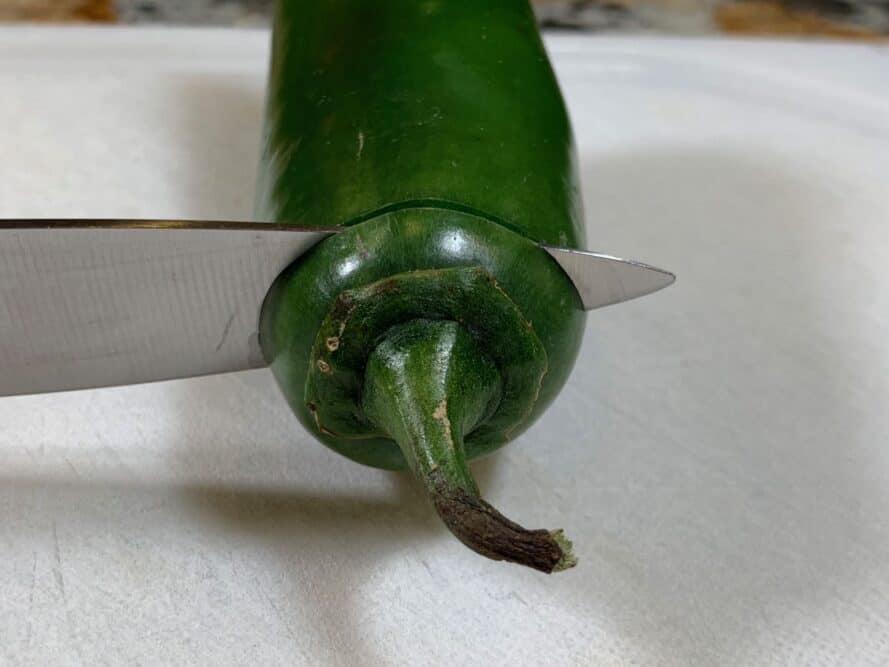 Then cut a slit from the top of the "T" to the point or bottom of the pepper.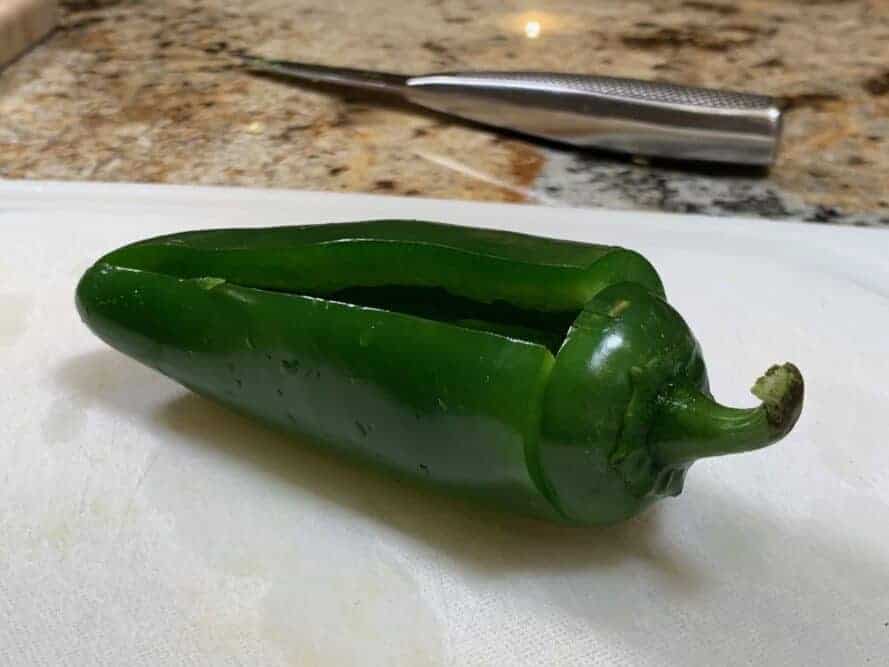 Use a thin, sharp knife to get in there and remove the seeds and veins while carefully prying the pepper open with your fingers. This is harder than it looks at first but once you've done a couple you'll get into a rhythm and it's not as painstaking as you might assume.
Remove as much as you can and then just simply give them a rinse under cold water to get rid of the remaining seeds.
Step 2: Un-Hot the Peppers (optional)
Take a little nibble on a couple of the pepper edges to see what the heat level is. If they are hotter than what you like, simply soak them in sprite or 7-up or a generic version of these for several hours to remove some of the capsaicin. About 2 hours is usually sufficient.
This also makes them more child friendly.
Step 3: Prepare the Cheese and Brisket Mixture
Grate about 2 cups of the smoked gouda
Heat up the meat in a skillet.
Place 8 ounces of the softened cream cheese along with 1 cup of the grated cheese, 1 cup of meat and ¼ cup of Jeff's original rub into a bowl and mix together.
I made a batch of smoked brisket mixture along with a batch of chorizo mixture.
FYI: I placed the chorizo in an iron skillet and cooked it until brown before using it.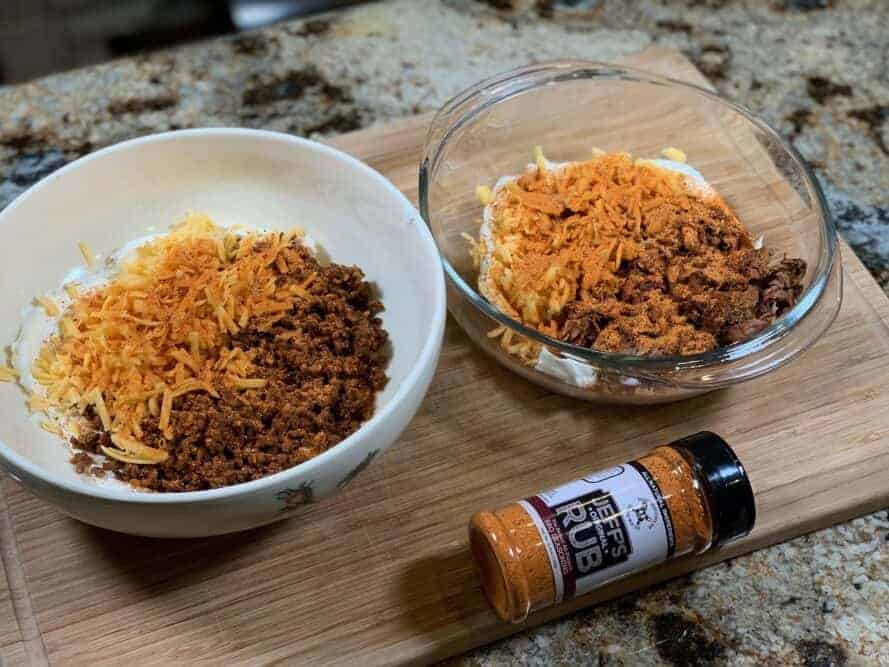 After a good mixing..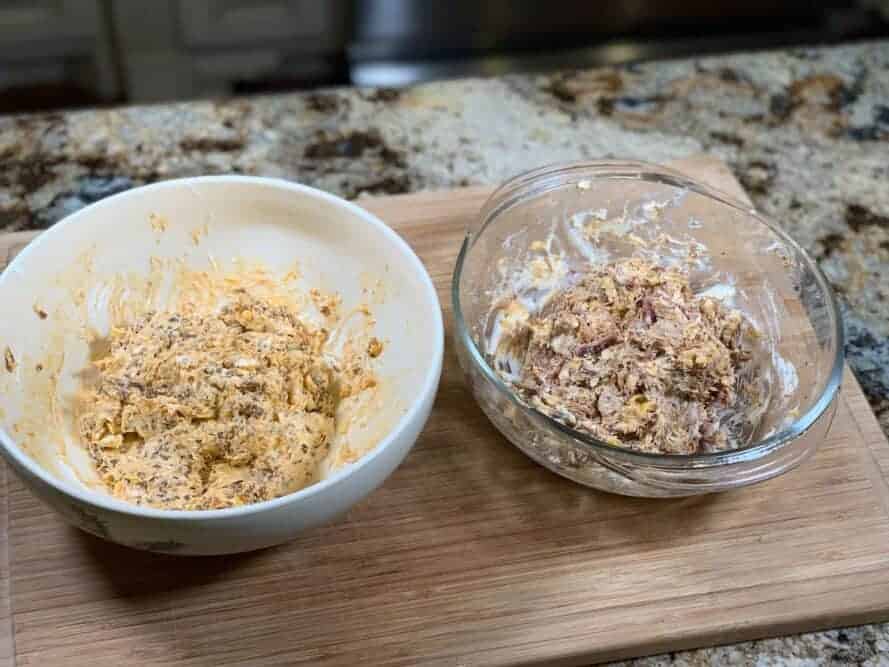 If you choose to do only a brisket mixture, then you'll need to mix 16 ounces of cream cheese, 2 cups of grated cheese, 2 cups of meat and ½ cup of Jeff's original rub into a large mixing bowl.
How much of this mixture you'll need depends entirely on the size of the peppers you find.
Step 4: Stuff and Wrap
Fill the peppers as full as possible with the meat/cream cheese mixture.
See that pepper in the front that does not have a stem end? I accidentally snapped it off and will need to wrap it differently to make sure I don't lose any of the cheese.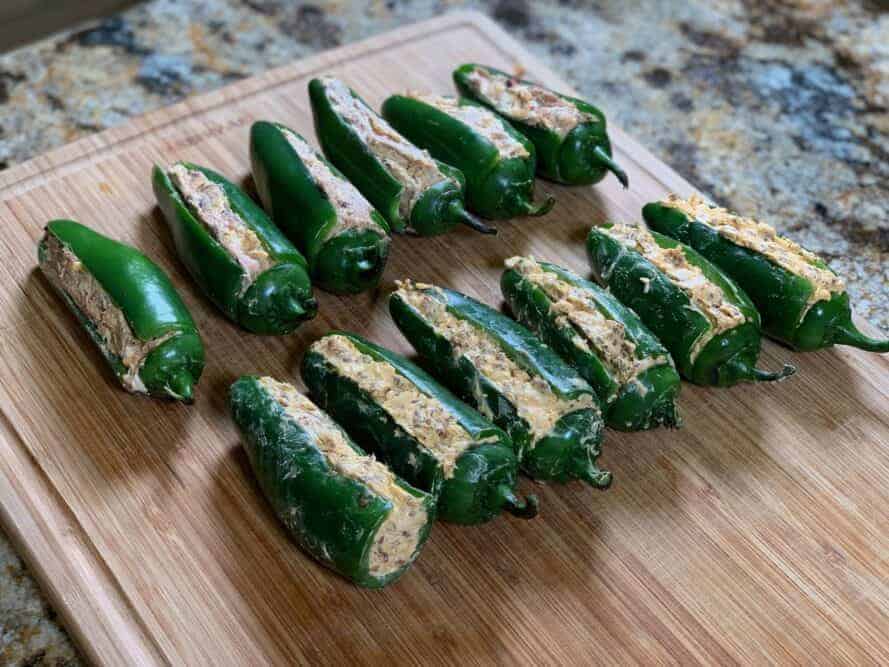 You'll need a thick slice of bacon for every pepper that you have stuffed.
Stretch the bacon to extend it and make sure it is long enough to wrap the pepper as much as possible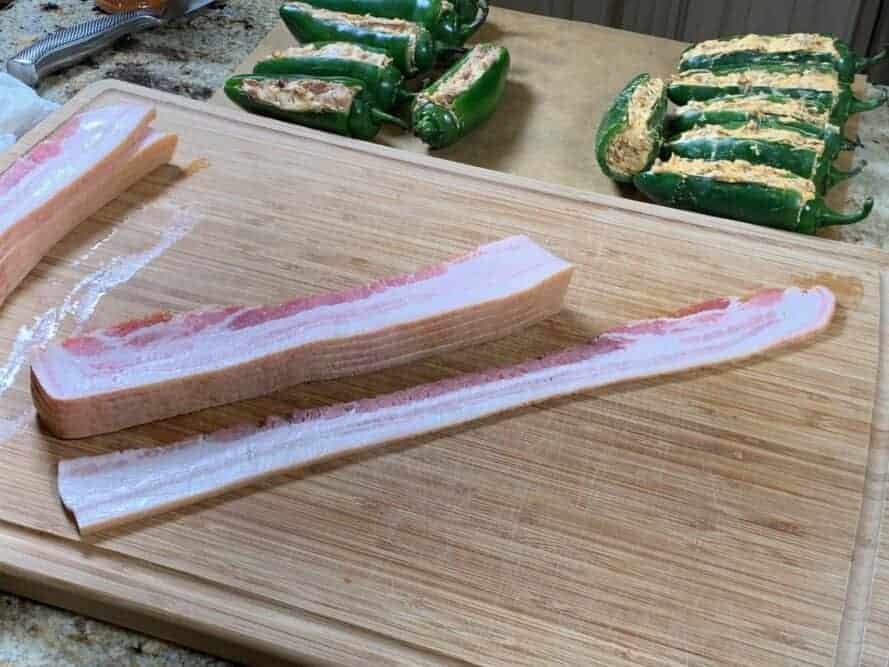 Wrap the bacon around the pepper beginning at one end and working your way to the other. It is important that you cover the cut areas on the pepper as much as possible to reduce the possibility of the cream cheese mixture escaping during the cooking process.
Use a toothpick to secure the bacon.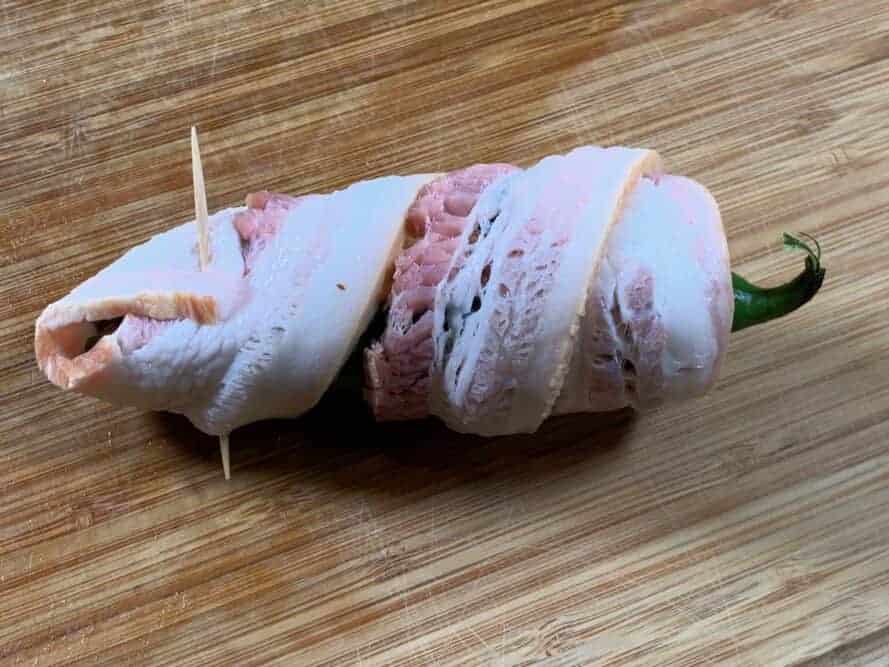 All done and ready for the smoker!
I placed these on a Bradley rack to make it easy to transport these around. You can also use a Weber grill pan (which I absolutely love) or a pan with a rack like this one.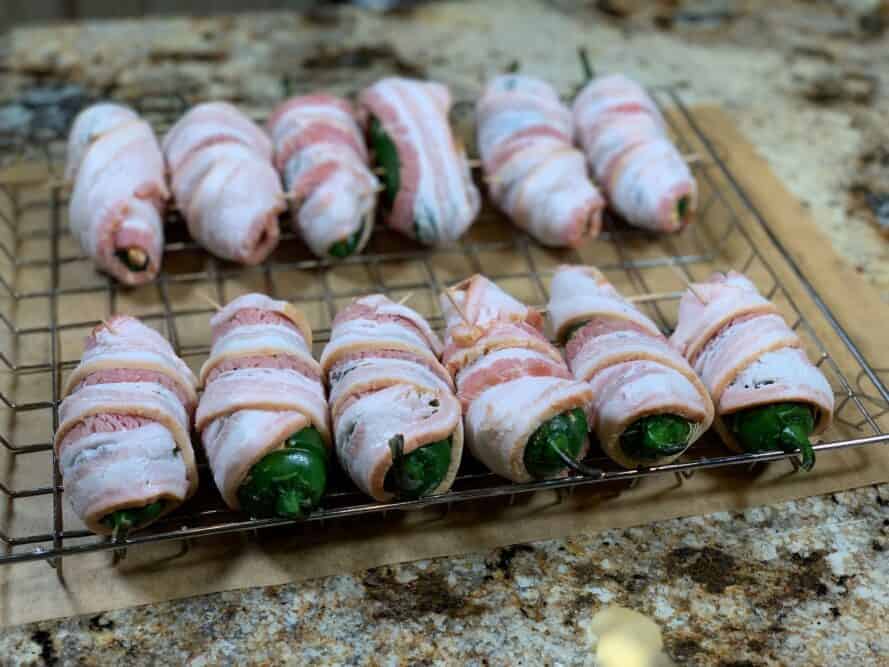 Step 5: Smoke Time
These are so easy to cook and you can use ANY smoker for these. You can also use the grill or even the indoor oven if you haven't purchased a smoker yet.
Preheat your smoker to 225°F (107°C) using indirect heat and if your smoker uses a water pan, fill it up.
I used pecan wood for these as it gives off a really delicious smoke but you can use whatever smoking wood you have available.
Once the smoker was heated and ready to go, I placed the bacon wrapped peppers directly on the smoker grate. I could also have left them on the rack and they would have done just fine.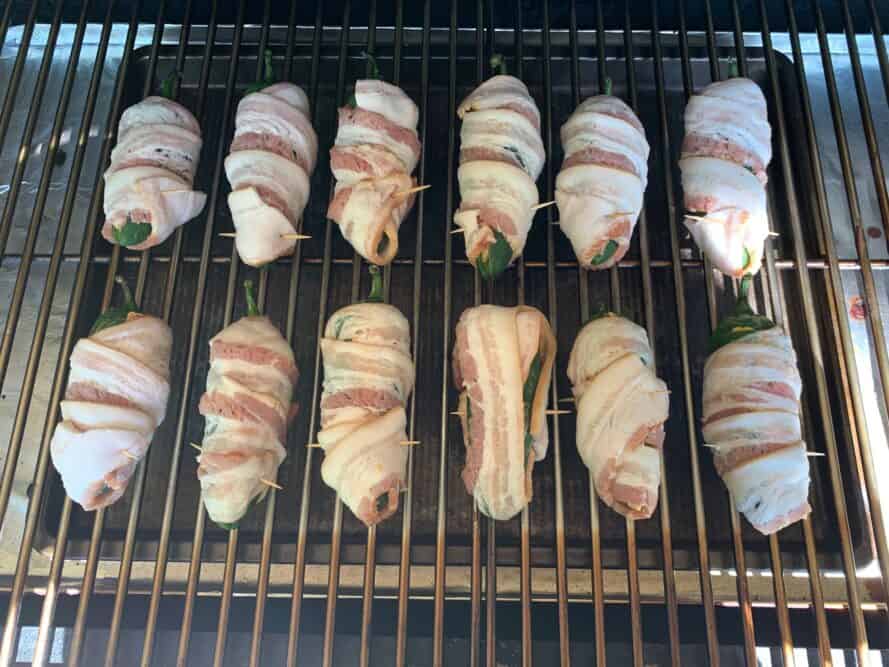 Let the smoke flow for the entire time and when the bacon has a good bite-thru and the peppers are soft to your liking, they are done. Mine took about 3 hours at 225°F (107°C).
You can also brush them with a little barbecue sauce if you like. I thinned some of my barbecue sauce down with a little of the sprite that I got from the soaked peppers and gave my peppers a good glazing with the heat cranked up to 350°F (177°C) for about 15 minutes.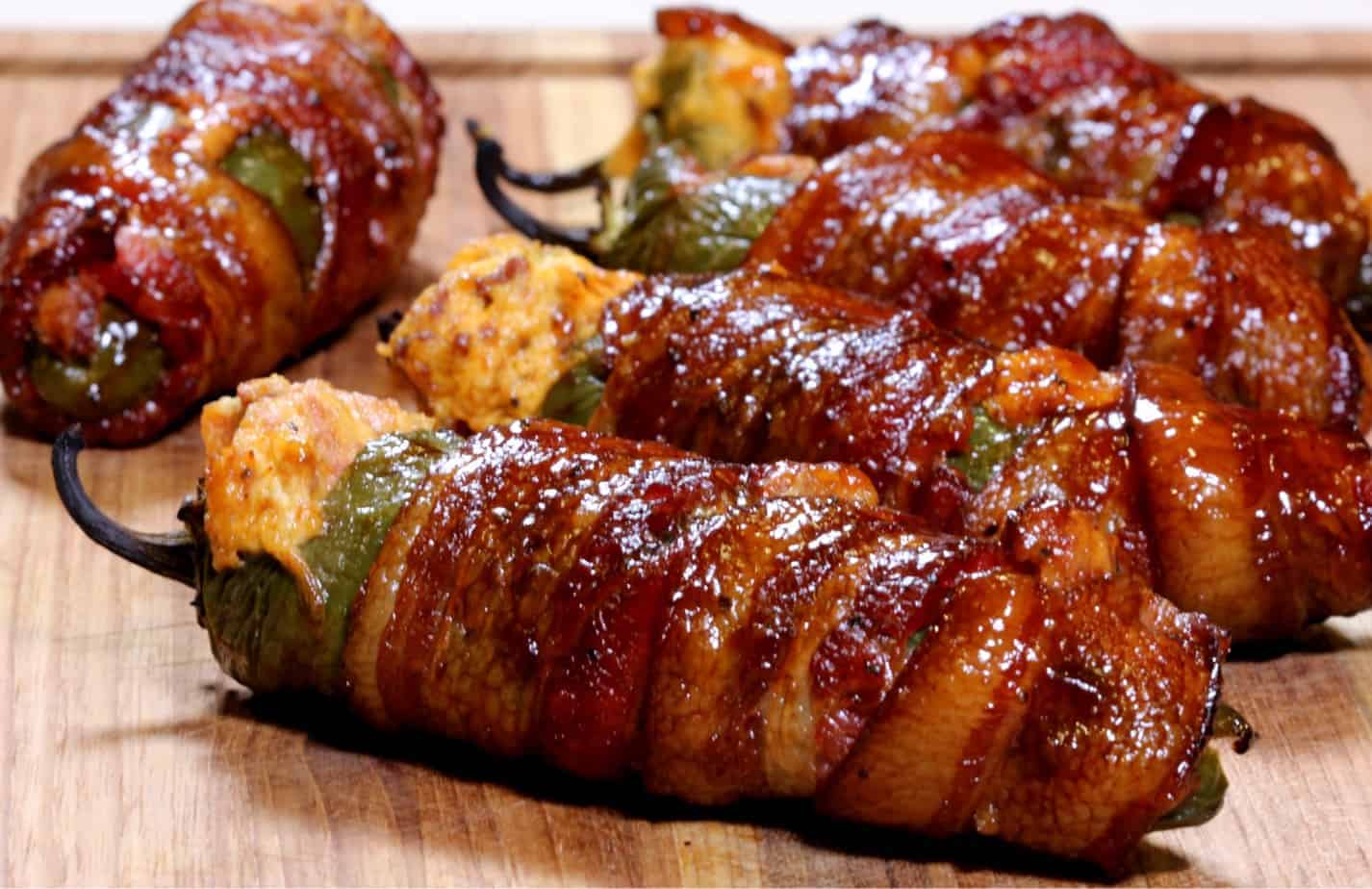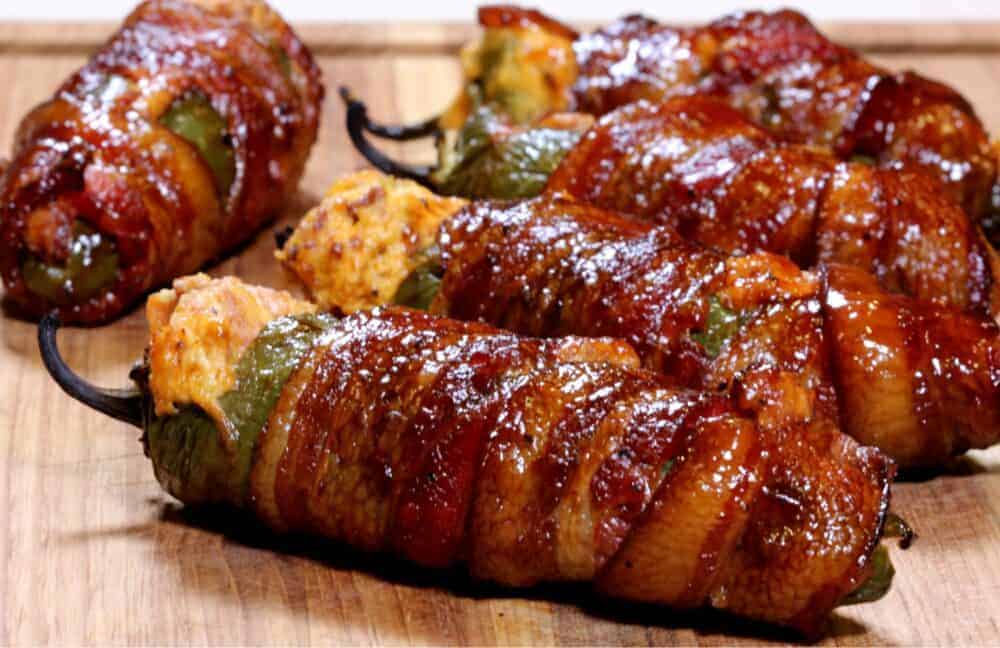 Step 6: Serve and Watch for Smiles
Just as soon as they are done, hide a few and then watch them disappear. If this don't bring smiles to the faces of those you cook for, then nothing else will!
This version of stuffed peppers is labor intensive but they are well worth it in the end. As always, the pepper with the cream cheese and the bacon along with the delicious smoked brisket added in just melted in my mouth and I could have eaten the whole batch by myself!
Make plenty!
Notes and Comments
For what it's worth, Hutchins BBQ does not mix the brisket and the cream cheese but rather places a bead of cream cheese on the bottom of the pepper then stuffs smoked brisket into the rest of the pepper. I felt that using the cream cheese as a binder would be a great solution but if you want to follow the authentic Hutchins method, go for it.
I guess you're wondering which version I liked best, the smoked brisket or the chorizo. Both were really good but the smoked brisket really took it up a notch in my opinion. I think you could also use sliced tri-tip, pieces of smoked ribeye, etc. to mix it up even further.
If you have a different way of making or preparing these, feel free to share ;-)
Texas Twinkies -Jalapeños Stuffed with Smoked Brisket
Super-sized jalapenos stuffed with cream cheese and brisket then wrapped in bacon and smoked until perfecly done. Named and made famous by Hutchins BBQ in McKinney, TX.
Ingredients
12-16

jalapenos

(extra large)

16

ounces

cream cheese

1

lb

smoked brisket

1

lb

chorizo

(optional)

2

cups

smoked gouda

(shredded)

½

cup

Jeff's original rub

12-14

slices

bacon

(thick sliced)

Jeff's original sauce
Instructions
Cut a "T" into each jalapeno pepper by cutting halfway through the pepper just below the stem then cutting a slit from the top of the "T" to the tip of the pepper.

Carefully pry open the pepper and deseed and devein the peppers with a thin, sharp knife then give them a good rinse under cold water to remove any remaining seeds.

Make the stuffing mixture using 2 cups of pulled brisket, 16 ounces of softened cream cheese, 2 cups of shredded smoked gouda, and 1/2 cup of Jeff's original rub. Mix well.

Stuff the peppers with the stuffing mixture.

Stretch thick slices of bacon then wrap a single piece around each pepper. Secure with a toothpick.

Setup smoker for cooking at 225 degrees with indirect heat. Use pecan wood for smoke and if your smoker uses a water pan, fill it up.

Cook peppers directly on the grate for about 3 hours or until the bacon has a good bite-through and the peppers are soft to your liking.

When the peppers are ready to eat, give them a good glazing with thinned barbecue sauce and crank up the heat to 350 degrees for 15 minutes.

Serve immediately.
Get Jeff's Products!