The "Wooster" Brisket – The Best Smoked Brisket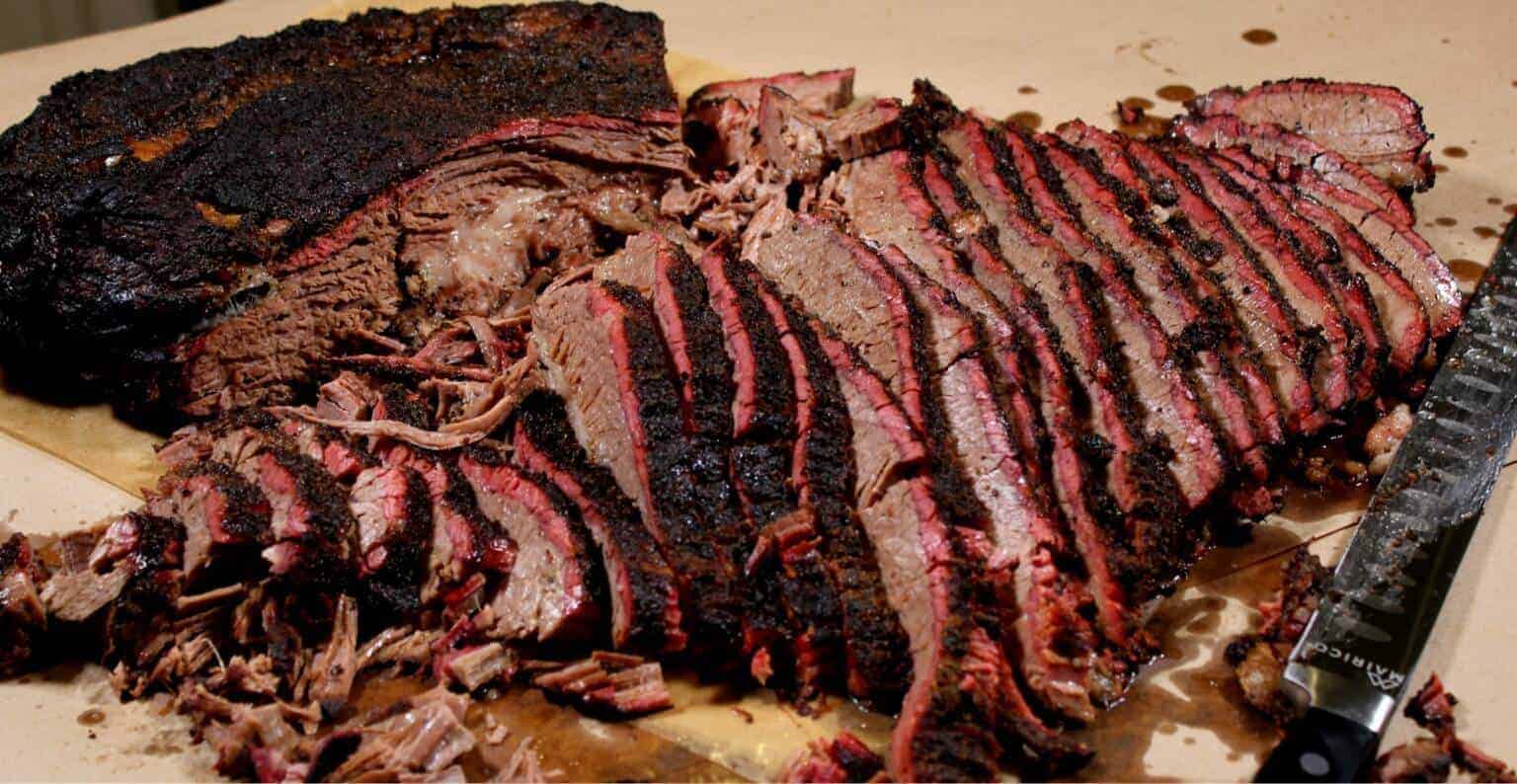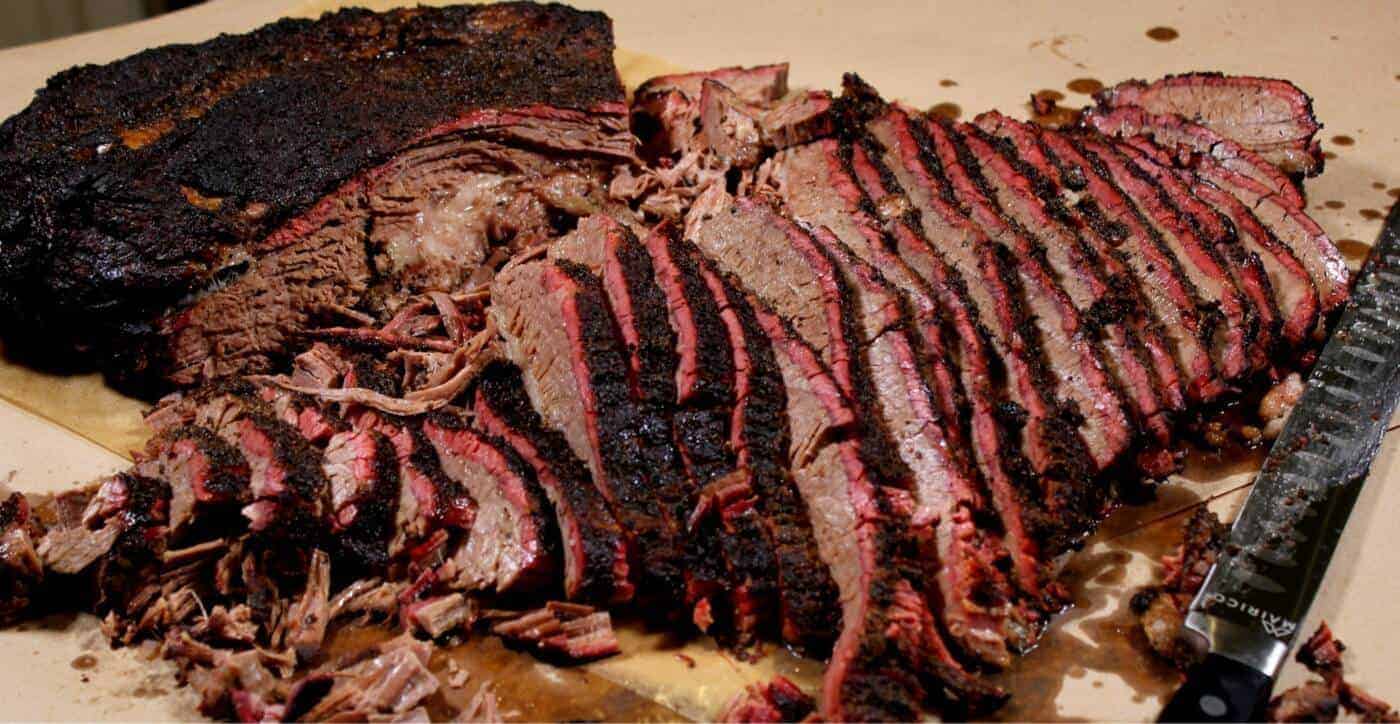 The "Wooster" brisket is a smoked brisket recipe that I've been working on for a while. I've done it fat side up, fat side down, wrapped, unwrapped, rested for 2 hours, rested for 4 hours, not rested at all.. well, you get the picture.
Brisket is something that not only seems difficult, it can be difficult if you don't follow some tried and true methods. My job in this endeavor has been to try and make it as easy as possible for you to follow a clearly written set of instructions and get it right every time.
In case you're wondering about the name, well, I douse this brisket with  "Wooster" sauce (Worcestershire) every couple of hours during the initial phase of the cook to keep it moist on top. The flavor is on point and the liquid does a great job of working with the Texas style rub to create a perfect crust.
Are you liking the looks of that 11-inch brisket knife in the image above? I love it and you can check it out HERE.
Helpful Information
Prep Time: 45 minutes
Cook Time: ~15 hours
Smoker Temp: 225°F (107°C)
Meat Finish Temp: ~200°F (93°C)
Recommended Wood: Oak or pecan
What You'll Need
Whole packer brisket
2 large bottles of Worcestershire sauce
Jeff's Texas style rub (Purchase formula here | Purchase bottled rub)
2 large foil pans
Brown or pink butcher paper, unlined/uncoated
Heavy duty foil
Step 1: Purchasing a Brisket
If you have a Costco in your area and you're not taking advantage of their great prices on USDA prime grade briskets, then you should be. I don't get anything from Costco for saying that, it's just a good deal that you need to be aware of. Maybe other warehouse type stores have deals like this too?
My recommendation is to purchase the absolute best brisket you can afford and go from there.
Look for briskets labeled as whole packer and you should be able to see at least ¼ inch fat cap on one side. I usually shoot for pieces that are in the 12 to 14 lb range but not always if I can find a nice big one.
The one I cooked for this recipe weights in at 18 lbs.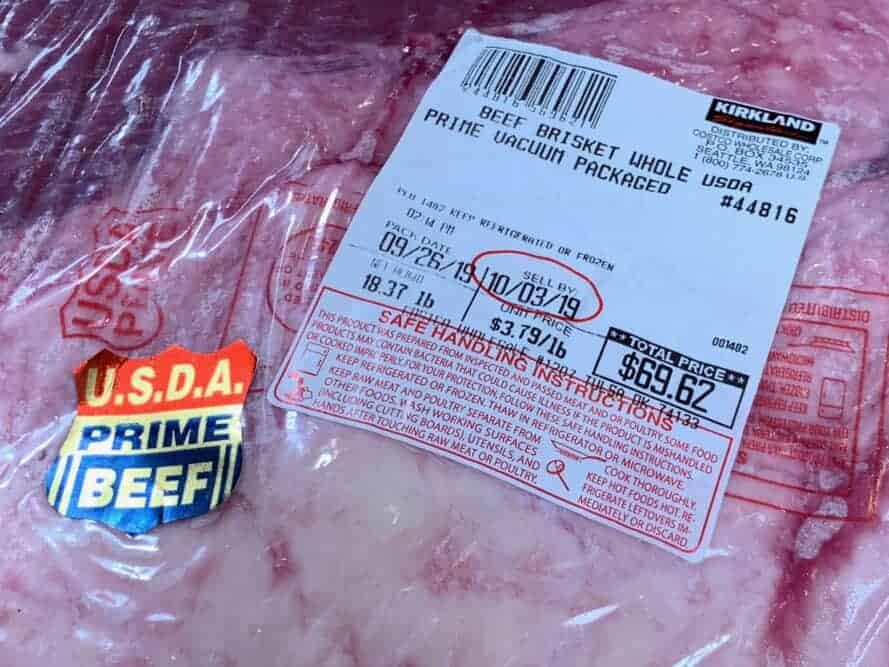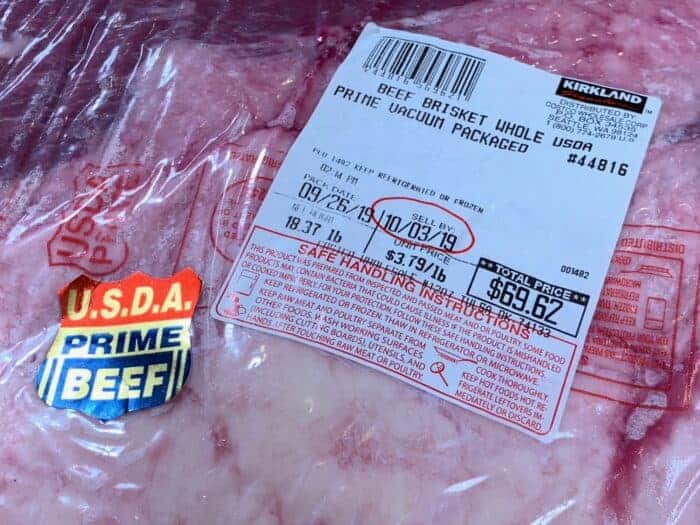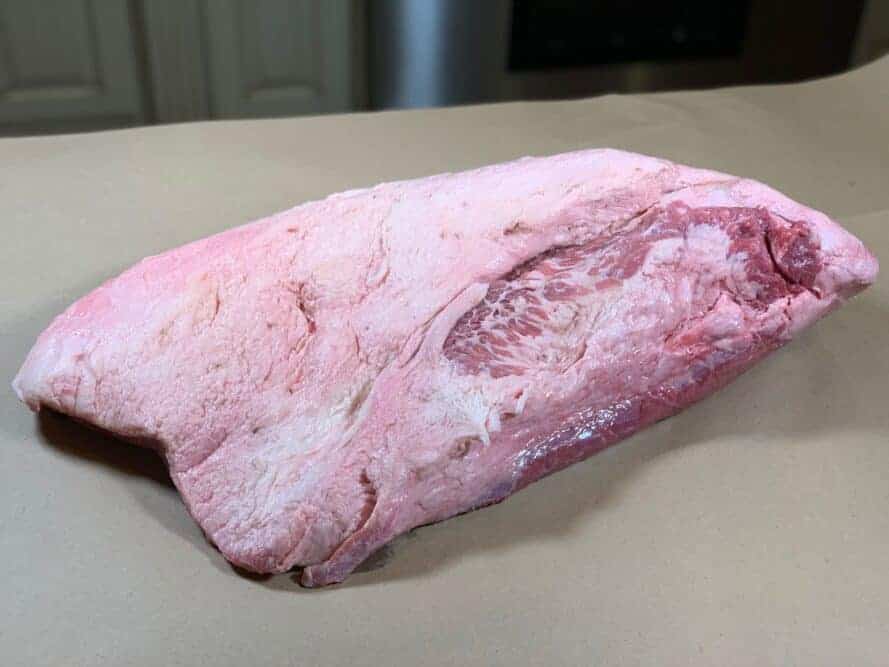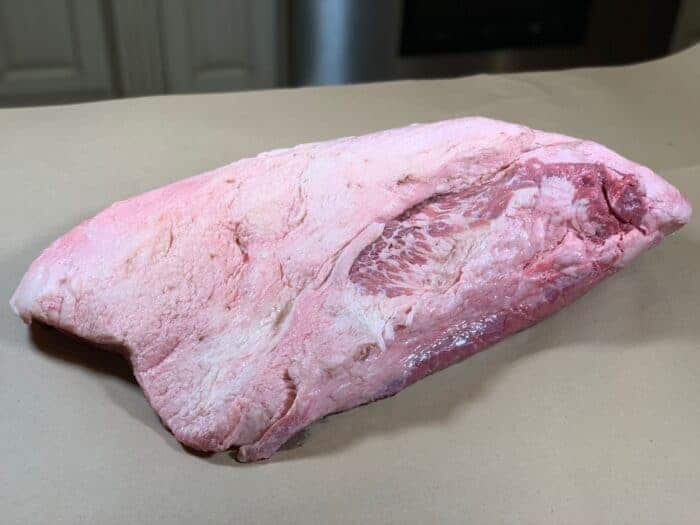 Step 2: Trimming the Fat
Trim the fat cap down to ¼ inch and get rid of any large pockets of hard fat.
Here's a big chunk I removed from the side.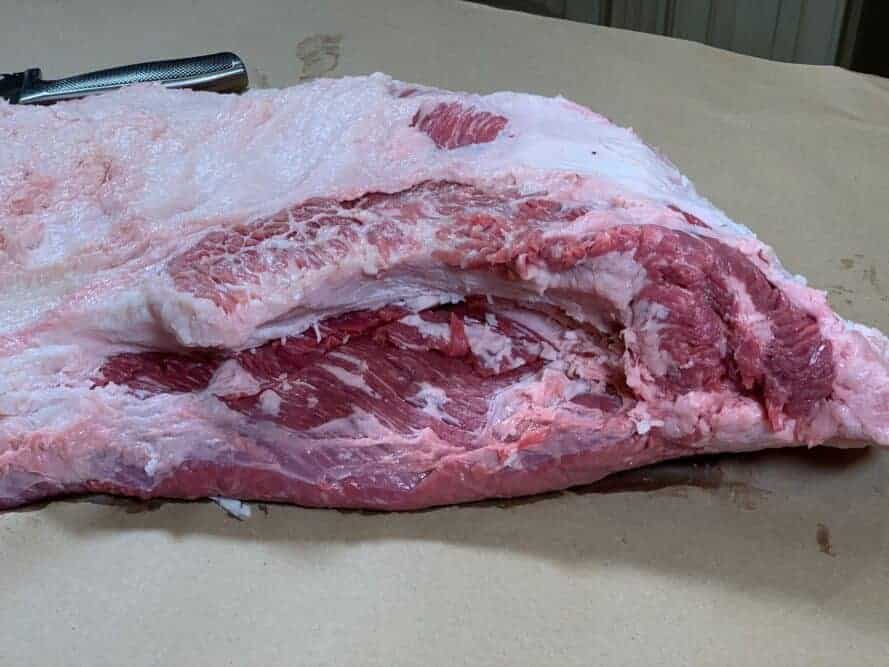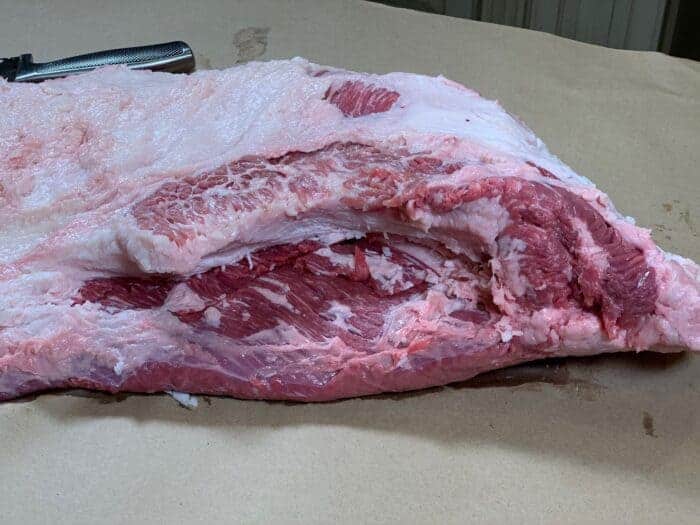 No since cooking a big ol' piece of something that's never going to render and just gets in the way of the good stuff.
Step 3: Worcestershire and Seasoning
Once you are satisfied with the way it looks, turn it to fat side up if it's not already.
On this side, score the fat in a crosshatch pattern at about 1-inch intervals. This is to give the Worcestershire and the seasoning a place to grab on to.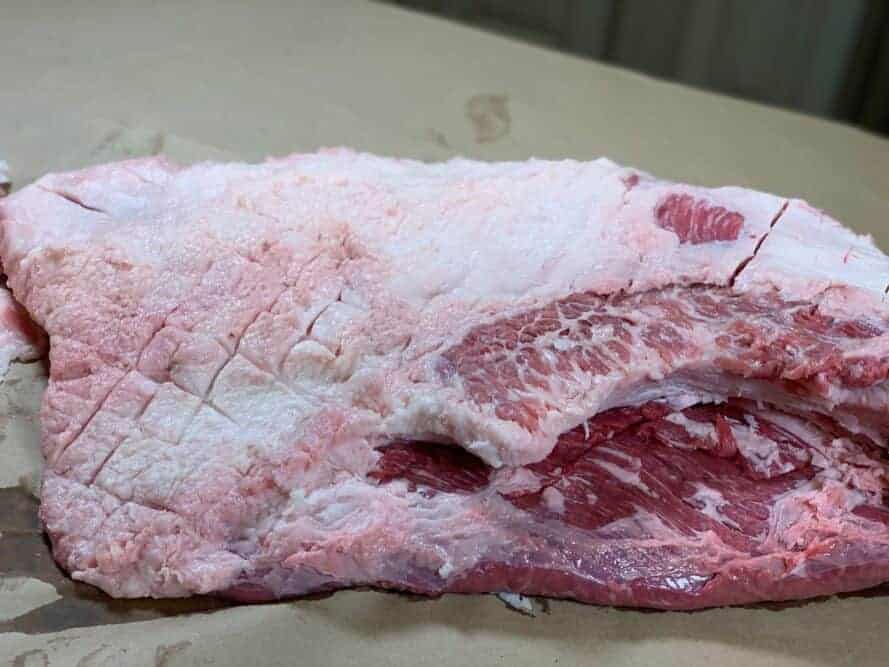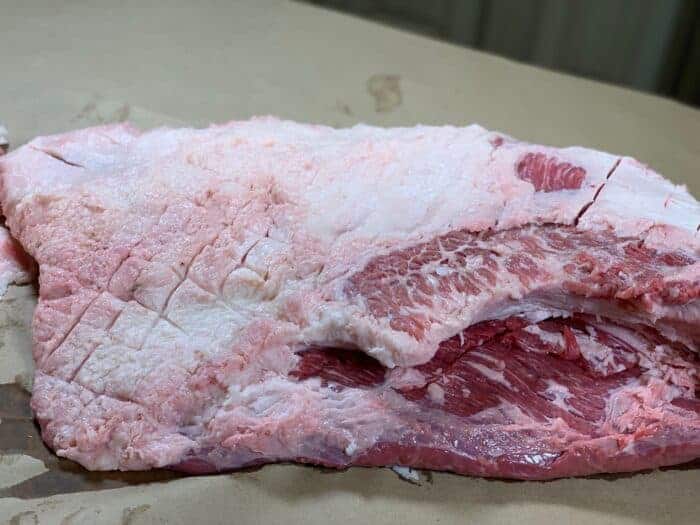 At this point, place the brisket fat side up, just like it is down into a large, full size foil pan and pour Worcestershire all over the fat cap to create a wet surface.
I use about a third of the big bottle of Worcestershire on the fat cap.
Then apply a liberal amount of Jeff's Texas style rub (Purchase formula here | Purchase bottled rub).
Leave this sitting for a few minutes.
Flip the brisket over to fat side down, in the pan.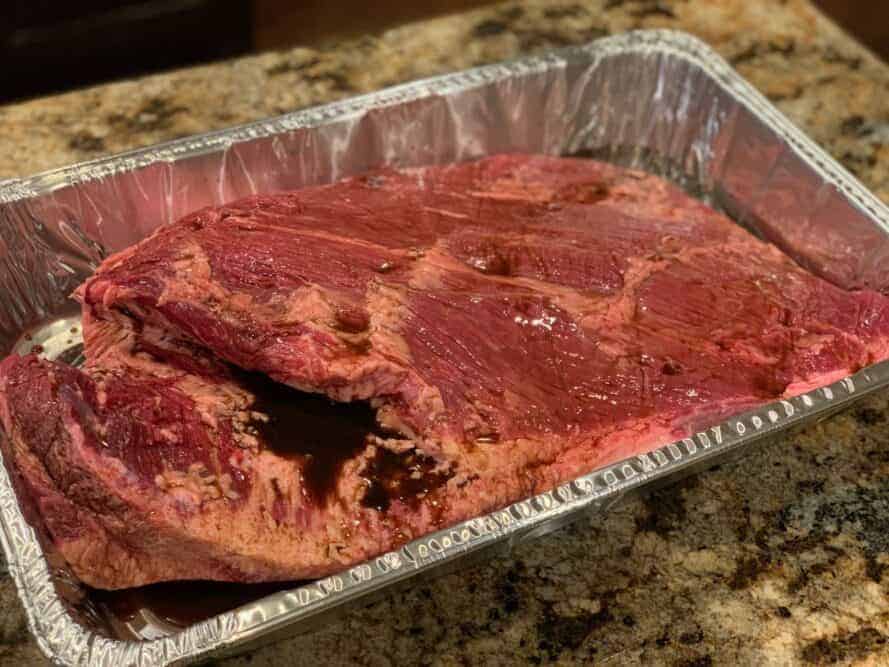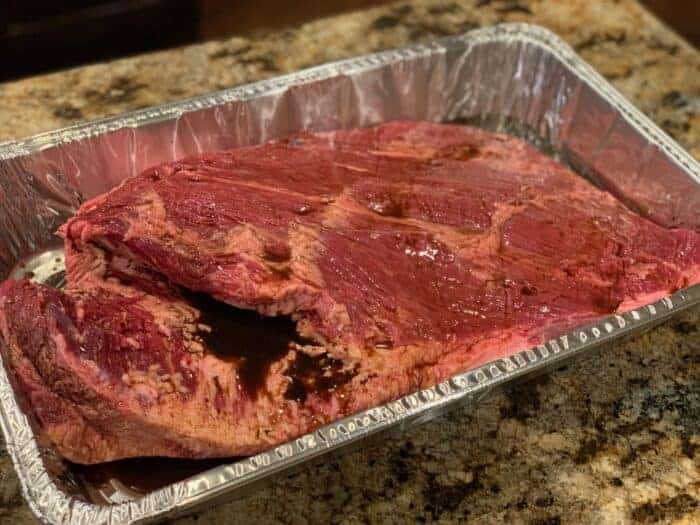 Pour the rest of the large bottle of Worcestershire all over this side of the brisket to create a wet surface and apply a liberal amount of Jeff's Texas style rub (Purchase formula here | Purchase bottled rub).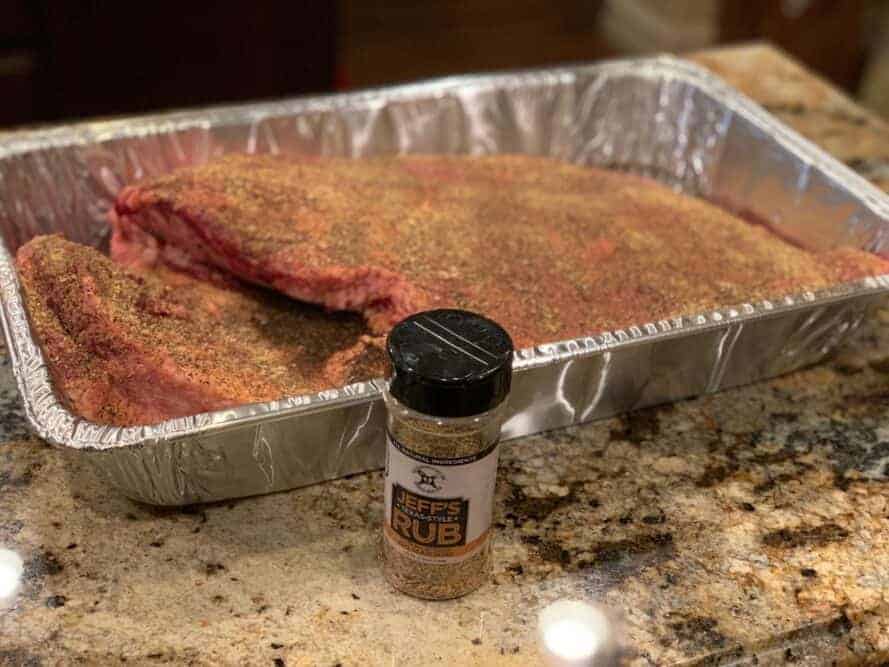 Step 4: Overnight Marinate
Place foil over the top of the pan with the brisket and place it in the fridge overnight or for at least 10 hours.
Remove the brisket from the fridge and set it on the cabinet about 1 hour before you are ready to start cooking it in the smoker.
Step 10: Fat Side Up Vs. Fat Side Down
There's a lot of opinions where this is concerned and that doesn't necessarily mean any of them are correct or incorrect just that whatever works for a person, that method is going to be "right" for that person since it yields great results.
The prevailing school of thought is that the fat cap melts while the brisket cooks and this keeps the brisket moist however, in my experience, the fat doesn't melt all that much until it reaches a fairly high temperature (180°F or so) and therefore, if I place the fat down and out of the way so I can focus on keeping the actual meat moist, that's better for me.
In my experience, it's the fat INSIDE the brisket that does the most good. The fat on the outside maybe not so much. Feel free to impart your wisdom on this subject in the comments below.
Step 5: Smoke Time
Set up your smoker for cooking at about 225°F (107°C) with indirect heat. If your smoker uses a water pan, fill it up.
For smoking wood, use oak or pecan if you have it, otherwise, use whatever smoking wood you have available.
Once the smoker is ready, place the pan of brisket on the smoker grate and let the magic begin. I went ahead and added a temperature probe so I could watch the temperature but you really don't have to do that until later as I'll point out.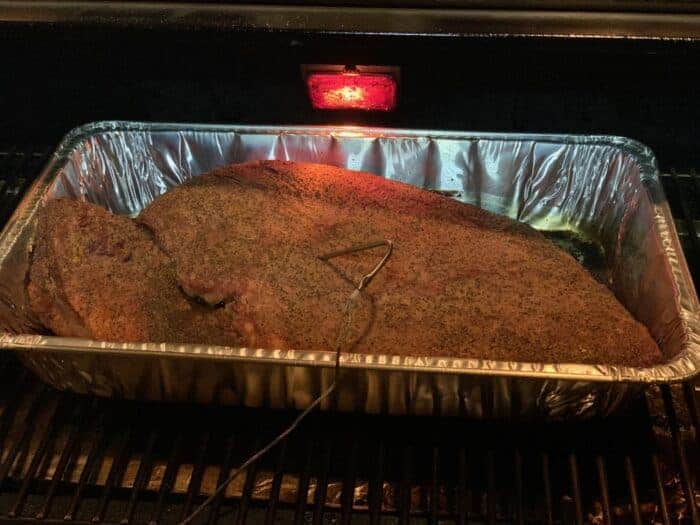 Let the brisket cook and all you have to do is raise the lid every 90 minutes and douse the top of the brisket with Worcestershire sauce. Make sure you have plenty of this on hand.
I tend to use an entire large bottle of Worcestershire sauce during the first 6 hours or so to keep the top of the brisket nice and moist.
Once the brisket reaches 165°F (74°C) and the color is a beautiful brownish red (usually about 6-7 hours into the cook time), it's time to cover the brisket to slow down the browning process, power through the stall and tenderize the brisket.
Give it one last dousing of Worcestershire sauce before covering.
Beautiful!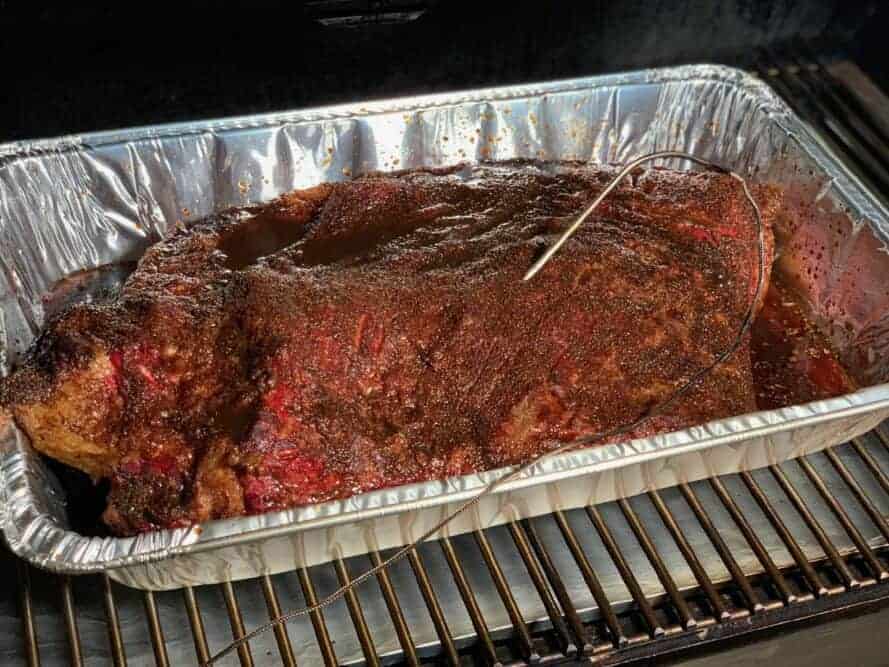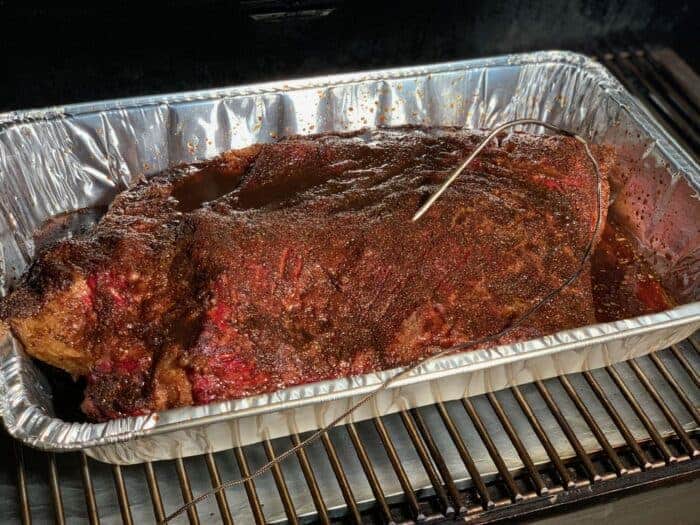 Step 6: Cover
At 165°F (74°C), place another equally sized pan upside down on top of the one the brisket is in or cover the top of the pan with foil to lock in the color and help power the brisket through the stall*.
This is also a great time to insert a thermometer so you'll know when you need to check the brisket for perfect tenderness. The ThermoWorks Smoke is usually my thermometer of choice for things like this.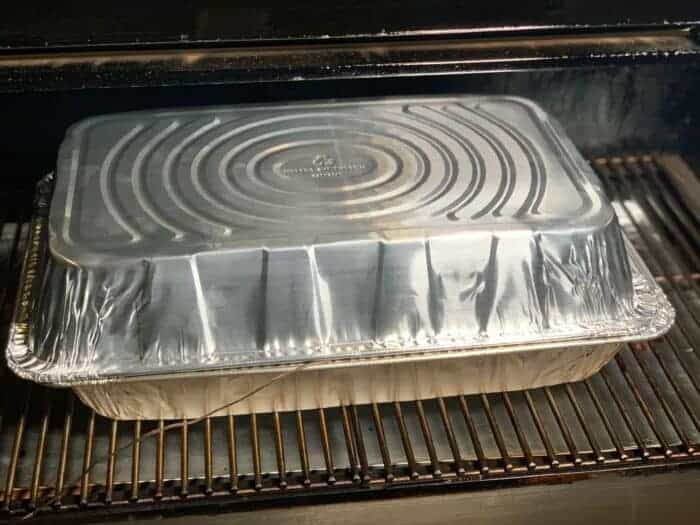 Step 7: Finish Cooking
After covering the brisket, let it continue to cook until it reaches around 197°F (92°C) at which point you'll want to start probing it in the flat and in the point to check for tenderness. The magic number is usually right at 200°F (93°C) but it can be either side of that by 2 or 3 points so keep a close eye.
When it's ready, the probe will go into the meat with no resistance like it's going into room temperature butter.
---
In case you're wondering,  stick a toothpick in a pad of room temperature butter to get the feel for how perfectly tender brisket feels. Absolutely no resistance.
---
Use the probe of your thermometer or something similar to perform this tenderness check.
It is absolutely essential that you use a thermometer to let you know when you are close but then use the feel of the probe going into the meat to tell you when it's time to remove it from the heat.
As you can see, most of the fat from the fat cap has rendered and filled up the pan with delicious brisket juice.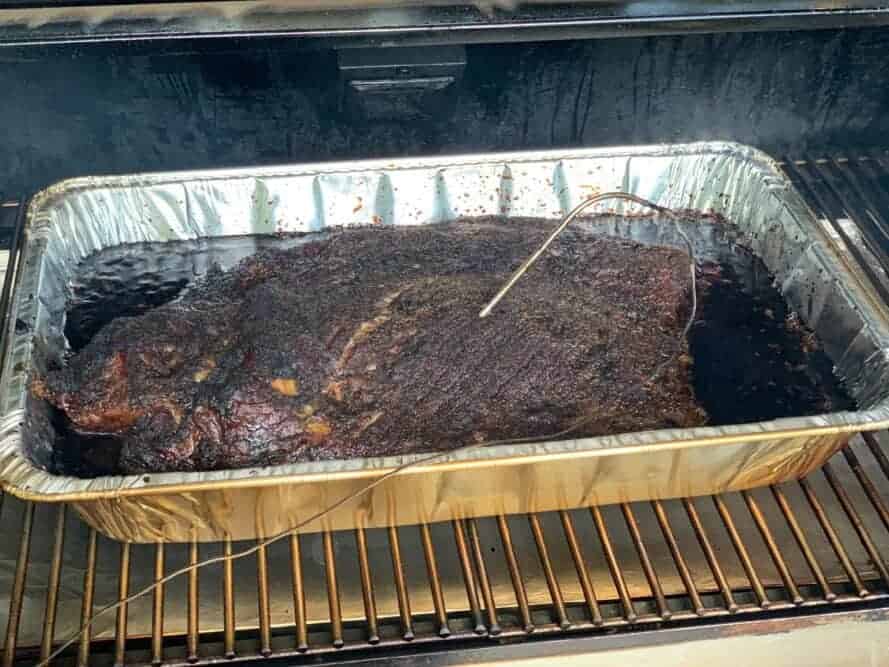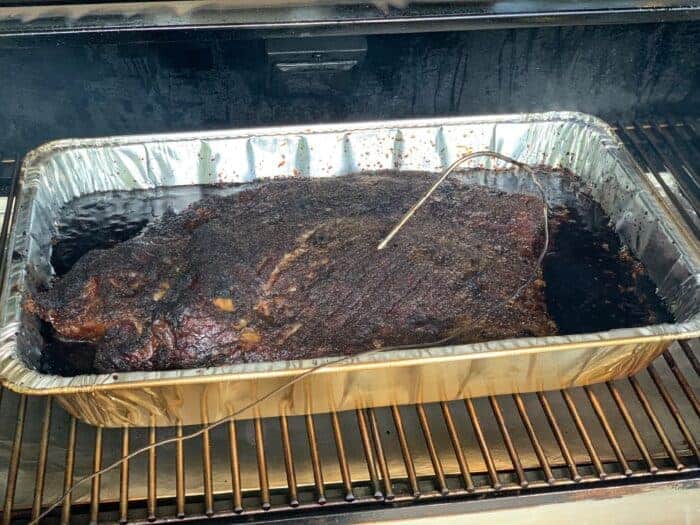 Remove the smoked brisket from the pan or the grate into a sturdy cookie sheet or pan for bringing it into the house.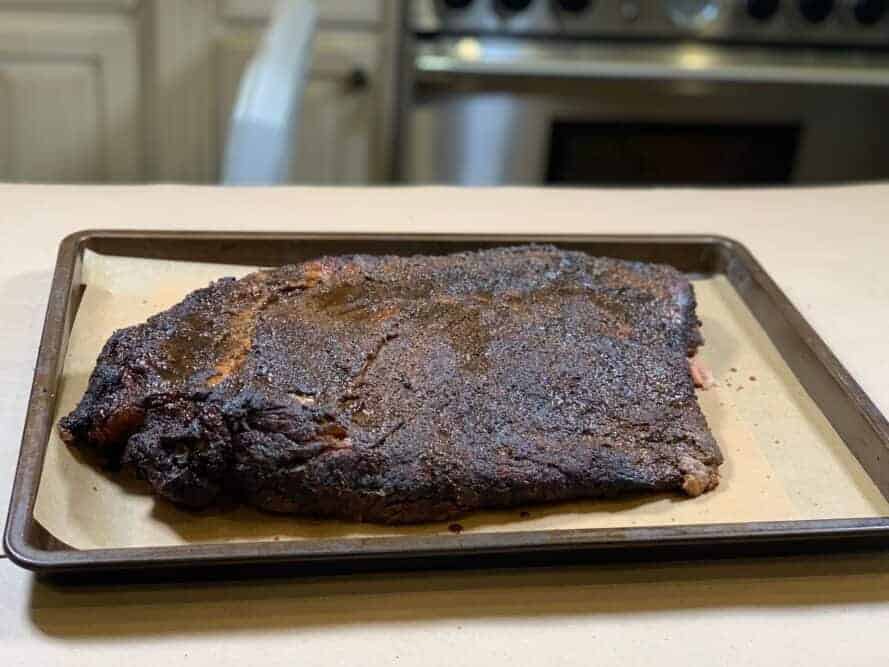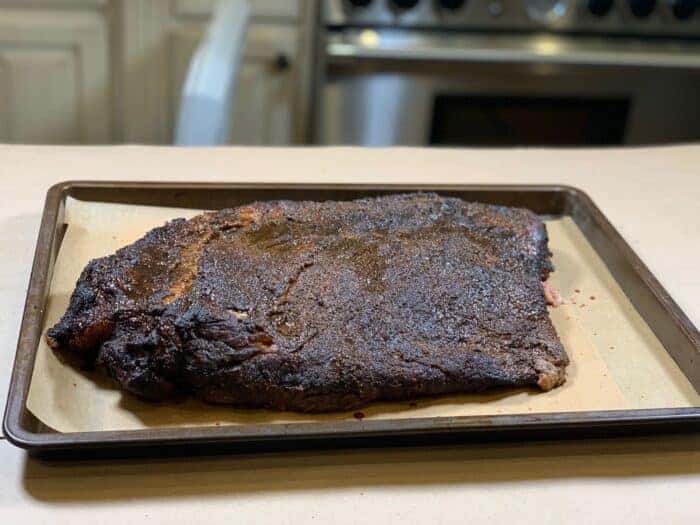 Once inside, you'll want to wrap it in plain uncoated butcher paper or foil and let it rest for 2 to 4 hours. More is usually better in this case.
Step 8: Rest
There is no right or wrong way to wrap a brisket.. I use a couple of layers of 18 or 24-inch wide unlined butcher paper or heavy duty foil.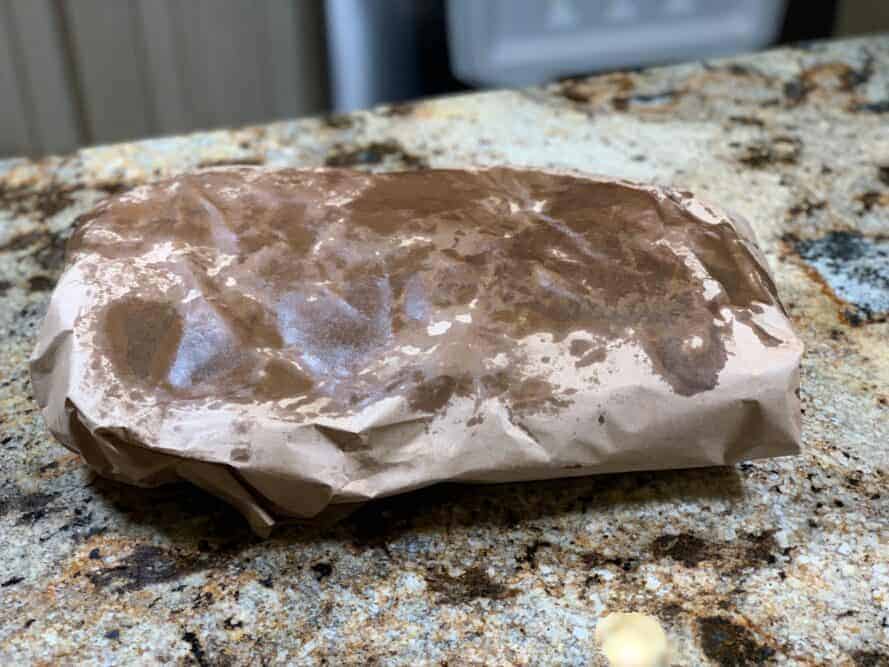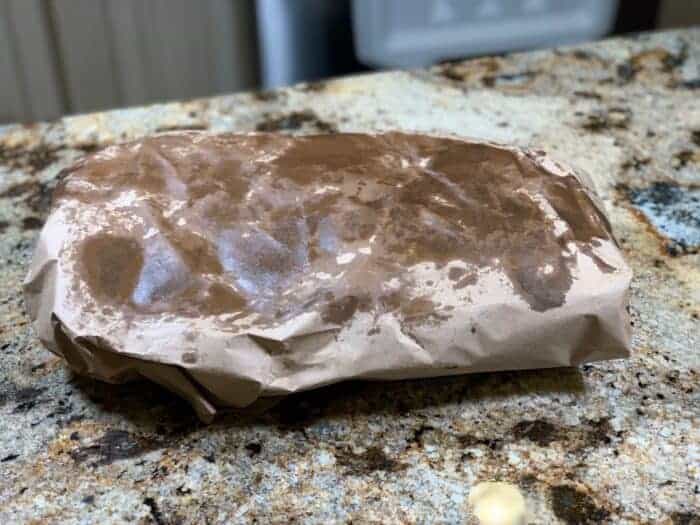 Line the bottom of an empty cooler with foil to aid in cleanup and lay the wrapped brisket in the cooler.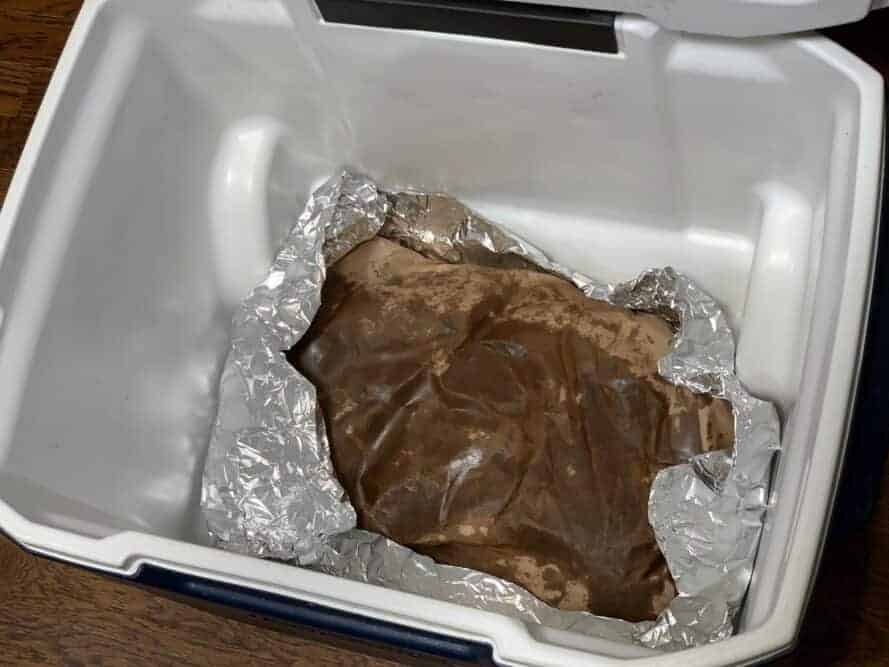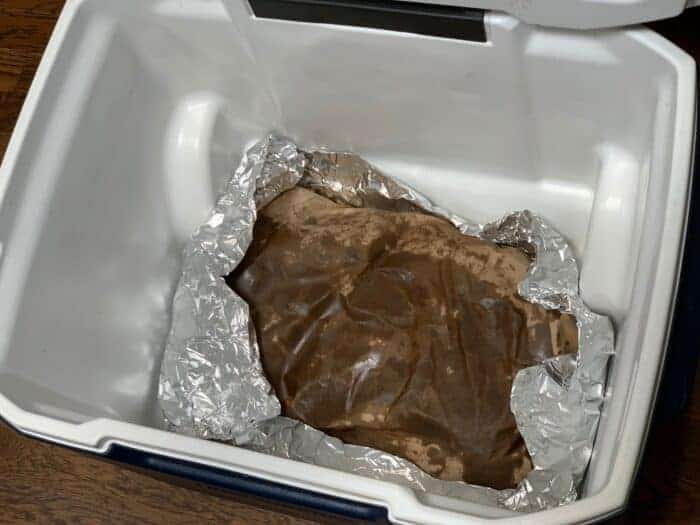 Fill in any remaining space with extra paper to insulate it and close the lid.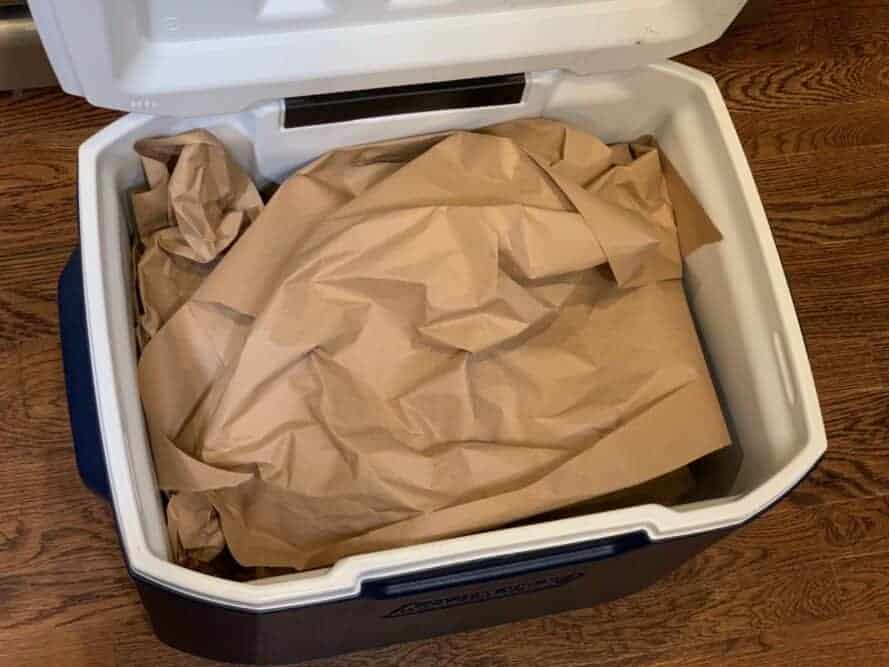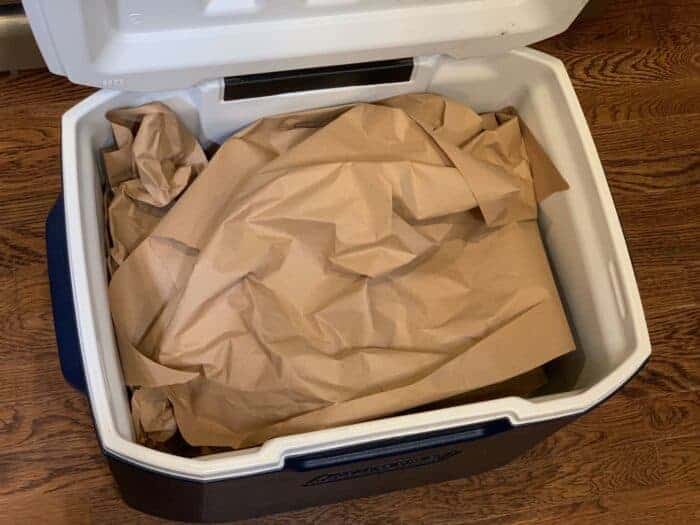 Keep the lid closed until you are ready to slice it. This setup will keep the brisket hot for up to 4 hours.
Step 9: Slice and Eat
Remove the brisket from the cooler and unwrap it from it's cocoon onto a large cutting board.
Slice the brisket flat ¼-inch thick across the grain using a very sharp knife.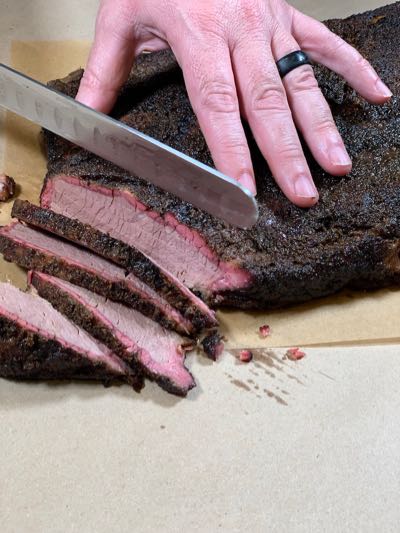 Once you start getting into the larger, fattier part of the brisket you can continue slicing or cube it up for burnt ends.
Enjoy the heck out of your homemade smoked "Wooster" brisket
Notes and Options
If you prefer, you can remove the brisket from the pan when you are ready to cook and place it fat side down directly on the smoker grate OR you can use a shallow pan. Either of these methods work great.
When it's time to wrap the brisket at 165°F (74°C), you can wrap it in paper or even foil if you prefer. Often this is in the middle of the night, and for that reason, it's usually much easier to just set another pan on top.
*What's a stall? In large pieces of meat like briskets, pork butts, etc. there is a period of time at around 160°F (71°C), give or take 10 degrees, where the evaporation of liquid on top of the brisket cools the meat at about the same rate that it is being heated and for this reason, the temperature will stall out and stay at the same temperature for several hours.
To solve this problem, simply wrap/cover it with foil or butcher paper.
Is there a formula to figure the cook time based on the weight of the brisket? No. How long it takes to cook a brisket is mostly dependent on how thick it is and how long it takes for the heat to reach the center and raise it to 200°F (93°C) but it's also related to a few other factors such as how tough the brisket is, how much fat is involved, and the temperature of the brisket when it goes into the smoker.
Some people still figure the cook time of briskets and pork butts at 1.5 hours per pound but, in my opinion, this doesn't work most of the time. If I had cut this 18 lb brisket in half separating the flat from the point, it would have cut the weight in half approximately but not the cooking time. With briskets, figure on somewhere between 12 and 18 hours and you'll be very close most of the time.
---
Printable Recipe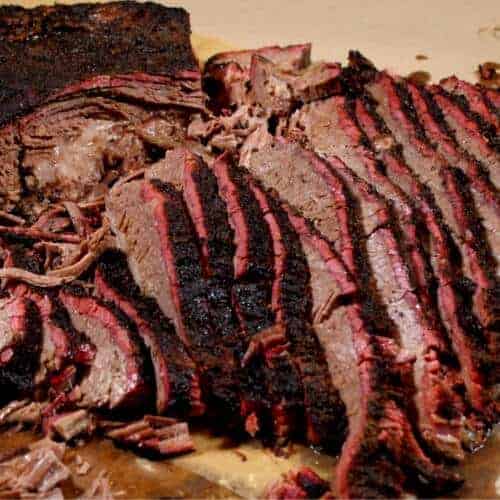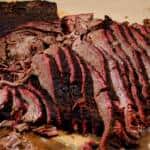 Print Recipe
The Wooster Brisket
The wooster smoked brisket is cooked fat cap down in a pan and doused with "wooster" sauce during the cooking process giving you the most juicy, tender and flavorful brisket in the world.
Ingredients
1

Whole packer brisket

2

bottles Worcestershire sauce

Jeff's Texas style rub

2

foil pans

((large/full size))

Brown or pink butcher paper

((unlined/uncoated))

Heavy duty foil

((optional))
Instructions
Trim the fat cap to 1/4 inch and remove any hard fat on the brisket.

Score the fat cap in a crosshatch pattern at 1-inch intervals.

Place the brisket in a large foil pan fat cap up.

Douse the top with Worcestershire sauce and apply Jeff's Texas style rub generously.

Flip the brisket to fat side down

Douse the new top side with Worcestershire sauce and apply Jeff's Texas style rub generously.

Cover with foil and place the pan of brisket in the fridge overnight.

Setup the smoker for cooking at 225°F (107°C) using indirect heat.

When ready, place the pan of brisket on the smoker and let it cook for 6-7 hours or until it reaches 165°F (74°C).

Douse the brisket with Worcestershire every 90 minutes until it reaches 165°F (74°C).

At 165°F (74°C), place another equally sized pan upside down on top of the pan with the brisket sealing the meat inside. You can also just cover with foil if desired.

Continue cooking the brisket until it reaches ~200°F (93°C) and a probe inserted in the meat shows no resistance.

Remove the brisket from heat and wrap in unlined/uncoated butcher paper or foil. Place in a empty cooler to rest for 4 hours.

After resting, remove brisket from cooler and slice 1/4 inch thick across the grain.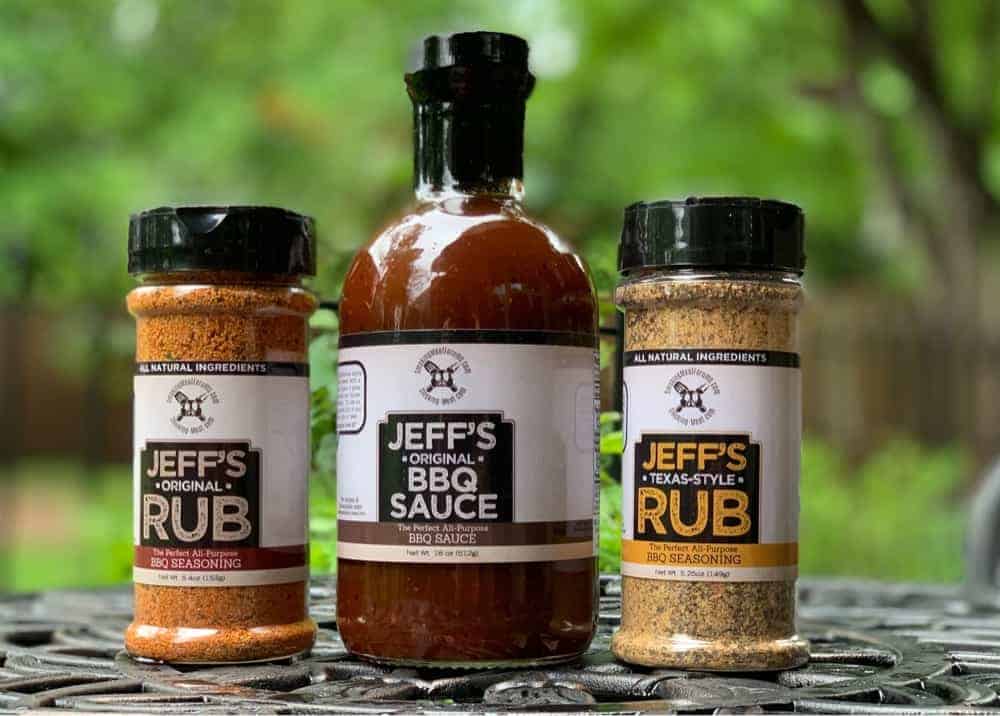 Order Jeff's Rubs and Barbecue Sauce TODAY!
✅ My rubs and sauce will be the best thing you've ever tasted and it's a great way to support what we do!
Note: You can also order the formulas for my rubs and sauce and make these yourself at home. Grab those HERE and download immediately.