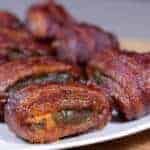 Print
Smoked Turkey and Cranberry Stuffed ABT's
You may know what ABT's are.. jalapeños stuffed with cream cheese, wrapped in bacon and smoked for about 3 hour. They are so amazingly delicious and one of my favorite appetizers. Take this same concept and add some leftover smoked turkey and some cranberry relish and you have smoked turkey and cranberry stuffed ABT's.
16-24

Jalapeno peppers

8

oz

cream cheese

Leftover smoked turkey

(, pieces, chunks, etc.)

Cheddar cheese

(, shredded)

Cranberry relish

Jeff's Original rub

((purchase recipes here))

Bacon

(, cut in half or center cut)
Step 1: Clean and Deseed the Peppers
Step 2: Soak the Peppers (optional)
If you do not like any "hotness" in your jalapeños, consider soaking them in a citrus flavored soda for several hours to remove some of the capsaicin (the chemical in peppers that make them taste hot)

After cleaning them, place them in a bowl and pour citrus soda over them to cover.

Soak them in this for 3-4 hours or even longer depending on how mild you want them to be.

I recommend tasting of a small bit of the stem end that you cut off to see how hot they are before deciding whether they need to be soaked or not. Some jalapeños are extremely mild while others can be a little less tame.

When the peppers are finished soaking, remove them from the soda. Save the soda if you wish to flavor brines, soups, whatever needs a little jalapeño flavor.
Step 3: Make the Stuffing
Hopefully you left the cream cheese on the countertop for an hour or so to soften. This will make it easier to work with.

Turkey Cranberry Cream Cheese Stuffing: 8 oz of cream cheese, 1/2 cup of shredded cheddar, 2TBS cranberry relish, ¼ cup of Jeff's original rub, ¾ to 1 cup turkey pieces.

Place all of the ingredients into a mixing bowl and use a spoon to fold all of the ingredients together so that it is well combined.
Step 4: Fill with Stuffing
Step 5: Wrap in Bacon
Lay a piece of bacon on the cutting board

Place one of the stuffed peppers onto one end of the pepper about 1 inch from the end.

Wrap the short end of the bacon over the top of the pepper.

Wrap the long end of the bacon over the top of the pepper and all the way around again to seal the pepper and to use up the piece of bacon.

Note: it is ok to cut the peppers in half so that you have boats. This makes it easier to stuff and wrap but allows the cheese to leak out a little more and gives you less jalapeño flavor.. your choice.
Step 6: Smoke Until Done
Once all of the peppers are stuffed and wrapped, place them on a Bradley rack or on a cookie sheet for easy transport out to the smoker.

Set up your smoker for cooking at about 225-240 °F for approximately 3 hours.

Use the water pan if you have one in your smoker and be sure to have enough dry wood chips, chunks or pellets for at least 1.5 to 2 hours. It is also ok to continue the smoke throughout the entire process.

If you are not using a Bradley rack, place the peppers on the grate making sure they are not able to fall through.

Cook smoke the peppers for about 3 hours or until they peppers are nice and soft and the bacon is done cooking.