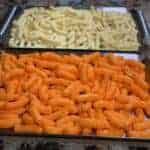 Print
Smoked Cheetos® Puffs
On a mere whim, I went to my local grocery store the other day and picked up a large bag of Cheetos® Puffs– the idea had come to me to try adding a little smoke to them and I just had to try it.
Step 1: Into the Pan
Open the bag of Cheetos® Puffs and pour them into a large sheet pan. Something like a Weber grill pan would also work well.

Pour the little puffs of goodness into the pan(s) making sure the smoke can get to all of them.
Step 2: Smoke
Setup your smoker to maintain indirect heat of around 180°F or lower if possible. You do NOT need heat, only smoke, however, a little heat will not hurt them.

Once the smoke is going, place the pan(s) of Puffs into the smoker and close the lid.

Leave them alone for 30 minutes and try to not raise the lid until they are finished for maximum smoke flavor.

When the time has expired, remove them from the smoker and bring them into the house to cool.
Step 3: Devour
These can be devoured in any way that you see fit.. enjoy the smoke flavor!

Once they are cooled down, you can store them in zipper bags.