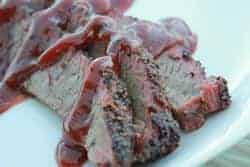 Hello and welcome to another edition of the smoking meat newsletter. Every once in a while it's nice to go back to the basics and do something ordinary but wonderful.. smoked brisket.
But it's also nice to try something a little new and for this edition, I am going to show you my hybrid method of smoking brisket low and slow to develop that nice smoke ring and give it plenty of time to get that nice and smoky flavor, followed by a high heat finish that will shave hours off of the process.
I must admit that I enjoy the long, slow process of cooking a brisket and when time allows, it's one of my favorite ways to spend the day or even the night but, there are times when you need to get a brisket done a little faster than usual and it's more about the task then just enjoying the moments.
In this article, I am going to show you how to literally remove hours out of the process without sacraficing quality, tenderness, juiciness or flavor.
Try the Recipes for My Rub and Sauce.. Get a Free Gift when you order;-)

When you invest in the recipes for my rub and sauce you are getting a lifetime of customer support. Week after week, month after month, I keep coming back with wonderful recipes and instructions on how to smoke meats, vegetables, sides, appetizers, etc. and most of them can be seasoned entirely with the rub or basted with the sauce to create that perfect finish. Nothing else required.
To make things even sweeter, order the recipes for my rub and my sauce and, for a limited time, you get the complete 28 page, 5 chapter eCourse in PDF format absolutely FREE.
Start the new year off right with the recipes for my rub and sauce!
Smoked Brisket: Low and Slow Start with High Heat Finish

In this article, we are dealing with how to smoke a brisket in less time than it usually takes. Using the low and slow method it normally takes about 1.5 hours per pound however, I have found that for those times when you need to get it done fast, you can cook it low and slow for a few hours and then finish it on high heat to get it done in record time.
What You'll Need
10-12 lb Packer cut brisket, Untrimmed
Large foil pan
2 Tablespoons coarse black pepper
2 Tablespoons coarse kosher salt
15-oz bottle of Worcestershire
1 cup Apple Juice
1 batch of Jeff's Rub (purchase recipe)
1 batch of Jeff's Sauce (recipe included with rub recipe purchase above)
How to Prepare the Brisket
In times past, I have always smoked briskets low and slow and I have trimmed the fat cap on the brisket down to about 1/4 inch or so. On this one, I trim the fat from the meat side but I leave the fat cap side as is to help protect the meat from the higher heat it will endure in the cooking process.
Place the brisket fat cap side down on the cutting board or in a foil pan and use a sharp knife to remove any large areas of fat. You want the meat exposed to the smoke and you also want the rub to be actually touching the meat rather than the fat so take your time and do the best job you can do here.
Before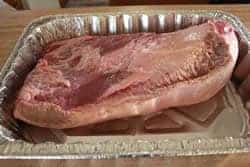 After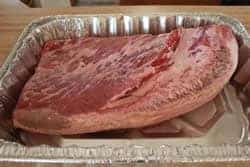 Note: While you are trimming the meat side, take note of the grain direction and if you need to, cut a small corner from the brisket to indicate the cut across the grain. Grain direction will be hard to see once its finished cooking.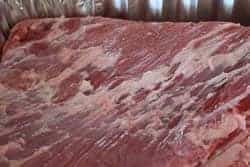 Once you are satisfied with the meat side, mix the 2 TBS of kosher salt and 2 TBS of coarse black pepper together and make sure it is well blended. I like to put this into a cheese shaker since it has large holes but you can use any empty spice container as long as it has fairly large holes.
Sprinkle a healty portion of the salt and pepper blend onto the meat side of the brisket.
Note: To allow maximum smoke penetration, we are using a light coat of salt and pepper rub at the start and once the brisket is about 2 hours from being finished, we will add on the wonderful flavor of my rub which will blend in very nicely with the salt and pepper for an amazing finish.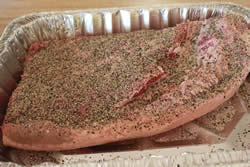 At this point, the brisket is ready to go on the smoker.
I highly recommend that you get the smoker going first thing and that way it is ready to go by the time you get the brisket ready.
Prepare the Smoker for Cooking
I opted to use the Meadow Creek TS120P Wood Smoker for this endeavor but you can use any smoker for this by simply using the same temperature settings and applying plenty of smoke.
Follow the steps necessary for your smoker to bring it up to about 240°f which is where we will hold it for about the first 3 hours.
Once the smoker is ready and chugging along at 240°f, it is time to go get the brisket.
Here is some information on various smokers to help you get the best out of whatever smoker you are using:
Other Smokers
All of these recipes are easy to do in ANY smoker. Here's some information that I have written on various smokers.
Note: In colder weather, it is advisable to preheat the smoker at least an hour or more before you are wanting to use it. Keep the door closed as much as possible and even skip basting if necessary to maintain proper smoking temperatures.
Smoking the Brisket
Place the brisket directly on the grate and let it smoke cook until it reaches about 160 degrees. You are probably looking at about 3 hours.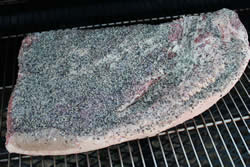 At about the 2 hour mark, I insert a digital probe meat thermometer into the brisket so I will know when it has reached temperature. I use a Maverick ET-732 which is a dual probe remote thermometer with the sending unit at the smoker and the reciever in my pocket. This way, I can go about what I need to do and I always know the temperature of my smoker and the meat.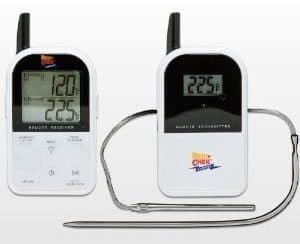 Here is how the probe should be inserted into the brisket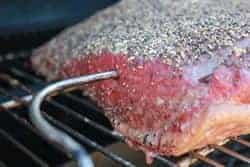 Once the brisket reaches about 155-160 degrees, you will want to get the pan ready to hold the brisket.
Place an entire 15-oz bottle of Worcestershire, 1 cup of apple juice and 4 Tablespoons of Jeff's rub (order recipe) into the large foil pan.
Place the brisket down into the pan with the liquid, fat cap side down.
~This is where you add my rub~
Sprinkle rub all over the top and sides of the brisket.. be generous with it.
Cover the pan with foil to hold in all that goodness.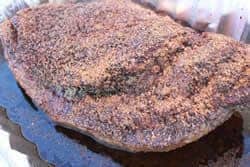 At this point, you will want to ramp the heat up on the smoker to about 325-350 degrees. I was easily able to do this in the Meadow Creek TS120P but your smoker, depending on what you have and how cold it is outside, may not be able to cook this hot.
Note: It is not a disgrace to use the home oven or even the grill if you need to in order to reach the high temperatures required to get this brisket done in record time.
Remember that THIS particular brisket is about learning how to get it done quick. It's not about sticking to what you have always done or even about staying with the tradition of low and slow. Do what you have to do to get the brisket into 325-350 degree heat.
Within 2 hours, my 10 lb brisket was reading 195 degrees in the center of the flat. If your brisket is larger, it may take slightly longer.
Once the brisket reached 195 degrees, I checked it for tenderness by inserting a toothpick into the meat and found that it was not as tender as I liked so I left it in the smoker but I let the heat die down a little to about 250 degrees. I checked it every 30 minutes or so and at the end of 2 additional hours it was finally as tender as I liked.
At this point, you can let it rest for 30 minutes and then serve it immediately.
How to Tenderize Further
If you have the time and want to let it tenderize further for a while then follow these steps:
Wrap the brisket in foil
Wrap the foiled brisket in (2) thick towels
Place the wrapped brisket down into an empty ice chest
Fill in remaining space with towels, pillows, blankets, etc.
Close the lid tightly
The brisket will stay hot for several hours and will continue to tenderize while it waits.
How to Serve the Brisket
Slice the brisket across the grain into about 1/4 inch pieces. Serve with some of my warm barbecue sauce (order the recipe) on the side for the folks who want it.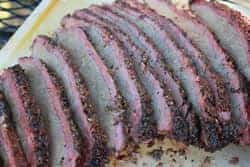 Final Thoughts
This 10 lb brisket took 7 hours to finish which is less than 45 minutes per pound total. This just goes to prove that you can definitely do brisket in a hurry when the need arises.
Will I start doing all of my briskets using this method?
I dont' think so.
I thoroughly enjoy the low and slow, laid back smoking process but it does give me options if I need them.
Summary
Trim fat from meat side of brisket
Apply salt/pepper rub to meat side
Smoke brisket (fat cap down) directly on grate at 240 degrees until 160 degrees or about 3 hours
Place brisket fat cap down in pan with marinade
Apply my rub to top and sides of brisket and cover with foil
Cook at 325-350 until brisket reaches 195 degrees
Check for tenderness with toothpick (should go in easily)
Cook longer if neccessary (check every 30 minutes or so until tender as desired)
Let rest for 30 minutes then slice and serve
The Recipes for my Rub and Sauce – Order Today!

The really wonderful thing about my rub is that it's good on nearly everything. It not only flavors the meat really well but it also helps to bring out the natural flavors of the meat.
The sauce is the icing on the cake and gives the finished product a final layer of flavor for those who like to have warm sauce to dip the meat in.
Both my rub and my sauce work so well on so many things and I'm thankful that I can call them my own creations. I am also happy that I am able to share them with you folks in a way that benefits the website and the newsletter.
You really have to try it to truly experience the "WOW"! and if you've been teetering on the fence about it, then go ahead and try it out!
I am not being dramatic.. just try it and you will join the ranks of those who know if I'm lying then I'm dying! This stuff is amazing and you need it in a bad way;-)
Here are a few testimonies from other folks who decided to go for it and are glad that they did. Be sure to send me your testimony once you try it and realize that you have just tasted of HEAVEN.
—————————————————
Jeff, I did a smoked pork roast yesterday and used your recipe both for the pork and for your Smoky Barbecue Sauce. Everyone loved it. My wife said the sauce was the best she had ever tasted and I have to agree. Fantastic. ~ Barry
—————————————————
Hello Jeff I recently purchased your recipe for rub-n-sauce and just wanted to let you know that its off the chart. well worth the cost. I am cooking for about 50 family and friends at lake Texoma this weekend and cant wait to see everybody's reaction ~ Jack
—————————————————
Jeff, You truly are the man. Bought your rib rub and your sakes alive sauce and love them both. Keep up the good work helping people like me learn to cook good BBQ with smoke. ~ Matt
—————————————————
Jeff, I was smoking a Boston butt Saturday night for dinner Sunday and decided to try your bbq sauce. I have to say this is hands down the best sauce I've ever had and I've tried a lot of them. Its very easy to make, inexpensive and taste excellent. I will be using this recipe for a long time. ~ Doug
—————————————————
Jeff, Your Rib Rub is to die for, I have used it on all meats including Venison and I have to say you have created a master piece, Thank you for letting us common folk into your smokin life.~ Kevin
—————————————————
You deserve the very best and it is completely within your grasp! Only $18.95 and worth every penny. Not only do you get the best rub and sauce recipe available, you are supporting this website and helping to make sure the bills get paid so we can keep on doing what we do to teach thousands and thousands of people across the world the art of smoking meat.
Order Recipes | Read Testimonies
What to Expect Once you Order

Here's how it works:
You order the recipes
My automated system sends you a download link in an email with a password
You click on the link and use the password to download the recipes and the free gifts to your computer
If you DON'T get the email with the link within 10 minutes:
Check your spam/junk folder (sometimes they get caught there)
If you can't find it, email me and let me know you didn't get it
I will send the recipes and login info to you as an attachment in an email
You let me know you got it, we are both happy campers!
Great Resources for Smoking Meat Enthusiasts

Note: All off-site links will open a new window or tab. When you are done, simply close the window or tab and you'll be right back here.
Free Smoking Meat Newsletter