Who doesn't love maple glazed smoked salmon? Alright, maybe there are a few people around who don't but, I haven't met too many folks who wouldn't tear into some home smoked salmon hot and fresh from the smoker.
Smoking salmon is more about the preparation than the actual smoking process and if you get the brine and the seasoning right, the rest is a piece of cake.
Fortunately for you, I have made enough mistakes with salmon to be able to show you what works and what doesn't and I'll even get into the "why" occasionally if you act interested.
It's fancy, it's delicious and it's easy so grab a fresh salmon from the meat counter or wherever you buy fresh fish and let's dive right into it.
Important Information
Prep Time: 15 minutes
Brine Time: 8-10 hours
Dry Time: 2-4 hours (pellicle formed)
Cook Time: 6 hours
Smoker Temp: 100/150/175
Meat Finish Temp: 145 F
Recommended Wood: Alder, Oak or Apple
What You'll Need
2-3 lb salmon
Maple/Brown Sugar Brine
Dijon Mustard
Jeff's rub and sauce (purchase recipes here)
Pure maple syrup
Get the Recipes for Jeff's Rub and Sauce
---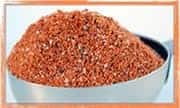 My rub recipe is as good on salmon as it is on ribs, pulled pork and chicken but don't take my word for it.. make up a batch and give it a try this weekend!
I promise you'll love my dry rub/seasoning recipe and my barbecue sauce recipe or you don't pay!
Reasons to buy: Support the newsletter and the website | Own "the recipes" | Get the email newsletter 100% AD FREE from now on | Includes the Texas style rub recipe

Brining the Salmon
Make the maple/brown sugar brine using:
1 quart of cold water
1/4 cup of Kosher salt
1 cup of brown sugar
3/4 cup of maple syrup
1/4 cup of Jeff's rub recipe (purchase recipe here)
Add a quart of cold water to a plastic or glass pitcher then add the salt and stir to dissolve.
Add sugar, rub and maple syrup and mix well.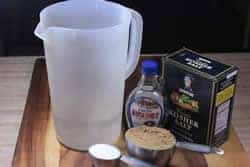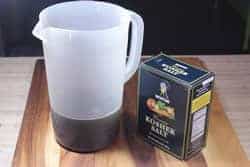 Lay the salmon on the cutting board and remove any pin bones using a pair of clean needle nose plyers.
Pin bones are the little white bones that stick up about 1/8 inch from the flesh of the fish. If you run your hands across the top of the fish, you can usually feel them even if you can see them. Press down a little and they will pop through.
Take a little time removing these and everyone will be a lot happier once it's time to eat.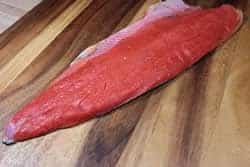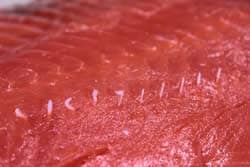 I cut my fish in half and I highly recommend doing so to make it easier to handle the fish.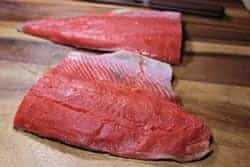 Place the (2) halves in a gallon sized ziploc bag and pour in enough brine to cover completely.
Press out all of the air and seal it up. I recommend placing the bag of fish down in a foil pan or other container to contain any accidental leaks.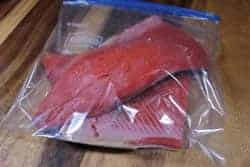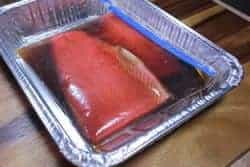 Place the pan with the bagged fish into the fridge and let it brine overnight or 8-10 hours.
Drying the Fish
It is very important to dry the outside of the fish before smoking to. This allows the flesh to form a pellicle or shiny, slightly sticky surface which helps to seal in the white fatty protein called albumin that likes to ooze out while you are cooking salmon. The ultimate holy grail of salmon smoking is being able to smoke cook the fish without any of the white stuff oozing out..
Brining and drying the fish is one of the ways to minimize this so take your time with this part of the preparation.
Once the fish is finished brining, remove it from the brine and lay it on a Bradley rack or some other similar device to allow the fish to dry. Pat the outside of the fish dry with a paper towel or just lay a paper towel across the fish and let the moisture wick into the paper towel for a minute or two.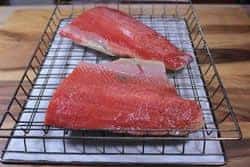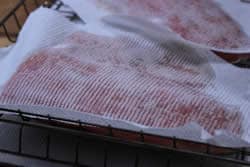 Some folks leave the fish out on the cabinet to dry with a fan on it and perhaps this is fine but I like to keep the fish refrigerated while it dries.
It will take 2 to 4 hours for the pellicle to form on the flesh of the fish.
Seasoning the Salmon
Option 1:
Apply a little spicy mustard or Dijon to the salmon then massage about a tablespoon of my rub into the meat.
We will also add more rub later via the maple syrup glaze.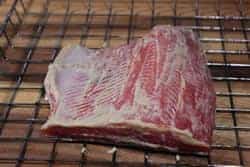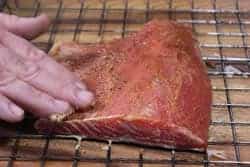 This adds a lot of flavor and is one of my favorite ways to season the salmon before it goes into the smoker. It adds more flavor than option 2 but does not overpower the natural flavor of the salmon at all.
Option 2:
Smoke the salmon as it is for now.
Add the rub later via the maple syrup glaze.
Smoking the Salmon
My choice for fish is almost always the Bradley smoker as it can hold whatever temperature I throw at it with great accuracy and the wood pucks produce plenty of excellent clean smoke that goes really well with the salmon or whatever I am cooking.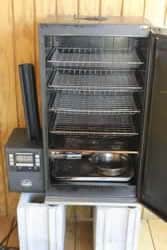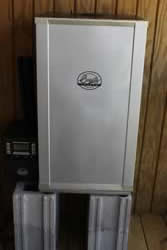 With the fish dried, the pellicle formed, and the salmon seasoned up with rub (or not if you chose option 2), preheat your smoker to 100 degrees. With some smokers this is very difficult and may even be impossible but the point is to start out cooking as low and close to 100 degrees as you possibly can.
By cooking at 100 degrees for the first 2 hours or so, this allows the outside of the fish to dry further, and gives a gentle enough heat so that the moisture rich albumin is maintained inside the fish.
Once the smoker is ready, place the Bradley rack with the fish into the smoker.
I recommend placing parchment paper under the fish to keep it from sticking. I often forget to do this and it is quite a feat to get the fish removed without tearing it up. Parchment paper torn carefully by hand to fit the shape of the fish with about 1 inch excess on each side makes for great presentation. The edges will brown just a little and it looks nice and rustic.
Here is a picture from my book (page 130) showing this in action: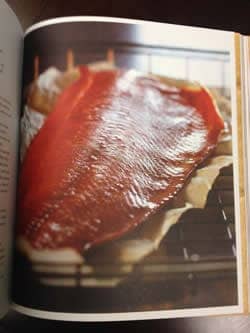 Smoke the salmon at 100 degrees or as low and close to that as you can get, for 2 hours.
After 2 hours, raise the temperature to 150 degrees to continue the cooking process and allow the temperature to continue to climb.
During this stage and the rest of the cooking process, you will want to glaze the salmon with the maple glaze once every hour or so.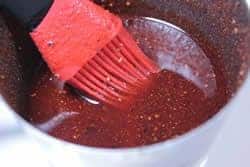 Maple Glaze
Mix well.
This makes a very nice maple flavored glaze which also adds my rub to the salmon. The maple syrup and the rub go very well together and are a wonderful way to layer on amazing flavor while the salmon cooks.
Finally, raise the temperature once more to 175 or so until the internal temperature of the fish reads 145 degrees with a tried and true accurate thermometer. These days, I use my handy thermapen for things like this or you can use a digital probe meat thermometer like the Maverick ET-732 for great results as well.
So, to recap.. the cooking schedule is:
2 hours at 100 degrees
2 hours at 150 degrees
2 hours at 175 degrees or until it is finished cooking.
If you notice some of the albumin on the outside of the fish, simply wipe it off gently with a damp paper towel.
Serving the Salmon
The maple glazed smoked salmon can be eaten immediately once it is done cooking and goes great with a medley of mixed vegetables or some asparagus.
Smoked salmon is also very good cold.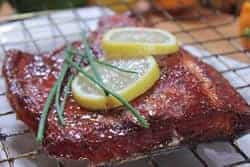 Get the Digital Recipes for Jeff's Rub and Sauce
Limited Time Website Deal!
Save 20% on Jeff's Rub Recipes and Sauce Recipe
Use coupon code GIVEJOY during checkout
***Note: you get the Texas style rub recipe free with your order!
If I could give these recipes away, I would do that. I really want you to have them! But, then, this is how I support the newsletter, the website and all of the other stuff that we do here to promote the art of smoking meat.
Read these recent testimonies:
"Love the sauce and rub recipes. So far I have used them on beef ribs, pork ribs, and different chicken parts. Can't wait to do a beef brisket. Texas rub is great as well!" ~Peter S.
"I tried the rub on a beef brisket and some beef ribs the other day and our entire family enjoyed it tremendously. I also made a batch of the barbeque sauce that we used on the brisket as well as some chicken. We all agreed it was the best sauce we have had in a while." ~Darwyn B.
"Love the original rib rub and sauce! We have an annual rib fest competition at the lake every 4th of July. I will say we have won a great percent of the time over the past 15 years so we are not novices by any means. However, we didn't win last year and had to step up our game! We used Jeff's rub and sauce (sauce on the side) and it was a landslide win for us this year! Thanks Jeff for the great recipes. I'm looking forward to trying the Texas style rub in the near future!" ~Michelle M.
You see the raving testimonies and you wonder, "Can the recipes really be that good?"
No worries! Make up a batch and if it's not as good as you've heard.. simply ask for a refund. Now that's a bargain and you know it. Let's review:
You decide you don't like the recipes.. you don't pay!
The recipes are absolutely amazing!
Once you order, there'll be no more recipe ads in the email version of the newsletter
Well.. what are you waiting for.. click on the big orange button below to order the recipes now.
Limited Time Website Deal!
Save 20% on Jeff's Rub Recipes and Sauce Recipe
Use coupon code GIVEJOY during checkout

I really, really appreciate the support from my newsletter friends and be sure to let me know if you have any questions about this.
Jeff's Smoking Meat Book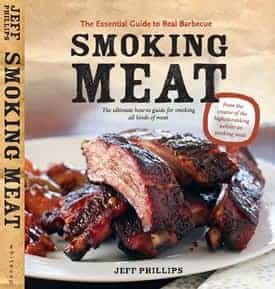 The book is full of recipes and contains tons of helpful information as well. Some have even said that "no smoker should be without this book"!
With more than 800 reviews on Amazon.com and a rating of 4.7 out of 5 stars, it comes highly recommended.
It is a Bestseller in Barbecueing & Grilling books on Amazon.
Amazon | Barnes & Noble | German Edition
Digital versions available via Nook | iTunes | Kindle
Get Almost Anything at Amazon
If you enjoy the newsletter and would like to do something helpful, then..
The next time you decide to order something at Amazon.com, use THIS LINK to get there and we'll get a small commission off of what you purchase.
Thank you in advance for using our special link: http://www.smoking-meat.com/amazon