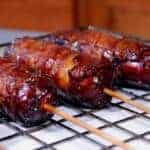 Print
Smoked Bacon Wrapped Hot Links - Memorial Day
Smoked bacon wrapped hot links, sausages, brats and hotdogs with a stick for holding them is a great addition to your Memorial Day celebrations.
A good selection of hot links

, smoked sausage, brats, hotdogs, etc.

Yellow mustard

Jeff's original rub recipe

(purchase recipes here)

Bacon

, original or thin sliced (thinner is better)

Jeff's barbecue sauce 

(purchase recipes here)

Long wood skewers

A thermapen Mk4 or ThermoPop

(for ensuring the meat reaches a safe temperature of 160°F)
Step 1: Insert Handles (long wood skewer)
While holding the sausage, hot link, hotdog, etc., run the skewer lengthwise through the center stopping just before it comes out the other end.
Step 2: Roll in Rub
Put some mustard and rub into (2) separate plates

Roll the hot links in mustard

Now roll the hot links in the rub making sure to coat well.
Step 3: Wrap with Bacon
Lay a strip of bacon onto the work space then place the rub coated hot link perpendicular onto the bacon about 2 inches from one of the ends.

Flip the end of the bacon over the top of the hot link to get it started..

Roll the hot link to wrap the bacon around itself. Allow the bacon to overlap a bit with each round and keep it tight while it wraps.

Perform the same task on all of the hot links, sausages, brats, or hotdogs.
Step 4: Smoke for 2-3 hours
Setup your smoker for cooking with indirect heat at about 240°F for 2-3 hours. I used cherry wood for smoke which is really great on these but you can use your favorite wood or whatever smoking wood you have available.

Most things will be perfectly smoked in about 2 hours but we want the bacon to crisp up as well. Leaving it in the smoker for an extra hour will help or you can place them on a hot grill for a few minutes after a 2-hour smoking process.

About 30 minutes before they are finished, paint them generously with my barbecue sauce.

When the bacon is firm to crisp, remove the smoked bacon wrapped hot links from the smoker and serve immediately.