Smoked Duck with Dirty Rice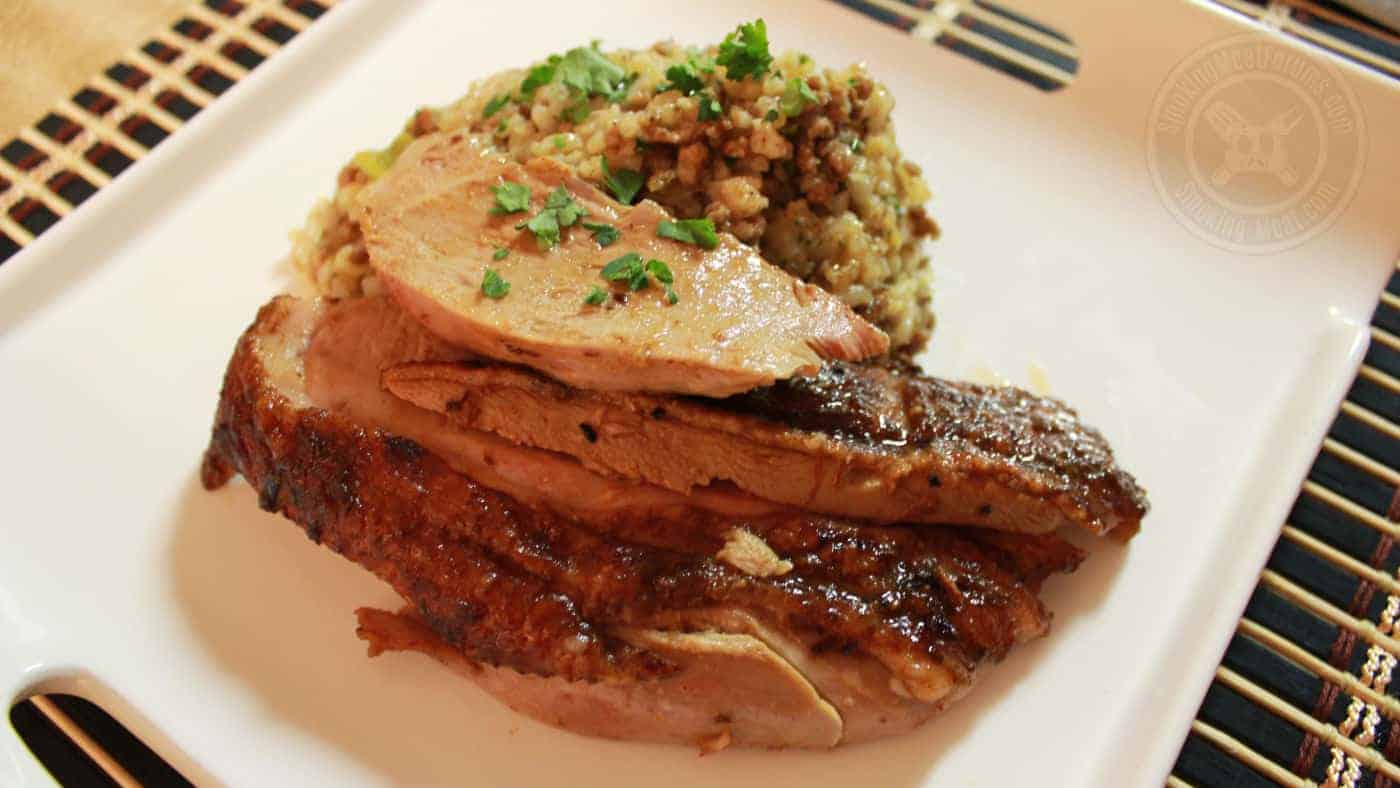 Smoking-Meat.com is supported by its readers. We may earn an affiliate commission at no extra cost to you if you buy through a link on this page.
Read this article without ads
A while back, I picked up a couple of domestic ducks and cooked them in the smoker and they were really, really good.
My family went crazy over this smoked duck recipe and I have no doubt that yours would too if you choose to cook these in your smoker. They do make an excellent holiday meal but they would be great almost any other time as well.
Helpful Information
Prep Time: 30 minutes
Cook Time: 4-5 hours
Smoker Temp: 240°F (116°C)
Meat Finish Temp: 165°F (74°C)
Recommended Wood: Pecan
What You'll Need
1 duck for every (4) eaters
2 TBS Dijon Mustard
½ stick Butter, melted (optional)
Preparing the Ducks
Most of the time they will be frozen when you buy them so you will want to purchase the ducks ahead of time so they will have time to thaw in the fridge. If you need to speed up the process, you can place them in cold water and replace the cold water every 30 minutes.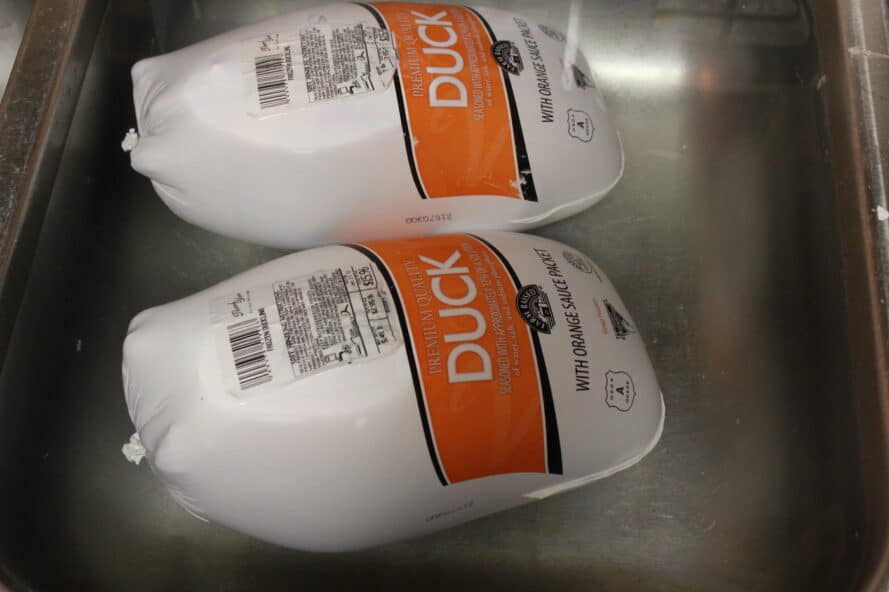 From personal experience, unless you let them thaw for several days, they will still have ice in the cavity.
Thaw the ducks then run cold water into the cavity to loosen the ice so you can remove the neck and other gifts they leave for you down in there.
Good stuff for making stock, soups, etc.;-)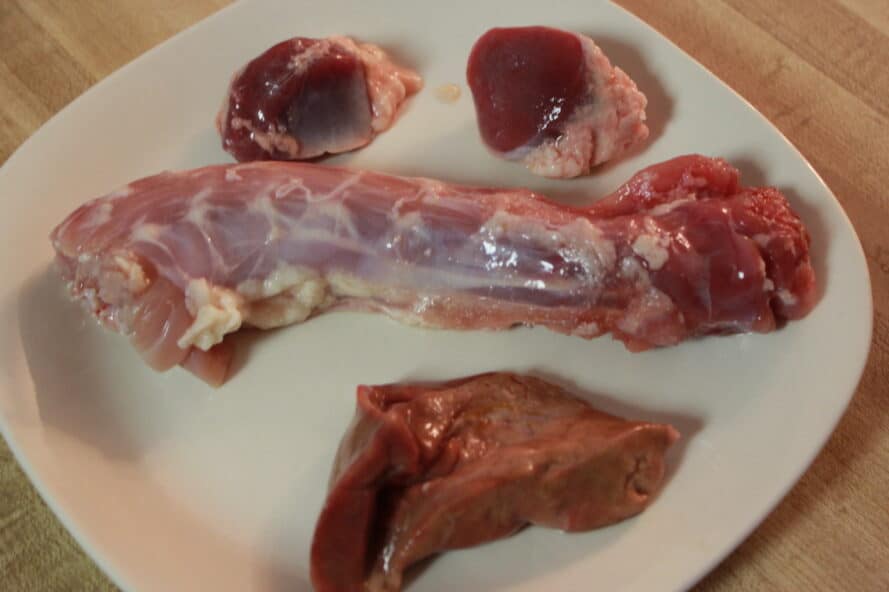 Soaking/Brining the Ducks
While you really don't have to brine these ducks (they are extremely moist and that fat under the skin really keeps them basted while they cook) I do like to soak them in buttermilk and so I usually just go ahead and add some salt to the buttermilk and do a sort of buttermilk brine which always makes them turn out delicious.
The buttermilk has some enzymes and such that helps to tenderize poultry and the brining process causes the liquid to be drawn into the meat. Thus, by adding 1 cup of kosher salt to a 50:50 mix of water and buttermilk, the diluted buttermilk gets drawn into the meat of the duck and, to me, makes a big difference in the outcome.
To make the brine, add 1/2 gallon of water to a gallon sized pitcher, Add 1 cup of kosher salt and stir well until the salt is dissolved. Add 1/2 gallon of buttermilk and gently stir until mixed well.
Place the rinsed and cleaned ducks into gallon sized zip top bags or other non-reactive brining container (I recommend using plastic or glass). Pour brine into the bag or brining container to cover the duck and close it up.
If you use zip top bags, place them down in a bowl to minimize the risk of leakage and place them in the fridge for about 6 hours.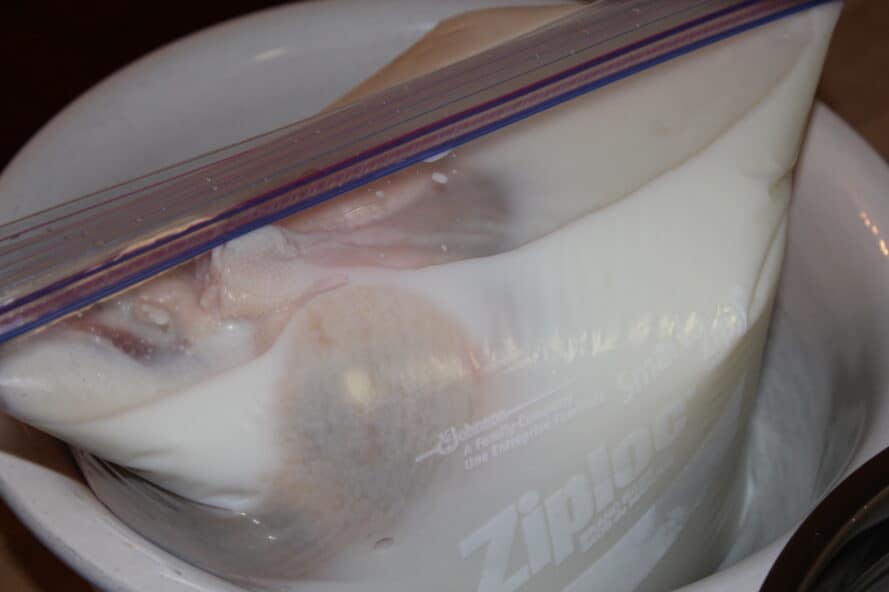 Once the ducks are finished brining, pour out the buttermilk and rinse them well with cold water inside and out.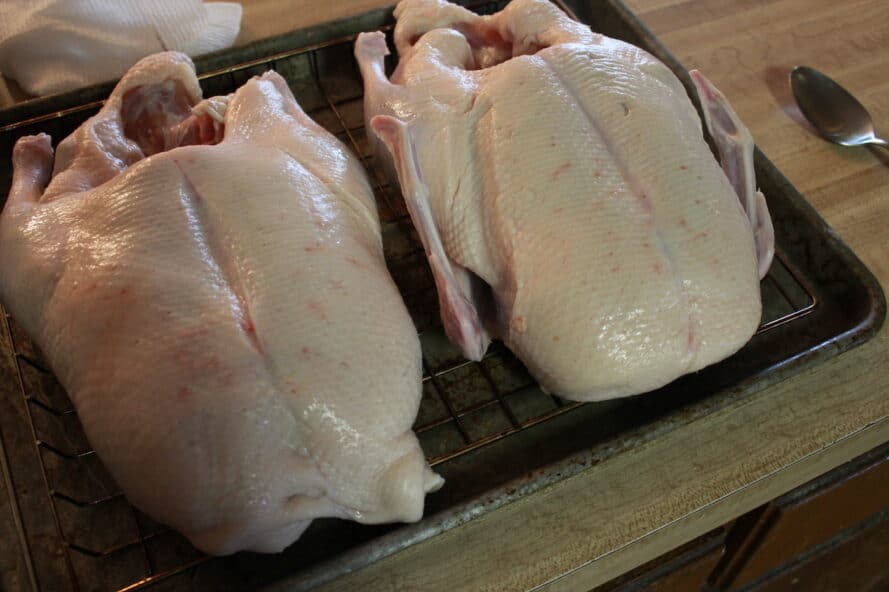 Add a Little Flavor to the Ducks
As with any meat, it is a good idea to add a little seasoning and you will find none better than my very own original rub.
With any poultry, it is good to add the seasoning to the outside of the skin but it never hurts to get some up under the skin as well wherever you can.
Tip: to get the dry rub up under the skin melt a half stick of butter in the microwave and add 2 Tablespoons or more of my original rub to it. Mix well then use a turkey baster to suck up some of the mixture and squirt it up under the skin of the duck.
I always like to use a little something to help the rub to stick and I experiment with different oils, pastes, condiments, jelly, syrup, etc. to find what works on different types of meat.
I decided to use a little Dijon mustard on these particular ducks and just happened to have some on hand already.
Tip: If you don't want to use the Dijon mustard and prefer something sweet with duck, use a little warmed maple syrup on and under the duck skin in the same way.
A very light coal of the mustard and a good sprinkling of Jeff's original rub (Purchase formulas | Purchase bottled product) followed by a good massage was just the ticket for these waterfowl.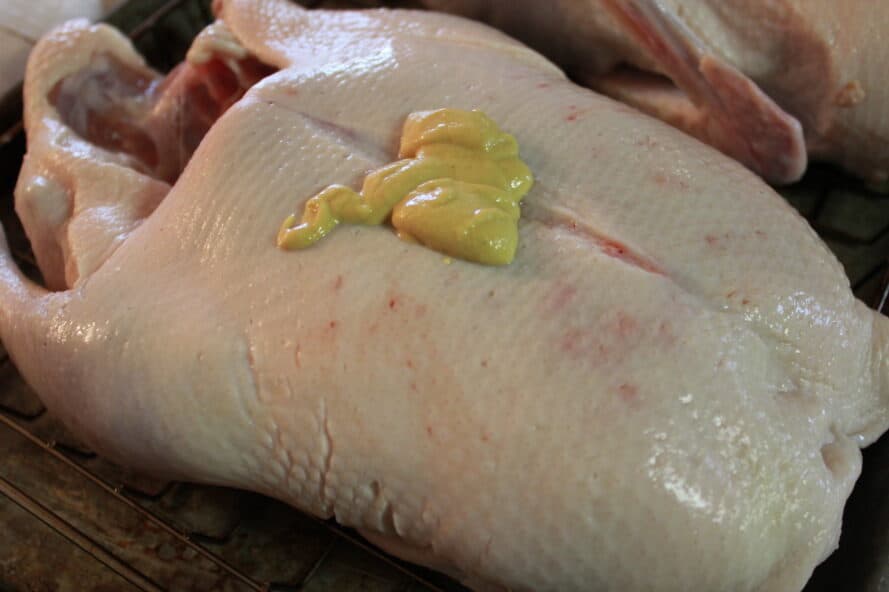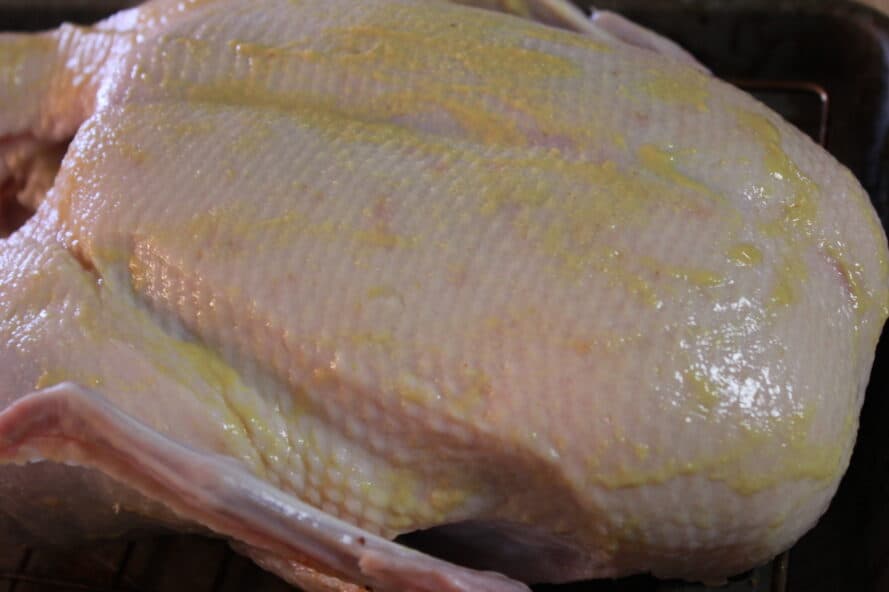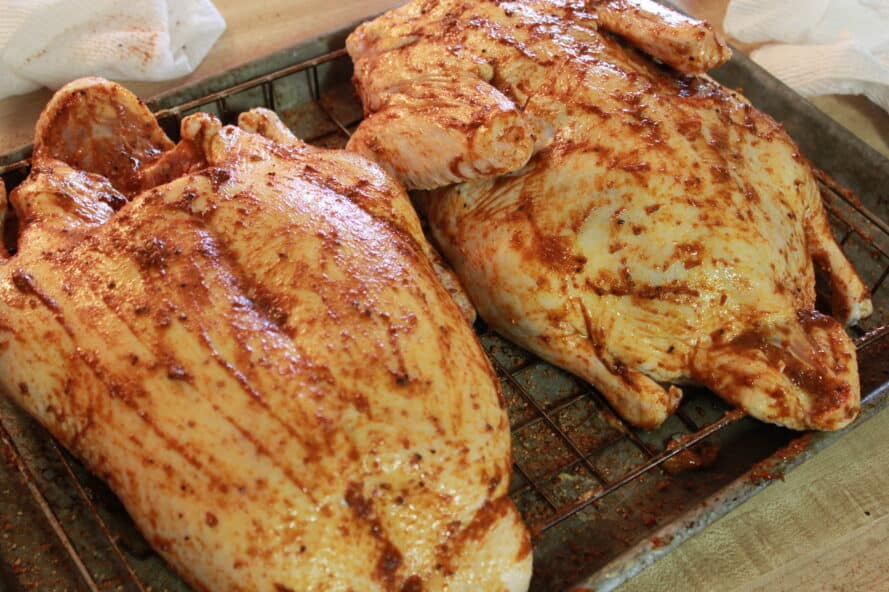 I placed them on a pan with a rack for easy transport to and from the smoker
Get the Smoker Ready
I get a lot of requests for recipes for various types and brands of smokers and I need to explain that ALL of my recipes are for ALL types and sizes of smokers. A smoker is simply a heat source with the addition of smoke. It does not matter if you use wood, charcoal propane or electric.. as long as you are running it at the recommended temperature and watching for the recommended finish temperature of the meat, it will work.
Most smoking is done to temperature rather than time which is one of the many things that makes it different than oven cooking indoors.
Normal smoking temperatures of 240°F (116°C) will work just fine for the duck and you can expect about 5 hours for large ducks (6 lbs or so) and a little less for smaller ducks (5 lbs or less)
My ducks were in the 6 lb range and I opted to cook them a little hotter than usual for most of the cook. I maintained between 250°F (121°C) and 275°F (135°C) and they took about 4 hours to reach 165°F (74°C) in the thickest part of the breast.
I smoked these ducks with pecan for the entire time which is highly recommended. They will also do well with fruit wood or even hickory or oak.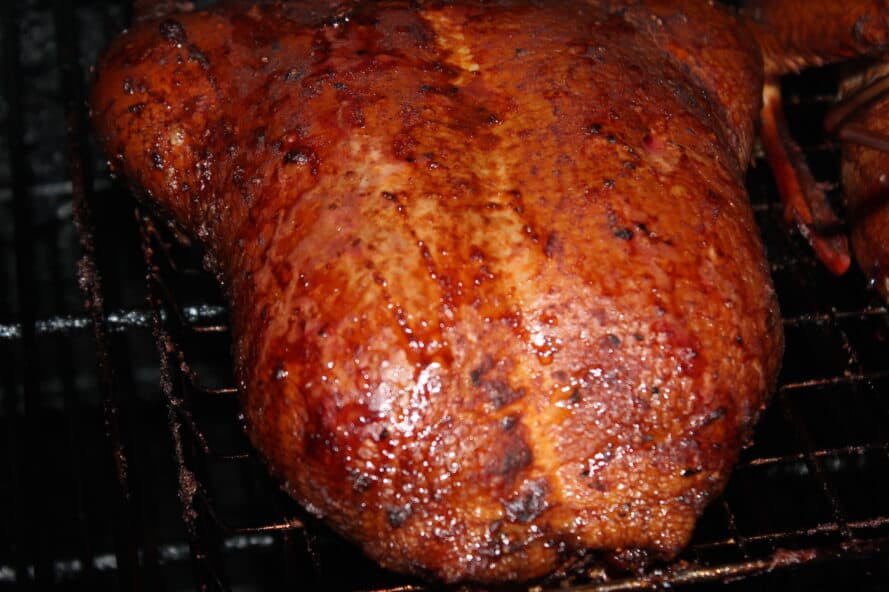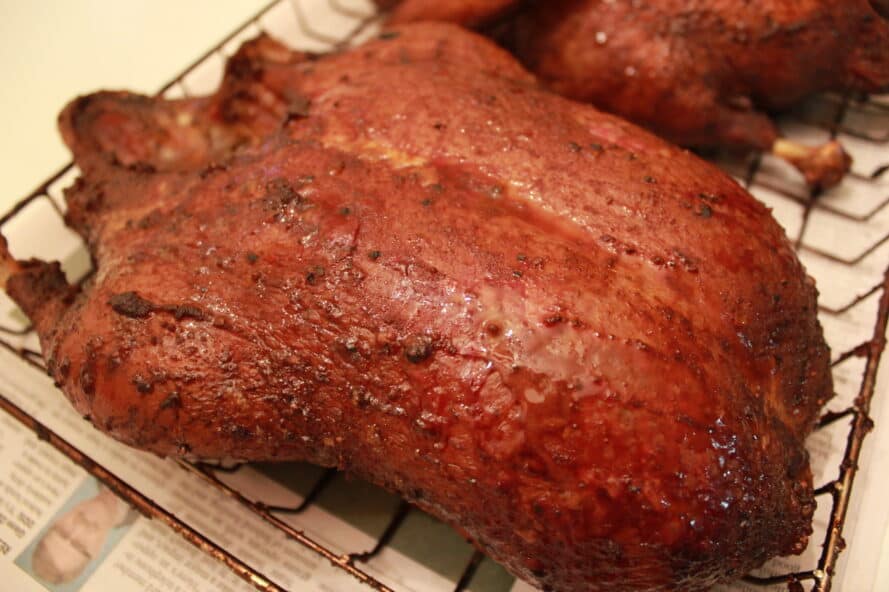 Finishing the Duck
Remember that fat layer under the skin that I told you about? Well that fat has to render if you want the skin to be somewhat crispy and one of the ways to help this happen is to cook it hotter like I did. I have to say that while a lot of the fat rendered, even at slightly higher temperatures, there was still a layer of fat between the skin and the meat.
Note: You can poke small holes or cut several "x" shapes in the skin before cooking to allow the fat to drip out once it has rendered.
Another way to help render some of that fat is to preheat the home oven to about 500 degrees and once the duck reaches about 155°F (68°C) in the smoker, move it quickly to the oven to finish out the last 10 degrees in this high heat.
The third and most effective way is to go ahead and carve the duck once it reaches 165°F (74°C) and has rested for about 10 minutes removing the wings, the legs and then very carefully the entire breast.
Pre heat a cast iron skillet over high heat and just a very small amount of oil to just lightly coat the bottom. Lay the whole breast skin side down for a minute or two to finish rendering out most of the fat that is under the skin.
Personally, I don't eat the skin so I don't worry too much about it most of the time. I cook them a little hotter than usual but other than that, it's the meat that I'm interested in not the skin so much.
Carving the Duck
I am certainly not an expert carver but I can successfully remove the wings, legs and breast in just a minute or two and all that's left is a carcass.
All in all, you should end up with 2 legs and 2 breast pieces. I don't serve the wings at the table but I do get a few small pieces of meat off of them which I am only too happy to eat and make sure it tastes ok.
The Dirty Rice Recipe
My wife makes a mean dirty rice as a side to this duck and when I asked her for the recipe, she simply gave me a link to a website (the link is no longer working so we were able to get hold of the basic text and included it below with complete attributions.
This one has a LOT Of ingredients but it's worth it!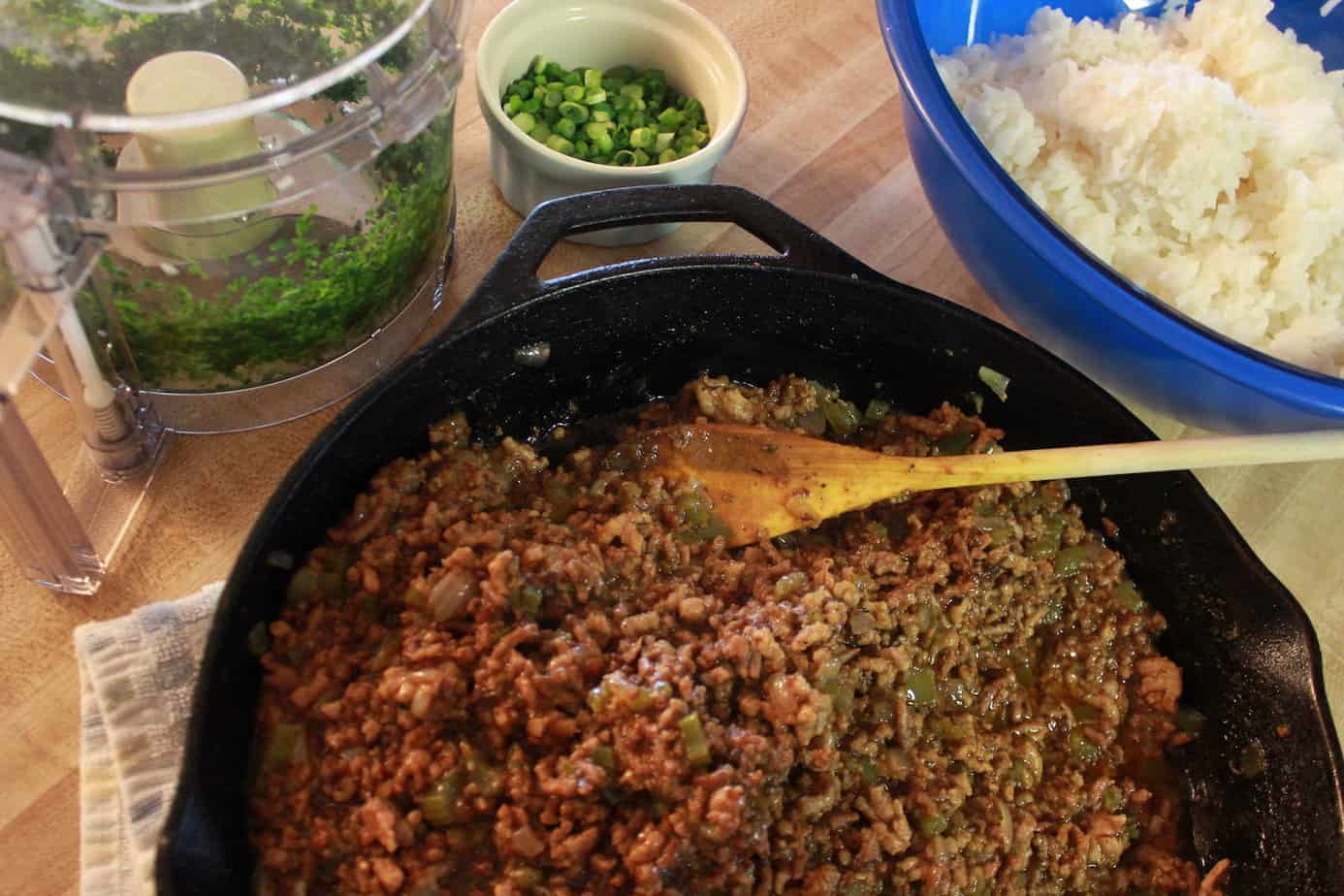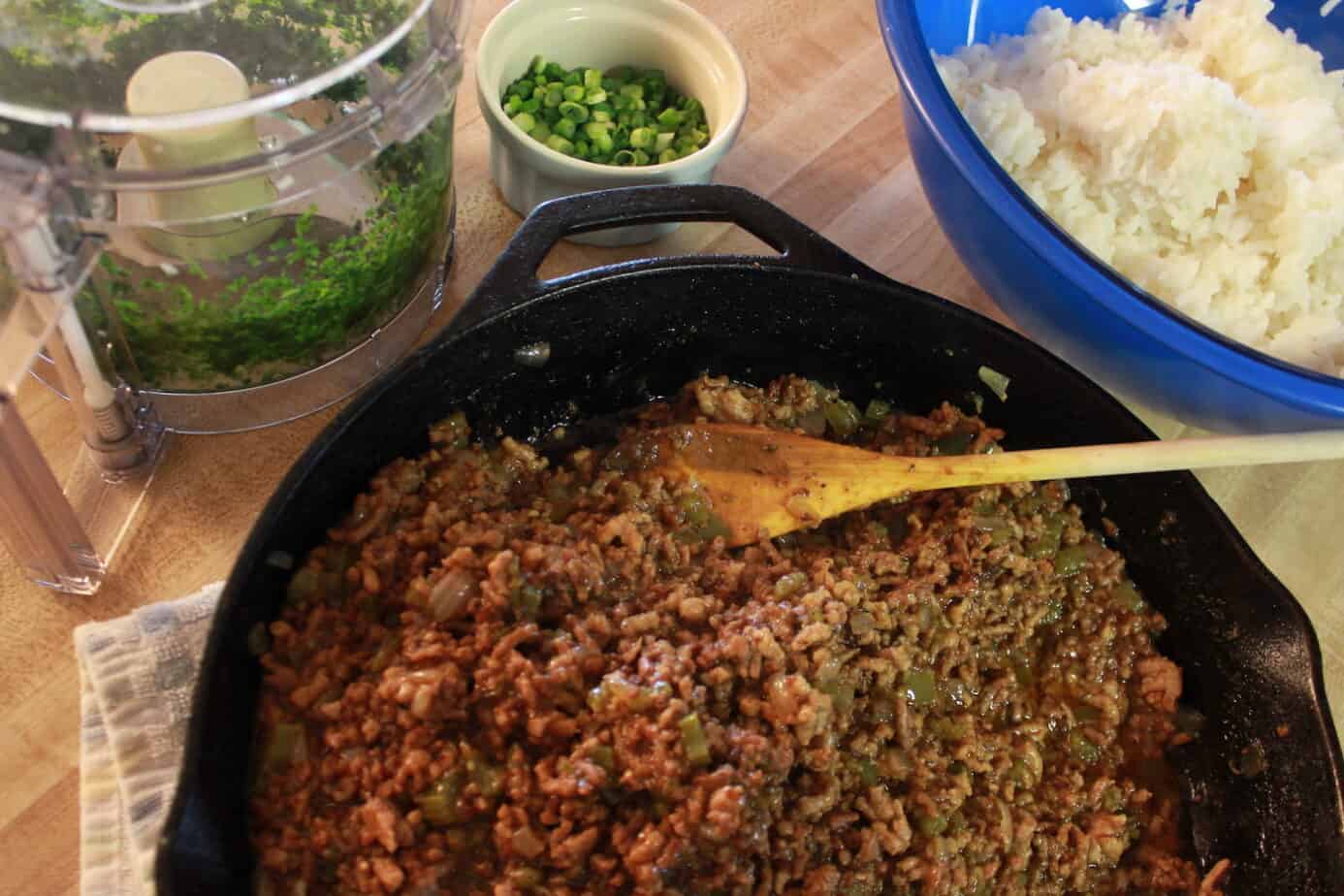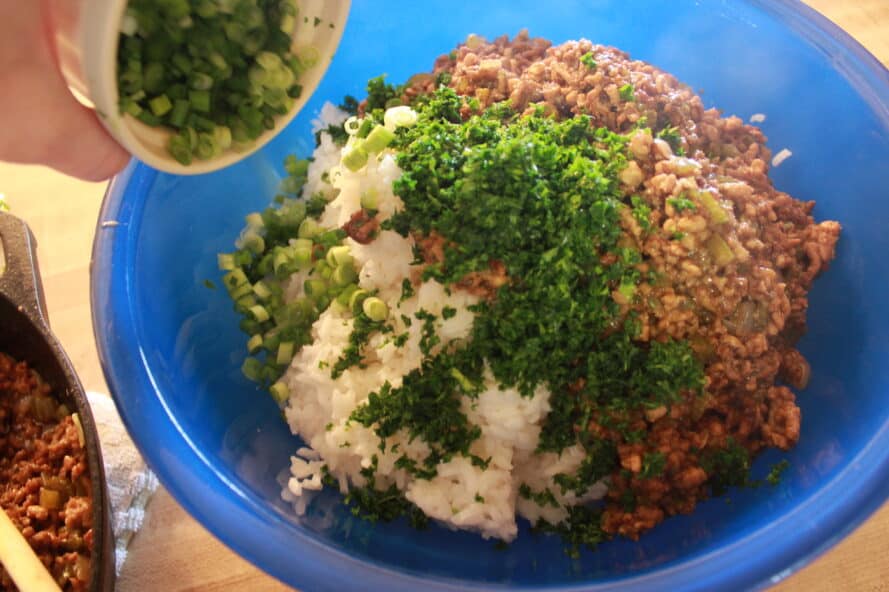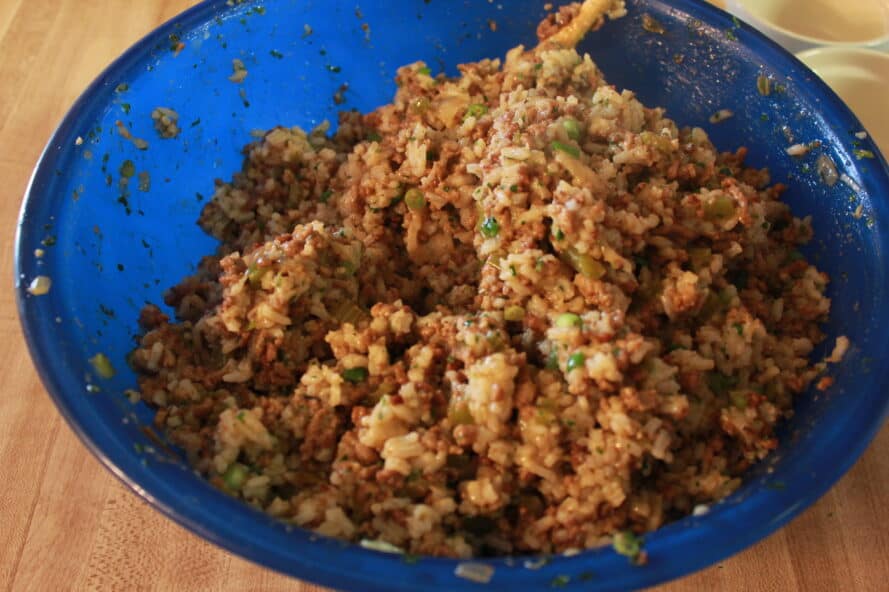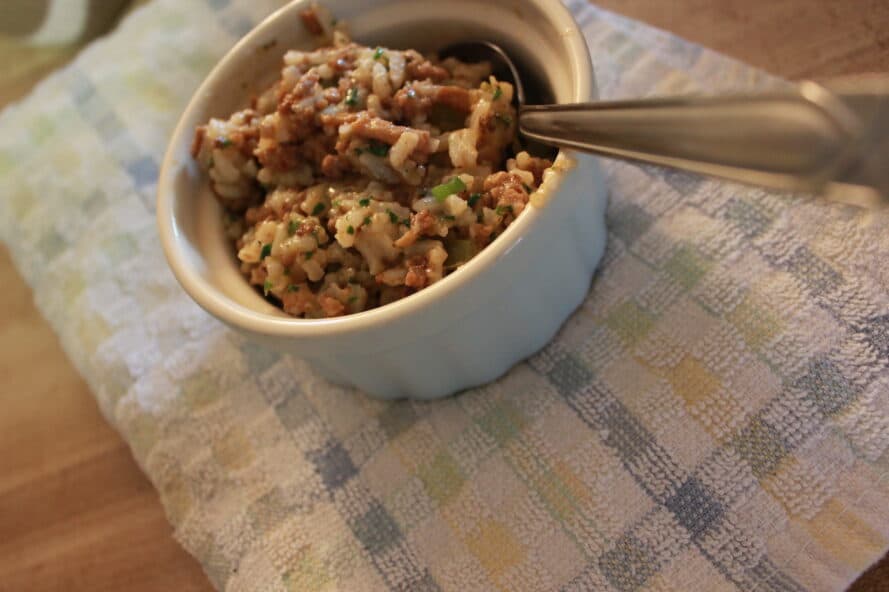 The dirty rice went really well with the duck and it was absolutely delicious.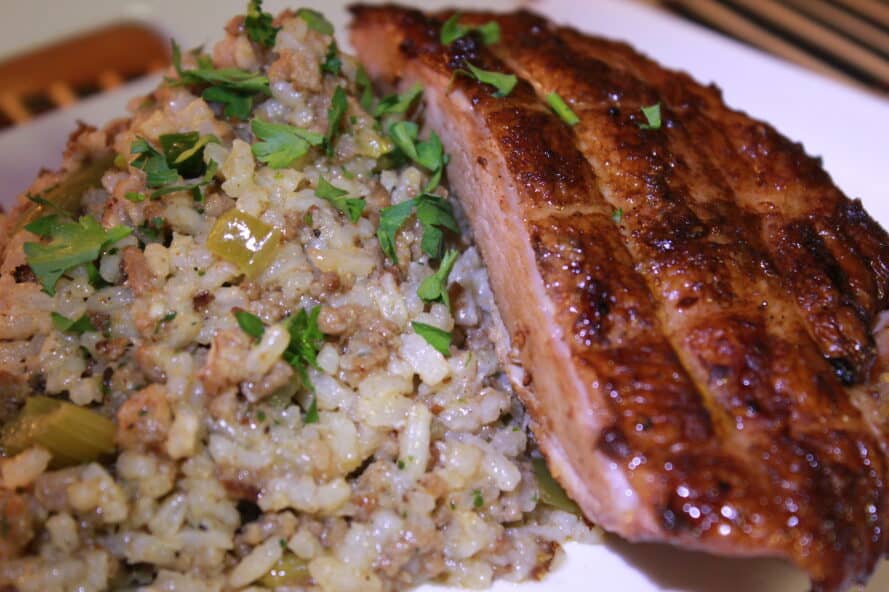 Dirty Rice Dressing
Ingredients:
1 lb. ground pork
1 lb. ground chuck
2 cups chopped onions
1 cup chopped green bell pepper
1 cup chopped celery
2 tablespoons minced garlic
½ cup dark roux
1 tablespoon Tony Chachere's Creole Seasoning
1 teaspoon salt
6 cups beef stock
2 tablespoons Worcestershire sauce
2 bay leaves
1 teaspoon dried thyme or 1 tablespoon fresh thyme
1 teaspoon hot sauce
1 teaspoon black pepper
¼ cup chopped parsley
½ cup chopped green onions
8 cups packed cooked (Toro Brand Rice)
Directions:
1. Heat medium saucepot over medium heat. Add pork and beef and cook until meat is browned.
2. Add 1 cup of onions, ½ cup of bell pepper, ½ cup of celery, 2 tablespoons garlic and sauté for 2 minutes.
3. Add dark roux and cook for additional 5 minutes. Add Tony Chacherie's Creole Seasoning, salt, beef stock, Worcestershire sauce, bay leaves, thyme, hot sauce and pepper.
4. Bring mixture to a boil, lower heat and simmer for 30 minutes.
5. Add remaining onion, celery and bell pepper, cover pot and simmer for 30 minutes.
6. Stir in green onions and parsley.
7. Stir in cooked rice until completely incorporated.
Yields approximately 22 servings.
Chef Patrick Mould
Louisiana Culinary Enterprises, Inc
http://louisianaschoolofcooking.com (website link no longer working)
Smoked Duck with Dirty Rice
These smoked ducks were delicious, juicy and tender and were an awesome change from our normal menu. These are also perfect for Thanksgiving or other holidays instead of the traditional fare.
Ingredients
1

duck for every

((4) eaters)

2

TBS

Dijon Mustard

¼

cup

Jeff's original rub

½

stick Butter

(melted (optional))
Brine
½

gallon

buttermilk

½

gallon

water

1

cup

coarse kosher salt
Instructions
Thaw ducks in fridge

Make brine while duck is thawing.

Place duck into a ziptop bag and pour brine over duck to cover.

Place into fridge overnight or at least 6 hours.

When finished brining, rinse well under cold water to remove residual salt.

Coat duck with dijon mustard and apply about 2 TBS of

Jeff's original rub

all over outside of duck.

Mix 2 TBS of

Jeff's original rub

with melted butter and get that up under the skin wherever possible (optional).

Setup smoker for cooking at about 240°F (116°C) for about 5 hours. I used pecan wood for smoke.

Once the ducks have reached 165°F (74°C), they are finished and should be removed from the smoker.

Let the ducks rest for at least 10 to 15 minutes before carving.
Notes
It's a great idea to cut "x's" in the skin covering the breast before cooking to allow the fat to leak out as it renders.
Get Jeff's Products!