Smoked spare ribs are king where flavor is concerned however, if you take the time to trim them up and remove some of the extra fat before cooking them, a great experience becomes an even better  experience. Cooking them in the smoker using the 3-2-1 method will create smoked ribs that are just the right amount of tender.. just the way most of us like them.
Helpful Information
Prep Time: 25 minutes
Cook Time: 6 hours
Smoker Temp: 230°F
Meat Finish Temp: N/A
Recommended Wood: Hickory
What You'll Need
Get the Recipes for Jeff's Rub and Sauce
---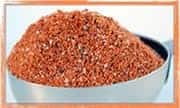 If you are smoking ribs without using my one and only original rib rub then you are missing out on one of the wonderful things in life. My rub was designed especially for ribs but is good on almost everything else you cook in the smoker as well.
I promise you'll love my dry rub/seasoning recipe and my barbecue sauce recipe or you don't pay!
Reasons to buy: Support the newsletter and the website | Own "the recipes" | Get the email newsletter 100% AD FREE from now on | Includes the Texas style rub recipe

Step 1: Unwrap and Rinse
The ribs usually come in a thick plastic package. Remove the ribs from the package and give them a good rinse under cold water.
Some say this is not necessary but, in my opinion, it's a good thing. Make sure the sink is nice and clean and you'll want to clean the sink afterwards as well.
After rinsing, set them on some paper towels to drain.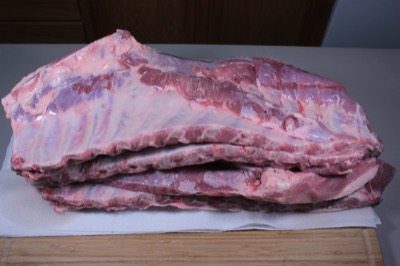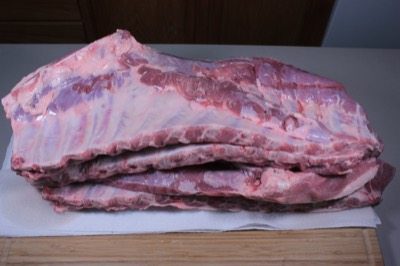 Step 2: Remove the Skirt/Flap
On the bone side of the ribs is a flap of meat called the skirt. To make sure that the ribs are uniform in thickness and to help them cook better, it's a great idea to trim this off.
You can still cook it alongside the ribs and when it's tender (about 60-90 minutes), it's makes a great snack for the cook and/or cook's helpers.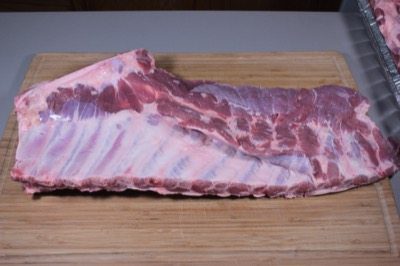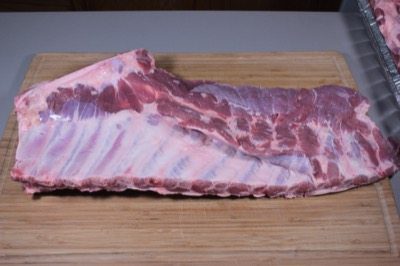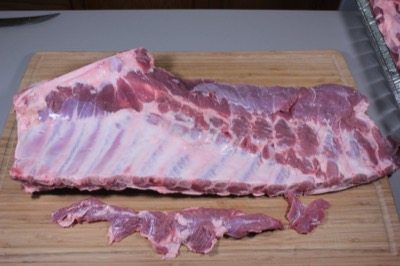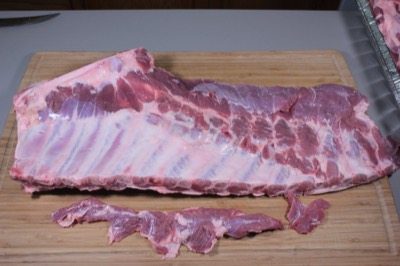 Step 3: Trim St. Louis Style
On the pig/hog, there are basically two types of ribs.. the baby backs and the spare ribs.
The baby backs have less fat and are a little more aesthetically pleasing (allegedly) than the fattier, more oddly shaped spare ribs.
For this reason, it is common to trim them up.
In doing so, a lot of the less desirable parts are removed and they end up looking more like a baby back.
Here's how to do that:
Cut off that bone that juts out on one side(diagonal piece at lower left of slab).. it's mostly cartilage so it can be cut with a sharp knife pretty easily. A cleaver will work if your aim is pretty good 😉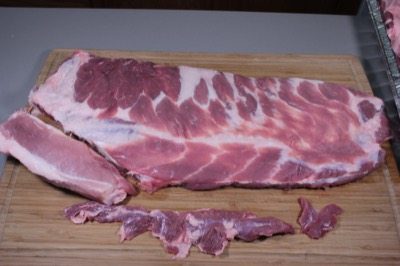 Next cut off the brisket bone which runs along the same side as the piece you just removed.
If you feel carefully along the ribs, you can feel a joint separating the brisket bone from the rack of ribs. This is where you make your cut.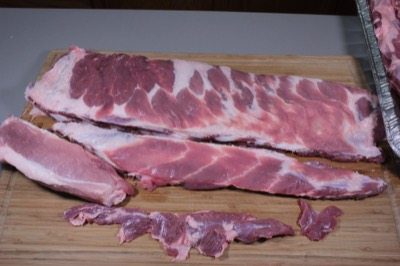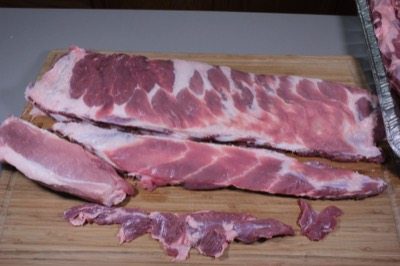 To finish the trim work, simply cut off the extra flap of meat on the small end of the ribs (right side of slab below) and you are finished.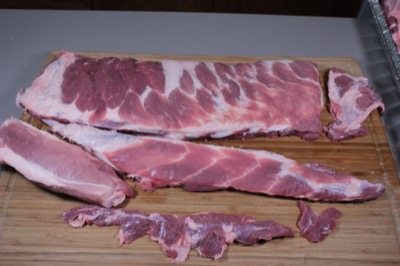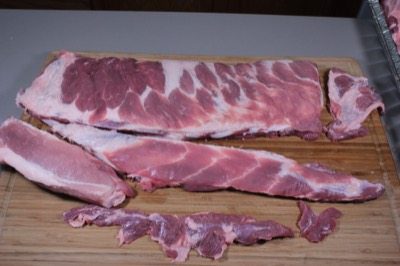 Place all of the extra pieces in a pan and set them aside. They can be smoked right along with the other ribs or you can freeze them and smoke them later. Once cooked/smoked they can be stored and added to beans, soups, stews, etc. for great flavor.
Here's the St. Louis trimmed spare rib.. see how nice and square it is?!
This is the best part of the spare rib.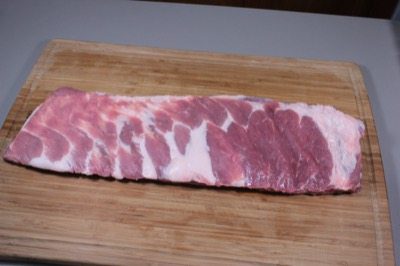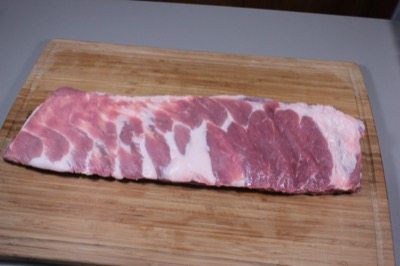 Step 4: Remove the Membrane
This step causes folks lots of frustration and let me just say that it's not the end of the world if you have trouble with this. If you can't get it off for some reason, forget about it.
It is nice to remove it but it's not worth a lot of frustration so try and do the best you can and leave it at that.
It's hard to get a picture of this being removed but you simply lay the ribs with the boney side up. You will notice a thick plastic like skin covering the meat.
Slip a knife or other sharp object under it and try to get enough pulled up so you can grab it.
It's slick so if you have trouble grasping it with your bare hands:
Use a paper towel for better grip..
or
Use catfish skinning pliers
Here it is removed: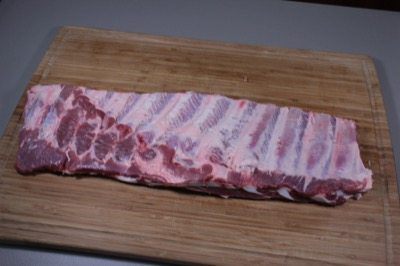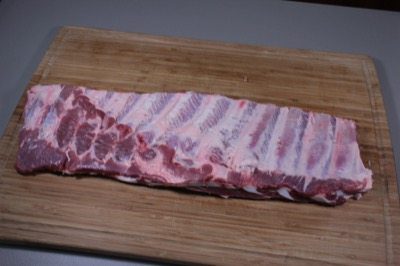 Step 5: Add Mustard and Rub
Regular yellow mustard and the original rub added to both sides is the only thing you need to season these up.
(Purchase formula here | Purchase bottled rub)
Don't over complicate it!
While it's boney side up:
Squeeze on the mustard and rub it all over to create a nice sticky base for the rub to stick to.
Note: you don't have to use mustard if you don't want to, you can just sprinkle the rub on the back side and let it sit there for about 10-15 minutes. It will mix with some of the meat juices and stick to the ribs pretty well on it's own. Flip it over and do the same thing on the meaty side.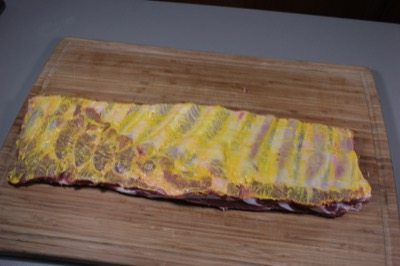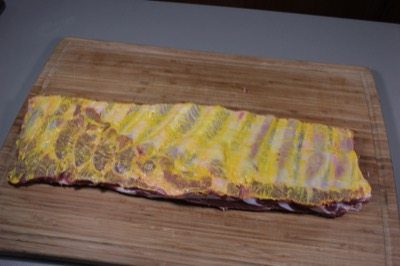 Pour on about ¼ cup of Jeff's original rub (¼ of a bottle) and spread it all over the ribs making sure you have full coverage. You can also sprinkle it on evenly using a cheese shaker or an old spice bottle with large holes.
(Make the rub yourself | Purchase bottled rub)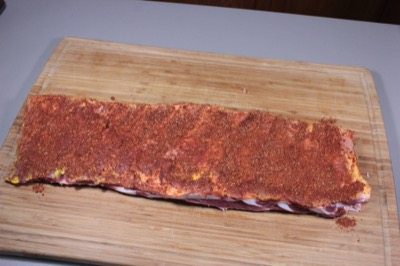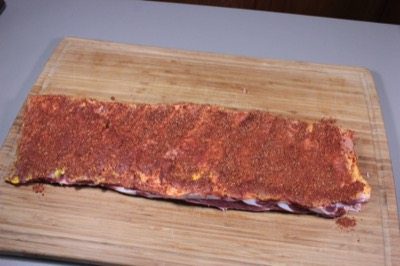 Flip the ribs over and do the same thing to the meaty side.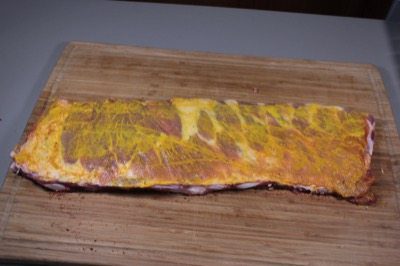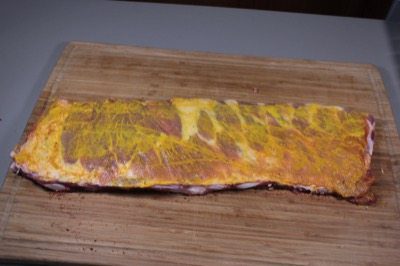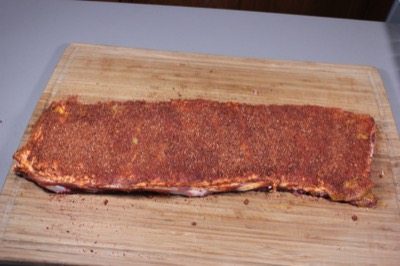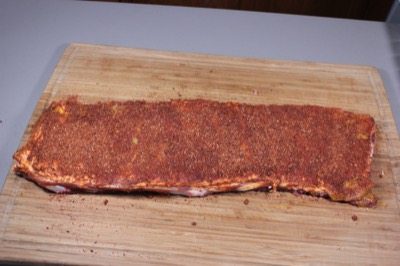 Once the ribs are seasoned, leave them laying while you go get the smoker ready to cook.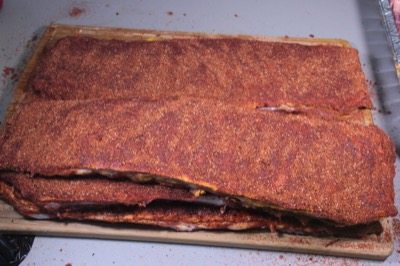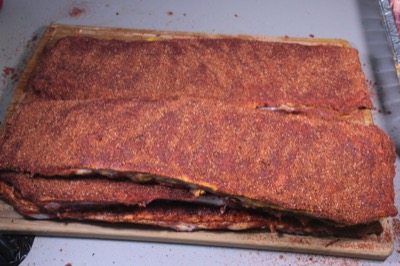 Step 6: Smoke the Ribs for the First 3 Hours
Set up your smoker for cooking with indirect heat at about 230°F using hickory or your favorite smoking wood.
If you smoker has a water pan, use it.
Once the smoker is ready, place the ribs bone side down on the smoker grate or if you are short on room, it is perfectly acceptable to use a rib rack to hold the ribs vertical.
I also love doing these in the new pellet smoker by Camp Chef.. it's called the "Woodwind" and it's my go to smoker right now. Tons of features and it smokes ribs like it was born to do just that!
Check out the highly entertaining and informational video at http://www.smoking-meat.com/woodwind.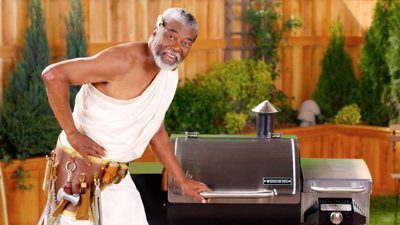 Step 7: Wrap in Foil for 2 Hours
After the ribs have been smoking for 3 hours, it's time to wrap them up and let them get the heat inside of a closed space so they can steam and get really tender.
I usually get my foil pre-cut and ready ahead of time about 30 inches long and 18 inches wide.
Once the ribs are ready, I can quickly take them off and get them wrapped without losing much heat.
Note: Some folks add apple juice or some liquid to the foil. I usually do NOT add anything since I feel like too much moisture breaks down the rub crust that I worked hard to build in the first 3 hours.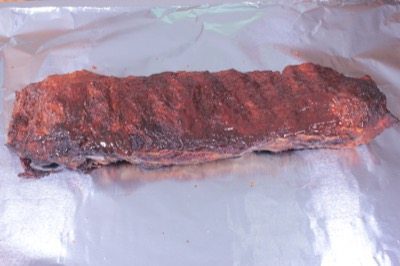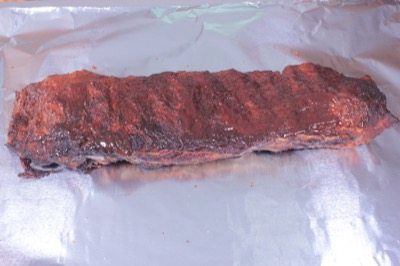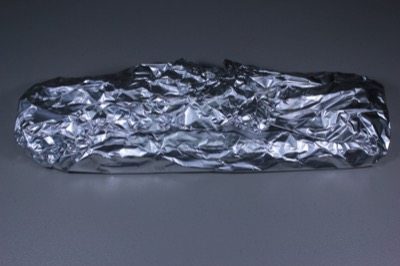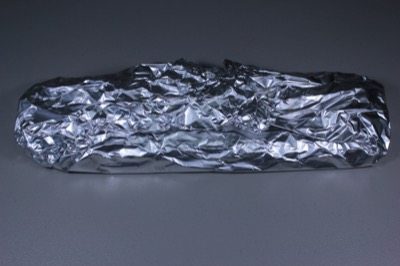 Place the ribs back on the smoker at 230°F but you do not need to add any smoking wood during this time since they are wrapped up.
Step 8: The Final Hour
After cooking for 2 hours wrapped in foil, unwrap them from the foil and place them back on the smoker for a final hour to finish up.
With or without smoke.. your choice.
This is the time when the bark is finalized and it's also a great time to add some sauce if you like them that way.
Some like sauce.. some don't. Remember it's your ribs. YOU eat them the way that YOU like them. If you like them sauced up.. then go for it and be proud.
Step 9: Slice and Serve
Place the ribs bone side up and slice them up with a very sharp knife.
Serve them right away while they are hot!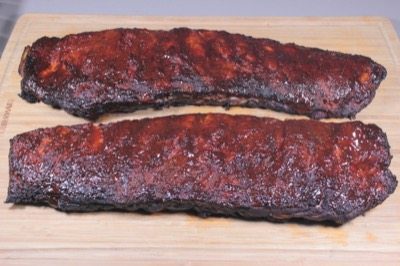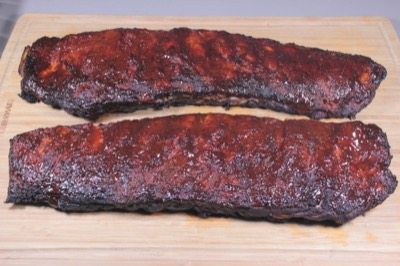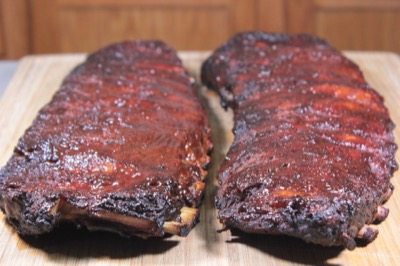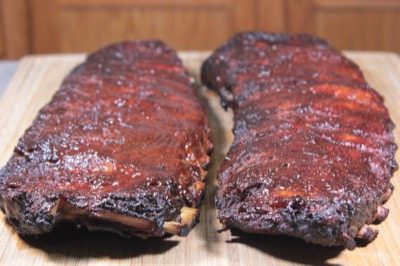 ***Note: you get the Texas style rub recipe free with your order!
If I could give these recipes away, I would do that. I really want you to have them! But, then, this is how I support the newsletter, the website and all of the other stuff that we do here to promote the art of smoking meat.
Read these recent testimonies:
"Love the sauce and rub recipes. So far I have used them on beef ribs, pork ribs, and different chicken parts. Can't wait to do a beef brisket. Texas rub is great as well!" ~Peter S.
"I tried the rub on a beef brisket and some beef ribs the other day and our entire family enjoyed it tremendously. I also made a batch of the barbeque sauce that we used on the brisket as well as some chicken. We all agreed it was the best sauce we have had in a while." ~Darwyn B.
"Love the original rib rub and sauce! We have an annual rib fest competition at the lake every 4th of July. I will say we have won a great percent of the time over the past 15 years so we are not novices by any means. However, we didn't win last year and had to step up our game! We used Jeff's rub and sauce (sauce on the side) and it was a landslide win for us this year! Thanks Jeff for the great recipes. I'm looking forward to trying the Texas style rub in the near future!" ~Michelle M.
You see the raving testimonies and you wonder, "Can the recipes really be that good?"
No worries! Make up a batch and if it's not as good as you've heard.. simply ask for a refund. Now that's a bargain and you know it. Let's review:
You decide you don't like the recipes.. you don't pay!
The recipes are absolutely amazing!
Once you order, there'll be no more recipe ads in the email version of the newsletter
Well.. what are you waiting for.. click on the big orange button below to order the recipes now.

I really, really appreciate the support from my newsletter friends and be sure to let me know if you have any questions about this.
Jeff's Smoking Meat Book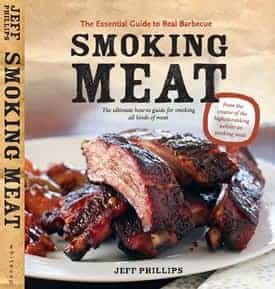 The book is full of recipes and contains tons of helpful information as well. Some have even said that "no smoker should be without this book"!
With more than 800 reviews on Amazon.com and a rating of 4.7 out of 5 stars, it comes highly recommended.
It is a Bestseller in Barbecueing & Grilling books on Amazon.
Amazon | Barnes & Noble | German Edition
Digital versions available via Nook | iTunes | Kindle
Get Almost Anything at Amazon
If you enjoy the newsletter and would like to do something helpful, then..
The next time you decide to order something at Amazon.com, use THIS LINK to get there and we'll get a small commission off of what you purchase.
Thank you in advance for using our special link: http://www.smoking-meat.com/amazon
Printable Recipe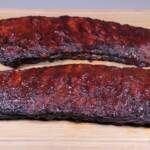 Print Recipe
Smoked 3-2-1 St. Louis Style Spare Ribs
Smoked spare ribs are king where flavor it concerned however, if you take the time to trim them up and remove some of the extra fat before cooking them, a great experience becomes an even better experience.
Ingredients
2

(or more) racks of spare ribs

Yellow mustard

Jeff's original rub recipe

Heavy duty foil
Instructions
Step 1: Rinse
Remove the ribs from the package

Rinse under cold water

Allow to drain on paper towel
Step 2: Trim St. Louis Style
Remove skirt, brisket bone, and end piece to square them up and create the St. Louis style spare ribs.
Step 3: Mustard and Rub
Apply mustard to bone side of ribs

Pour on about ¼ cup of rib rub and spread to cover over meat.

Repeat mustard and rub on meaty side of ribs.
Step 4: Smoke the Ribs
Setup smoker for cooking at 230 °F using indirect heat with hickory or other favorite

smoking wood

.

Place ribs directly on smoker grate bone side down.

Smoke for 3 hours.

After 3 hours, wrap in foil and place back into smoker for 2 hours.

After 2 hours, unwrap and place back into smoker for a final hour.

Brush on sauce if desired during last hour of cooking.
Step 5: Slice and Serve
Slice the ribs between the bones and serve with warm sauce on the side.